Best New Tracks: Drake, Boldy James & Jay Versace, Kali Uchis, Polo G & More
Drake's trip to the Nike Campus, Boldy's third project of the year and so much more.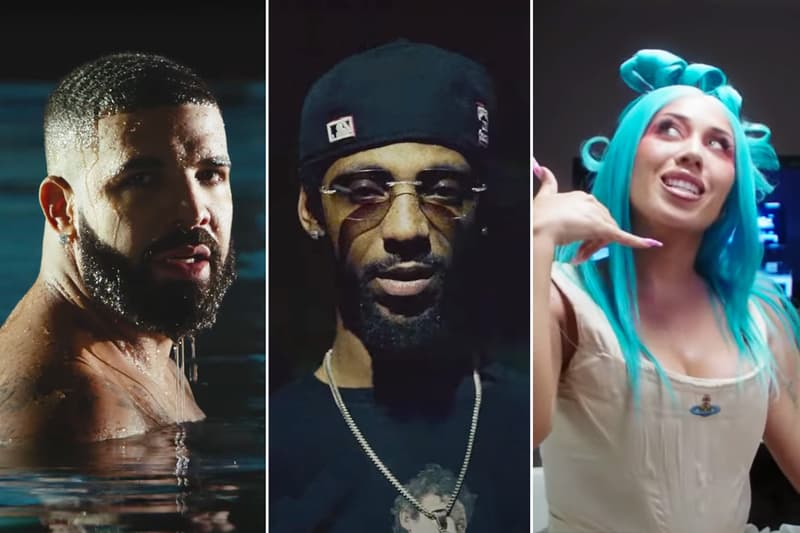 As the week in music comes to a close, HYPEBEAST has rounded up the 10 best projects for the latest installment of Best New Tracks.
Drake returns with a new music video filmed entirely at Nike's Portland, Oregon campus. He tapped Lil Durk and may have revealed his sixth studio album's title: Certified Lover Boy. Boldy James dropped off his third stellar album this year, enlisting Jay Versace for a cohesive, street-wise project that spans 10 songs and 22 minutes. It begs multiple listens through. Detroit producer Black Noi$e prepped for Oblivion with the first non-Earl Sweatshirt release on Tan Cressida Records. It's experimental, bold and there isn't anything else quite like it thanks to melding Detroit techno and J Dilla sensibilities. Features include Earl, Danny Brown, Zelooperz and more. Elsewhere in the music world, Kali Uchis and Rico Nasty connected for a video that you have to see to believe, from Kali's first full-length Spanish language album set to debut later this year. Burna Boy returned with a new album and Charlotte Day Wilson collaborated with Syd on a new single.
Tap in for the full rundown of HYPEBEAST's latest Best New Tracks below.
---
Drake – "Laugh Now Cry Later" feat. Lil Durk
At 33-years-young, Drake is more than comfortable naming his sixth studio album Certified Lover Boy and introducing said project through a new music video titled "Laugh Now Cry Later." Not only does he bring along some famous friends in Kevin Durant, Odell Beckham Jr., and Marshawn Lynch, and not only does the visual serve as a bonafide Nike commercial, but he also displays some self-awareness by poking fun at his emotional side and crying on camera. Drake has kept his ear to the streets for the entirety of his career too, and even though he's caught some flack for flow-jacking (think Migos, iLoveMakonnen, anyone in the vicinity of the UK's grime scene), he's used his superstardom to put rising artists on. He reached out to Chicago rapper Lil Durk who has had a run of his own over the past three years. He offers a stellar guest-spot that stands in stark contrast to Drake's falsetto "Baby's." "Bring Drake to the hood, surround Drake around Dracs/ Even though I got a case, I'ma do what it take," Durk raps. That pretty much sums it up. Over a decade into his career, Drake's maintained the perfect balance between street credibility and Billboard chart acceptance. To the inevitable No. 1 charting position they go.
Listen: Spotify | Apple Music
---
Boldy James & Jay Versace – The Versace Tape
Boldy James just completed his three-peat. Three different producers, three stellar albums all cranked out during the first three quarters of the year. After The Price of Tea in China with The Alchemist and Manger on McNichols with Sterling Toles, Boldy tapped internet meme legend turned stellar producer Jay Versace for The Versace Tape. His signing to Griselda Records was the perfect pairing, as the Detroit emcee has occupied not only the same sonic world as the Buffalo rap crew but lived everything he raps about. The production is pristine, nostalgic and smooth. It features just the right amount of obscure sports references ("Brick Van Exel") and utilizes perfect looped vocal samples throughout. Boldy's run in 2020 is not something to take lightly. By year's end any of these albums could be featured on 'Best Of' roundups.
Listen: Spotify | Apple Music
---
Kali Uchis – "Aquí Yo Mando" feat. Rico Nasty
Kali Uchis's sophomore record is on the way, and the GRAMMY-nominated singer-songwriter will be releasing the album as her first Spanish language project. After debuting "Aquí Yo Mando" featuring Rico Nasty, the duo returned for the official music video featuring Rico's signature rockstar aesthetic amplified throughout with larger-than-life hairstyling and some matching wardrobes. The video was directed by Phillipa Price with the instrumental created by reggaeton hit-maker Tainy alongside Albert Hype, Jon Leone, and Rvnes. Kali's turn toward an exclusively Spanish-sung project is not all too surprising and it will be a fun ride to see her maneuver through new artistic territory.
Listen: Spotify | Apple Music
---
Black Noi$e – Oblivion
Detroit producer Black Noi$e has arrived, delivering his new full-length album Oblivion, a 13-track offering that is full of experimental soundscapes spanning multiple genres, eras and moods. From Detroit techno to J Dilla and everything in between, he backs his most talented friends' vocals with instrumentals that are singularly left-field and brings out the best in them on each track. The effort may feature friends like Earl Sweatshirt, Danny Brown, MIKE, Liv.e, Zelooperz and more but his production steals the show and allows him to take center stage. When Npi$e premiered his visual for "Mutha Magick" featuring Chattanooga, Tennessee rapper BbyMutha, the song lived somewhere in an alternate universe lodged between Crash Bandicoot soundtracks and Detroit's 1980s techno scene. Take notice and put this on throughout your weekend.
Listen: Spotify | Apple Music
---
Burna Boy – Twice As Tall
Burna Boy debuted his fifth studio album, "Twice As Tall" today. Clocking in at just over 50 minutes, the 15-track record is executive produced by Sean "Diddy" Combs, Bosede Ogulu and Burna Boy himself, and was mostly recorded in Lagos during the COVID-19 pandemic. The African Giant enlisted a handful of Nigerian producers to work on the album, resulting in 11 of the 15 cuts to feature production from his countrymen. Senegal's Youssou N'dour, Kenyan band Sauti Sol, Naughty by Nature, Chris Martin of Coldplay and Stormzy also make appearances, along with LeriQ, Telz, P2J, Rexxie, Timbaland, Mike Dean, Anderson .Paak and Mario Winans. Twice As Tall touches on the realities of Burna Boy's life and tackles miseducation, global systemic racism, police brutality, corruption and social injustice. However, there are also reflections on the good times of his life as he offers messages of hope and home.
Listen: Spotify | Apple Music
---
Charlotte Day Wilson – "Take Care of You" feat. Syd
Toronto-based singer-songwriter Charlotte Day Wilson has returned with two new singles: "Summertime" and "Take Care of You" featuring Syd. This is the first release since she offered her "Mountains" single last year and Stone Woman album in 2018. "Take Care of You" is a soulful love ballad but also features slurred, almost chopped and screwed background vocals somewhat reminiscent of James Blake's approach. Charlotte expertly pulls inspirations from jazz, R&B and soul and what results is an atmosphere that is solely her own. Heavy bass-lines add to the track's longing. "Summertime" is breezy and upbeat, finding the perfect contrast to the Syd collaboration. Stay tuned for more from Charlotte in the future.
Listen: Spotify | Apple Music
---
Polo G – "Martin & Gina"
Chicago rapper Polo G returned earlier this week with his latest visual from his critically-acclaimed album THE GOAT, tapping into the classic 1990s Martin Lawrence sitcom Martin for his track "Martin & Gina." The video was shot in that retro 4×3 aspect ratio complete with a set that so closely resembles the actual sitcom you'll wonder if it is in fact the original. DaBaby affiliates Reel Goats took the helm here, showing off just how diverse their directing style can be. Watching Polo G maneuver through Martin's mannerisms is also a joy. His star-power is on full display.
Listen: Spotify | Apple Music
---
Jorja Smith – "By Any Means"
Late last month Jorja Smith returned for her moving new single "By Any Means" from Roc Nation's upcoming project Reprise, a collection of songs meant to raise awareness to ongoing social justice issues. It will unite multiple artists from the label's roster in an effort of musical protest that aligns with the Black Lives Matter movement. The new visual was directed by Otis Dominique and Ellington Hammond as they capture immigrants throughout the United Kingdom in candid portraits with family and friends. This isn't the first time that Jorja has used her platform to make music about social injustices. Earlier this year, Jorja collaborated with Blue Note Records for "Rose Rouge", a cover of St Germain's classic, and a music video that supported the ongoing protests throughout the globe.
Listen: Spotify | Apple Music
---
King Krule – "Comet Face"
King Krule dropped off a new music video for "Comet Face", a track off his most recent full-length release, Man Alive!. Directed by CC Wade and co-written by Wade and Jack Marshall, the visual features cameos from Krule's bandmates and takes inspiration from the aesthetic of classic horror movies, focusing on a wild beast terrorizing Peckham, England. Staple characters from a horror plot appear throughout the video including the loving couple, the drunkard and the mob that goes after the monster, who's later revealed to be Krule all along.
Listen: Spotify | Apple Music
---
03 Greedo & Ron-RonTheProducer – Load It Up Vol. 01
While 03 Greedo remains incarcerated, that hasn't stopped collaborators from releasing a steady stream of music. After his Kenny Beats collaboration Netflix & Deal, Greedo has released Load It Up Vol. 01 featuring production from Ron-RonTheProducer. The expansive 19 song project spans over an-hour of content with interludes from Greedo calling through prison phones and an unbelievable amount of new material. Greedo's signature nasally delivery and penchant for melody remains fully intact. Features from Key Glock, Rob Viscous and Chief Keef only help elevate the project.
Listen: Spotify | Apple Music