Stay Home Snaps: Tyler Mansour
Though he doesn't wear sneakers at home, the veteran photographer still has plenty of footwear to shoot.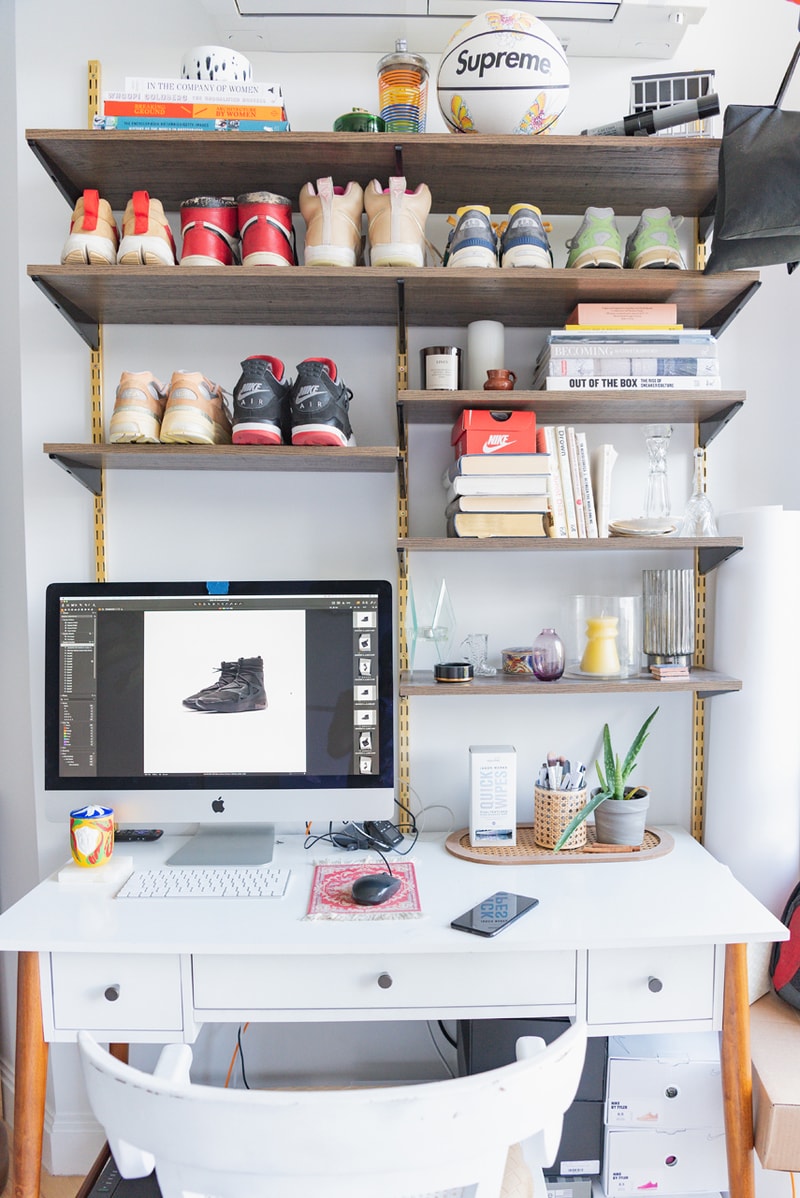 Stay Home Snaps: Tyler Mansour
Though he doesn't wear sneakers at home, the veteran photographer still has plenty of footwear to shoot.
Tyler Mansour's busy schedule hasn't slowed down much despite New York's ongoing quarantine. As KITH's senior photographer and a die-hard footwear connoisseur, Mansour has plenty on his plate in between snapping photos of upcoming sneaker releases and developing his own creative endeavors.
Accompanied by his girlfriend and their pup, Mansour is content to set up camp in his tidy apartment, outfitted with plenty of retro tchotchkes and personal accents.
What's your daily routine?
My daily routine starts off by waking up at 7:30 a.m. I grab a quick shower, then make coffee. Sometimes I'll make an avocado toast or keep it simple with a bagel. After that, I check email, the calendar and my social channels. Then, it's time to walk the pup and get a daily dose of "fresh" air. Once I get back, I start prepping footwear to shoot for the day. Around 11 a.m., I take a slight break to put the news on to listen to Cuomo (this has been a highlight of quarantine). After he wraps up his daily conference, I like to throw a record on my vintage Magnavox set up from the late '50s.
Back to shooting. Depending on when my stomach starts to call, I break for lunch. During lunch, I like to put some energy into Makeshift Studio (my creative outlet outside of shooting). I brainstorm future projects I want to work on and try to chip away at current projects. Round two for the pup. From there, shooting resumes. Once I've wrapped up work for the day, I like to set up the next day by reviewing what I'll shoot for the next couple of days and track where pending styles are. Now, time to put a couple hours on the TV (Curb Your Enthusiasm, Veep, Insecure, The Last Dance, Skinwalker Ranch). I like to round off my day with Twitter, Instagram, and Nike iD. Wash, rinse, repeat.
Where in your home do you like to work?
I have an improvised studio set up right near the door to my balcony and my computer right behind it.
What do you wear while working from home? Do you wear any shoes?
I'm usually in sweats, a shirt, and Hidden NY socks. But, I had to get fresh real quick for HYPEBEAST (laughs).
What are you eating now?
Bagels, avocado toast, oranges, sandwiches, pasta, potatoes, beef stew, pretzels and ice cream.
What are you listening to, watching and doing for fun?
I've been listening to a lot of oldies — all of Motown, Beatles, Rolling Stones, Jimi Hendrix — which I'll be featuring on my new music channel, Makeshift Tunes.
How do you stay in a positive headspace while in isolation? How are you staying creative?
My girlfriend loves burning candles and is my favorite interior designer. Both of those things really help clear my mind and let the all the creative juices flow. This in turn makes spending energy on Makeshift Studio a more seamless experience.
Do you have any advice for creatives who aren't used to working from home?
Watch movies. Read books. Go on the internet. Get outside (while practicing social distancing) and open your eyes and ears.