Notting Hill Carnival Is Down, But Not Out
The U.K.'s biggest event for Black culture is finding a new way to survive.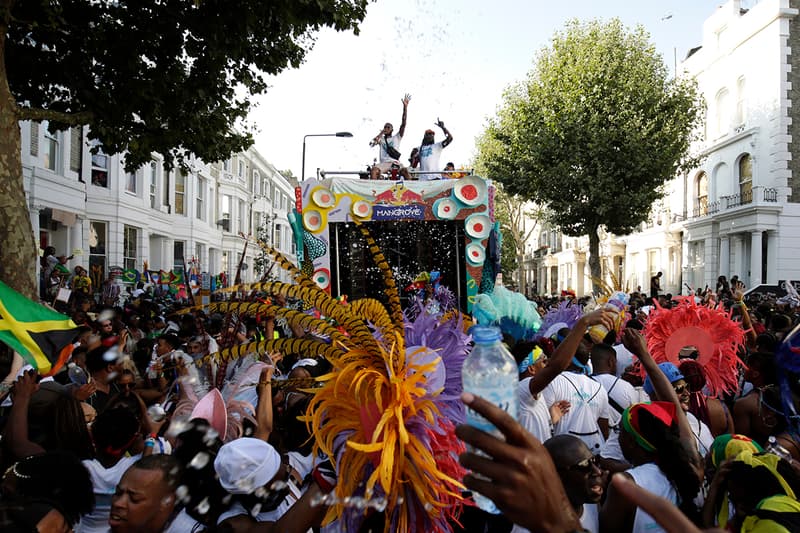 Notting Hill Carnival is a unique event in London's cultural calendar: a two-day parade and street festival, held over the last weekend in August as a celebration of the British-Caribbean community and Black British culture more broadly. It's truly staggering in size, drawing as many as 2.5 million attendees and spreading across most of West London in a sprawl sound systems, food stalls, dancers and revellers.
This year, of course, everything changed. The festival – like most of the U.K.'s cultural major events – was cancelled in line with COVID-19 lockdown regulations. It is the first time that Carnival will not take place for over fifty years, and prompted murmurings in some corners that the event could be cancelled forever.
But consolation for festival-goers remains, as Carnival's organisers have shared their plans for a digital alternative to the weekend's festivities this year. The new event, titled Notting Hill Carnival: Access All Areas, will be a free-to-stream programme of sound systems, performances, and interviews.
In collaboration with Spotify, the event will also launch a microsite to host playlists curated by Carnival's resident sound systems and DJs, alongside podcasts exploring the history and cultural significance of the festival.
Speaking on the new plans, Matthew Phillip, Executive Director of Notting Hill Carnival, said "This year we faced the ultimate challenge of being unable to gather on the streets to celebrate our Carnival. But, now, more than ever, it's important to keep the spirit of Notting Hill Carnival alive, giving an outlet to the thousands of people that spend all year creating incredible costumes and music for Europe's largest event.
"Carnival is such an important part of people's lives and key celebration of the multiculturalism of the U.K., and we have a responsibility to our community and pioneers to honour that. We also have a responsibility to protect the black community and our elders by respecting social distancing and taking Carnival away from the streets for this year. So this is a fantastic solution for 2020.
"We may not be able to celebrate together on the streets as usual, but we can all come together to celebrate one of the UK's great cultural events online."
Be sure to join the festivities from August 30 through 31, and find out more about the schedule of events here.