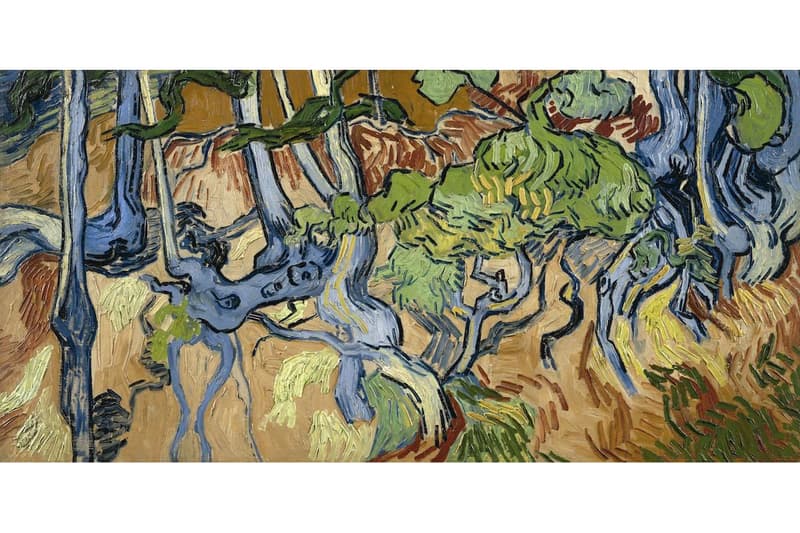 A Postcard Reveals Exact Spot of Vincent van Gogh's Final Painting
Just hours before his presumed suicide.
---
Scientific director of the Van Gogh Institute in France Wouter van der Veen claims to have discovered the spot where Vincent van Gogh painted his last canvas, titled Tree Roots, before he died from a gun shot wound that night. Van der Veen says that van Gogh created the painting on the Rue Daubigny in Auvers-sur-Oise, pointing to an abundance of tree roots and gnarled stumps — visible both in person and in archival images — on a nearby hill as part of the evidence for the spot.
The clue to the location came from images of Auvers, which Van der Veen had borrowed from a 94-year-old Frenchwoman who has collected hundreds of historical postcards. One image depicted a cyclist on the Rue Daubigny, stopping next to an embankment where tree roots are clearly visible. He realized then the similarities that existed between the century-old postcard and Tree Roots. Dominique-Charles Janssens, the owner of the Van Gogh Institute who was in Auvers, was asked to take a look at the area. "I'd say 45 to 50 percent is still there," Janssens said, referring to the entanglement of roots. "They cut some of the trees down, and it was covered with ivy, but we took some of that down."
Van der Veen added that the new evidence challenges a theory put forth in 2011 by Steven Naifeh and Gregory White Smith in their biography Van Gogh: The Life. They argued that van Gogh did not commit suicide, but may have gotten drunk and argued with two young boys, who then accidentally killed him. "Now that we know he was painting all day, there was even less time for that to happen," said Van der Veen. "Ending his life with this painting makes so much sense," van der Veen continued. "The painting illustrates the struggle of life, and a struggle with death." Van Gogh died on July 29, 1890.
Elsewhere in art, two Pablo Picasso murals are being removed from a building in Norway after years-long debate.
Today in Auvers-sur-Oise a ceremony took place to reveal the place where 130 years ago, shortly before his suicide, Vincent van Gogh painted his final masterpiece 'Tree Roots'. The discovery of the location was made by Wouter van der Veen, who found this post card from c.1900 pic.twitter.com/vvQmmWqyL8

— angus wright (@anguswright) July 28, 2020