Nike Officially Debuts Kevin Durant's Zoom KD 13
Boasting some of the most potent Zoom Air tech ever put into a Nike Basketball shoe.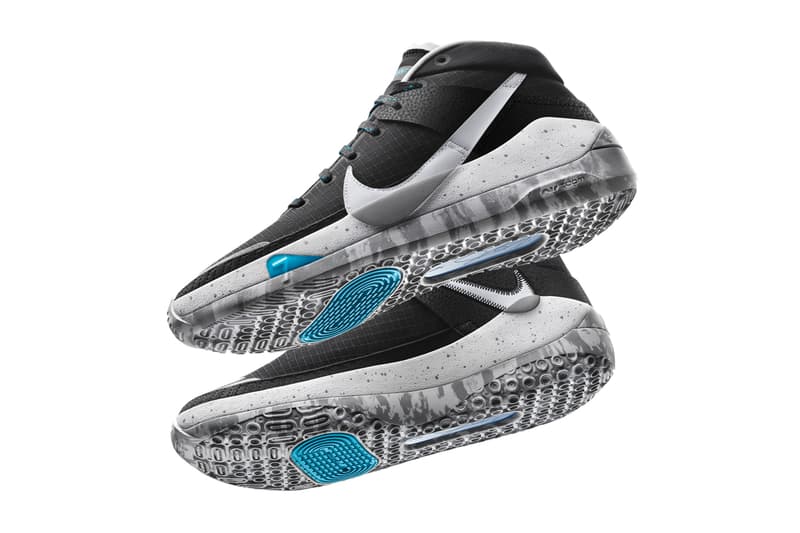 1 of 6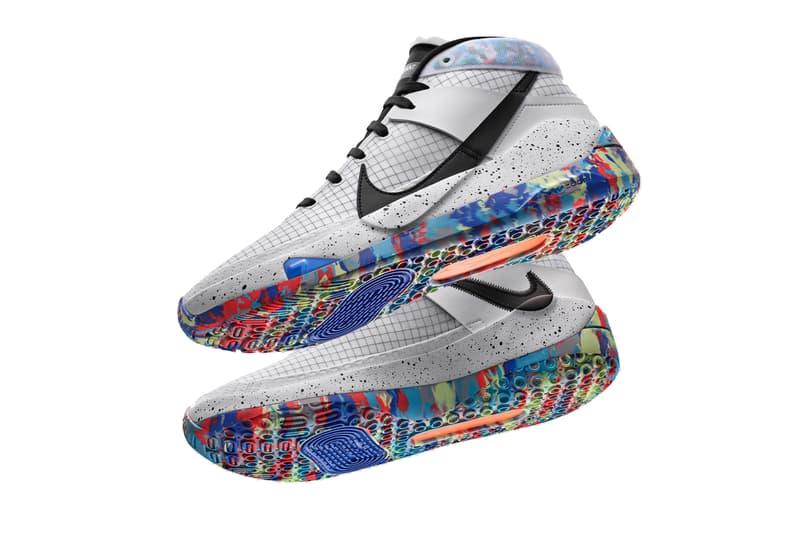 2 of 6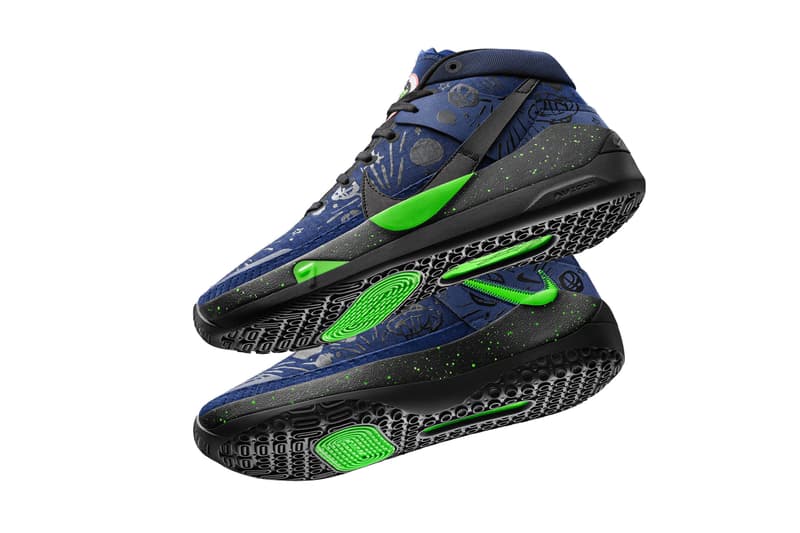 3 of 6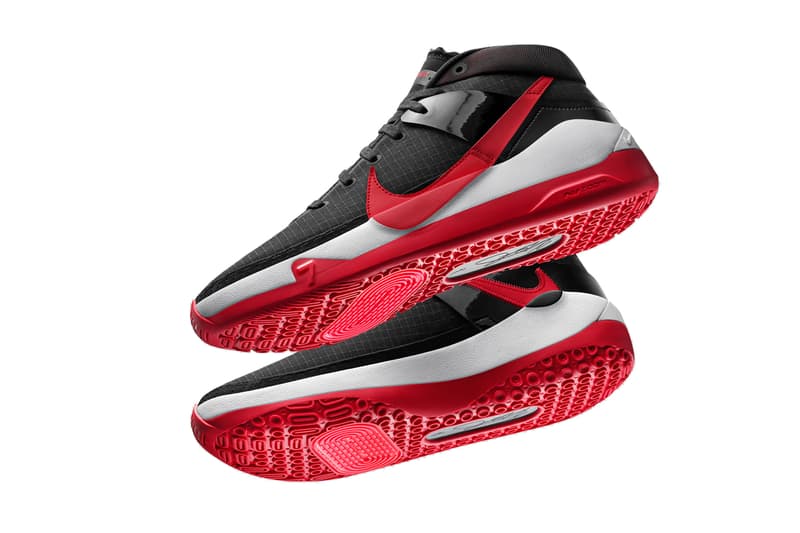 4 of 6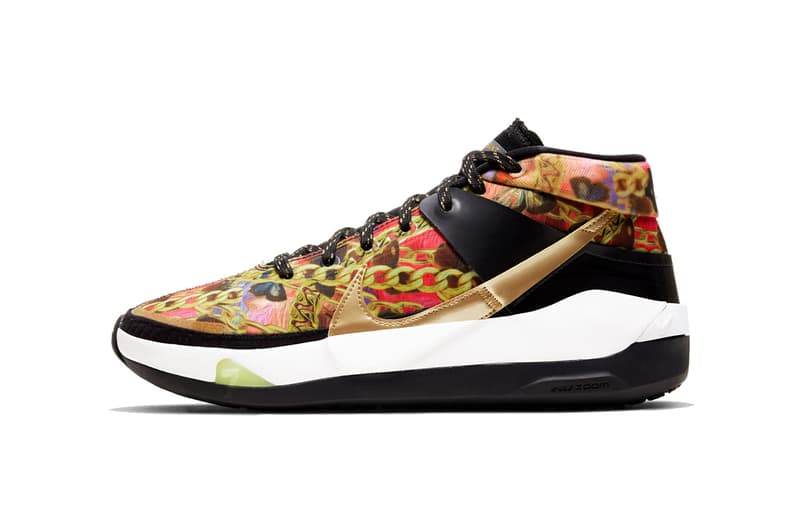 5 of 6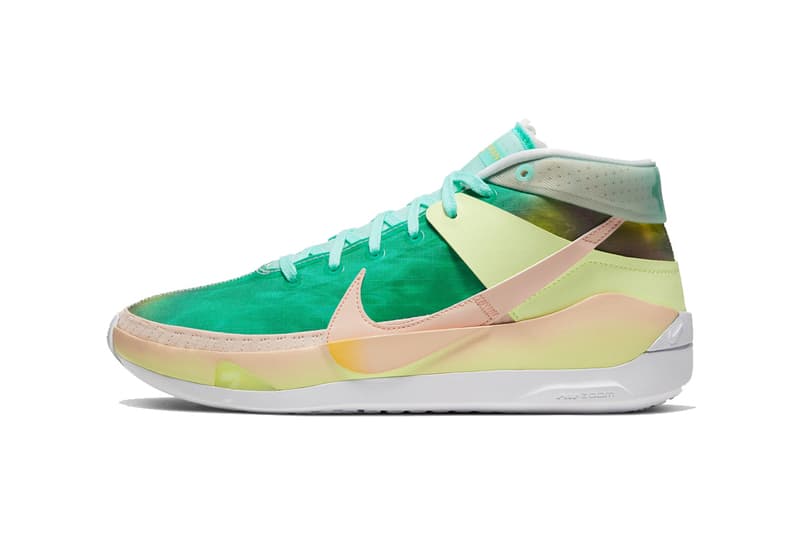 6 of 6
Nike has officially debuted Kevin Durant's new Zoom KD 13, a design that boasts some of the most potent Zoom Air tech ever placed in a piece of Nike Basketball footwear. Durant's game offers a lethal mix of speed, explosiveness and finesse befitting of his "Slim Reaper" nom de guerre, so the KD 13 aims to provide more responsive court feel than ever before.
Zoom Strobel tech — a full-foot Zoom Air unit placed directly under the insole — introduced on the KD 12 returns, but there's one notable difference. Where the KD 12 used double-stacked Zoom in the heel, the KD 13 moves the doubled-up tech to the forefoot, placing a second kidney-shaped cushioning piece under the aforementioned Zoom Strobel. This encourages movement off the ball of the foot and pushes the wearer to quite literally play on their toes, while the doubled-up cushioning units work in tandem for a level of responsiveness that could not be achieved by a single piece of Zoom.
"The intent behind a Zoom Bag is similar to that of a mechanical spring underfoot," says Ross Klein, Senior Creative Director for Nike Basketball. "The essence of a spring is to return the amount of energy you put into it. In the KD 13, we're doubling the spring in the form of the double-stacked forefoot Zoom, allowing you more travel in the system and more energy back."
From a looks standpoint, the KD 13 offers a sturdy 5/8 cut with a low-slung Swoosh that dips into the midsole. Overlaid wings increase support without adding bulk — which is important to KD, who's known to prefer a light and loose fit. A circular traction pattern on the outsole provides versatile grip, and Durant's new #7 is present on the forefoot as well.
Although the KD 13 will debut in a simple "Black/White", plenty of other styles have been announced as well. There's a "Planet of Hoops" with hand-scrawled details and navy/black tones, a "Hype" with a Versace-style gold chain print, a laid-back "Chill" with a rich green base and soft pink/yellow overlays, a "Home Team" with a gridded upper and a marbled outsole pattern that seemingly nods to the Brooklyn Nets' alternate jerseys and a "Bred" reminiscent of Jordan Brand's signature palette.
The Nike KD 13 will begin rolling out on April 6 with the international release of the "Black/White" and "Planet of Hoops" colorways, the latter of which is exclusive to Greater China. The "Hype" style releases April 10 in North America, followed by the "Black/White" North American release on April 17. "Chill" releases in North America on April 24, with global releases for "Home Team" and "Bred" hitting on May 1 and June 1, respectively. Retail for each pair is set at $150 USD, and all will be available at the Nike webstore and retailers like Foot Locker.
For more from Nike Basketball, check out LeBron James's new LeBron 17 "Command Force," inspired by a classic '90s high-top hoop shoe.