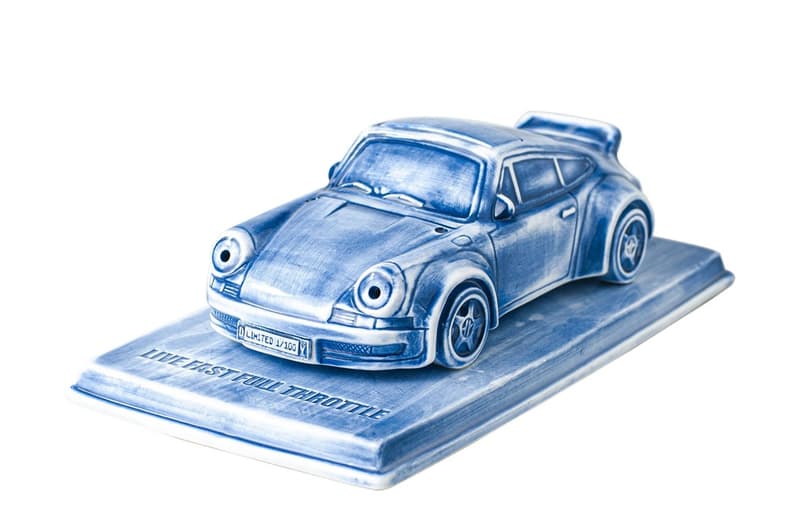 Art for Your Home: Porsche Incense Chamber, Studio Arhoj 'Stone Masks' & More
Including new illustration books by Louis Vuitton.
---
Every week we curate notable art releases by diverse artists, studios, and art platforms across the globe. Listed items typically encompass limited edition artworks, books, collectible figures and more. We hope these pieces will add visual interest to your space and elevate your aesthetic sensibilities.
For this week's installment: YEENJOY STUDIO releases a new incense chamber portraying a Porsche 930, Louis Vuitton spotlights stunning illustrations in its new Travel Book 2020 edition, Studio Arhoj unveils new Stone Mask wall art, DROOL launches a virtual exhibition of prints by emerging artists, and Brooklyn-based photography outlets BKC and Seeing Collective team up for an #ArtistRelief2020 print sale.
View the full list below.
YEENJOY STUDIO Porsche 930 Incense Chamber
Release Date: Available on YEENJOY STUDIO's website
Release Price: $360 USD
The ceramics experts at YEENJOY STUDIO tapped Los Angeles' DPLS for a porcelain incense chamber inspired by the Porsche 930. The piece features an accurate likeness to the German sports car with its iconic body and spoiler translated onto the miniature work. Each piece arrives with a washed-out blue finish that references traditional Chinese craftsmanship alongside smoke holes in its front and back headlights.
Louis Vuitton Travel Book 2020 With Artist Illustrations
Release Date: Available at select Louis Vuitton stores
Release Price: $56 USD
Louis Vuitton has published the 2020 installment of its Travel Book series. The latest edition features stunning illustrations of international cities including Barcelona, St. Petersburg and the country of Morocco. French postwar and contemporary painter Marc Desgrandchamps captured the scenery of Barcelona, famed fashion illustrator Kelly Beeman helmed the work for St. Petersburg and Canadian contemporary artist Marcel Dzama painted vivid views of Morocco. Only 30 books are on sale in each of the three cities, alongside select brick-and-mortar stores around the world.
Studio Arhoj Stone Mask Wall Art
Release Date: Available on Studio Arhoj's website
Release Price: $230 USD
Danish interior design and ceramics outfit, Studio Arhoj, recently launched a new series of its signature Stone Masks. The decorative wall art features unique patterns inspired by Norse mythologies and ancient Viking gods. Each stoneware piece (31 cm in diameter) arrives sculpted, hang-glazed, and signed.
DROOL "SOLITUDE" Virtual Exhibition & Prints
Release Date: Available on DROOL's website
Release Price: £50 GBP (approx. $62 USD)
Online gallery for affordable contemporary art, DROOL, is hosting a virtual exhibition called "Solitude" for people to browse and buy artwork from home. Throughout the exhibition, new artwork by renowned artists, illustrators and designers will be added to the site. Highlights include Kovařík's 2018 Hakuho painting featuring a sumo wrestle match rendered in a brusque style and Heo's Vase Study (ORientAL) portraying the artist's collage-like style of a flattened landscape inhabited by tigers. The digital presentation will conclude on April 17.
BKC & Seeing Collective Photography Prints
Release Date: Available on BKC's website
Release Price: Starting at $25 USD
Brooklyn-based photography companies BKC and Seeing Collective joined forces on a print sale and charity initiative called #ArtistRelief2020. All of the net proceeds from the sale will go directly to the 60+ participating photographers or a charity of their choice. From landscape visuals to intimate portraits, diverse images are offered in the lot.