Stay Home Snaps: Extra Butter
The New York-based boutique's staff are staying busy in isolation.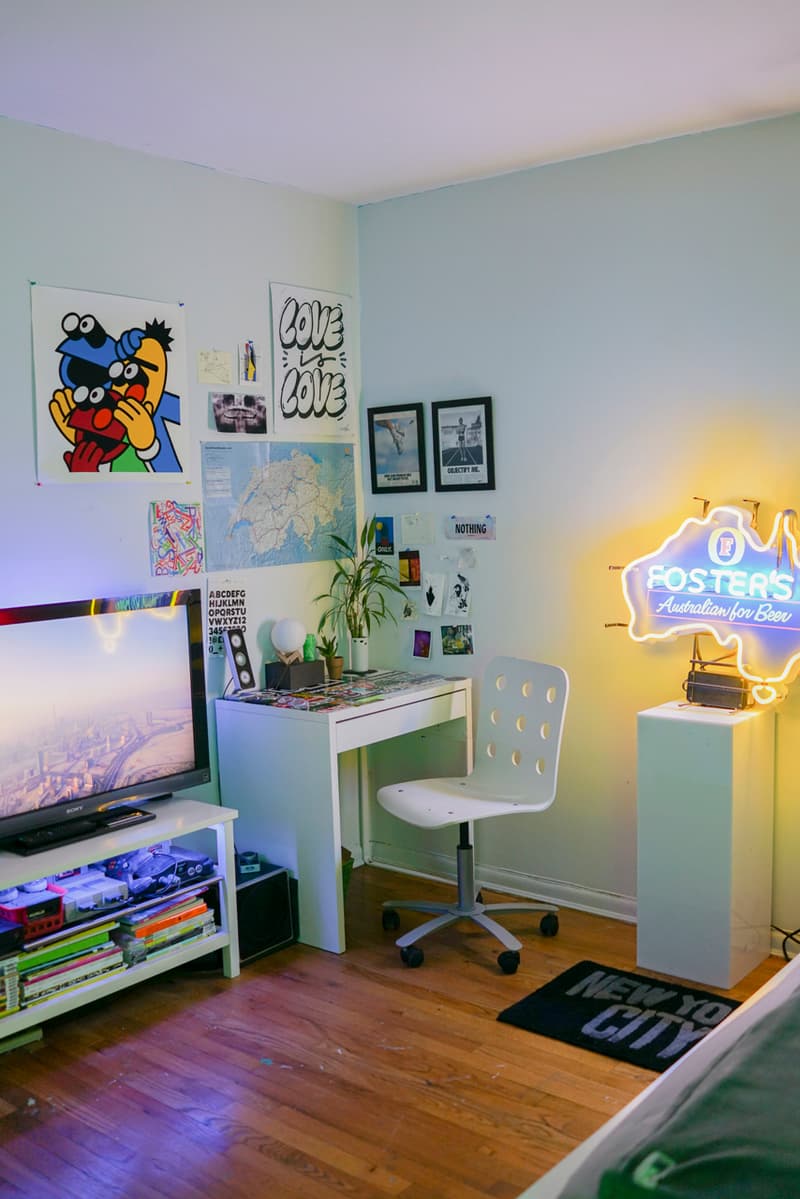 Stay Home Snaps: Extra Butter
The New York-based boutique's staff are staying busy in isolation.
Like the rest of New York's many boutiques, Extra Butter has temporarily closed its doors in response to the coronavirus pandemic. However, the retailer is still active online, hosting Netflix Party events in place of its film screenings and celebrating the resilience of its home city.
The Extra Butter staff is similarly hardy, keeping busy during isolation by developing their cooking skills, going outside (white still maintaining distance of course) and spending some quality time with gaming consoles and family alike. We spoke with five team members, who shared their quarantine experiences and advice.
---
Carl Lovestrand, sales associate
What's your daily routine?
I wake up around 8 a.m. every morning to eat breakfast and have some tea with my dad. He works in construction so he still has to go to work every day while the rest of my family stays home. I'll do some reading for an hour or two and then work out. Even if its low-key, getting a sweat in daily has been huge for my mental well-being. Then, I'll make some lunch and starting working with my mom, who I'm doing art direction and branding consulting for — she's currently in the process of launching a jewelry studio and brand.
If there's no work to do I'll play video games with the homies, work on my own art or chill in the backyard with my dog. We always have a solid family dinner because my dad and I are big into cooking. Then, it's time for Netflix and bed.
Where in your home do you like to work?
No question: my old room, which my mom turned in to her jewelry studio after I moved to Brooklyn from Portland last fall. I lived in that room for the first 22 years of my life so it's my comfort space. Plus, my mom has it super done up with all kinds of paintings, pictures, lights and plants so the ambiance is great. It's a sort of spatial mood board for her brand so it allows me to connect more with her image when I'm working with her.
What do you wear while working from home?
It has gotta be comfortable. I only brought a suitcase full of clothes home to Portland from Brooklyn when I fled a couple weeks ago, lots of sweaters and tanks. Bottoms-wise, I have a cotton pair of Stüssy pants and some thrifted wool slacks
Then the UGGs: been wearing these new Stampd x UGGs I got from Extra Butter right before I left from the time I wake up to the time I go to sleep. Haven't worn a single pair of sneakers since I got off the plane.
1 of 4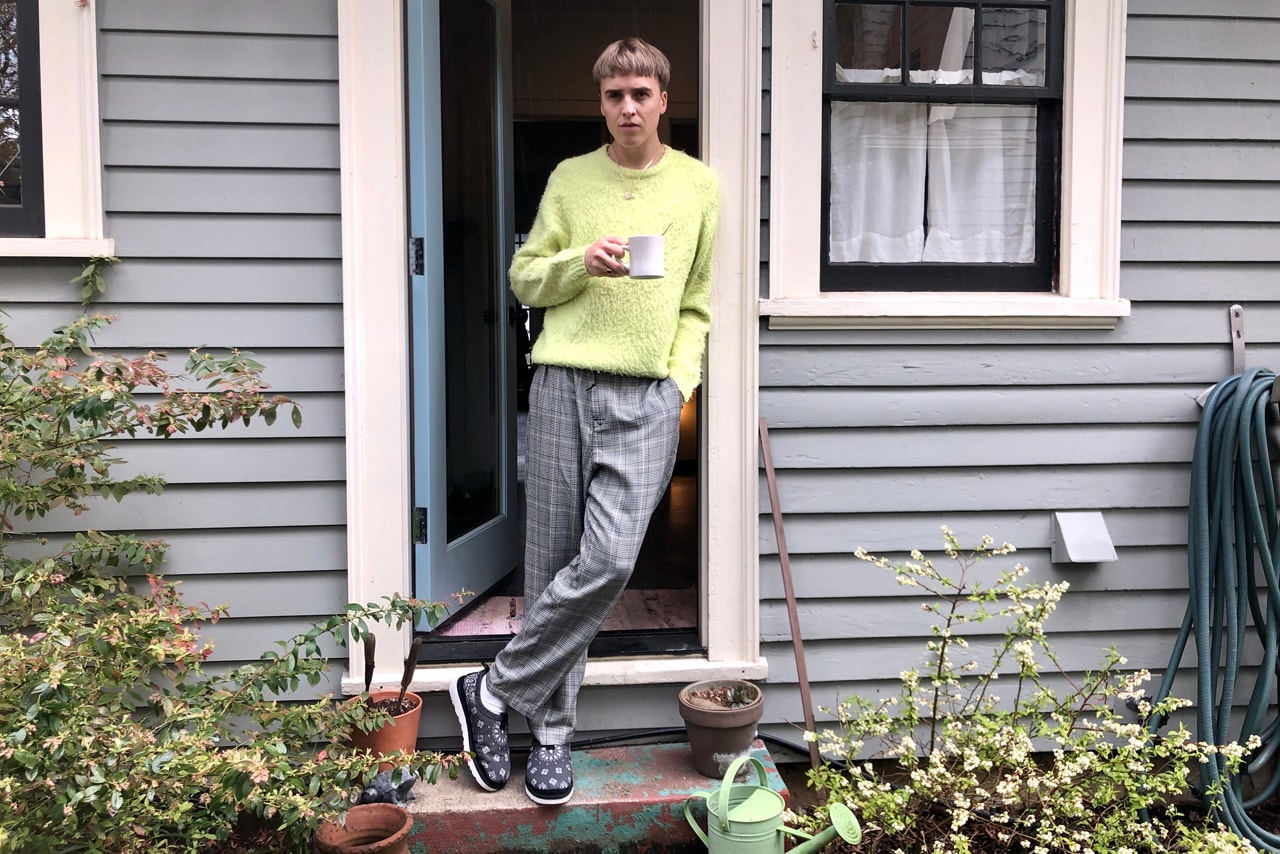 2 of 4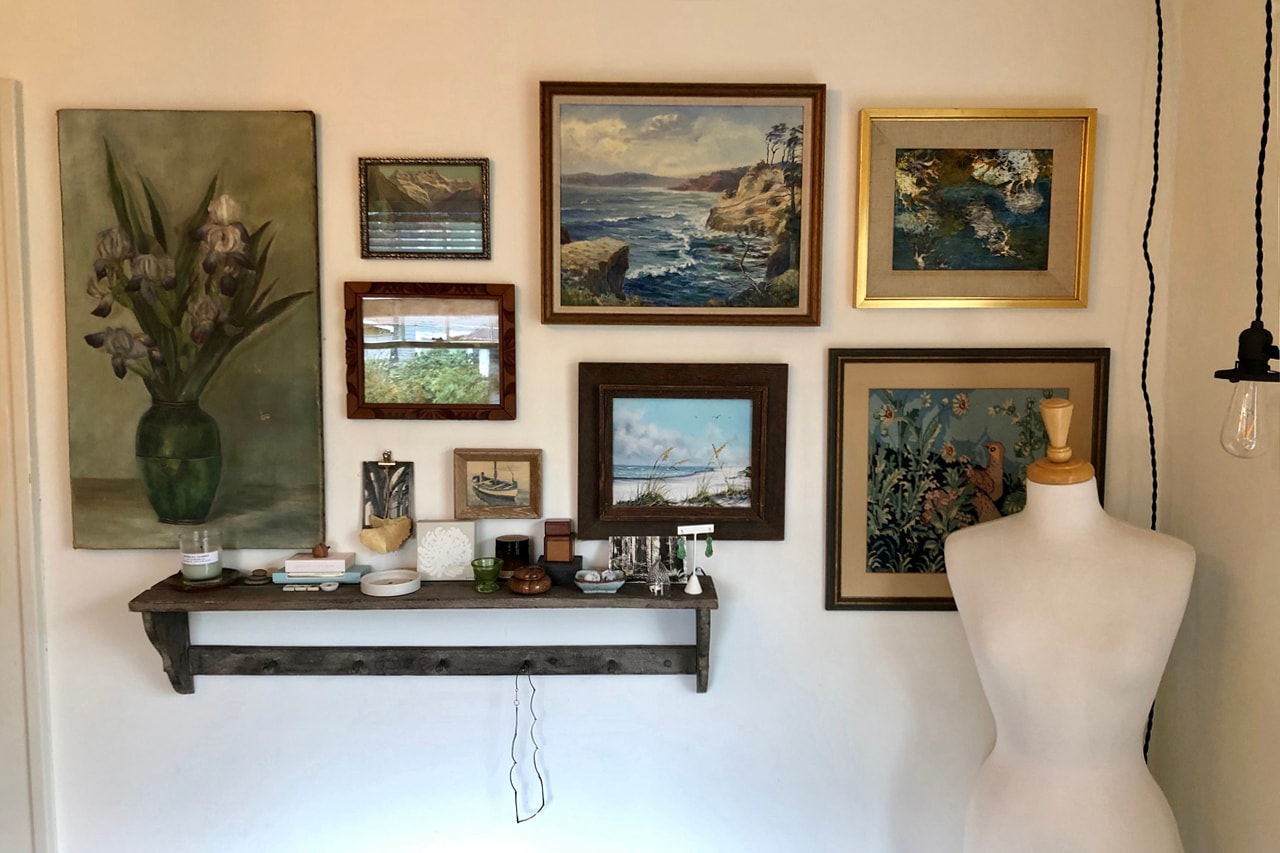 3 of 4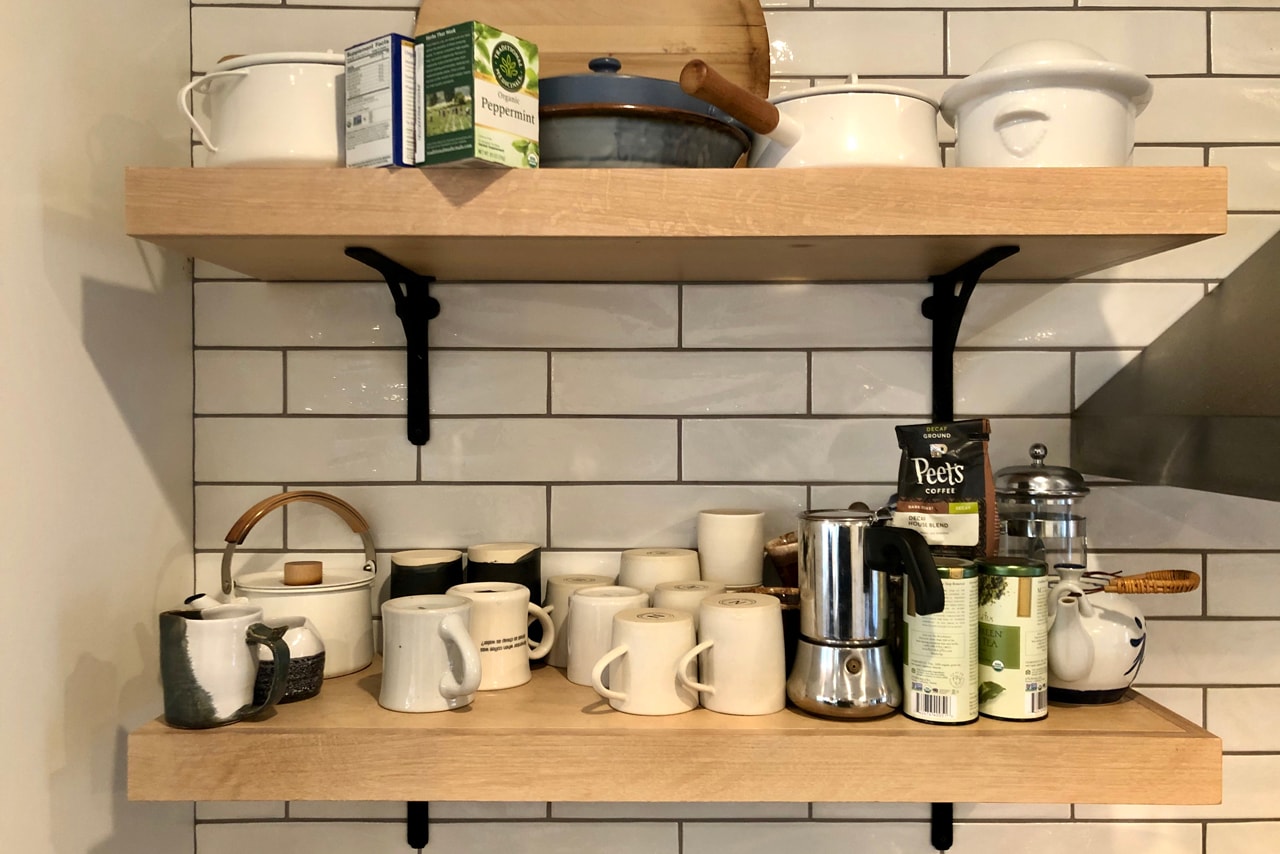 4 of 4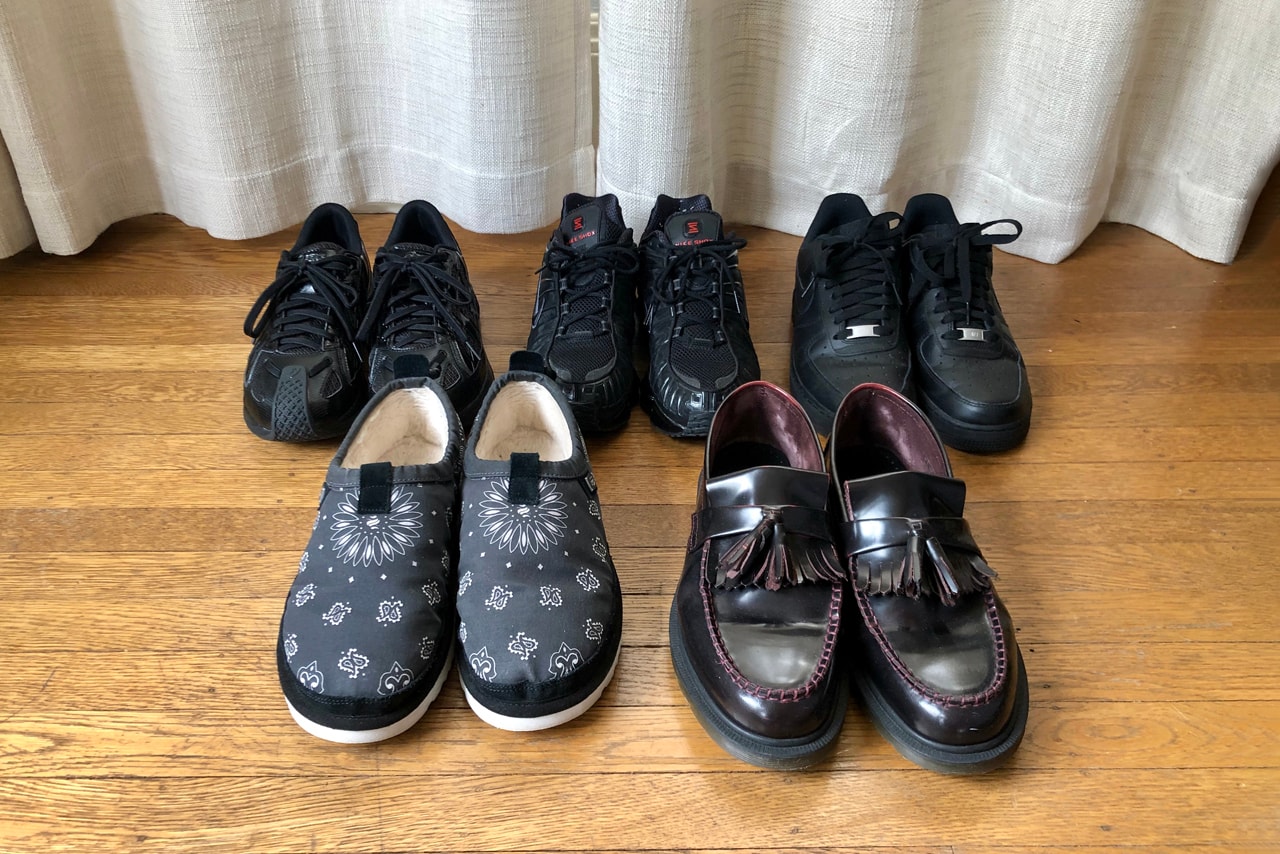 What are you eating now?
I've got a breakfast berry smoothie bowl I nailed down with homemade granola and banana I have every morning with some green tea. For lunch, I like to make a rice bowl with some egg, avocado, random vegetables and kimchi, if there aren't leftovers.
How do you stay in a good headspace while in isolation?
Most definitely by getting a good workout in every day: it's more of a meditative thing for me than anything else and it takes my mind off the stressful things that I now have an excess amount of time to think about. Other than that, I keep in touch with friends and people I care about daily, listen to a lot of music, cook, game and stretch. If you're someone who has to grind from home right now, don't work yourself into the ground. There are more important things.
What are you doing for fun?
Listening to: Chief Keef, Sahbabii, new Don Toliver, Pop Smoke, new Tame Impala, Zeppelin, Talking Heads, Eagles.
Watching: Family Guy, Twin Peaks, Cosmos, Giri/Haji and Bon Appetit on Youtube.
---
Karin Lienhard, content manager
What's your daily routine?
Usually I wake up, check my phone for anything work-related that's urgent, shower and then make myself breakfast. French toast, pancakes, or yogurt with a lot of Halo mandarins and a cup of OJ have been my go-tos. While I eat, I'm checking emails and Google hangouts and watching Cuomo on the news. I get to work for a couple hours until our daily leadership call and then I take a break. I try to walk to the park or ride my bike, just to be outside (not close to anyone though!). Then, I'll eat lunch and get back to work. After work, I either watch a few shows or movies or play my Xbox. Also going on the Houseparty app with my friends to play some games until I go to sleep.
Where in your home do you like to work?
I work in different places in the house depending on the day. When it's sunny in the morning, I hang out in the kitchen because it has the nicest natural lighting. I usually end up in the mostly-empty guest room since it has the least distractions.
What do you wear while working from home?
My usual fit has been random sweatpants or shorts with socks or slides and a basic black tee.
1 of 3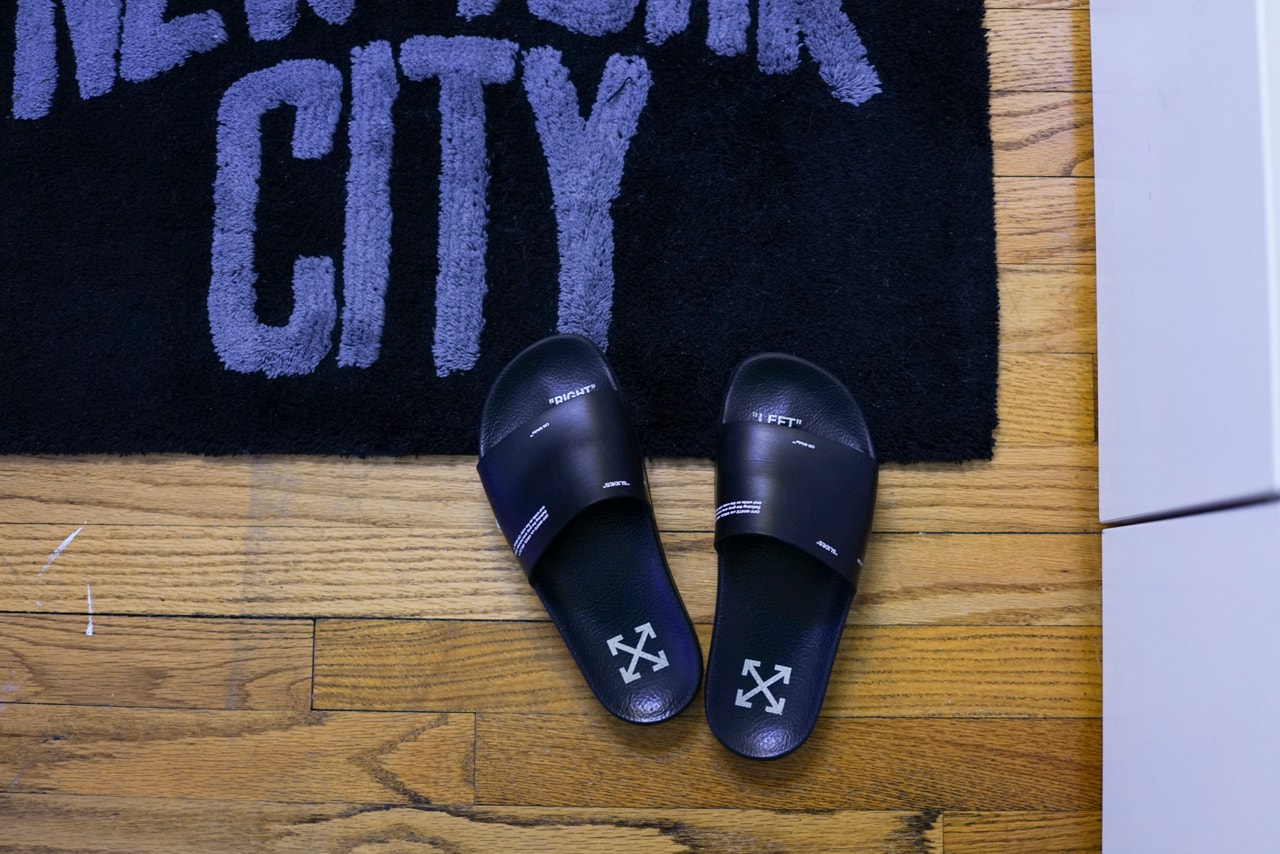 2 of 3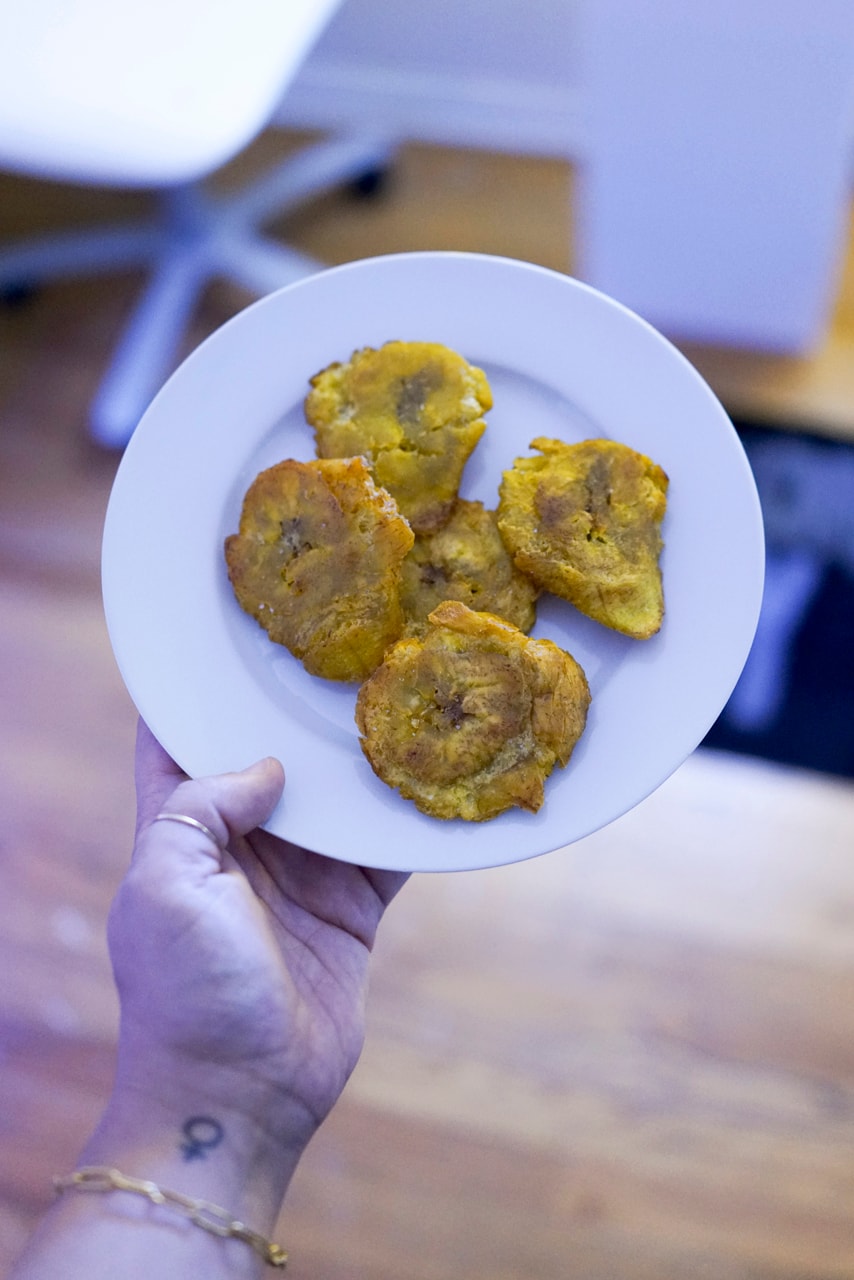 3 of 3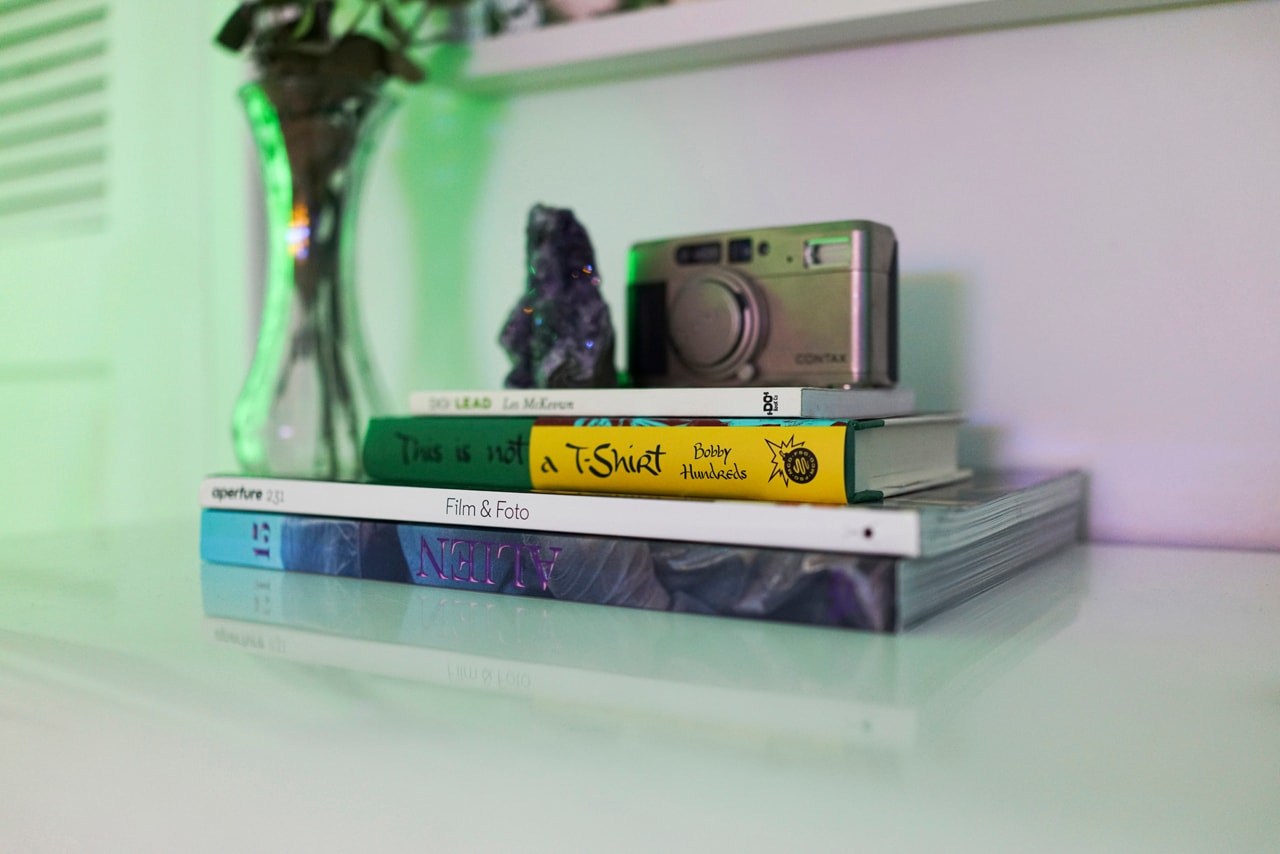 What are you eating now?
I've been eating much better than I usually do except for when I heat up boxed freezer food. A lot of oranges, yogurt and snacking on multigrain Cheerios throughout the day. For dinner, luckily, my mom has been cooking for me: Dominican- or Puerto Rican-style rice and beans are my fave. Also a lot of cauliflower pizzas.
How do you stay in a good headspace while in isolation?
Staying motivated has been tough but I've been listening to good music and going outside for at least an hour a day. I've collected a lot of photo and design magazines over the years, so I also skim through those.
What are you doing for fun?
I've been listening to a lot of my own playlists I've made on Apple Music and Soundcloud and a lot of new stuff – J.Balvin, Bad Bunny, Little Dragon, Flume, Kaytranada, Sango and more. I havent been watching much TV except for random [Law & Order:] SVU episodes and weird Netflix shows.
---
Chino Creese (a.k.a. LoftBlue), sales associate
What's your daily routine?
Usually waking up starting my day by 8 a.m. I immediately wash my face and organize, then soon after I'm squeezing lemons for my daily lemon water. Before I listen to music or attempt to operate in a functioning capacity, [I] intake some sativa herbal flower.
Where in your home do you like to work?
I have a pretty decently-size open area in living room where there is a personal home studio set up [with a] Neumann microphone, Yamaha HS7 speakers, Focusrite ISA One (pre-amp). This open space allows sound to travel in an echoed daydream essence, which is aesthetically pleasing to my ears.
What do you wear while working from home?
I'm usually in my favorite Brain Dead cap with some vintage Levi's jeans along with my gold chains. This reminds me of a king's mindset of vanity.
What are you eating now?
I'm usually bare minimum on eating while I'm the creative mindset. At times, I order some Thai food or possibly chef something up since I'm very particular.
1 of 2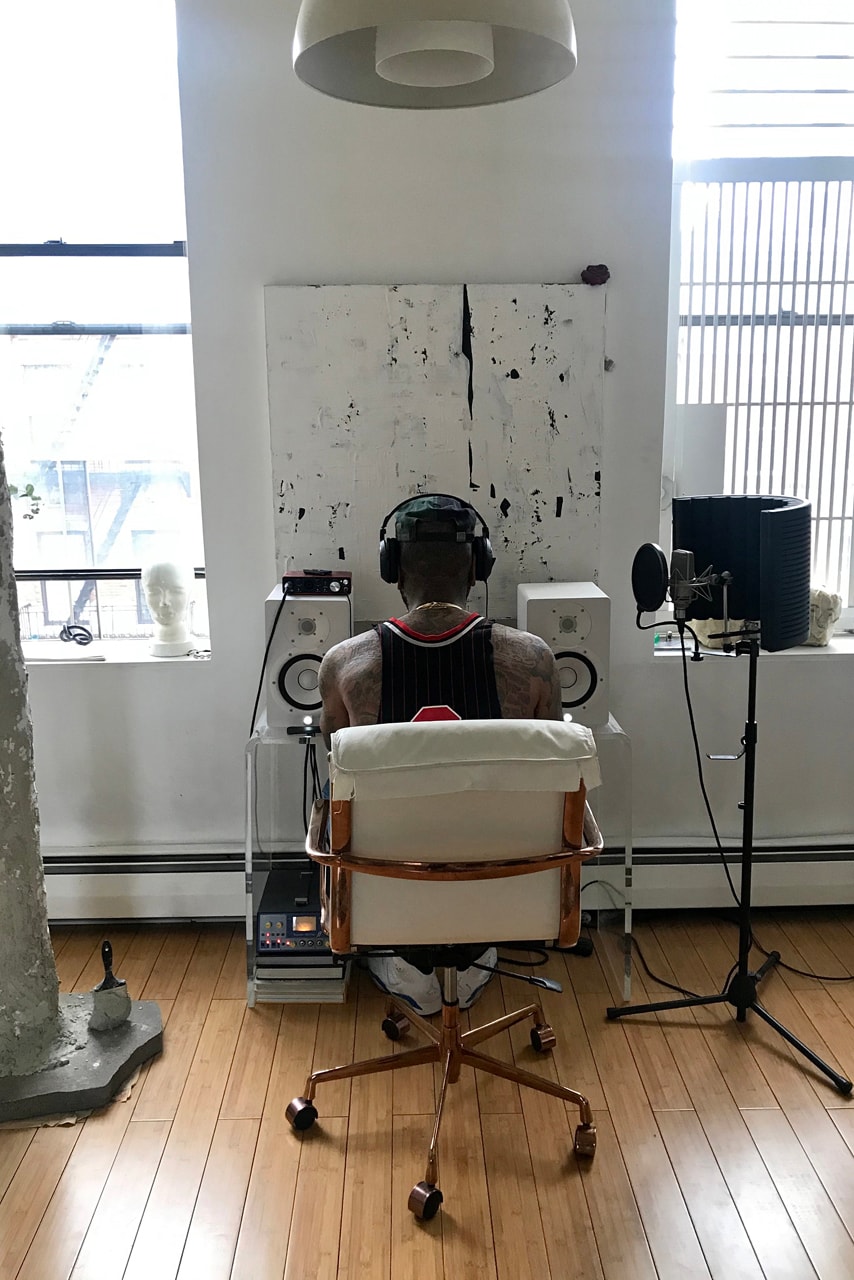 2 of 2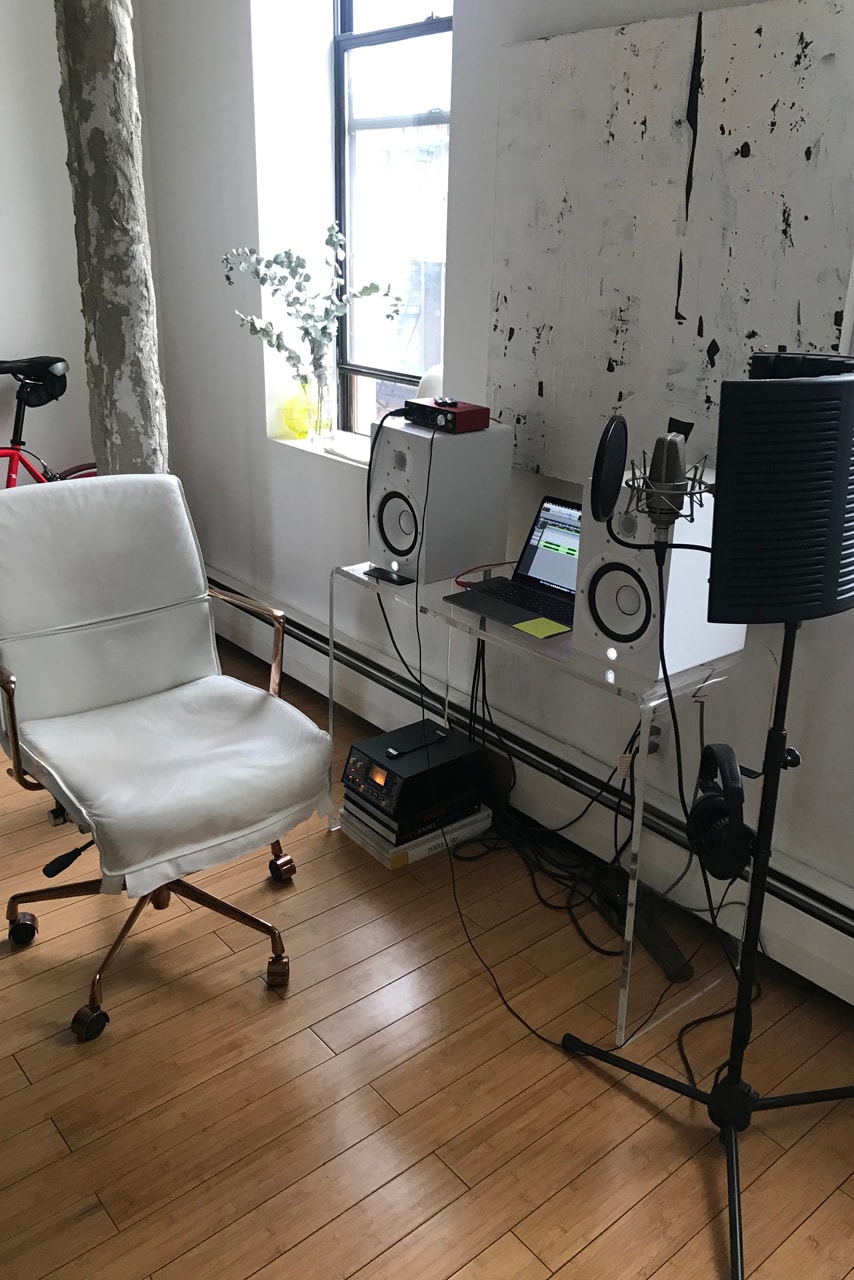 How do you stay in a good headspace while in isolation?
To keep complete sanity under isolation I focus on the things that I can control, which is more sufficient to my preparation and strategy. Most importantly holding daily conversations with close friends becomes super beneficial since my story line and message are built of pure daily interaction with the world from my perspective in how I embrace and let go.
What are you doing for fun?
Most of the things that feed my brain-chamber are things that may have nothing to do with music. This gauges my visual perspective on a level where I am not entirely disconnected from the world while remaining a master of words and rhythm. Most things viewed can range from the lives of third-world country living conditions, to podcasts discussing hip-hop and its genres to cooking shows.
Musically, I enjoy classical music, house, Afrobeat, hip-hop, rap and a little bit of grime.
---
Liliya Warner, sales associate
What's your daily routine?
As soon as I finish my morning routine, I can't wait to make breakfast because it's my favorite meal of the day. My options range from smoothies to avocado toast and everything in between. Staying active has always been a major aspect of my life, so I make it a priority to go outside and do cardio for at least an hour. I've also noticed that the one most appreciative of me being home is my dog, so he and I are enjoying spending a lot of extra time together.
Where in your home do you like to work?
In my bedroom, mostly. It's large enough where I feel like I have plenty of room to move around and be focused at the same time. I have roommates and tend to get easily caught up in conversation — trust me, I don't mind it, but it's not the smartest choice. One of the first things I do in the morning is make my bed, which puts a stop to me finding comfort there before bedtime. I sit at a makeshift desk I've created for myself and it works seamlessly.
What do you wear while working from home?
Comfort has always been something I look for when buying clothes, so putting together outfits at home hasn't been all that difficult. If it's not sweatpants, I definitely gravitate towards cargos or baggy pants since it's what I'm used to. I'm always sporting an over-sized T-shirt or sweatshirt with plenty of jewelry to light up the room.
1 of 3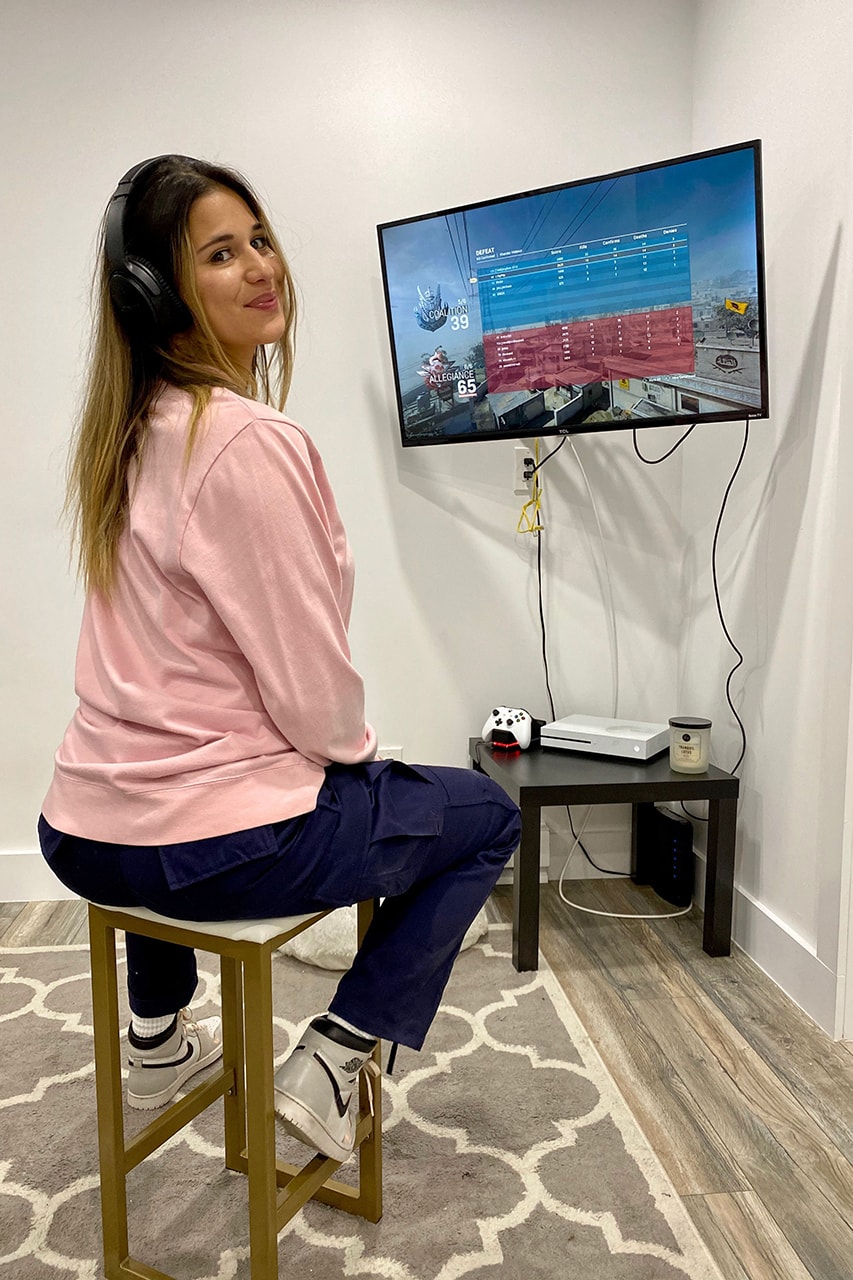 2 of 3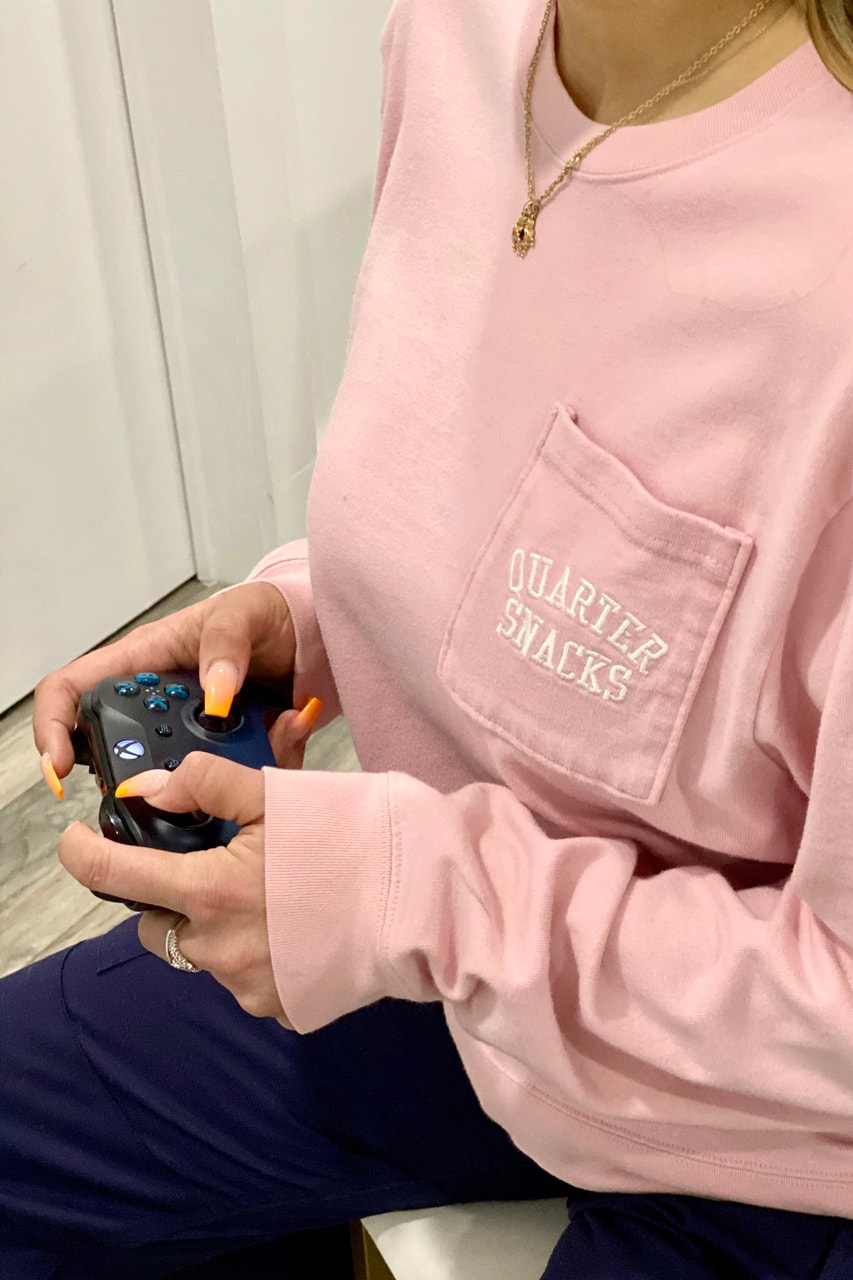 3 of 3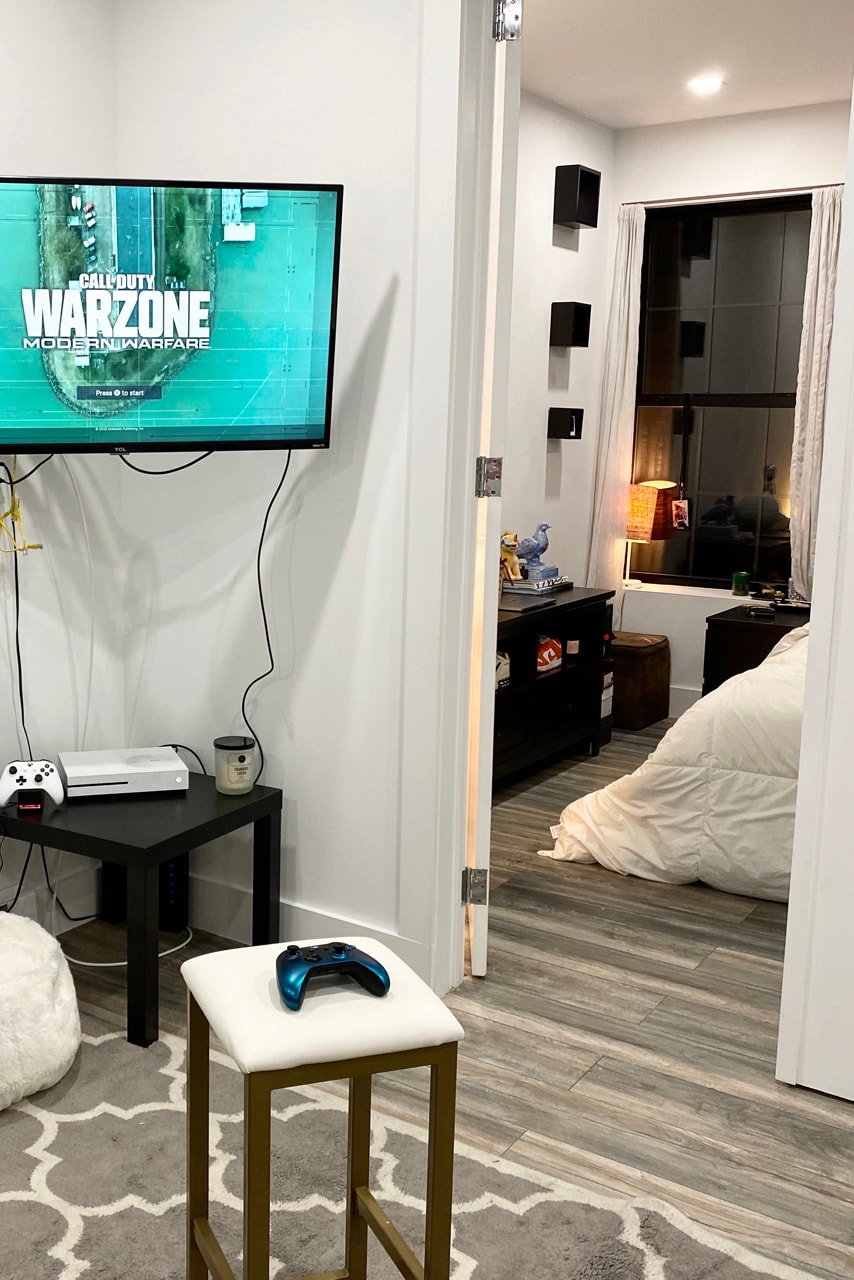 What are you eating now?
My diet is and always has been very clean. Unfortunately, it's not as easy to go out every week and get produce but I still make an effort to do so. I'm eating a lot of full meals, which is a luxury I didn't quite get during a typical workweek, because schedules and timing was very hectic. I'm overjoyed to spend more time in the kitchen and will surely come out of quarantine having learned new meals.
How do you stay in a good headspace while in isolation?
By going outside, creating and remaining social. I try to walk at least five miles a day and am lucky to live in a neighborhood where I can do so. It makes me feel like I've actually left the home for quite some time and I always return with a positive mindset. I've enjoyed extra time to draw and write in my journal, whether it be a piece that's really meaningful or one that's mindless and a combination of jumbled thoughts. If it keeps my pen moving, then it's all I need.
It's been a struggle to not get as much human interaction as I'm used to, but there's never a bad time to FaceTime the people who you know will put a smile on your face.
What are you doing for fun?
Fortunately, I have an Xbox which is the entertainment I gravitate towards as soon as I'm done with all other priorities. Playing video games has always been a hobby of mine and something that doesn't quite isolate me as much as watching Netflix. Strangely enough, I've been binge-listening a podcast about true crime named Crime Junkie which has unsurprisingly kept me on my toes.
 
---
Bernie Gross, creative director
What's your daily routine?
I usually wake up around 7 a.m. and lay in bed for about an hour reading emails and browsing social media. I'll have breakfast with my girlfriend between 8 a.m. and 9 a.m. while we watch some news or a YouTube clip. On weekdays, I'm pretty much at my computer from 10 a.m. to 7 p.m. taking care of work. [In between,] I'll take a break and have lunch with my girlfriend. We try to enjoy it uninterrupted and use quarantine as a silver lining to catch up on quality time together.
Each afternoon, EB's team leaders get on a video conference to check in and give status updates as we navigate this challenging time for retail. With everything going on, the structure of the daily conferences gives me some comfort that we're still in this together. I'll try to get my daily tasks done by 5 p.m. and then break to have a workout. Then, I freshen up and start preparing dinner with a movie or TV.
I've been using the extra downtime for spring cleaning. Reorganizing the apartment, getting rid of junk, and even considering what sneakers to get rid of and donate. I usually donate about 10 to 20 sneakers a year; the pandemic really puts an emphasis on what's truly important. My personal sneaker clout is not one of them. So, I'm doing a deeper cleanse this year.
Where in your home do you like to work?
I split my time between a makeshift desk space I set up at my dining room table and sitting on my couch and posting up my laptop on a snack tray.
What do you wear while working from home?
I'm usually in a hoodie with mesh shorts and have been putting in extra work on the Ovadia x UGG Tasman mules. There's also a new Extra Butter french terry jogger pant coming out soon that's come in clutch as a home essential.
1 of 5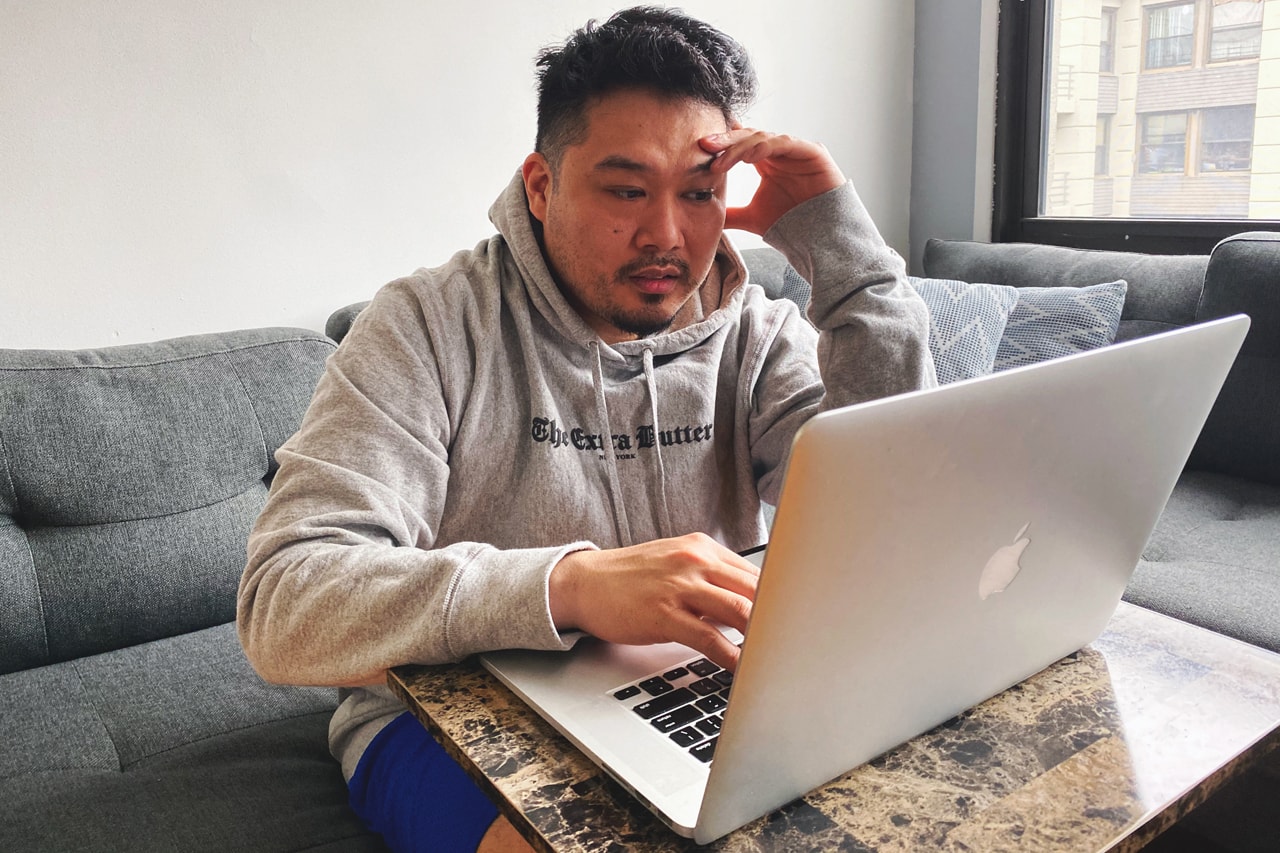 2 of 5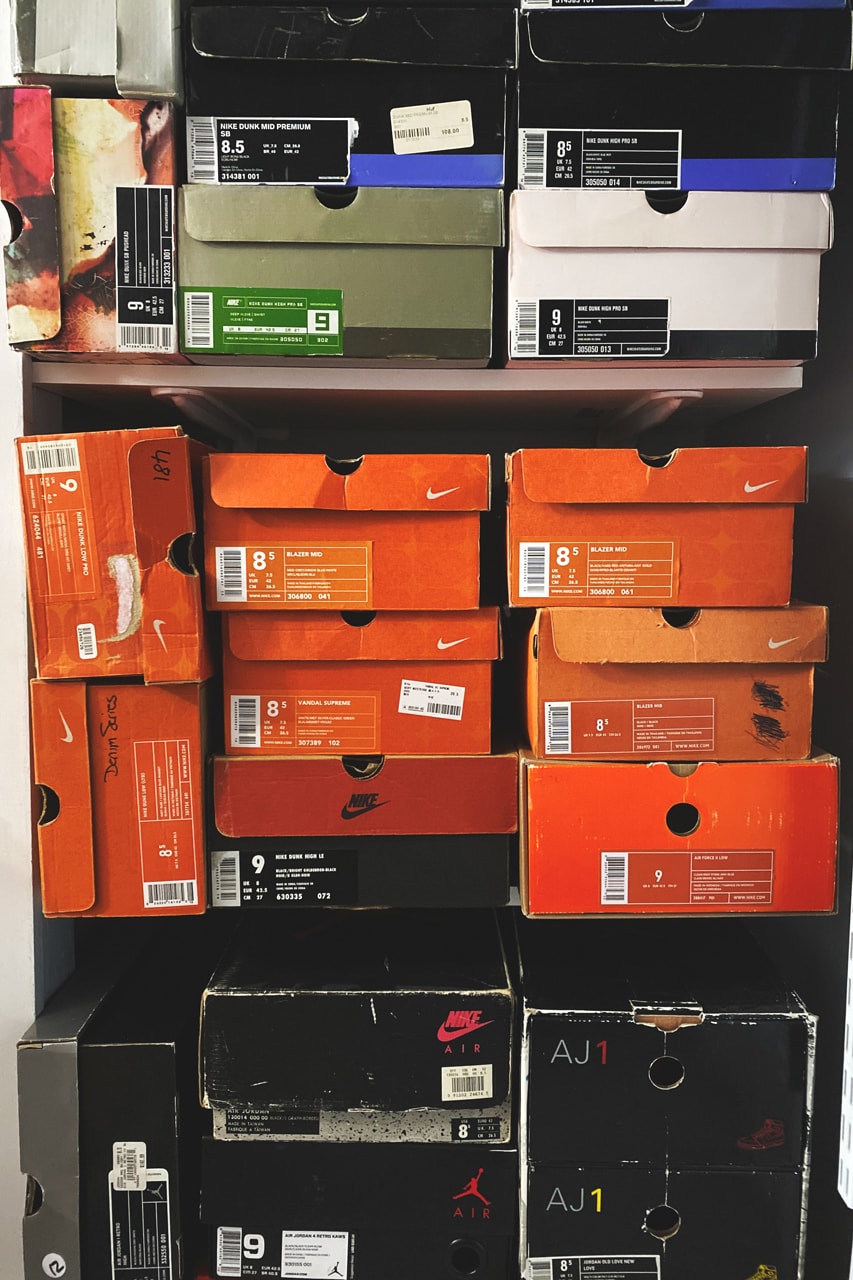 3 of 5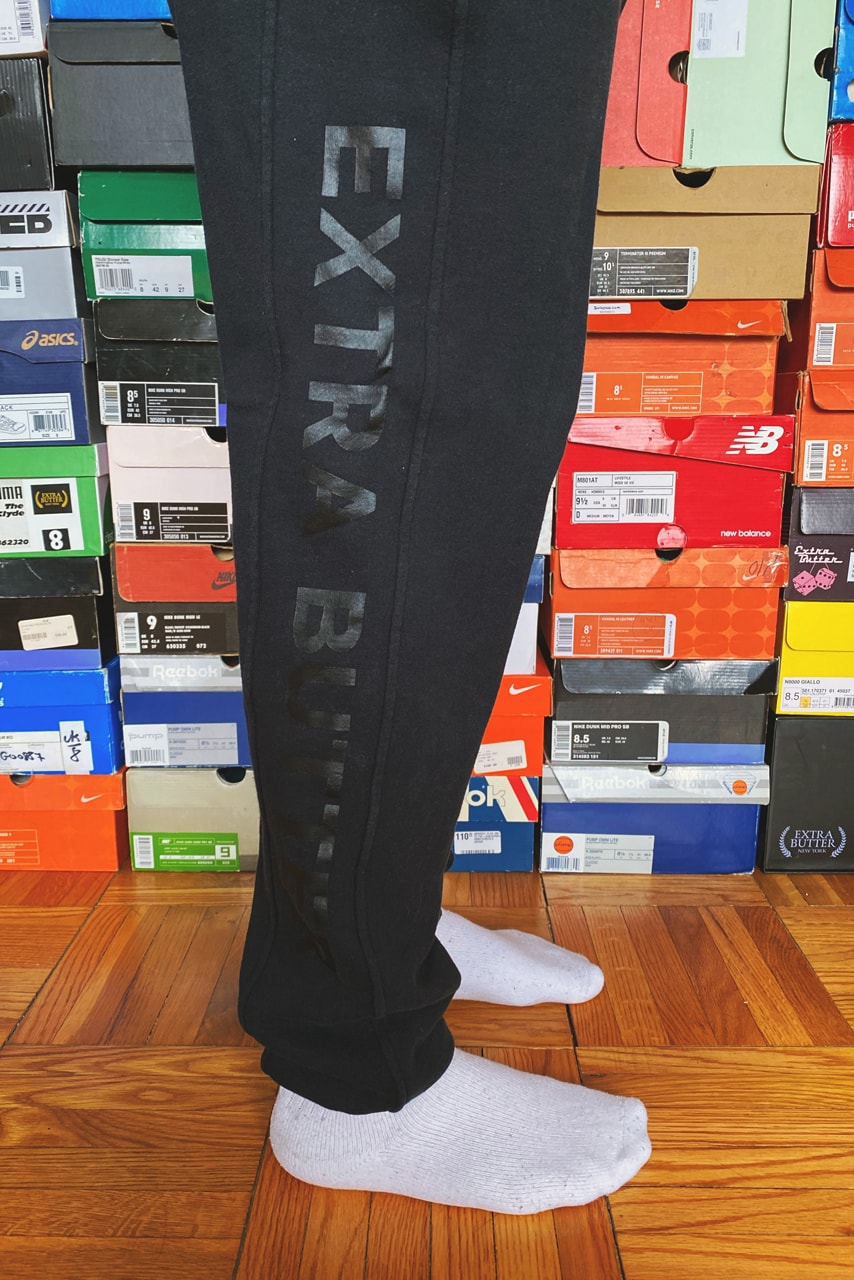 4 of 5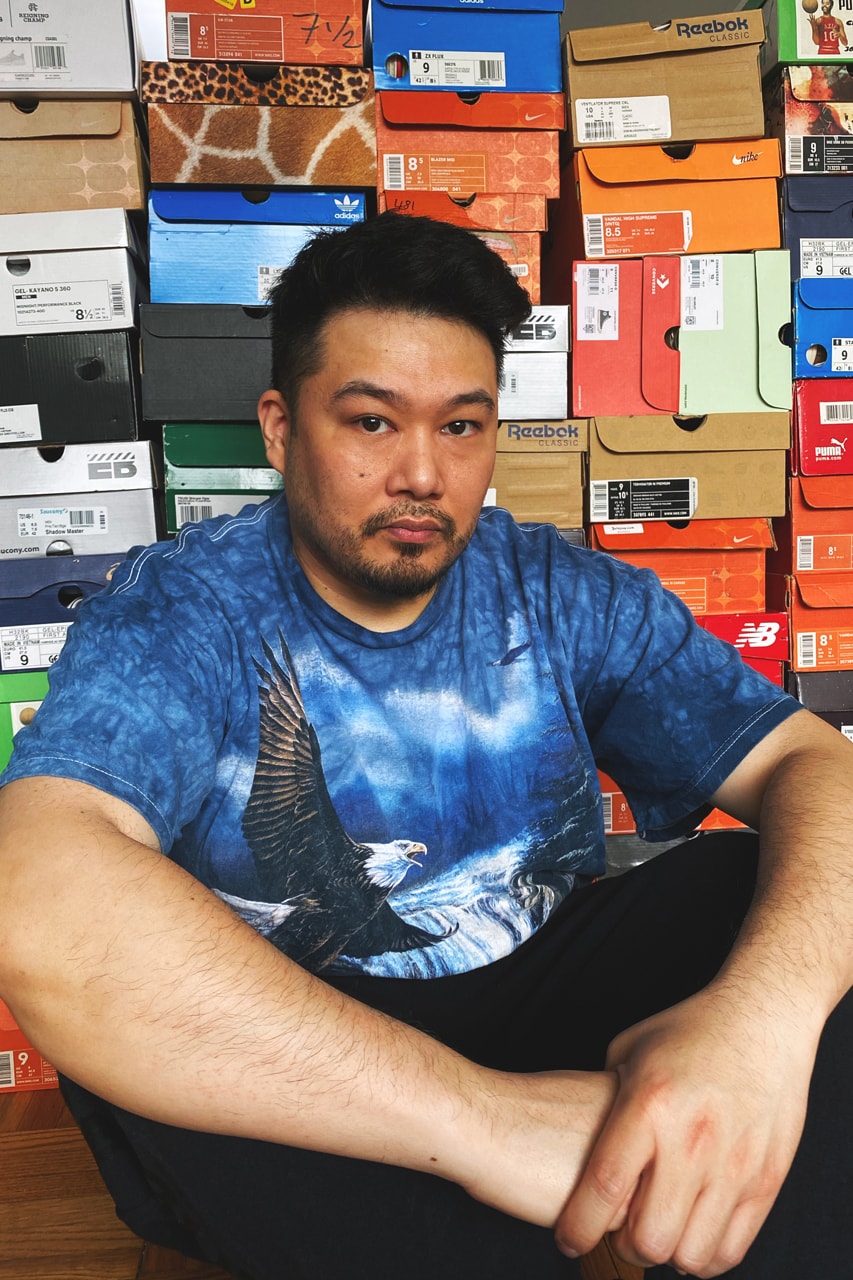 5 of 5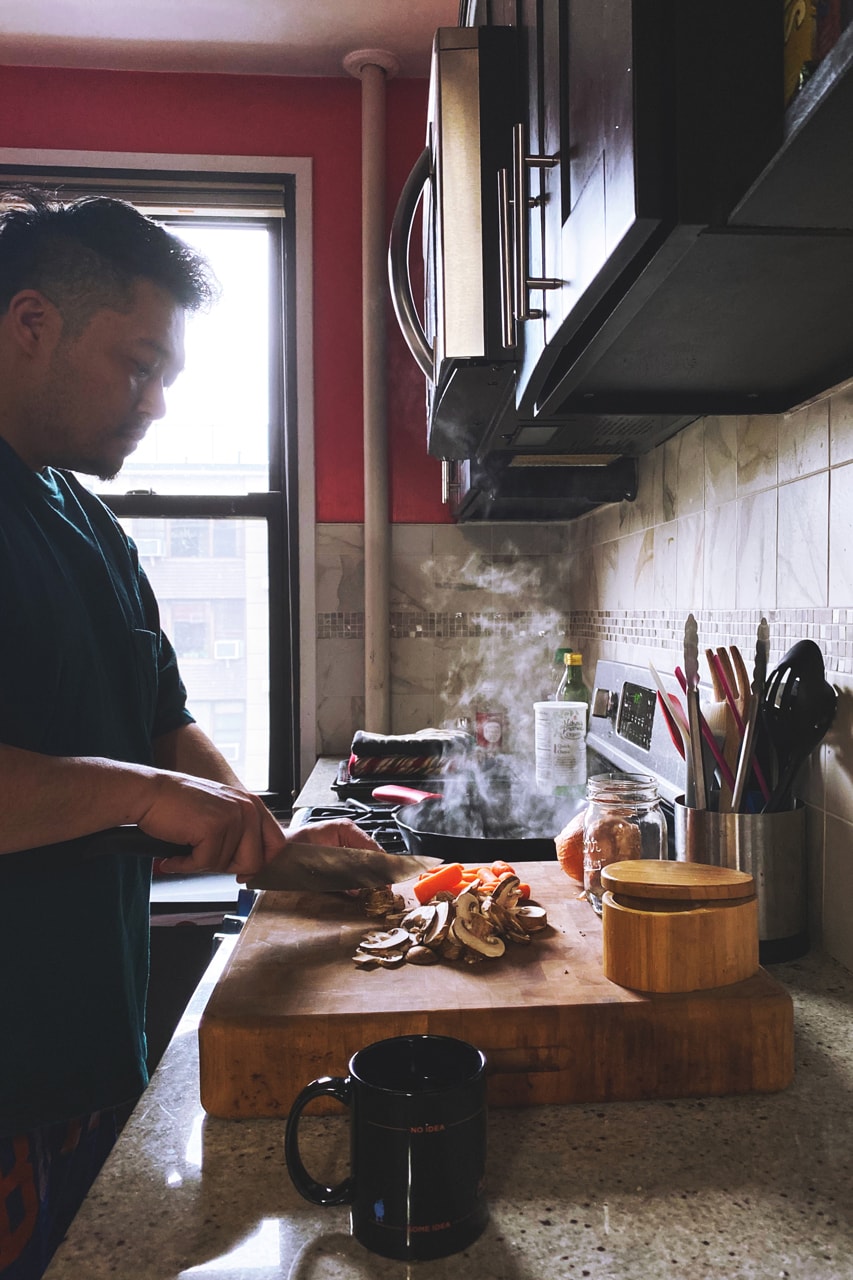 What are you eating now?
My diet is thriving in isolation. We go food shopping once a week and luckily have not had any problems obtaining the ingredients I require to make full meals each day. Little-known fact about me: if I didn't get into FIT for design, I would have attended a culinary school to become a chef, because I love to cook and host friends and family.
So, I'm taking advantage of isolation to cook more often than I usually do and enjoy my time in the kitchen as catharsis. Chicken quesadillas, marinated pork chops, bulgogi bowls, roasted vegetables, sautéed mushrooms, the occasional steak. My girlfriend's emphasis on balanced meals has helped me be more mindful of making sure I'm getting more vegetable options and cutting out carbs. Not going to some of my favorite dessert spots has significantly cut down my sugar intake which is great, although I'll occasionally splurge on ice cream.
How do you stay in a good headspace while in isolation?
I think being both a positive and pragmatic person has helped cope with the circumstances. Having the perspective that everyone is going through this and that there's only a certain degree of control over it helps, then I focus on other details that I can control. I'm usually not one for structure but I think having a simple schedule to follow helps. The busier and productive you can stay, the less time you have getting into a bad headspace.
Although a lot of social aspects are gone, there are still things at my disposal that I still enjoy the same as I would even before the isolation: movies and TV, YouTube and IG, texts with friends. Most importantly, my girlfriend keeps me sane.
What are you doing for fun?
I find that I'm not listening to much music lately. I miss driving my car, that's usually when I listen to the most music. I started listening to a Joe Exotic: Tiger King podcast by Wondery. If you're obsessed with the Netflix doc, then you need to listen to this as well (Carol Baskin definitely killed her husband). Another podcast is The Office Ladies featuring Jenna Fischer and Angela Kinsey rewatching The Office and giving behind the scenes commentary on each episode.
I started re-watching Broad City again, which is especially fun to me because there are so many scenes in the lower east side and a few characters actually wore Extra Butter. Also just started the Dirty Money series which explores corporate corruption and financial scandals.
EB has turned its signature film screenings at the shop into Virtual Movie Nite, so stay tuned to our social for info to catch the next one. But nothing is gonna be as important as Tiger King, that might be my new nightly ritual.