The Significance Behind the Supreme x Nike Air Force 1 Low "Box Logo"
A simple shoe that poses complex questions.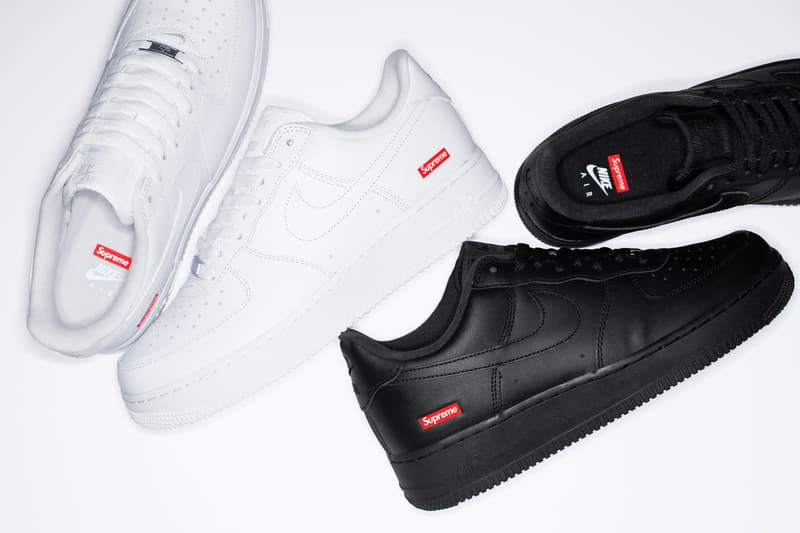 1 of 6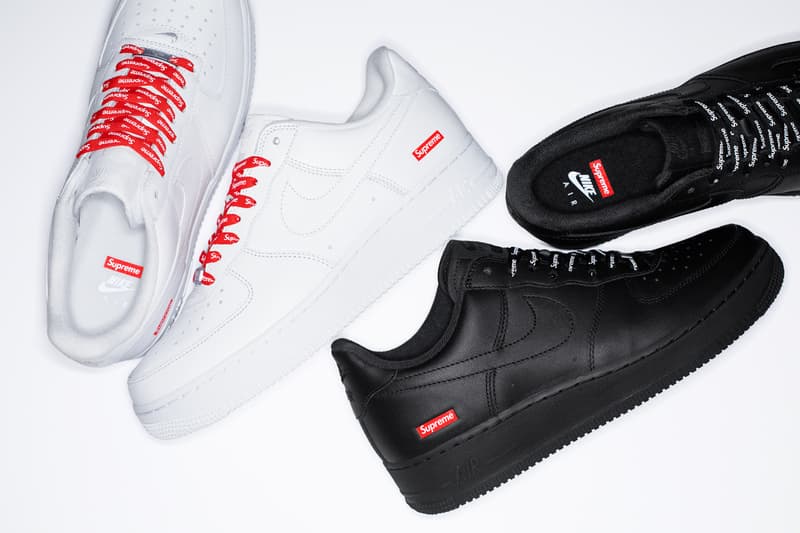 2 of 6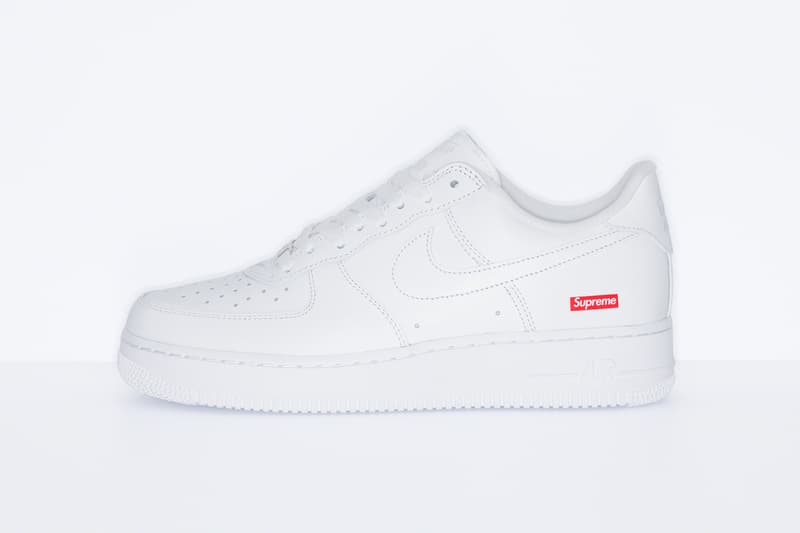 3 of 6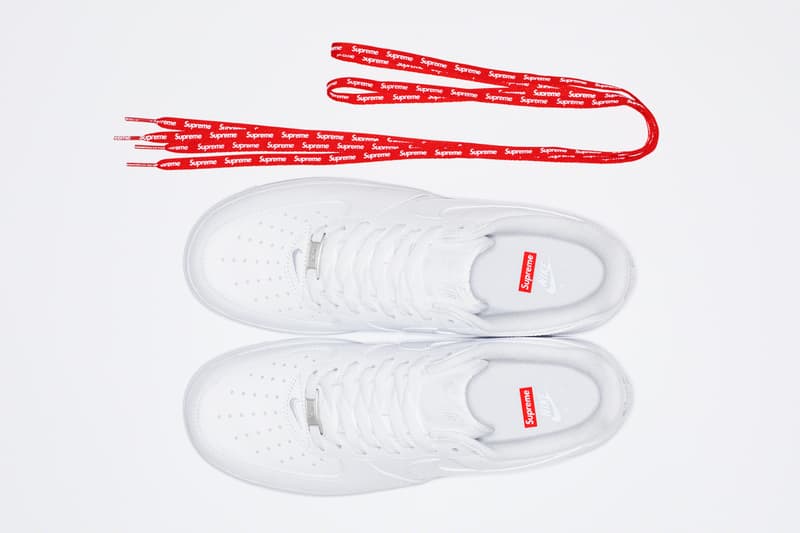 4 of 6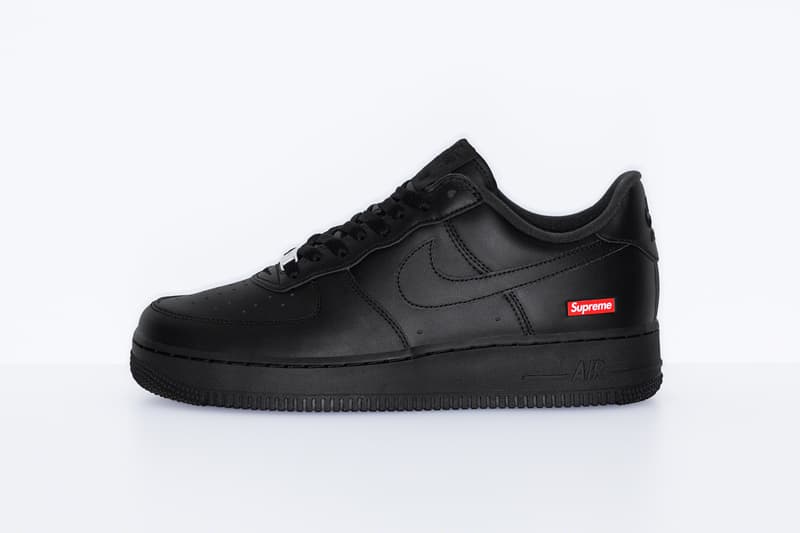 5 of 6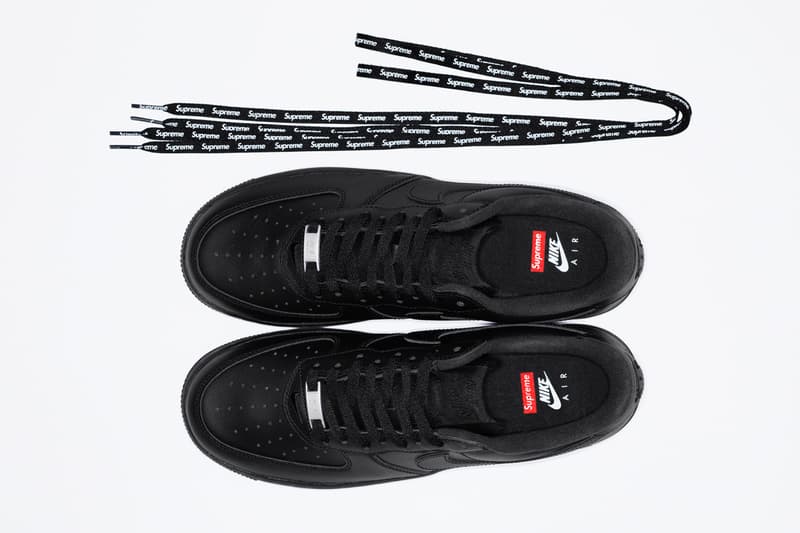 6 of 6
When it comes to impact, influence and omnipotence in the greater street culture space, few brands or entities can compete with Supreme and Nike. One's an influential-yet-still irreverent brand birthed of the brash '90s NYC skate scene, the other is a colossal athletic conglomerate with deep roots in a smorgasbord of the world's most influential subcultures. Now, they're continuing an extensive partnership with two new Air Force 1 Low collaborations. Although their latest effort may be simple in style, its straightforward build belies its vast depth — an ocean of cultural commentary is ensconced in the familiar design lines.
Supreme and Nike's shared power is exactly what makes the longtime co-conspirators' latest effort on the Air Force 1 so enthralling. In the past, the two have experimented with everything from military-issue NYCO fabrics (FW12) to bold, in-your-face branded motifs (FW14) and dropped Swooshes with COMME des GARÇONS (FW18), but the dynamic duo's sixth AF1 collaboration enters uncharted territory by going back to basics. It uses the Air Force 1 Low's two most iconic colors, all-white and all-black, each equipped with a simple-yet-significant modification: Supreme's signature box logo delicately debossed on the lateral heel.
When this stripped-back design was officially revealed in February it was immediately divisive, garnering strong opinions, both positive and negative, from Supreme and the Swoosh's loyal legions of fans. Supporters lauded it as a logical choice, noting the beauty in its simplicity and the inherent power in its recognizable motifs. Detractors derided it as lazy and underhanded, seeing it as little more than a low-effort cash grab.
What Supreme is doing with their upcoming Air Force 1 Low collab is actually pretty ground-breaking. And no, obviously I don't mean the colorways, but the thinking/business model behind it.

— Rich "MaZe" Lopez (@richmazelopez) March 2, 2020
Lmao wow. Basically no effort went into this collab.

— ً (@_KianaChante) February 14, 2020
Whether your personal feelings on the collaboration are favorable or foul, the shoe's timeless design and pervasive style is undeniably significant. The Supreme x Nike Air Force 1 is, in classic Supreme fashion, a clever commentary on the power of branding. It's a nod to masterful motifs, enduring design, and iconic color palettes, all wrapped up in a straightforward, no-nonsense silhouette. Maximum results, minimum alterations and embellishments. It's also somewhat simple — the loudest piece is an optional set of Supreme-printed laces.
"[The Supreme x Nike Air Force 1 is] clever," states Byron Hawes, author of Supreme anthology books Object Oriented and Art on Deck. "A triple white Uptown (Air Force 1 in New York slang) is essentially a white tee for your feet. A blank canvas that your fit projects upon. And this shoe, then, is an OG white box logo tee."
This collaboration is Nike's most famous lifestyle sneaker in its two most recognizable colorways, equipped with the most-known logo in the entire world of streetwear. It's the amalgamation of a shoe and a logo you've seen everywhere, fused in the most straightforward, blunt and brutally effective fashion possible.
Collaboration usually serves a specific purpose: to introduce one brand's audience to another brand, either tapping into the authentic air offered by one of the parties or the network provided by the other. This Air Force 1 however, does neither of those things. Supreme and Nike's audiences are so intertwined that this is more an acknowledgement than an innovation. Collaboration is the new norm, and that's fully proven here.
Supreme added jet fuel to the fire when it announced that it would restock both styles "regularly throughout seasons," as stated by the brand in the Instagram caption above. Although the Air Force 1 is certain to sell out during the inaugural release — and will likely continue to do so as it's replenished — this decision puts it on a level of ubiquity that's close to Supreme's universal Hanes boxers, socks and tees, season-after-season releases that date back to the early 2010s. This is undeniably fitting: in its own way, the AF1 just as much of an archetypical streetwear product as those basic garments or other notable Supreme products like camp caps and hoodies.
The choice to make these Forces more widely available is also significant in that it goes against Supreme's standard collaborative protocol, especially when it comes to sneakers. Anyone who's dragged themselves out of bed or waited in line on a chilly Thursday morning in NYC knows the drill: collaborations are extremely limited, they release once and once only, and are then gone forever. It's a simple case of supply and demand, and for almost three decades the demand for Supreme's products has vastly overshadowed the supply.
"[Supreme is] already a worldwide phenomenon and global juggernaut in streetwear, and it's interesting to see them lean into that" says Grailed Brand Director Lawrence Schlossman. "Whether they like it or not, they've created a movement, a lifestyle, and propped up an entire genre. What's significant [about this collaboration] is that it seems like they're finally accepting this by using their position to create a tasteful product that will be available to a lot more people than usual. Supply is meeting demand at a fair equilibrium."
This level playing field between supply and demand poses questions both simple and complex to Supreme's diehard consumers: with the rarity stripped away, is the shoe good enough that you'll fiend over it even when it's more accessible? Will it continue to be a staple product in the years to come? Is Supreme beginning to loosen its famously tight production runs? Or as Hawes asks, "Is it a sign of things to come in a post-Carlyle Supreme world?" Only time will tell, but we've got a hunch that Supreme and Nike already know the answers. After all, their respective track records would certainly indicate as much.
---
The Supreme x Nike Air Force 1 Low in white and black releases on Supreme's webstore and at its flagship stores today, March 5 at 11 a.m. EST for $96 USD. Restocks are planned for the remainder of the SS20 season and for seasons to come.
For more from Supreme, check out its signature SS20 looks spotlighted in THEM Magazine's recent editorial.