This Is What to Expect from Sneakers in 2020
The new decade marks a new era in sneaker culture.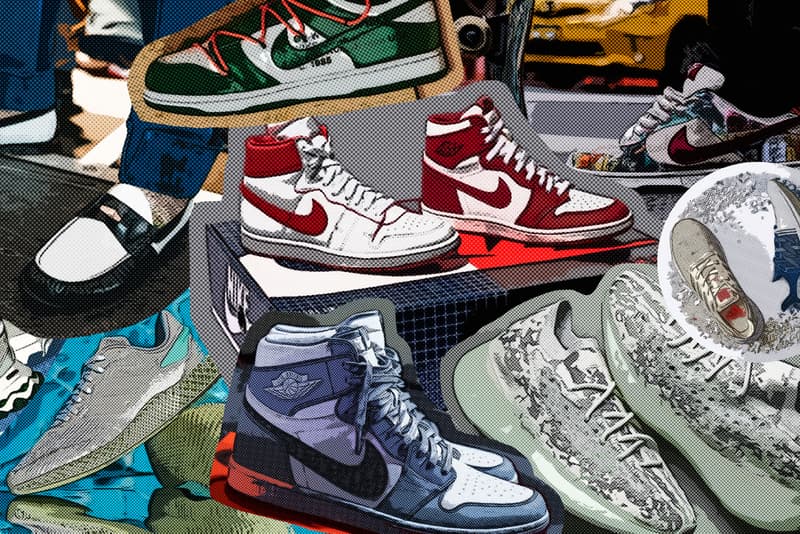 When 2019 drew to a close, it marked the end of an era in more ways than one. Sneaker culture at large shifted immeasurably between 2010 and 2019, with innovation, collaboration, enhanced exposure, hype and a booming secondary market joining forces to create an omnipotent mainstream monolith. In short, change was the only constant.
In many ways, 2019 was a microcosm of the decade as a whole. Collaborations from the industry's biggest players like Kanye West, Virgil Abloh and Travis Scott ruled the day. Brands like sacai and Cactus Plant Flea Market put their signature spins on classic silhouettes, helping footwear companies push avant-garde lifestyle products. At the same time, technology continued to advance in great leaps and bounds. Let's be real: sometimes it's still hard to believe that you can stroll into a store and purchase a pair of self-lacing shoes.
As we close the book on the 2010s, it's only natural to wonder what the next decade has in store for us. Trying to play the long game in as volatile a world as that of modern-day footwear is a lost cause. However, it is possible to look out over the course of 2020 and spot potential trends that are boiling under the surface, ready to burst onto shelves and establish a spot in sneaker-loving hearts. Here's what we see going down this year.
Going for Gold in Tokyo
Although the Olympic Games are primarily a chance to bring together the world's finest athletes every four years, it's also a de facto innovation summit for athletic gear, and Nike has been known to rise to the occasion. Over the course of the last three Games, the Swoosh secured a trifecta of gold medals. It debuted the high-performance Hyperdunk in 2008, unraveled the now-ubiquitous Flyknit yarn in 2012 and revealed honeycomb support plates on track spikes in 2016.
Although Nike's plans for 2020 are still under wraps at the time of this writing, it's likely that the long-rumored Air Zoom Alphafly NEXT% — a divisive shoe that helped Eliud Kipchoge run the first sub-two-hour marathon and has been said to provide a competitive advantage with its carbon fiber plates — will be mass produced for the first time. It's also not unrealistic to assume that the push for Olympic innovation will be carried over into other key markets like basketball and skateboarding. In short, the Olympics are a chance to set the tone for the next decade and Nike is undoubtedly viewing it as such.
Enhanced Materials, Advanced Technology
What's in or on your shoes has always been important, but the actual materiality of your sneakers seems to matter more than ever. Quality materials and advanced technologies are two tremendously important selling points for any major footwear brand, and thanks to cutting-edge manufacturing processes they've been pushed farther into the spotlight than ever before. The democratization of high-end tech began in earnest during 2019, and will likely become even more notable in 2020. Two major examples are adidas's Futurecraft and Nike's Adapt.
Thanks to more affordable models like the new 4D Run 1.0 (a shoe that retails for $100-$150 USD less than past Futurecraft models), adidas' 3D-printed midsole technology has been opened up to a wider audience. The tech's unique construction and sustainability have made it popular since its launch, but now that it's been made available at a more palatable price point you can expect its presence to increase as well.
On the Nike front, the name of the game is Adapt. Once only available on ultra-limited, extremely expensive shoes like the Air Mag and Hyperadapt 1.0, the power-lacing technology is now a mass market offering that can be controlled from your iPhone or Android thanks to designs like the Adapt BB and Adapt Huarache. An Adapt BB 2.0 has already been announced for February, but don't be shocked if Nike's motorized fit system ratchets up its intensity over the remainder of the year as well.
There's also been a vastly increased call for enhanced materials on lifestyle silhouettes in recent months. Think GORE-TEX, Primaloft, Cordura and more. Of course sturdy fabrics and synthetics are not new to the footwear lexicon, but the enhanced focus on them certainly is. Thanks to branded iterations of iconic silhouettes like the Air Force 1 and Stan Smith, these technical textiles have taken on lives of their own, serving as a "status symbol" for savvy sneakerheads. Expect to see these materials and their associated motifs receiving a great deal of attention over the course of 2020.
Sustainable Styles
Fashion is one of the world's foremost producers of waste and greenhouse gases, so the last few years have been somewhat of a reckoning period. Sneaker companies are beginning to feel the rising temperatures of climate change as well, and in 2020 you can look for them to respond with more sustainable products that generate less waste.
This is one area in which adidas clearly leads the charge. Through partnerships with Parley for the Oceans, waste-less midsole tech like 3D-printed Futurecraft and developmental products like the Futurecraft Loop, the Three Stripes is putting Earth first in 2020. Nike is certainly no slouch either: it's using recycled or left-over materials in new products, tapping renewable energy sources for its factories and aiming to be carbon neutral in the next few years.
Eco-friendly materials will garner a greater portion of the spotlight as well. Brands such as Veja exclusively use vegan leathers, and other companies like Vans have experimented with more animal-friendly materials. This offers ecologically conscious alternatives to standard leather footwear, and provides an answer to one of the industry's major challenges: how do you craft a shoe that looks and feels like what your consumer is used to, but is less wasteful? Expect these sustainable methods and materials to take precedence over the course of the year — we've only got one planet, after all.
Return of the Dunk, SB and Sportswear Alike
Any tenured sneaker connoisseur will adamantly state that the Nike Dunk never really went away, and they're correct. However, the sneaker trend pendulum is swinging back around to Nike's basketball-and-skate classic in a way we haven't seen since the SB Dunk's glory days in the mid '00s.
The most obvious explanation for this is simple: constant co-signs. Tastemakers and trendsetters hold a tremendous amount of sway in today's world of social media, so every time Travis Scott, Virgil Abloh or even Kylie Jenner is photographed in a pair, desire for similar product builds among their ardent fans.
Apart from engineering surface-level clout, Nike is also developing deeper meanings, masterful marketing schemes and good products. Most directly, Nike SB has been limiting distribution once again by giving small skate shops first dibs on many of the best SB Dunk drops. This slow burn is beginning to boil and has established the "thrill of the hunt" once again, a hallmark of sneaker collecting in the '00s. Dunks and the rich stories around them have always been cultural signifiers of sorts, and that storytelling has once again been amplified.
The aforementioned trend pendulum's swings are partially a product of age, too. Now, people who were teenagers in the Dunk's "golden era" are adults with full-fledged jobs. This enables them to secure the sneakers their younger selves craved, and plenty of Dunks/SB Dunks will be available over the course of 2020, which come December we may well look back on as the "year of the Dunk."
Luxury Sneakers, Collaborative or Otherwise
Once exclusively aspirational, high-fashion footwear was democratized over the course of the '10s. That more inclusive attitude will continue on in 2020 thanks to two factors: collaboration and compatibility. In today's collaboration-crazed world, brands have explored seemingly every avenue of co-creating out there. However, centuries-old high-fashion houses linking up with core sneaker brands is still new and exciting. Think Dior x Jordan Brand, Prada x adidas, and Valentino x Onitsuka Tiger. These projects bring those lofty brands down to Earth, and could set a luxurious new norm for cross-branded offerings in the next decade.
In-line releases have vastly improved as well, with popular high-end styles like Alexander McQueen's Oversized Sneaker and the Balenciaga Track.2. The lines between the worlds of street and runway culture have been smudged to a point of near nonexistence, and they may be erased completely by the end of 2020.
Lampin' in Loafers
Loafers are set for a big year in 2020, a natural progression from the extreme popularity of Doc Martens in 2019. As classic tailoring makes its way back into menswear, the shoe choices associated with it still lean towards the casual side, discarding uber-formal dress footwear for elevated loafers in premium materials.
Many of these are collaborative designs, and what's different about this vein of collaboration is that it's the partners pushing for loafers, not the major brands that actually craft them. You need look no further than Cottweiler x Reebok, Kiko Kostadinov x Camper and GmbH x ASICS to see loafers evolving with the ever-shifting tastes of consumers. The movement is indeed gradual, but these collaborations provide an easy access point to an alternate style of footwear. Sneakers' dominance shows no signs of slowing down, but this rise of loafers does present a decidedly appealing alternative.
Evolution of YEEZY
Since launching in 2015, bombastic rapper/designer/choir leader Kanye West's adidas YEEZY sneaker line has quieted the naysayers, establishing a new standard in lifestyle footwear with popular models like the BOOST 350 V2 and BOOST 700. In 2020, it's set to keep that momentum rolling with several fresh styles.
West and adidas are pushing a wholly different batch of shoes, helmed by the 700 V3, BOOST 380, 700 MNVN and 500 High, all while the line's mainstays like the BOOST 350 V2 continue to release in several new colorways. We may even see the oft-delayed YEEZY Basketball. Apart from this, the line's new focus on sustainability has resulted in increased domestic production. This entails design studios in Wyoming and going "seed to sole" on other styles like the made-of-algae YEEZY Clog, a shift in thinking that could positively affect YEEZY products. Long lauded as an unequaled innovator, West is pushing the envelope once again and the general public stands to benefit from it in 2020.
Continued Dominance of the Air Jordan 1
There's no doubt about it: the Air Jordan 1 is unquestionably the most popular shoe in Jordan Brand's lifestyle lineup. From limited collaborations that resell for four-figure sums to accessible in-line releases that can be easily plucked off of chain sneaker store shelves, every style seems to be gobbled up by voracious consumers. People crave the AJ1 so much that even oft-derided models like the Air Jordan 1 Mid and Air Jordan 1 Low have become desirable. Essentially, it's experiencing a run of popularity the likes of which we've never seen before. That dominance will continue over the course of 2020.
Dior's Air Jordan 1 is already the prohibitive frontrunner for "shoe of the year," and it's hard to see any other release topping it in terms of hype and cultural significance. The release of the Hi '85 — a style presented as the most true-to-the-original Air Jordan 1 re-release yet, complete with a flat, high-cut collar — will prove impactful as well, possibly even drawing back some long-term fans that have become jaded by the deluge of releases. Even the most brilliant star has to reach critical mass and implode into a supernova, but 2020 won't be the year that happens for the Air Jordan 1.