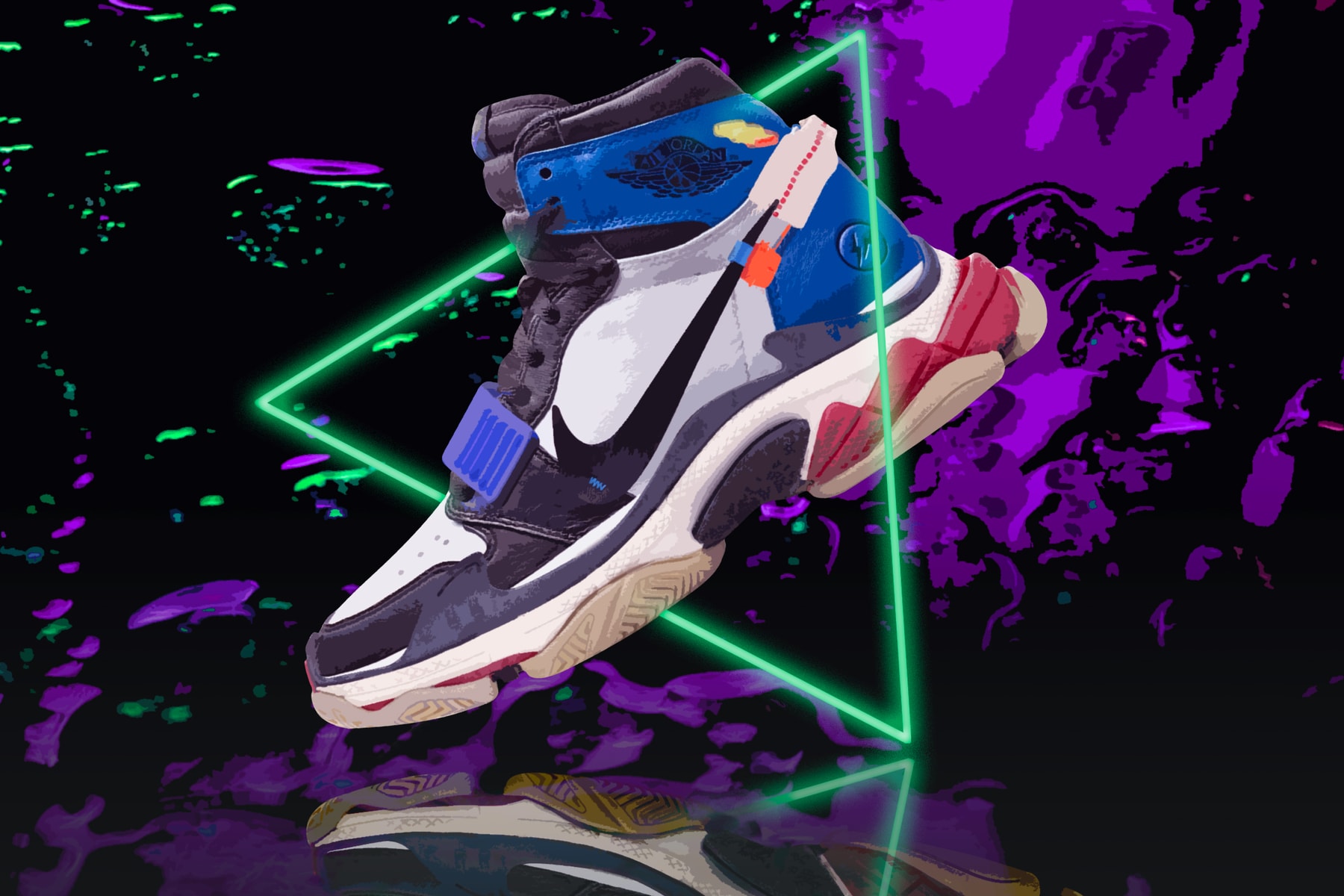 Most Influential Sneakers of the Decade
Just as fashion saw major shifts across all facets of business this past decade, so did footwear. Now a multi-hundred-billion dollar industry, footwear owes much of its meteoric rise to sneakers and its surrounding culture. Once a niche underground world living within long release lines and internet forums, this collecting subculture found its way into the mainstream, becoming the launching point for many young people's infatuation with fashion.
Sneakerheads were thrusted into the global spotlight when certain coveted releases during the early part of the decade caused absolute pandemonium. News outlets, local and international, covered the chaos that ensued at malls and boutiques alike, from the overnight campers, to the fights, riots and arrests. Despite the apparent dangers however, people became fascinated by this world, the camaraderie it promotes and the status it brings. Now it seems everyone has a sneaker "collection" at home.
At the same time this mainstream adoption was happening, fashion and footwear were deep in a digital revolution, where blogs and ecommerce supplanted longstanding print publications and physical storefronts. Brands and retailers looked at the disarray that was now following traditional in-store releases, and began digitizing sneaker culture, creating social media communities, online raffle systems, augmented reality experiences and more.
Soon, demand for product, vintage and new, outgrew supply, leading to the secondary market boom of the latter half of the decade. It's no longer just eBay and traveling conventions, but now there's a whole stock market for sneakers, keeping track of their value in real time. Heritage auction houses like Sotheby's have even brought their curatorial expertise and prestigious clientele to the reselling community, offering some of the rarest sneakers in the world to its most serious collectors.
The decade wasn't all hype and digital reconstruction however, as the past 10 years also brought about some of the most advanced and rather necessary footwear innovations in history. From 3D-printed sneakers and auto-lacing systems, to sustainable, fully-recyclable footwear, the industry is primed for a bigger, brighter and more responsible future.
But before we enter the 2020s, we wanted to highlight some of the most influential sneakers of the last decade, kicks that have helped propel many of the aforementioned industry shifts. Here they are, the 12 most important sneakers of the 2010s in chronological order.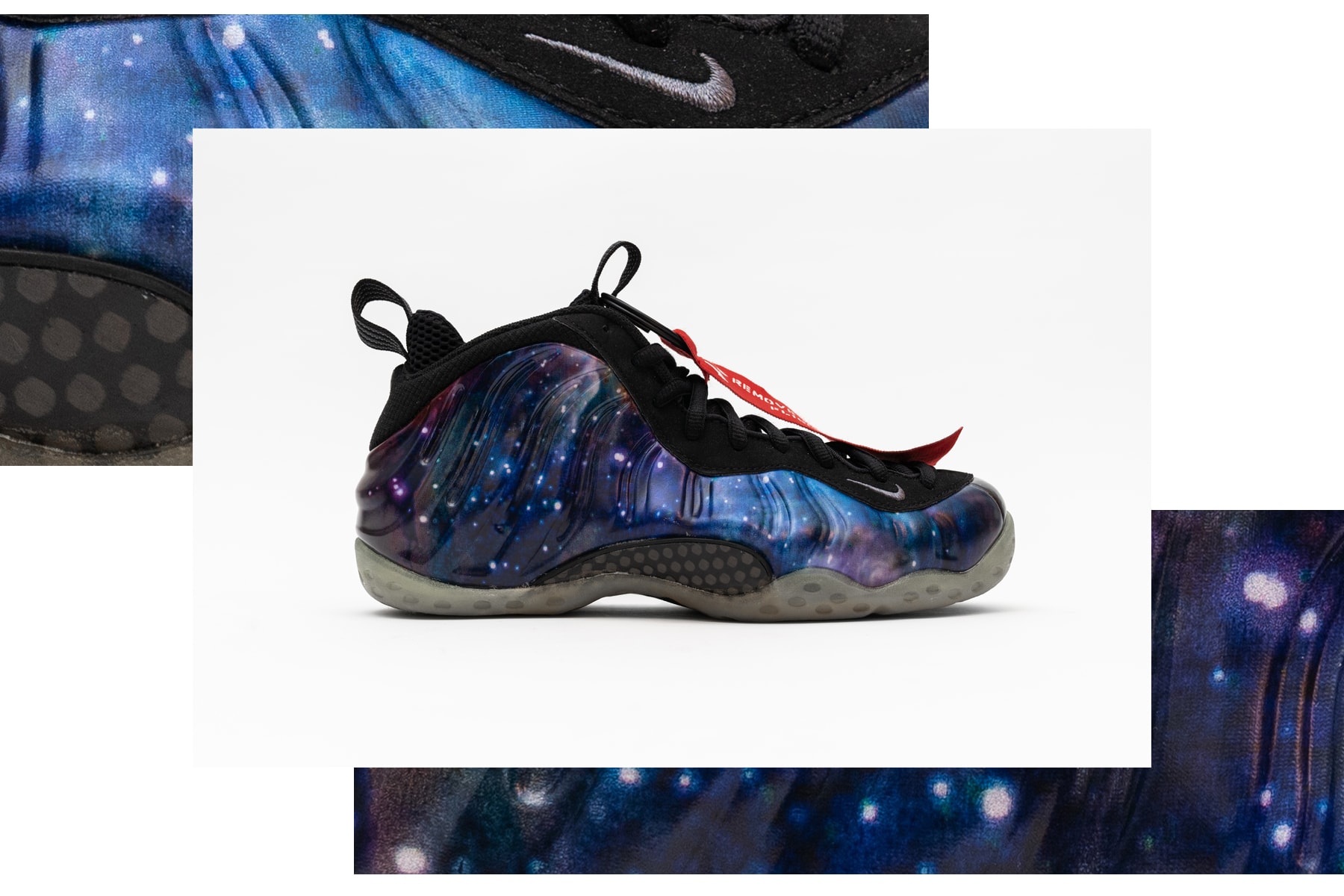 Nike Air Foamposite One "Galaxy"
Year: 2012
To start, this is really a combo entry, encompassing both Nike's Air Foamposite One "Galaxy" and 2011's Air Jordan 11 "Concord." The AJ11 released in December with the Foamposites arriving two months later, both of which caused absolute pandemonium at stores all around the States. The hype around the first should be obvious: the "Concord" is one of the most iconic sneakers of all time and prior to 2011, it hadn't seen retail shelves since 2001. The Foamposite on the other hand, was simply riding out a wave of popularity during the 2000s, peaking with these particular galactic theme (and later the "Paranormans"), its most ostentatious at the time.
Hundreds, if not thousands of people camped outside of any given store for these kicks, leading to fights, riots, arrests, cancelled releases, back-door sales, and threats against store clerks when supply did not meet demand. News outlets both local and national covered the chaos that ensured, turning the world onto the fanatic community of sneaker collectors.
The violence and negative publicity persuaded Nike and its retailer network to reconsider and restrategize how they release sneakers with hopes of making the process more inclusive and safer, while still maintaining its core values of community and fun. They may not be the sole causes, but these two releases didn't just bring sneaker culture to the mainstream, they pushed for a digital revolution in footwear: where forums transitioned to social media; coveted drops landed on mobile applications; and AR replaced released lines.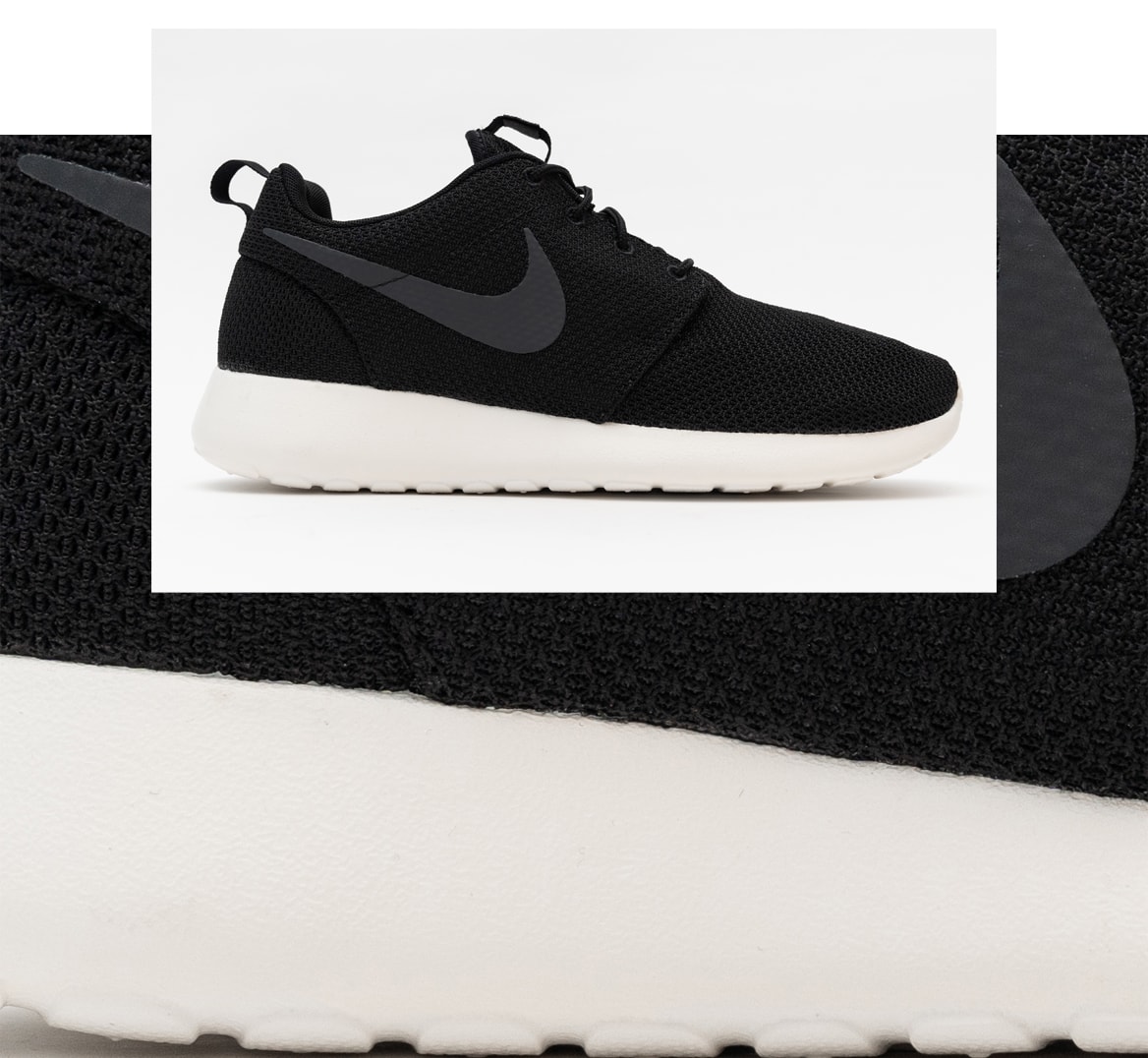 Nike Roshe Run
Year: 2012
The same year Nike introduced its state-of-the-art Flyknit Racer, it also released the ultra-affordable and now highly-contentious Roshe Run. Dropping without the splendor that came with the Racer, the Roshe seemingly materialized on retail shelves, then vanished just as fast. Its minimal, heavily-cushioned design and low price appealed to everyone, young and old, especially non-runners turned off by in-your-face tech.
For a good two years the shoe was everywhere, both on the streets and social media. Then just as it appeared, the simple, democratic shoe quickly fell out of favor with fashion enthusiasts and sneakerheads alike. It was considered a cheap alternative, in price and design, to the myriad of sock-like runners beginning to hit the market, including the adidas UltraBOOST, and it was soon associated with the fashionably tasteless.
Though it had a short run, the Roshe was still an immensely popular and influential shoe. It may be one of the first true non-performance lifestyle sneakers outside of retro basketball shoes, one that inspired all footwear brands to consider and develop their own minimally-designed and super-comfortable everyday kicks. It was also one of the first sneakers to gain popularity through social media, thanks to a rather skeleton marketing plan and the rise of Instagram. The Roshe made sneaker-collecting more democratic, inviting those who were unaware it even existed.
Buy: Nike Roshe Run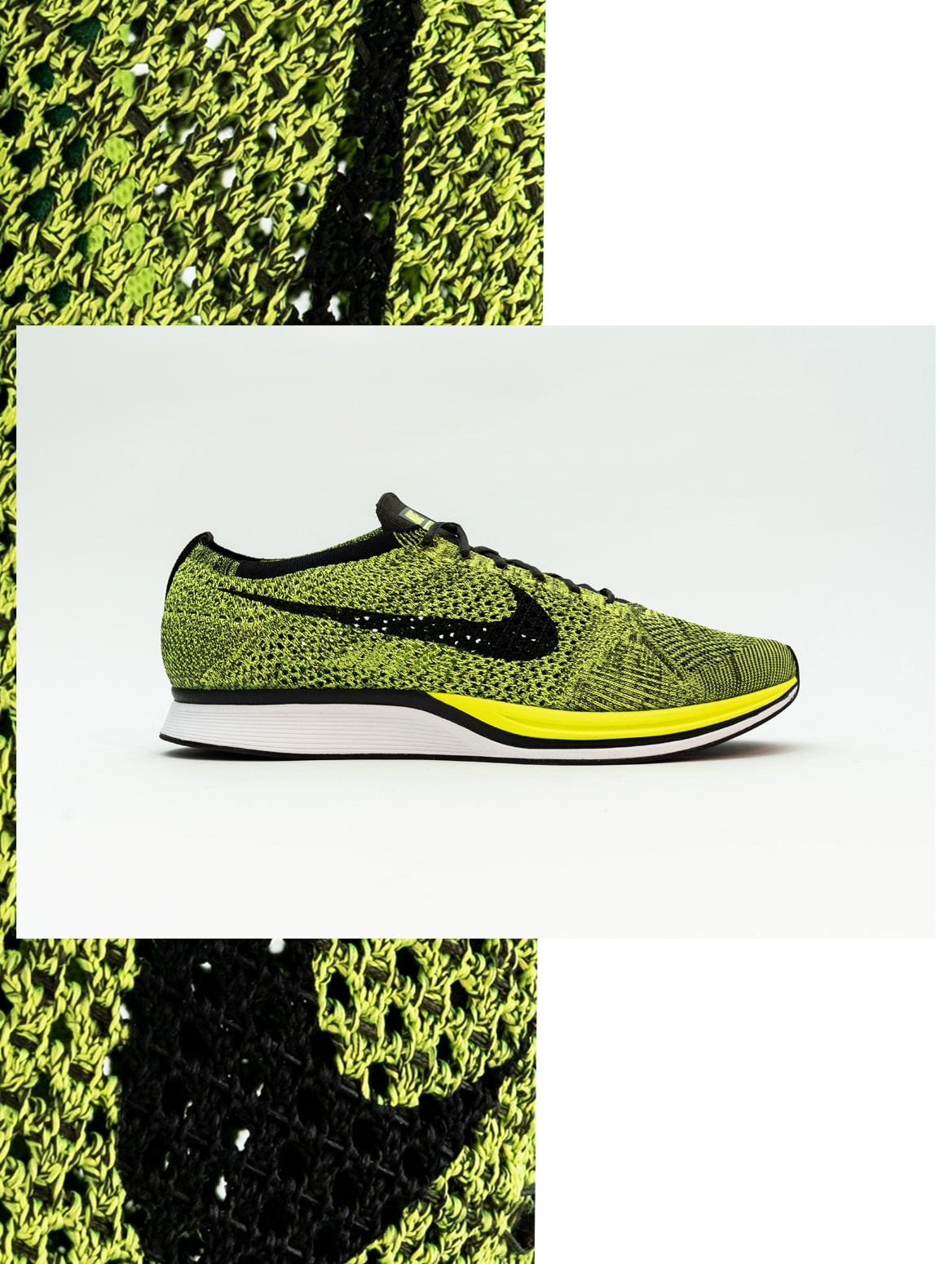 Nike Flyknit Racer
Year: 2012
For runners, the 2000s saw less footwear innovation than decades past, as brands honed in on their existing technologies to make shoes lighter and faster with more natural rides — think Vibram's FiveFingers shoes and Nike's Free sole. Then, in February 2012 during an Olympic product summit, Nike unveiled its industry-shifting Flyknit technology with the Flyknit Racer (and Flyknit Trainer). This first-of-its-kind performance running shoe featured a one-piece yarn-and-fabric-knitted upper that not only reduced weight but also waste. A 5.6-ounce size 9 Flyknit Racer was said to remove the typical waste associated with making a traditional running shoe by about 80%. It not only excelled in performance but also in sustainability.
Thereafter, the Flyknit Racer set a precedent for the footwear industry; runners wanted the lightweight, form-fitting feel of a knitted sneaker, while brands basked in the cost-effectiveness of machine-built one-piece uppers. The sneaker even excited fashion lovers the world over, as it became the shoe of choice during a time when menswear was transitioning from the suited-and-booted days of the late aughts, to skinny jeans and performance kicks, a precursor to the ever-evolving athleisure genre of today. The Flyknit Racer's success inspired brands like adidas, Balenciaga, Maison Margiela and others to produce their own knitted, sock-like trainers — a trend that is still alive and well today.
Buy: Nike Flyknit Racer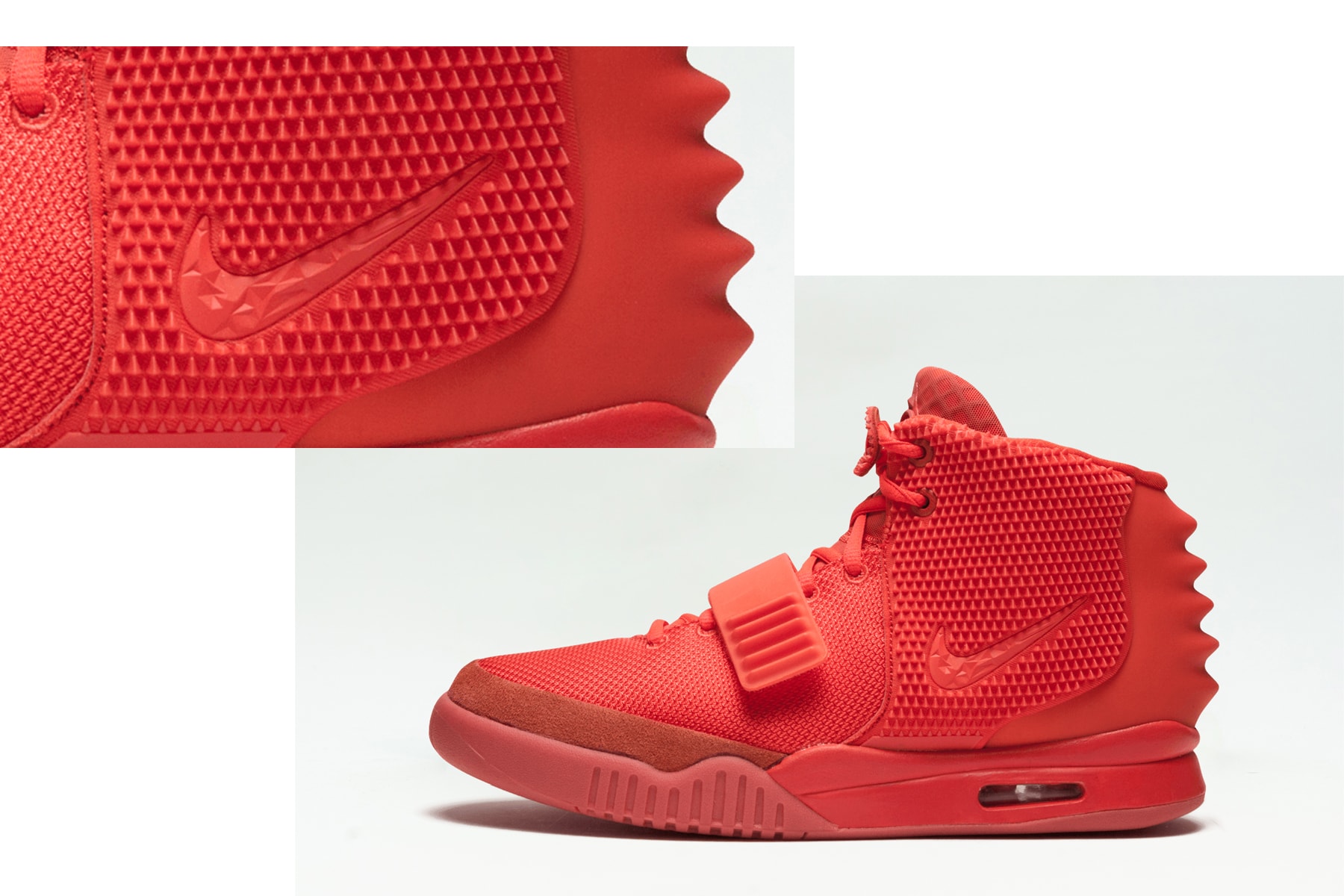 Nike Air Yeezy 2 "Red October"
Year: 2014
By 2012, Kanye West had become one of the world's most influential people in all of culture. He had seven platinum albums under his belt, as well as fashion and footwear collaborations with Louis Vuitton, Givenchy, BAPE and Nike. Then, midway through the year, Nike and Kanye followed up 2009's Air Yeezy 1 — Nike's first non-athlete signature sneaker — with the Air Yeezy 2.
All the while, fashion's digital revolution was in full stride, where information and product became more readily available for the global market. More and more people, especially men, began to take a serious interest in elevating their wardrobe and overall taste levels, often beginning with footwear. Consumers researched items and brands endlessly, and when a store didn't have the product they wanted, they turned to eBay. This movement gave eBay a new lease on life as fashion's secondary market of choice.
By this time, veteran sneakerheads had fully realized just how lucrative reselling footwear could be, so much so that that same year, StockX (then known as Campless) launched as the first stock market for sneakers. So when Nike finally surprised-released the Air Yeezy 2 "Red October" in 2014, after Kanye had already announced that he was leaving Nike to partner with adidas, the shoe sold out in minutes, with pairs landing immediately on eBay for prices ranging from a few thousand dollars to well over a million. It was yet another viral moment for sneaker culture, where news outlets all over the world began covering the dark world of reselling sneakers.
The "Red Octobers" helped bring what was once a niche, underground world into the mainstream. And that same company who thought to track the value of sneakers on the secondary marketplace in real time is now valued at over a billion dollars.
We also can't forget that the "Red Octobers" were so popular that over the next few years seemingly every sneaker model released in an all-red colorway.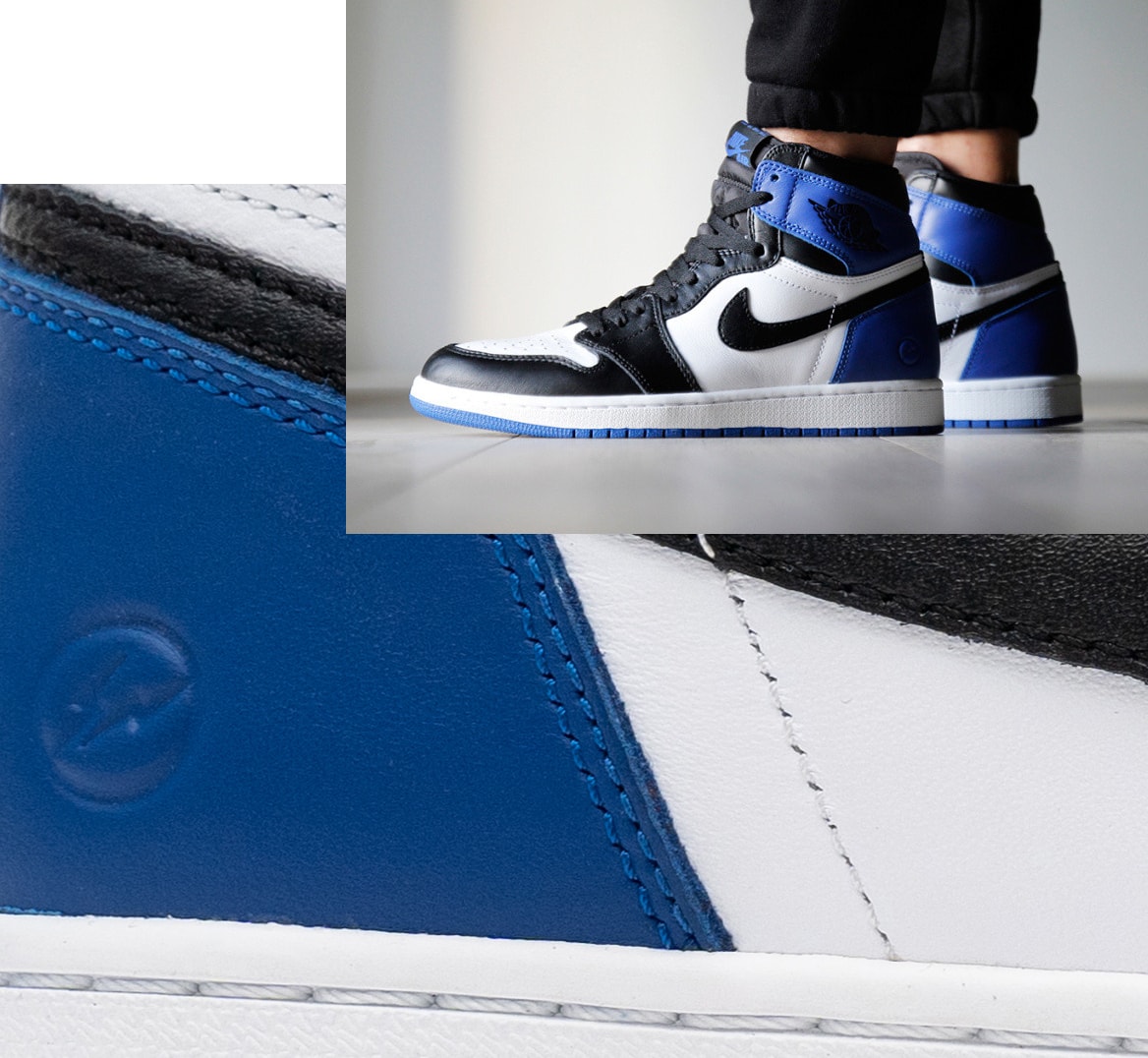 fragment design x Air Jordan 1 High OG
Year: 2014
At the turn of the decade, Jordan Brand brought back the iconic "Banned" and "Chicago" colorways of the Air Jordan 1 High, which were then followed by the popular "Shadow," "Black Toe" and "Royal" schemes in 2013. The timing of these releases couldn't have been better, as streetwear was becoming the style of choice for young men around the globe, transitioning out of the dapper danny days of the previous decade. Their love for design, quality, versatility and storytelling remained however, kickstarting the trend of 'luxury-street.' In need of a shoe that was sleek enough for slim, tapered jeans but also timeless and statement-making, stylish young men around the globe made the AJ1 a part of their uniform.
Seeing how much the fashion world was adopting this sneaker, Jordan Brand enlisted the keen eye of streetwear godfather Hiroshi Fujiwara and his cult brand fragment design to produce a collaborative AJ1, a rarity at the time. The result was an iteration that melded the aforementioned "Black Toe" and "Royal" colorways with a premium leather construction.
The shoe was an instant hit, selling out all over the globe and solidifying the world's love for this archetypal sneaker. It has since reinvigorated JB's retro business, with the likes of Travis Scott, Virgil Abloh, COMME des GARÇONS and Dior following in fragment's footsteps to reimagine the brand's classics. It's the sneaker that truly brought the worlds of streetwear and luxury together.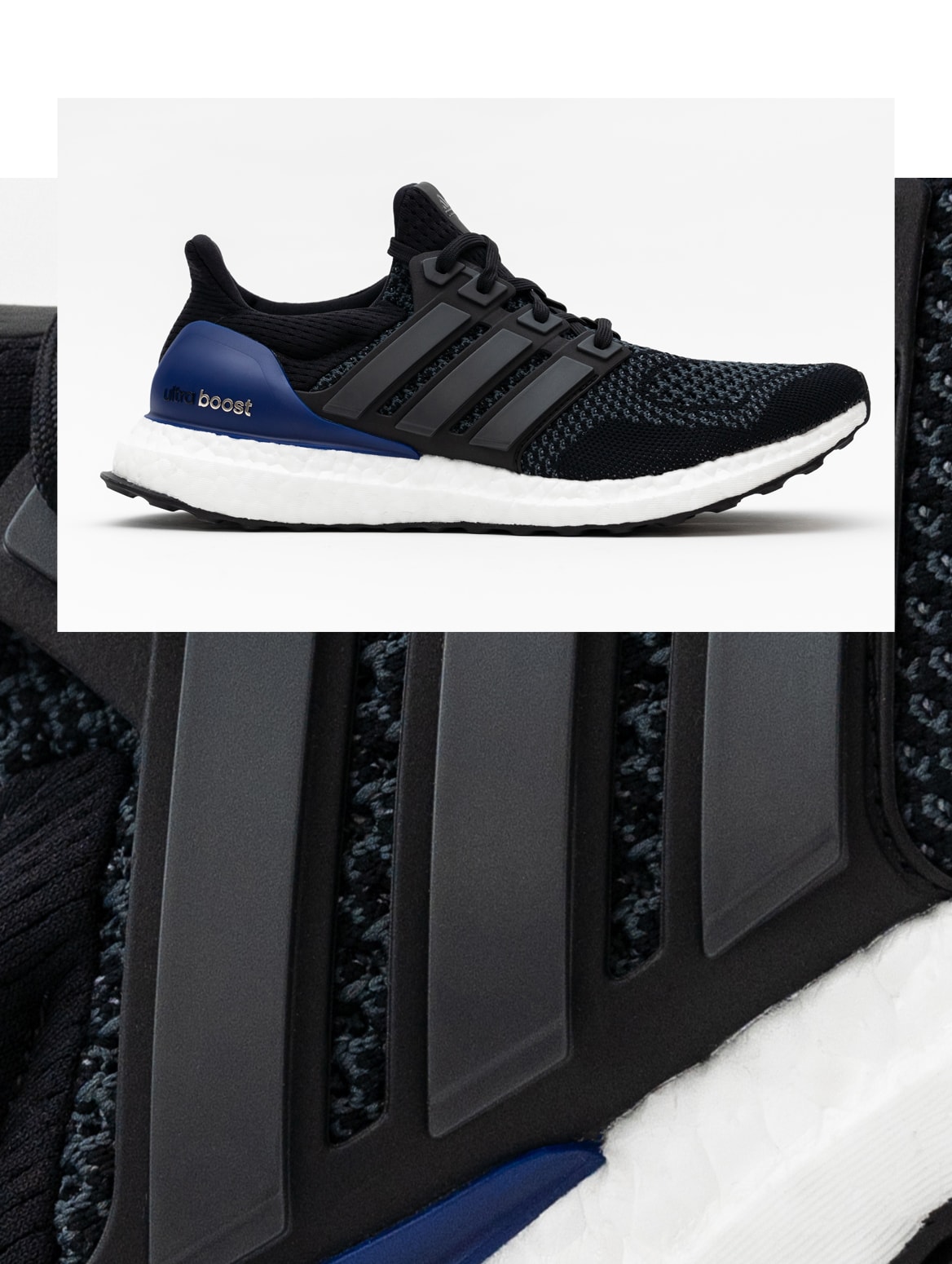 adidas UltraBOOST
Year: 2015
Prior to officially inking Kanye West as the brand's foremost ambassador and collaborative designer in 2014, adidas found itself struggling to compete with Nike's endless innovations and deep archive. At the time, the brand relied heavily on heritage models like the Superstar and Stan Smith to maintain relevance, but with the rise of fashionable everyday-sportswear — what we now call athleisure — adidas knew if it couldn't innovate and disrupt Nike's perpetual rise, it would remain a distant second for years to come.
Insert the adidas UltraBOOST in February of 2015. For the first time ever, adidas combined its three biggest in-house technologies — BOOST, Primeknit and Torsion — into one model. BOOST soles promised exponentially more energy return than any other runner on that market, offering industry-leading comfort that quickly caught the attention of casual wearers. At the same time, the Primeknit upper not only complemented this industry-leading cushioning, but it also capitalized on the then-current infatuation with sleek, form-fitting sock-like uppers — which was started by the Flyknit Racer. Touted as "The Greatest Running Shoe Ever," the UltraBOOST did not disappoint.
The adidas UltraBOOST set an entirely new benchmark for how a performance sneaker should feel and perform, but it was world-class tastemakers like Kanye West who brought the perfectly-simple yet complex design into the world of style. It became the most talked about shoe of 2015, even in a year when Kanye released his BOOST-equipped YEEZY 350. Thanks to this tandem of shoes, the Three Stripes gained market share, increased revenue, sold more product and most importantly, found itself back on the heels of Nike. If it wasn't for the UltraBOOST serving as a proper intro to the YEEZY BOOST, there's no telling where adidas would be today.
Buy: adidas UltraBOOST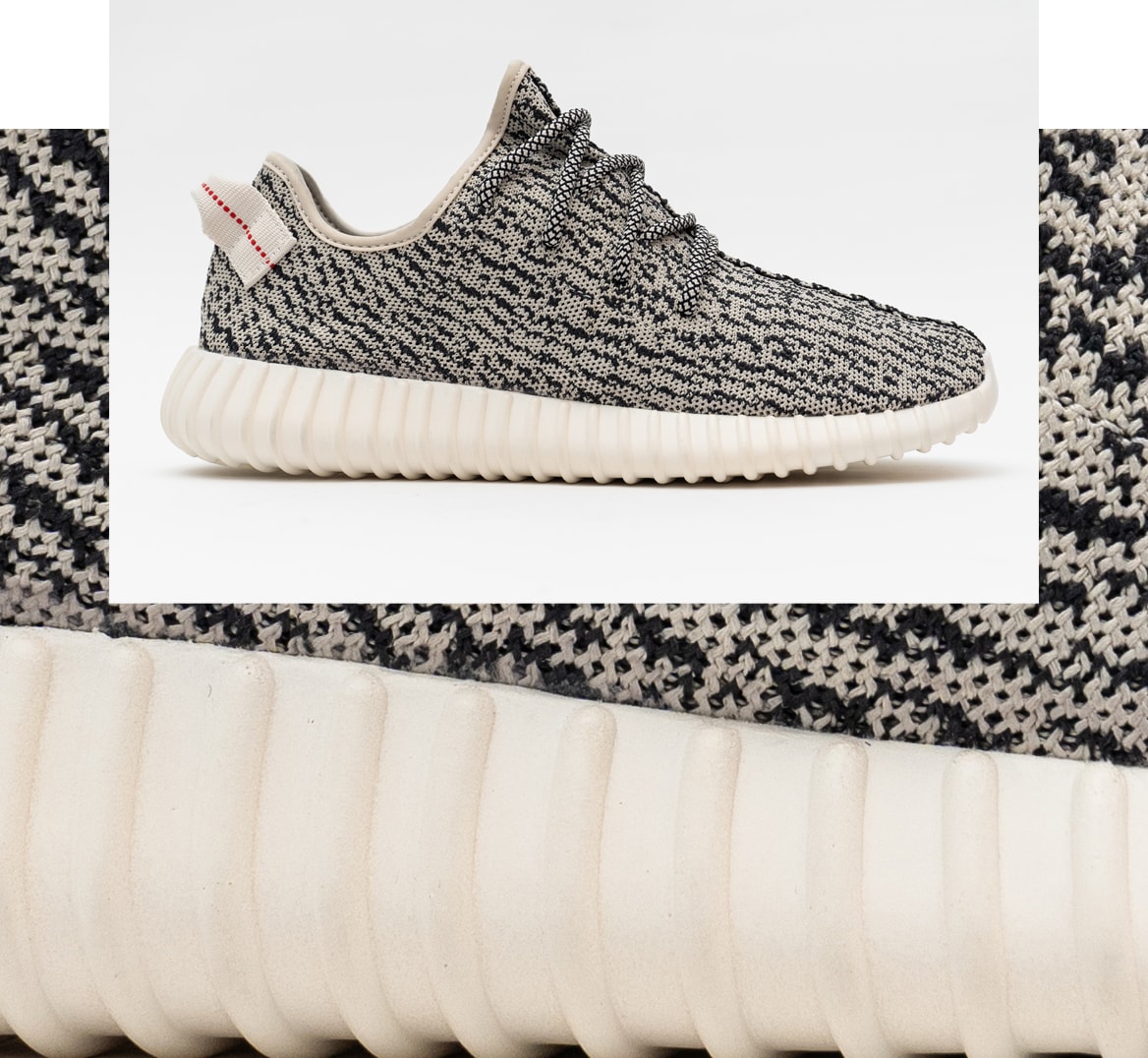 adidas YEEZY BOOST 350
Year: 2015
When Kanye West ended his partnership with Nike in 2013, citing money, creative freedom and marginalizing executives, sneakerheads were undoubtedly frustrated. Kanye was hitting a stride in the footwear design world, having launched two popular models with Nike and equally revered collaborations with BAPE and Louis Vuitton. The world wanted more, but Mr. West lacked the resources to bring his lofty ideas to a global market — see the infamous "How Sway?!" interview for proof.
adidas then stepped in, offering everything Kanye didn't have at the Swoosh; a little over a year later, he kickstarted his refurbished YEEZY line with the 750. While this shoe sold out instantaneously, the similarities to his Nike releases — midfoot strap and all — left many sneakerheads wondering, "is Ye a one-trick-pony?" But Kanye put those suspicions to rest when he followed the 750 with the 350, — a, sleek, streamlined design that touched on all the trendy points of the mid 2010's, including a plush (BOOST) sole and sock-like (Primeknit) upper.
The 350 wasn't Kanye's first adidas sneaker, but it was the shoe that solidified him as an accomplished footwear designer, leading to a myriad of new models during the second half of the decade. And while industry pundits will cite his impact, or lack thereof on adidas' bottom line, there's no doubt that Kanye reinvigorated the brand in the eyes of young, fashionable consumers.
What's more is that with the 350 and his YEEZY line, Kanye promised to make his shoes more affordable and commercially-available, so no one would miss out on a release. This was soon realized with the 350 V2, which released in mass quantities that were available for days, if not weeks.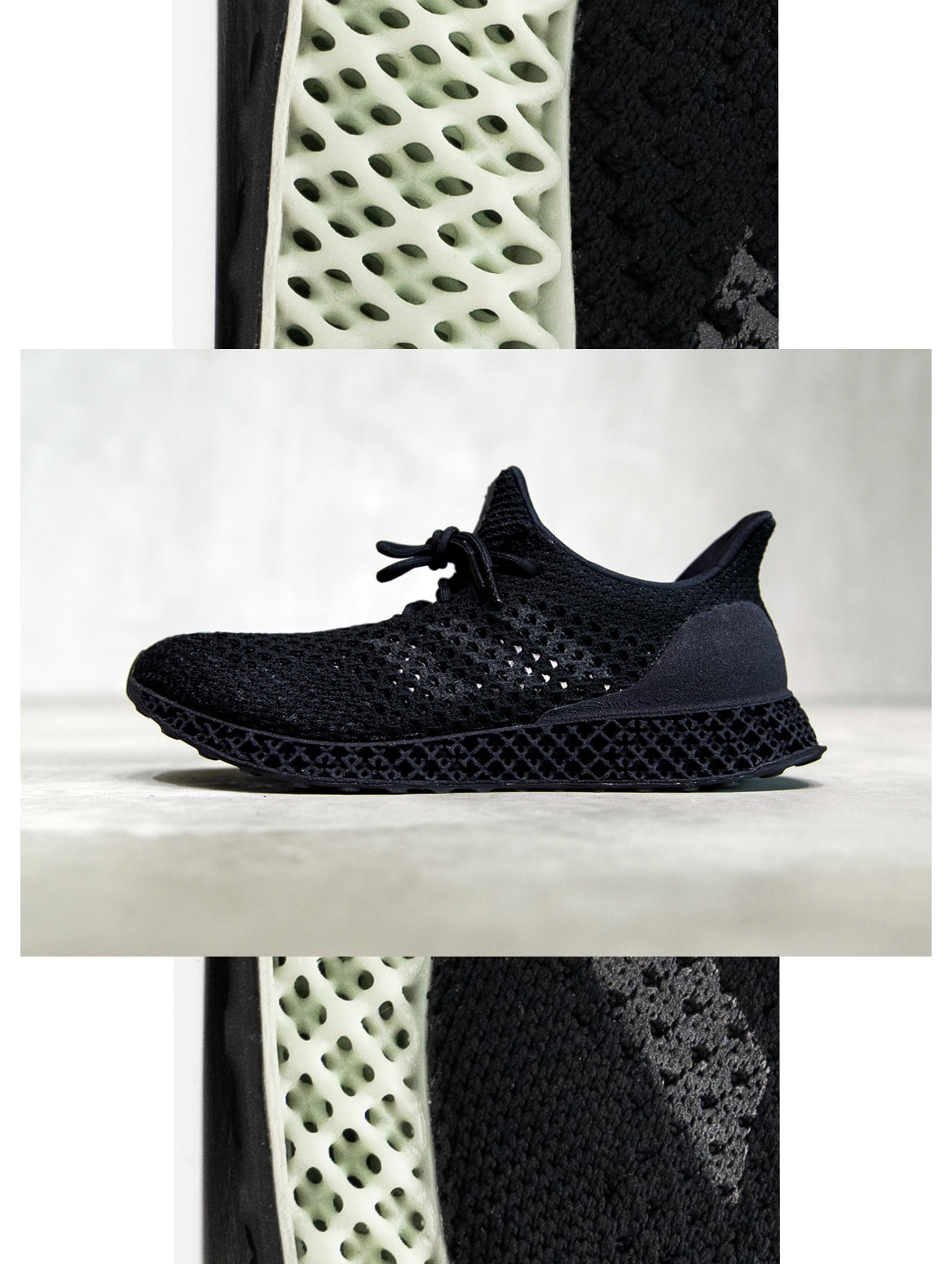 adidas Futurecraft
Year: 2015
During the 2000s and early '10s, 3D printing was all the rave in just about every manufacturing segment, be it cars, homes, entertainment devices and even fashion. The benefits were and still are undeniable, as it makes many facets better, faster and easier — prototyping, customization, production schedules, quality and so on — while reducing waste, inventory, hazards and of course costs. For the footwear industry, one of the most wasteful industries in all of the modern world, it has a lot riding on advancements in additive manufacturing, and no brand has invested more time, energy and money into this tech than adidas and its Futurecraft division.
In 2015, adidas unveiled its very first sneaker with a fully 3D-printed midsole, releasing under the brand's Futurecraft 3D moniker and with a very UltraBOOST-like shape. Between the timely tech and in-trend design, it was an instant hit among sneakerheads and techies alike. Two years later, adidas switched to Digital Light Synthesis, a technology pioneered by Carbon, which uses light and oxygen to craft sole units at greater speeds, scale, quality, and without color and material restrictions. Dubbed the Futurecraft 4D, we saw this innovative sole appear under various uppers, from performance basketball shoes to revived heritage silhouettes; it was even recreated using recycled ocean plastic with the help of Parley. Then, in 2019, adidas revealed the next phase in Futurecraft, the FUTURECRAFT.LOOP, a shoe that is not only made of recycled materials, but it itself is fully recyclable, able to be ground-up and used in the production of a new pair.
While we're still an unknown amount of years away from having our shoes constructed to our specific needs right in our local sporting good stores or sneaker boutiques, the technology is here, purchasable and functional. It has the ability to make the footwear industry drastically more efficient and eco-friendly, halting the many decades of harm it has already done to our environment.
Buy: adidas Futurecraft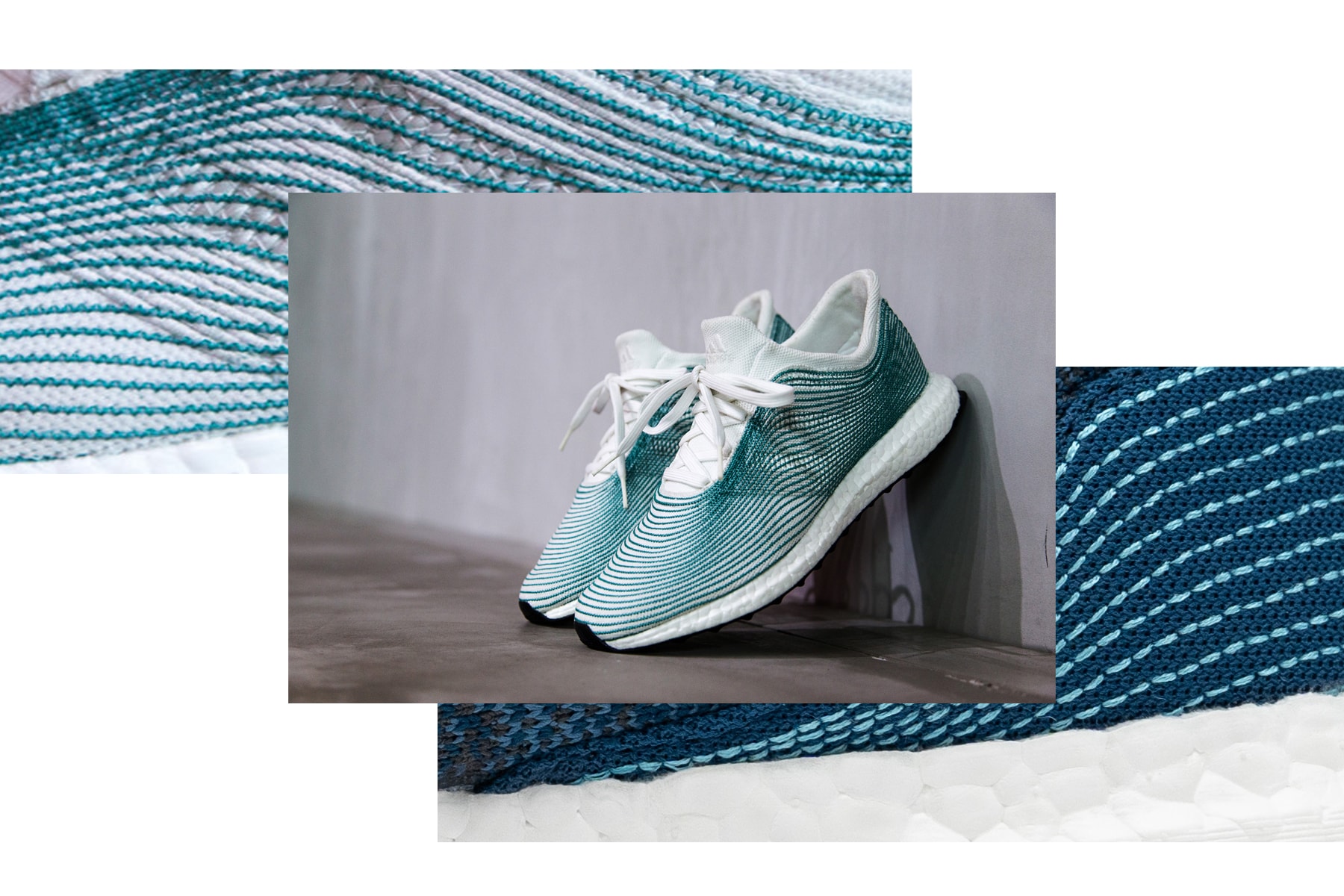 Parley for the Oceans x adidas
Year: 2015
Discussions on climate change pervaded every realm of society this decade, from politics to pop culture, compelling more and more people to consider their effect on the environment, including what they purchase and consume. These consumers become more informed and thus critical of the goods they use in their everyday lives, and brands have taken notice. This decade, we've seen companies big and small commit to drastically reducing their carbon footprint, with one of the most wasteful industries, footwear, leading the charge.
adidas became the leader in this movement early on, when in 2015 it announced its partnership with Parley for the Oceans — an organization that raises awareness for the beauty and fragility of our oceans. With plastic waste among the biggest threats, adidas and Parley came together to not only systematically remove plastic from our oceans but to rework this recycled material into sneakers and apparel, from running shoes to football kits.
The partnership was announced in 2015, only a few short months after adidas launched its Futurecraft division with a full 3D-printed sole unit. In 2016, the two released both limited-edition and mass-produced options to the public, each selling out in minutes. Since then, adidas Parley has collaborated on a number of footwear silhouettes and apparel pieces, both performance and lifestyle -based. While the line doesn't garner the same amount of hype it had during the middle of the decade, mostly due to its larger quantity releases, adidas Parley served as a case study to other footwear and fashion brands, proving consumers will pay a premium for sustainable goods, sparking a wave of eco-conscious sneakers and corporate initiatives.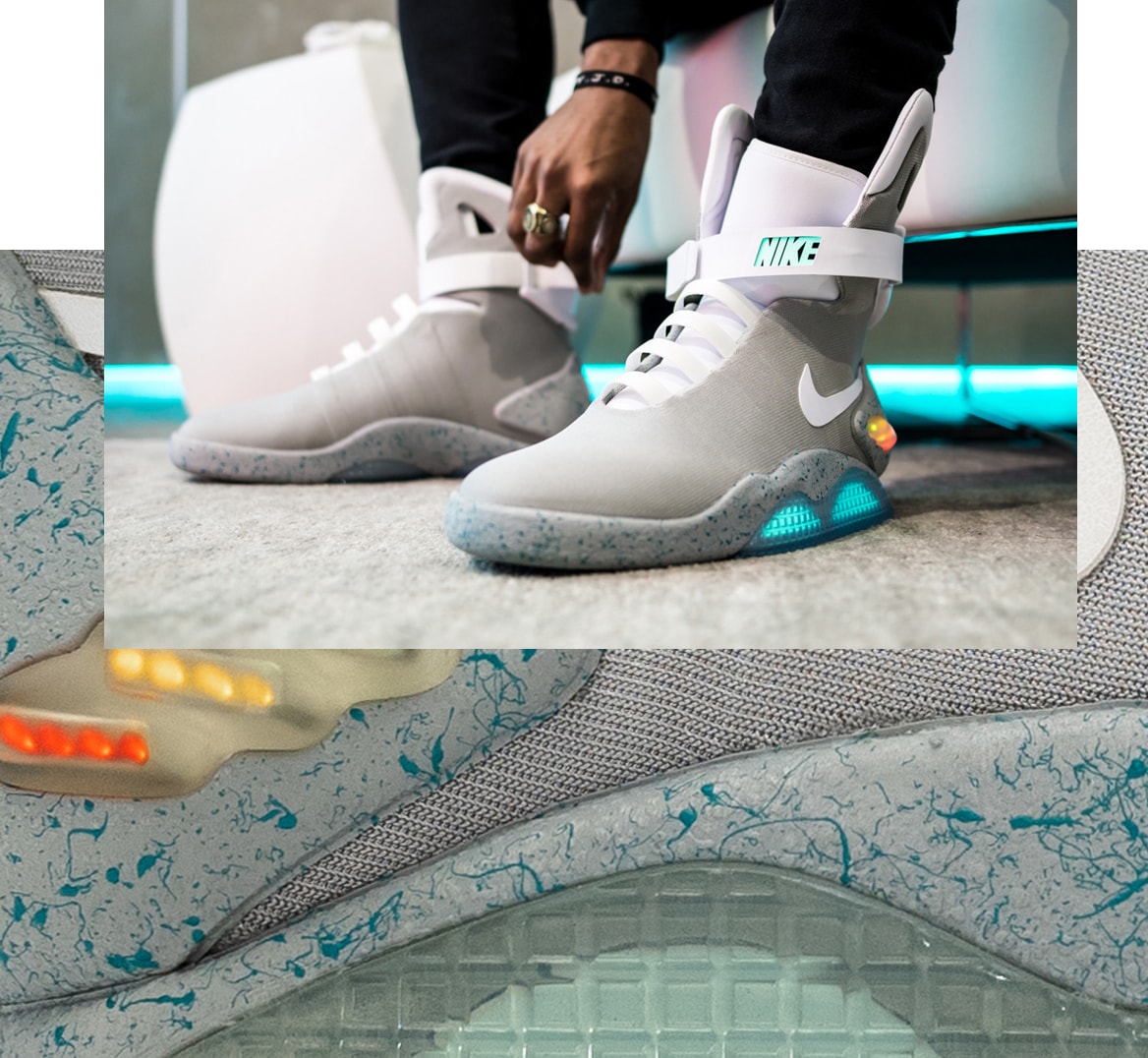 Nike MAG
Year: 2016
If you went around asking people before the 2000s what the future of footwear would look like, you were most certainly going to get a number of Marty McFly references. Nike's Tinker Hatfield and the 1989 blockbuster film Back to the Future Part II created that vision for us with a light-up, auto-lacing high-top sneaker, famously known as the MAG.
After the movie's release, auto-lacing became footwear's dream innovation, not because it seemed practical or even necessary, but because it was maybe the most aspirational tech anyone could imagine — by then, we had already been walking Air. And what would make life easier, from a footwear standpoint, than shoes that instantly tighten to a preset sweet spot as soon as you step into them, like the driver's seat of a luxury car.
Unlike Marty's hoverboard, the self-lacing Nike Mag did hit the market in 2016, five years after auctioning off non-self-lacing versions and one year after BTTF2 predicted it. Since then, Nike's technology, now referred to as Adapt, has become mass-produced appearing in both a performance basketball sneaker, the Adapt BB, and a casual cross-trainer, the Adapt Huarache. Despite the relatively high price of $350 USD, Adapt is a milestone in footwear technology, signifying the close of one generation, and the commencing of another.
Buy: Nike MAG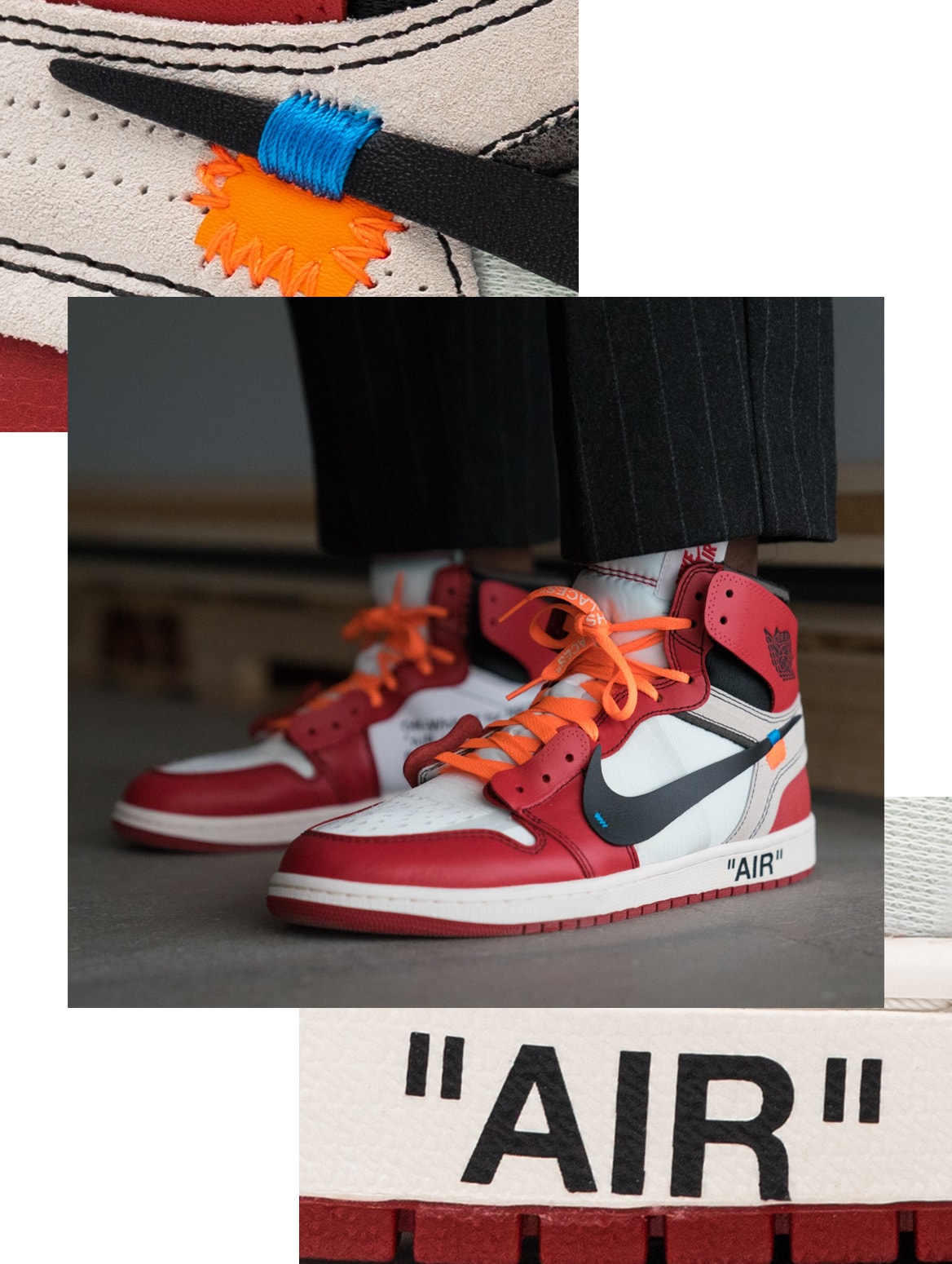 Off-White™ x Air Jordan 1 "The Ten"
Year: 2017
Before Virgil Abloh shifted the worlds of luxury and streetwear with his appointment to artistic director of Louis Vuitton's ready-to-wear menswear division in March of 2018, the Chicago polymath spent 2017 atop the sneaker world. After a year of discussions, prototyping, leaks, and careful seeding, Nike, Abloh and his Off-White™ imprint officially unveiled "The Ten" in August 2017. The largest collaborative sneaker collection to date, the unprecedented "The Ten" consisted of 10 sneaker models, across three brands, all deconstructed to highlight their signature design elements.
"The Ten" — represented by its most coveted pair, the Air Jordan 1 "Chicago" — not only marked the culmination of street and luxury that began with Fujiwara's AJ1, but it also reinvigorated the true concepts of collaboration and DIY customs. The former had long become a marketing ploy for uninitiated brands to tap into new markets, rather than empowering creatives and artists alike to control their narrative. DIY customization meanwhile returned to the glory days of decades past, with consumers breaking out the sharpie or X-ACTO knife to personalize their kicks and even competing brands joining in on the trend to reimagine their own classics.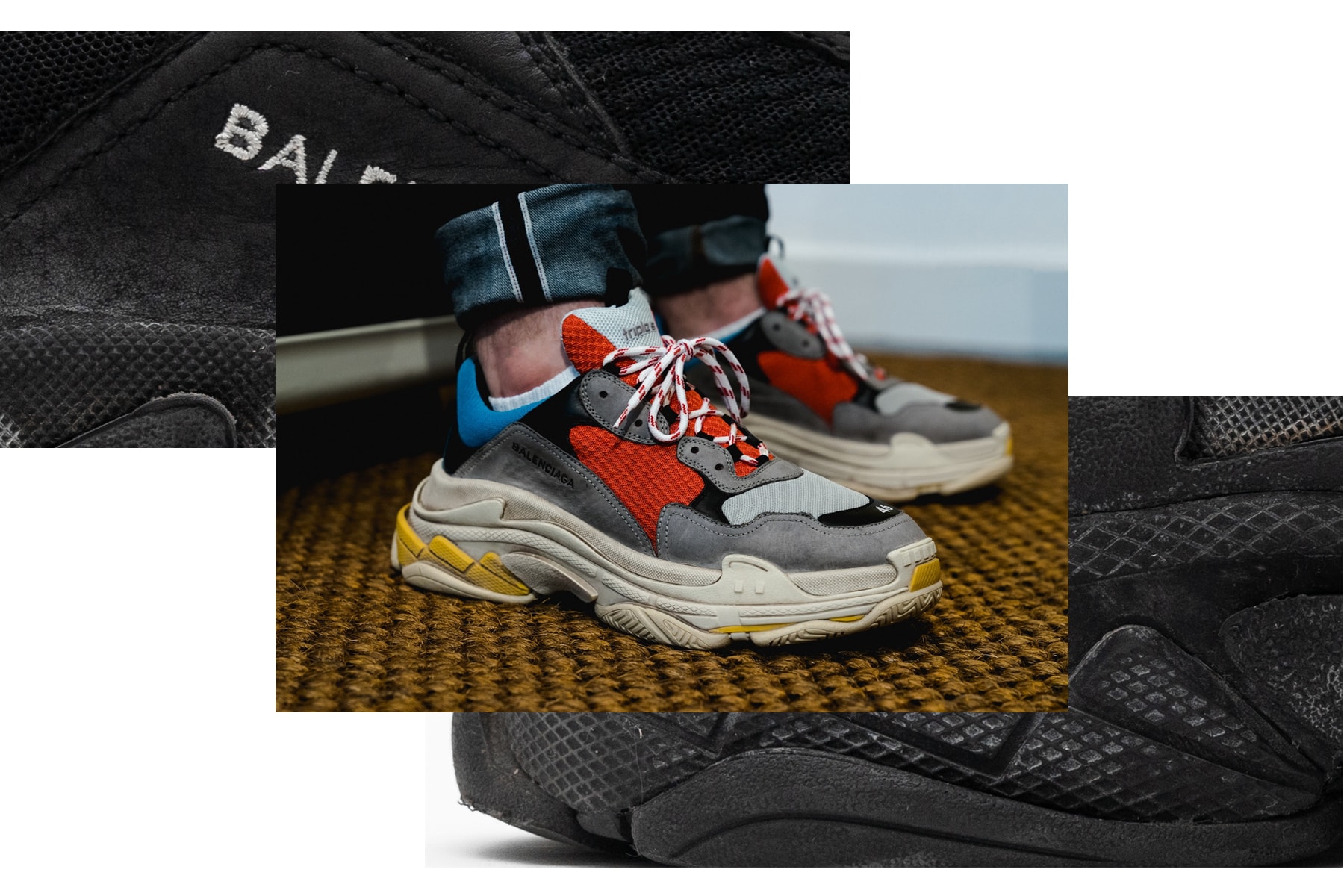 Balenciaga Triple S
Year: 2017
At the same time when clothing was moving towards a more technical, utilitarian approach with heavy sportswear cues, a counter movement inspired by vacationing dads began pervading the world of style. Normcore, as it has since been dubbed, saw young people rejecting the trendy extravagance of fashion and opting instead for the uniform of those who truly lived in their clothes, from stone-washed high-water jeans to tucked tees and oversized blazers. However, the one article of clothing that often had practitioners of this style with one foot in the door of contemporary fashion were sneakers, and no single shoe defined this moment in time quite like 2017's Balenciaga Triple S.
Before the Triple S, models like the New Balance 990 and Nike Air Monarch were the ironic shoes of choice — the bigger, the uglier, the dad-er, the better. The Triple S took all of those elements to their most absolutely ridiculous extremes, turning the heads of hypebeasts and high-fashionistos alike. Despite its direct opposition to the boom in casual performance sneakers, the Triple S was still somehow so alluring to the eye: its triple-stacked sole seemed like an engineering feat; its layered upper offered endless color options; and its premium construction solidified its high-fashion ties.
Co-designers Demna Gvasalia and David Tourniaire-Beauciel didn't expect the shoe to be so hyped, for they themselves didn't conceive it with ugliness or irony in mind. "It was really absolutely a proportional exercise of footwear, and not any kind of a gimmicky play with what was ugly or not ugly in shoe design," Gvasalia once told WWD.
Buy: Balenciaga Triple S
Thanks to Stadium Goods and ImageNY for helping supply the kicks.