8 Drops You Don't Want to Miss This Week
Featuring Supreme, Anti Social Social Club, Off-White™ and more.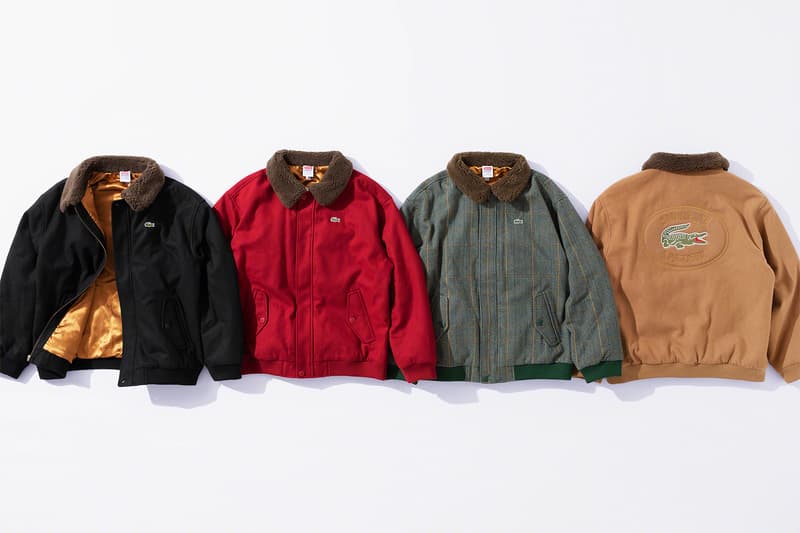 With another week, we have another installment of our product drops series, this time marked by Supreme's Fall/Winter 2019 Week 5 release.
Supreme's offering is led by a collaboration with French brand Lacoste, touching on its Tennis roots with items like Pique Long Sleeve Polos with matching Pants and 6-Panel Hats, along with Puffy Half-zip Pullovers with matching Track Pants. Tonal accessories also make a strong showing in the form of Messenger Bags and Beanies. But the Wool Bomber Jackets which features a large Green Crocodile motif at the rear, colorful referee-inspired Stripe Cardigans and Hooded Sweatshirts with matching Sweatshorts that boast "Lacoste" and "Supreme" co-branding really are the standouts of the collaboration.
Aside from Supreme's FW19 Week 5 Drop, this week we have an impressive array of special releases and collaborations that make up a selection of must-have street staples.
Standout collaborations this week include Pop Trading Company's Popeye capsule, Billionaire Boys Club's latest team-up with artist Michael Kagan and END. and Off-White™'s "CHEMICAL WASH." These are along with Anti Social Social Club and DHL's unexpected link up and Patta's upcoming collaboration filled pop-up in New York. Rounding up this week's drops is the debut collection from William Walsh's fledgling Aitchinson label and the third release of S.R. STUDIO. LA. CA. from Sterling Ruby.
Aitchinson "Broken Easel" Collection
Following an apprenticeship at clothsurgeon, William Walsh recently launched his own label, dubbed Aitchinson and begins the venture with the art-inspired "Broken Easel" collection.
Collaborating with British landscape artist Deborah Royston, paintings appear throughout the range in the form of digital prints on the matching cotton drill utility pants and jacket set alongside a nylon ripstop tactical vest. Utilizing classic streetwear silhouettes, the collection is the expression of the brand's idea that a broken easel "reflects a sense of beauty amongst imperfection."
When: Now
Where: Aitchinson
S.R. STUDIO. LA. CA. Third Collection
Continuing the release of his first-ever fashion line, artist Sterling Ruby recently partnered with The Broken Arm in Paris for the third delivery of S.R. STUDIO. LA. CA. with an evocative installation.
Building on the themes expressed with earlier drops, the latest release is dominated by shirts, knits and ponchos with patchwork and brightly colored dyes. Accompanying the garments are cast-metal tools and accessories, such as axes, skeins of yarn and knitting needles available in limited editions. Each UNIQUE garment available for in-store purchase is hand-treated, cut and signed by the artist. Assigned an inventory number — such as UNIQUE (4306) and UNIQUE (5262) — each piece becomes a part of an artistic series.
When: Now
Where: The Broken Arm & S.R. STUDIO. LA. CA.
DHL x Anti Social Social Club Capsule
Referencing its controversial shipping history, Anti Social Social Club has teamed up with DHL on a noteworthy capsule centered around the international courier, parcel, and express mail expert's iconic branding.
The special range is comprised of two hoodies, two T-shirts, an embroidered cap and square cushion, marked with DHL's familiar logo and mix of yellow and red. The sleeve portions of the apparel is also emblazoned with the phrase "50 Years – Excellence. Simply Delivered" and ASSC's branding motif is applied in contrasting tones. The square cushion comes complete with co-branding and technical specs in reference to DHL's cardboard shipping boxes.
When: September 25 at 8 a.m. PST (11 a.m. EST)
Where: Anti Social Social Club
Patta New York Pop-Up Releases
Amsterdam-based label Patta recently announced a four-day pop-up in New York, produced in tandem with Baque Creative. Opening with a launch party on September 25, the special retail experience will feature the drop of notable collaborations every day.
The first day will feature co-produced items with Carhartt WIP, Vans and Timex, along with a book signing of Dana Lixenberg's Tupac Biggie. The Patta Running Team will also be hosting a run with Bridge Runners and Nike Running Club. Day two will see collaborations with Stüssy, Coloured Goodies and COOGI, with the third day focusing on the launch of Patta x Umbro football jerseys. Additionally, Patta has crafted a special-edition capsule comprised of a football jersey, logo hoodie and "NY State of Mind" T-shirt.
When: September 26-29
Where: Patta NYC Pop Up
Supreme Fall 2019 Collection Week 5
Back with Week 5 of its FW19 collection, the latest drop from Supreme is marked by another collaboration with French brand Lacoste. The team-up features tennis staples like Pique Long Sleeve Polos with matching Pants and 6-Panel Hats, along with Puffy Half-zip Pullovers with matching Track Pants. Accessories also make a strong showing in the form of Messenger Bags and Beanies which come in an array of tonal looks. However, the standout Wool Bomber Jackets which features a large Green Crocodile motif at the rear, colorful referee-inspired Stripe Cardigans and Hooded Sweatshirts with matching Sweatshorts that boast "Lacoste" and "Supreme" co-branding truly complete the collaboration.
Notable items found in the accompanying Drop 5 range include the Cop Car Hooded Sweatshirt, God's Favorite Work Shirt, Heaven Jacquard T-shirt, Drama T-shirt and Camo Corduroy Camp Cap. This week's drop does not feature any boldly branded accessories but there are rumors of an unseen Snap Front Jacquard Logo Twill Jacket that will also be released.
When: September 19, Japan Release September 27
Where: Supreme Online & Retail Stores in NY, Brooklyn, London, France & Japan
END. x Off-White™ "CHEMICAL WASH" Capsule
Adding to its growing series of collaborations, UK-based retailer END. has now teamed up with Off-White™ on a 14-piece apparel and accessories capsule. The "CHEMICAL WASH" selection sees key Off-White™ pieces reworked with chemical wash treatments.
Inspired by the 2000's trend of home-bleaching garments, denim jackets, hoodies, sweatshirts, T-shirts jeans and more express intricate bleached patterns of "Sky Blue" and "Washed-Out Black." The pieces also come emblazoned with Off-White™'s signature crossed arrows logo and garment patches. Rounding up the special range are matching tote bags, socks and a take on the iconic Off-White™ industrial belt.
When: September 27
Where: END.
Michael Kagan x Billionaire Boys Club Capsule
Coming together once again, Billionaire Boys Club and artist Michael Kagan have teamed up on a capsule centered around Kagan's reinterpretation of the BBC moon man.
The T-shirts are offered in a variety of white and black options that have been designed with imagery of astronauts, spaceships and BBC's helmet emblem. The shirts come co-branded with the artist's printed autograph adding a personalized touch. Billionaire Boys Club will also be marking the launch of the capsule with an event at its New York flagship store this week, where Kagan will be signing copies of his new book, Michael Kagan: I Was There When It Happened.
When: September 27
Where: Billionaire Boys Club
POP Trading Company x Popeye Capsule
Pop Trading Company has revealed its latest collaboration with iconic American cartoon Popeye. Celebrating the series' iconic sailor, the capsule range features six pieces in total, including a hoodie, sweatshirt, cashmere jumper, striped long-sleeve T-shirt and 6-panel. Additionally, the brand also made two exclusive pieces for Japan's H Beauty & Youth — a crewneck sweater and a stadium jacket.
Peter Kolks recently spoke to HYPEBEAST about how this collaboration came about:
For our SS18 collection, we did an unofficial Popeye shirt, not really thinking much of it – most skate brands take inspiration for pop culture figures and spoof or just plain copy a graphic. We had a friend design our logo and in the centre of the 'O' we had Olive (Popeye's girlfriend) peak out. Back then we only really sold to a few stores and figured we'd be under the radar. When Paris Fashion Week came along we got the asked if we wanted to work with Beauty&Youth H for the season and if they could have the Olive tee graphic on a grey heather crewneck we were like "sure, alright let's go!" Not knowing the size of the business and the reach B&Y has in Japan, we found out later on they had sold out in two days, with coverage in the likes of GQ Japan. So it was pretty popular!

King Features JP, who are the licensing agent for Popeye, found out about the product and of course contacted Beauty&Youth H asking in they had the contract because they couldn't find it in their archives, so they got in contact with us asking if we had a contract… which we didn't have. King Features JP then connected us and they were really chill about the situation, we had just figured we'd wing it and nobody would find out as we were a small brand. We got directed to King Features USA to sort out paperwork, we were lucky in the sense that the as the product was sold out they could cease& desist us, plus it had pretty good press. We did have to pay commission but their minimums left us with some space to spend with the King Features company by the end of 2019; so technically we were forced to come up with another Popeye collection, this time officially though.
The Pop Trading Company x Popeye collab releases on September 28, available at select retailers at and Pop Trading Company's web store.
When: September 28
Where: Pop Trading Company