MUNA Are Real-Life Superheroes on New Album 'Saves The World'
They also announced the dates to their new tour.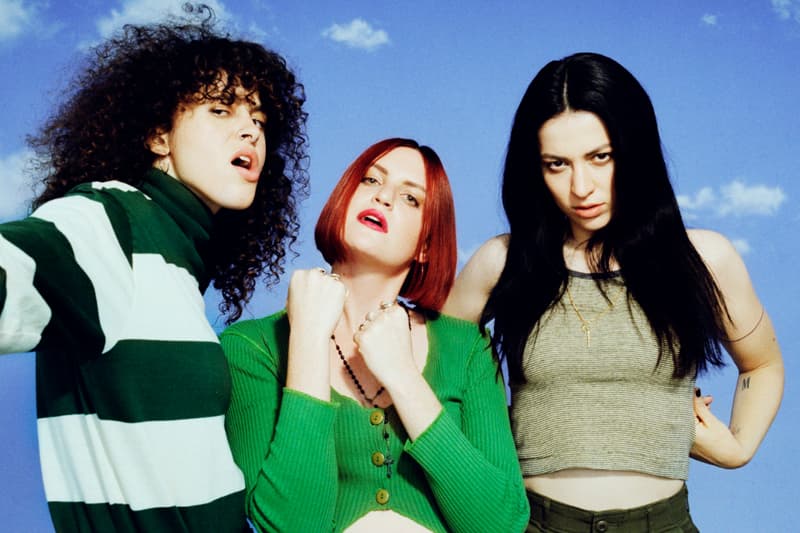 Los Angeles-based trio MUNA releases their sophomore album Saves The World via RCA Records. The electronic pop band — consisting of vocalist Katie Gavin, guitarist Josette Maskin and multi-instrumentalist Naomi McPherson — build off their 2017 debut, touching on subjects such as aging, addiction, alienation and romantic abjection on their new LP>
MUNA on the new album says:
Saves The World is about wanting to grow up. Releasing and touring around About U saw some of our wildest dreams come true, but here's the side of the story that you don't hear too often: About U is about our real lives, and in our real lives there were some pretty damaging patterns going on that we couldn't get release from, and we hit a breaking point. We knew deep down that making the best second record we were capable of making would require us to try to live differently, to create changes in our own lives that would then birth the music.

The writing and recording and living that went into this album occurred over the two most trying, transformative, thrilling, difficult, and ultimately important years in all of our lives. It was the hardest experience we have had thus far as a band and as friends. There were points where we all wanted to quit on ourselves and on each other. The knife's edge of wanting to quit forced us all to transform. We each had to give up a part of our egos. We had to surrender ourselves to the creative process and to the songs themselves.

This album runs the gamut of emotions and subject matter but the through line is perhaps that we're trying very earnestly and honestly to tell the truth and not stand in our own way. Faith is the foundation of MUNA. Faith is what held us together when we had to experience the crumbling of our egos – faith in one another when we didn't have faith in ourselves, and faith in the greater meaning of MUNA.

The title of this record came from a willingness to step into the role as our own saviors, and possibly as mediums through which an important message might pass. MUNA is not us as individuals. It's an idea. It's what you all have made it by so lovingly holding our songs in your hearts. These songs are not idle or easy listening. We've designed them to be tools and we hope they help you just as much as they've helped us.
Stream the album and peep their tour dates below.
All Tour Dates Below:
9/9/2019 – Village Underground – London, UK – SOLD OUT
9/10/2019 – Village Underground – London, UK – SOLD OUT
9/16/2019 – Wonder Ballroom – Portland, OR
9/17/2019 – Neumos – Seattle, WA
9/20/2019 – Constellation Room – Santa Ana, CA
9/21/2019 – Las Vegas, NV – Life Is Beautiful
9/24/2019 – Great American Music Hall – San Francisco, CA
9/25/2019 – The Lodge Room – Los Angeles, CA – SOLD OUT
9/26/2019 – The Lodge Room – Los Angeles, CA – SOLD OUT
9/28/2019 – Crescent Ballroom – Phoenix, AZ
9/29/2019 – Meow Wolf – Santa Fe, NM
10/1/2019 – Deep Ellum Art Co. – Dallas, TX
10/2/2019 – The Parish – Austin, TX
10/4/2019 – Mercy Lounge – Nashville, TN
10/5/2019 – The Masquerade – Atlanta, GA
10/7/2019 – The Foundry @ The Fillmore Philadelphia – Philadelphia, PA
10/10/2019 – Music Hall of Williamsburg – Brooklyn, NY – SOLD OUT
10/11/2019 – Music Hall of Williamsburg – Brooklyn, NY – SOLD OUT
10/12/2019 – All Things Go – Washington, DC
10/14/2019 – The Sinclair – Boston, MA SOLD OUT
10/15/2019 – The Mod Club Theatre – Toronto, ON
10/17/2019 – Logan Square Auditorium – Chicago, IL
10/18/2019 – Fine Line – Minneapolis, MN
12/2/2019 – Concorde 2 – Brighton, UK
12/3/2019 – Shepherds Bush Empire – London, UK
12/4/2019 – O2 Institute 2 – Birmingham, UK
12/5/2019 – Club Academy – Manchester, UK
12/8/2019 – Brudenell Social Club – Leeds, UK
12/9/2019 – Oran Mor – Glasgow, UK