Streetsnaps: Tony Hawk
The legendary skateboarder takes a simple approach to style.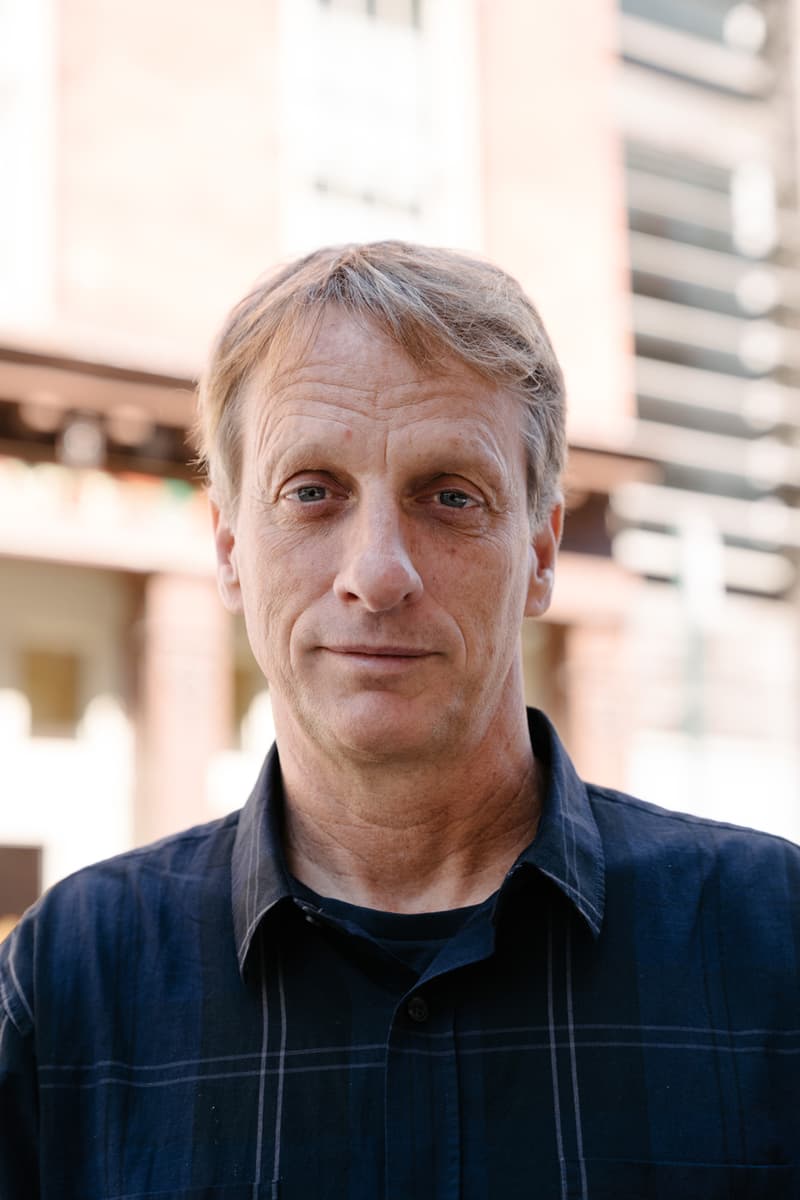 Streetsnaps: Tony Hawk
The legendary skateboarder takes a simple approach to style.
Tony Hawk sits in the posh Italian restaurant of New York's 10 Corso Como store decked in typical, relaxed dad wear. And judging by his personal style description, it's safe to presume he's okay with that characterization. "I'd say it's functional and hopefully somewhat cool for a 51-year-old," he said. Besides, does it get much more parent-friendly than sporting your kid's own namesake footwear line?
Specifically, a pair of Riley Hawk Lakai sneakers mark the occasion at hand — the official U.S. launch of the pro skateboarder's Signature Line collection, exclusively at 10 Corso Como and REIGN. Smudged up just enough to know that they're in regular rotation, the black suede Lakais blend seamlessly with Hawk's antiqued Levi's 501 jeans, navy plaid button-up from Vince, personalized forearm tattoo and unknown watch brand that he found on Kickstarter. "I just like the look of it," he explained simply.
In fact, simplicity seems to be a recurring trait throughout Hawk's story that day: personal style and major brand launch alike. There's no extensive narrative behind Signature Line's debut in Europe over America in January, aside from the fact that Dutch photographer Anton Corbijn shot and partnered on the imagery. There's also no big fuss or tricky design rhetoric behind the apparel itself, which consists of a tight assortment of T-shirts and pullovers in mint, white and royal blue. It's purely "clean but well-made pieces," as Hawk so calls it.
So he isn't in New York on the brink of fashion week to sell some canned image as a designer. "I left that in the hands of the experts," he said of learning any technical fashion skills. He's here because skate clothing and the rise of streetwear have allowed him — propelled him even — to elevate his collection to the "high-profile, high-fashion" space.
"My biggest concern is keeping the skating authentic. When we use the imagery, that it's legitimate. That the skating shown is quality, is progressive and not filled with cheese factor," Hawk said.
So while he didn't imagine this elevated new take on his skateboarding apparel would have someone who's never been to fashion week sitting "front and center in Paris" and partying with the likes of Virgil Abloh, maybe it's just the right time. Why shouldn't arguably the best skateboarder of this generation move into the same distinguished space that brands like Supreme and Palace have occupied for years? Hawk, for one, has already begun embracing the luxury streetwear affiliation.
"I think it's exciting. It shows how far skateboarding has come into the mainstream collective. It's influenced enough people through the years that they're at the forefront of the high-fashion too, with the success of brands like Supreme, and Palace and Dime — those all started at skate shops," he said.
"That just shows how far skating's come and how people have embraced it and embraced the culture, and sort of on their own raised it up to the high-fashion level."