Tony Hawk Makes the Move Into Fashion With Signature Line
We talk to the legendary skater about his debut collection and collaboration with Anton Corbijn.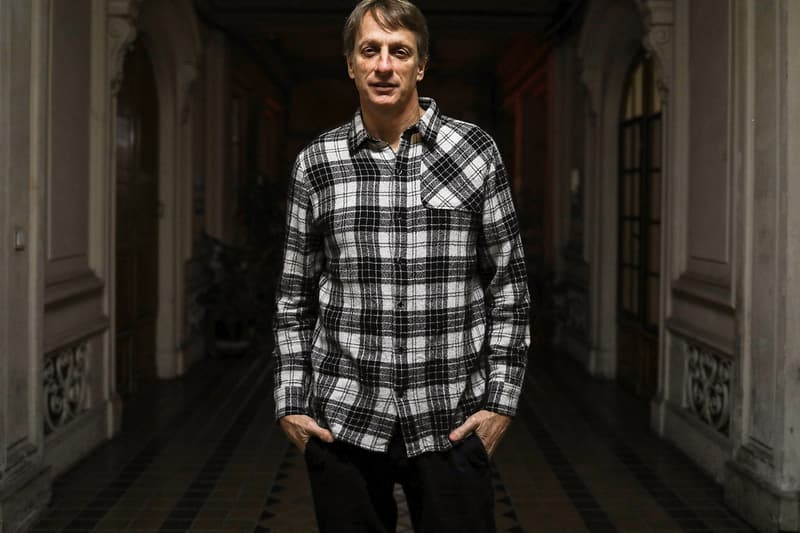 Skateboarding names don't come much bigger than Tony Hawk. Thanks to his pioneering role in the '80s and '90s — as well as his Activision-produced video game series — the Californian skater is arguably the most influential skater ever. For his next move, Hawk has announced the launch of his Signature Line clothing label.
Described as "top-tier streetwear fashion label," the Tony Hawk Signature Line is designed to be more high-end than traditional skatewear. Key pieces in the collection include a wool dress overcoat, as well as souvenir shirts and wool pants. These elevated pieces sit alongside streetwear and skating staples including long-sleeved T-shirts and cotton hoodies. "We'd never done anything so high-end before," explains Hawk at the label's launch exhibition during Paris Fashion Week, "I'd always wanted to, but we'd never really had the interest for it."
Recently, though, this has all changed. "I think skating has permeated so much of culture and fashion over the past few years, with the success of Supreme and Palace and things like that," continues Hawk, just a day after Lucien Clarke had walked in his second Louis Vuitton show, "the interest is there now." Speaking about the way that skating and high-fashion have overlapped, Hawk adds "I think it's great. I never thought that we had to keep skating underground to keep it cool."
The pieces in the first Signature Line collection feature pictures taken from Tony Hawk's archive, ranging back to his first childhood. One of the key images spotlighted by Hawk is him sitting on a skateboard outside his parents house. "This is literally my first time skating ever, in my driveway using my brother's old board," he explains, "that picture has been around but has never been used for anything." Another image Hawk picks out is, as he explains, him during one of his first Halloweens. As Hawk explained in the press release released alongside the collection, "the vision behind the range was to give … a rare glimpse into my life before and beyond skating."
To launch the collection, Tony Hawk teamed up with legendary photographer and director Anton Corbijn for a new photography series. "I've always loved Anton's work from the beginning," Hawk says, "to have any chance of working with him was going to be a dream come true, I would have loved to work with him on any project." Corbijn, for his part, was not a huge skating fan, desperate to work with one of the sports' biggest stars. "It's a new world for me," Corbijn reveals, "and I was very interested in that. I was welcomed into this new world. I'd never even been on a skating ramp before."
The resulting series features portraits of Hawk, as well as classic skating shots ("He kept worrying that I was going to get hurt. I was most excited to shoot that photo of anything because that's what I do," remembers Hawk) and pictures with young skaters. "I like the fact that they're so young, the people who skate, and they're so passionate about," explains Corbijn, "it's so much a way of life and a focus of life. It's very positive. Some kids come from difficult backgrounds and it gives them a focus."
"The next generation are leading. They're recreating what we started and making it more fun."
Working with the next generation of skaters — like the kids in those group shots — is something that remains important to Hawk. "We're at a point in skateboarding where its permeated the mainstream, and it's something that kids choose to do just as they choose to play football or basketball or any other mainstream sport," he adds, "the next generation are the ones that are really leading the charge of what's accepted, of the types of tricks that people are doing now. They're recreating what we started and making it more accessible, and more fun. Skateboarding has a bright future, and I think that in the coming years — after the Olympics — it's going to have more widespread recognition. I think it will spark interest in unlikely places."
For more from Paris Fashion Week, go backstage at the 1017 ALYX 9SM show.