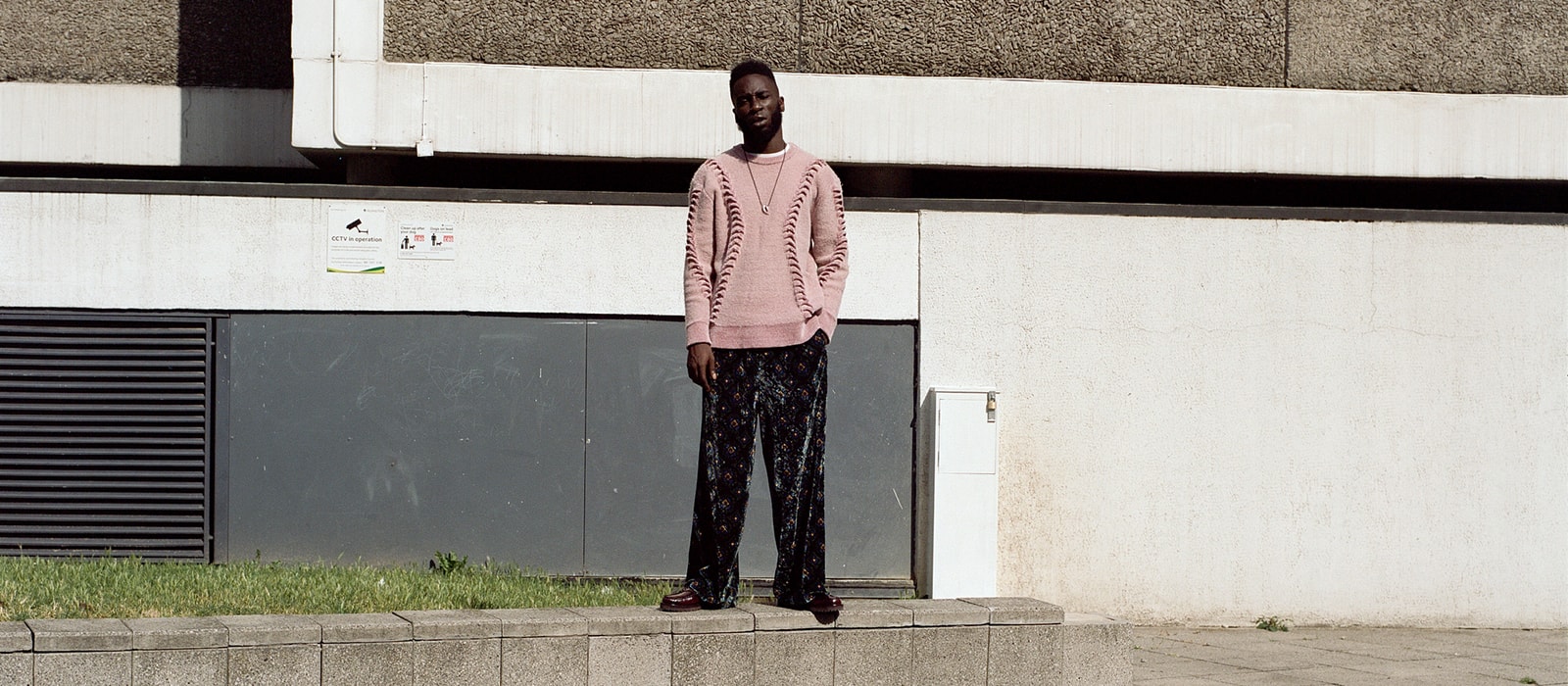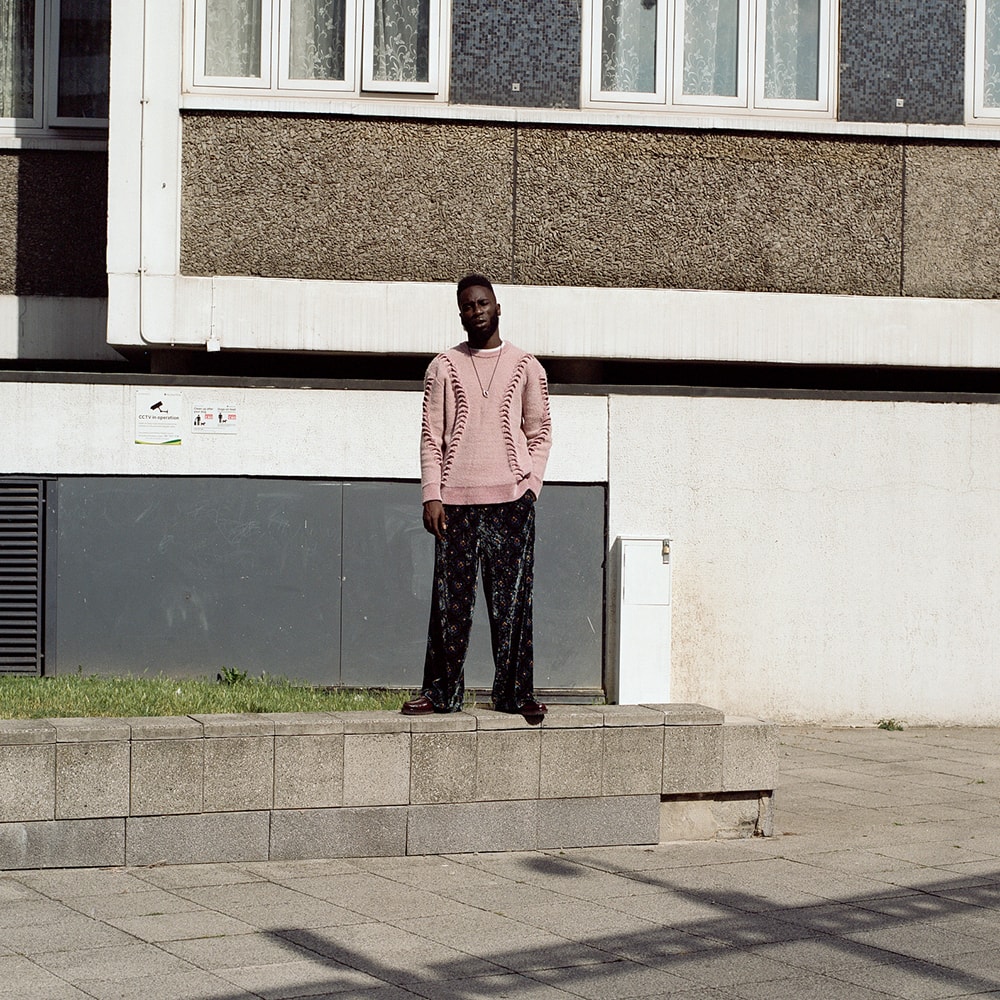 Kojey Radical is a Gundam Pilot
Speaking to the artist about his new project, creating music as therapy and the benefits of a major label.
When HYPEBEAST first spoke to Kojey Radical two years ago, the UK music scene was often viewed in reductivist terms. Every new artist was labelled as grime, regardless of what their actual sound was, despite the breadth and diversity of the region's musical styles.
Nowadays, the vocabulary around UK music has broadened, but the problem remains the same. The conversation has moved on from, "Is everything grime?" to "What do you call this type of music?" — a question so old it was mocked in Wiley's 2004 hit "Wot Do U Call It?" It's a conversation that feels increasingly a relic of an older generation and as such one Radical isn't particularly interested in. "I stopped giving a fuck about that in, like, 2015," he says.
What does interest him is his latest project, Cashmere Tears, which releases on September 13. When we first met Radical for our 2017 photoshoot, he cut an air of relaxation within his surroundings, laughing as kids on their school breaks spotted him as "that famous man" while HYPEBEAST photographed him. This time when we met Radical, he was in a quiet corner of Shoreditch House, still with the same air of relaxation.
Radical has reason to be relaxed. Cashmere Tears is his first full project since 2017's In Gods Body, and Radical calls the new work "the best project this year." Despite the break between albums, he's kept his name in the spotlight with a series of singles and appearances, including one on Mahalia's "One Night Only," Shy FX's "Bad After We" and MJ Cole's "Soak It Up." Speaking about Cashmere Tears, the pros and cons of being an independent artist vs joining a major label and much more, Radical was open and honest about his thoughts whether it spread from these topics to comparing himself to a Gundam pilot. Read on to see exactly what he had to say.
Hat: Yohji Yamamoto (Browns), Shirt: Black Weirdos (Goodhood)
HYPEBEAST: What do you want to do with this project?
Kojey Radical: The project was a very long process, but a short execution, you know what I mean? In between the last one and now, I went through so much that ultimately it was really about getting back to a space where I could make a project again. I guess the gap taught me a lot of things. It taught me about the pace of music and how people understand it.
So even having that year of releasing singles on its own, even though none of them were on the project. So it was fun. It got me back to a [good] space because I wasn't really okay, personally. So those songs coming out, it's not even like I thought to myself, "Oh yeah, let's put 'Water' out, or let's put 'One Night Only.'"
It was getting put out around me because I was in such a low space that I didn't really wanna put music out. So family, management, the team picked those records. And that's why I'm always so grateful for my team because, even at my lowest, they didn't let the train stop. And it was that motivation that helped me say, "Okay, I'm ready to go make the project now." So we went away and made the project in February, and had it finished in February.
Hat: Daniel W Fletcher, Denim Shirt: Balenciaga (Browns), Top: nanamica, Track Pants: Kapital (Mr Porter)
Were the singles almost therapy for you?
The records before this project, like "One Night Only," "Water," and "Pure" were definitely part of the therapy process to get back to being able to make Cashmere Tears. What was weird about it was all of the records felt within my comfort zone, but outside of my comfort zone.
But what was cool about the process was we all realized that, individually we was going through things. So the process of making this project became therapy for all of us individually, and we was all able to express ourselves in different ways on the project, even if it is with a symph or a string line, or a horn section, or something like that. Everybody spoke their truth.
"Every element blends in perfect harmony. I've got the best project this year."
So what made it out of your comfort zone?
It was just the pace. I definitely knew I wanted to make something concentrated. I felt like when I listened to my old projects, as much as I loved them, and there are definite stand out moments, I can hear the disjointedness.
I enjoyed that process, I enjoyed the craziness, I enjoyed the haphazardness of being able to do that. And that's where I found comfort, just being able to collage all of these feelings and thoughts, whereas with this project, I was like, "No, I want it to be cohesive. I want it to register as a particular type of feel." And actually being harder on myself in order to do that, and not go wild.
So you'd say Cashmere Tears is more of a painting more than a collage?
It's one large detailed painting.
Why do you still feel like you're learning on the go with music?
I'll never ever stop learning on the go. And the moment that I do, I've become complacent and it's time for me to stop. If you don't feel like you're learning, even while you're doing something that you love, or you're doing something you've done for years, the passion might be dying.
Because it's impossible for us to know everything, there's always going to be new things to learn. If we do feel like we know everything, then we've gotta make something new with the knowledge that we have. There's never a comfort zone, in that sense.
Shirt: Jacquemus
How have you responded to success? Did it change your viewpoint?
No. All it did was make me closer to my family. Because I realized what's important, and who's important. And my friends got closer, my family got closer, my team got closer because you can't let this stuff blind you from tomorrow.
Were you worried about how the machine works? And how people get sucked in?
I've seen it. Even now being with a label in comparison to being independent all of these years, the machine don't scare me, so the machine works with me. I am a Gundam pilot, you show me that. This is not me standing in front of a big ass robot scared, I am in the robot, marking the city. But from that vantage point, I can see why people end up under the foot of the big machine rather than in the pilot seat, you get what I mean? Everybody's journey is their journey, but I know why I signed, and what freedom came with me signing.
Because independent in the UK is a delicate thing, where we're in that age now where it's almost like how the Americans were for a bit, where everybody was independent, but nobody's independent. But their deals are just weird.
"Being with a label in comparison to being independent all of these years, the machine don't scare me, so the machine works with me. I am a Gundam pilot."
They've just been given money or signed to something, somewhere, somehow. But all of these situations are really bad, and damaging in the long term for what your career is. So for me it was never a case of, saying, "You know what, fuck labels. I'm going to fuck the Babylon, anything that is an evil spirit can not touch or walk by me."
I had to find my home, and find my space and find the people that, A, I was most comfortable with, but, B, that would give me the most money and freedom. And that's the beautiful thing about where I'm at now with Asylum.
Jumper: Feng Chen Wang Trousers: Toga Virilis, Shoes: GH Bass
Where did the Jazz influence come from on Cashmere Tears?
That came from our boy [producer] Swindle. Swindle brought the Jazz. That's what I wanted. I wanted to get all the elements of what people say they loved about however they would define my sound, whether it was the jazzy rap beat or the early roots hip-hop side.
Whether it was the trap aggression, mean face, that's there. Whether it was the emotional build up, almost like early Outkast or The Love Below. So for every one element, there's the other element, and they blend in a perfect harmony. I've got the best project this year.
Cashmere Tears is out now on various streaming platforms.