Five Moments from Prague Fashion Week SS20
Key moments you missed from this year's festivities.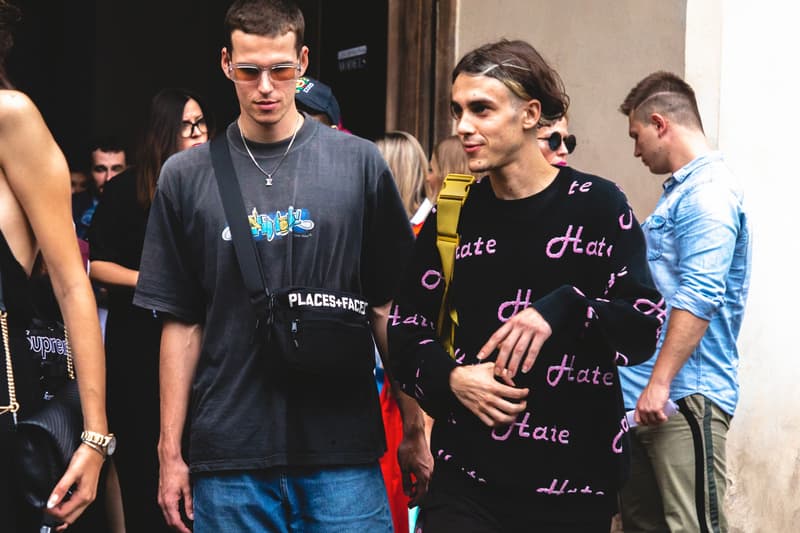 With Mercedes-Benz Prague Fashion Week Spring/Summer 2020 coming to an end, we put together a round-up of five key moments from the annual showcase which placed an international spotlight on established and fledgling designers from the Czech capital. Along with continuing its distinct focus on local talents found at the city's Umprum and UTB ZLÍN universities, Mercedes invited a select group from Tokyo's Bunka Fashion Graduate University to show off their progressive designs and personal tastes.
Aside from all the runway presentations, the week also saw a series of events which showcased the diverse nightlife scene of Prague. Helping kickoff MBPFW SS20, was an official launch party held at rave establishment, Addict. Showing the international element of the event with headlining duo DANCING IN ECSTASY (D.I.E.) comprised of Midnight Studios' designer Shane Gonzales and Slade Systems. Additionally, instead of presenting a collection this time around, rising name Jan Cerny held another installment of his JAN SOUVENIR SHOP at multipurpose space SWIM.
Check out the five key moments from Mercedes-Benz Prague Fashion Week SS20 below and make sure to check out our look at the street style from the week.
Addict #18 – MBPFW Edition
This year's MBPFW SS20 saw its official start with a late-night event at Addict away from Prague's iconic city center. Despite a last-minute canceling from headliner AJ Tracey, the show went on with DANCING IN ECSTASY (D.I.E.) leading the night with an array of house hitters. The duo offered a fresh audio display to the youthful crowd which saw a mix of fashion faithful and the city's partygoers. Local acts NobodyListen, Marko Damian and Dalyb provided support and also showed off a taste of the Czech music scene that has been catching international notoriety as of late.
JAN Souvenir Shop Party By Swim
Standing as one of the Czech Republic's most promising talents, Jan Cerny used the week-long fashion celebration to host the latest instalment of his JAN SOUVENIR SHOP diffusion project. Taking place at multipurpose space SWIM, the event saw the attendance of millennial fans loyal to the former Cottweiler and Louis Vuitton intern.
Attendees were privy to an exclusive drop of street-savvy items comprised of T-shirts, scarves, necklaces, lighters, postcards and more. The release falls in line with the designer's streetwear-inspired aesthetic of simplified gear, "new uniform for the new generation," as described by the designer.
Bunka Fashion Graduate University Spring/Summer 2020 Presentation
Bringing a touch to international flair to this year's festivities, Mercedes-Benz invited Tokyo's Bunka Fashion Graduate University for a special showing. Four graduates were selected to present their comprehensive conceptions: Jia Wei "Toys," Jaehak Kim "New Oriental," Mingyang Du "Closed Eyes" and Shoupeng Gu "Crazy Plastic Straw."
The talented designers showed off a different outlook on fashion which contrasted the European offerings presented throughout the week. With the presentation, the BFGU looked to promote its place as a leading school for cultivating talents through academic knowledge and practical skills within the global fashion industry.
Adam Kost Womenswear Spring/Summer 2020
Straying from his usual menswear focus, rising Czech designer Adam Kost put together an unexpected collection of womenswear for MBPFW SS20. Despite the shift, Kost stuck to his signature expertise in knit garments with a concise offering of dresses that played with form. Swirls of white accented the unique bunching and piling that offered the pieces an elegant avant-garde aura.
JAN & CROSS/PHONEZ Street Style Spotlight
Aside from gathering an eager group of fans at his JAN SOUVENIR SHOP event, Jan Cherny's presence in the Czech fashion scene was felt all throughout the week. Prague's fashion-faithful were often seen sporting the young designer's items outside of the Národního památkového ústavu presentation space. Items from the designer were easily recognized in street style photos thanks to there direct streetwear-inspired branding and bright and bold color choices.
Another local label that was captured in street style photos was Martin Castor's CROSS/PHONEZ. In recent months, the eye-catching functional cases have made a big splash in Japan thanks to exposure at leading retailer GR8 and endorsements from Gab3, J Balvin, Kubo and more. Helping make the everyday Apple iPhone case a striking accessory, the local label was easily supported by those attending the shows at MBPFW. Check out some of the cases above and shop CROSS/PHONEZ now on HBX.