Are We Witnessing the Death of Vert Skateboarding?
Once the darling discipline of skateboarding, dwindling contests and a lack of public ramps spell serious trouble for vert.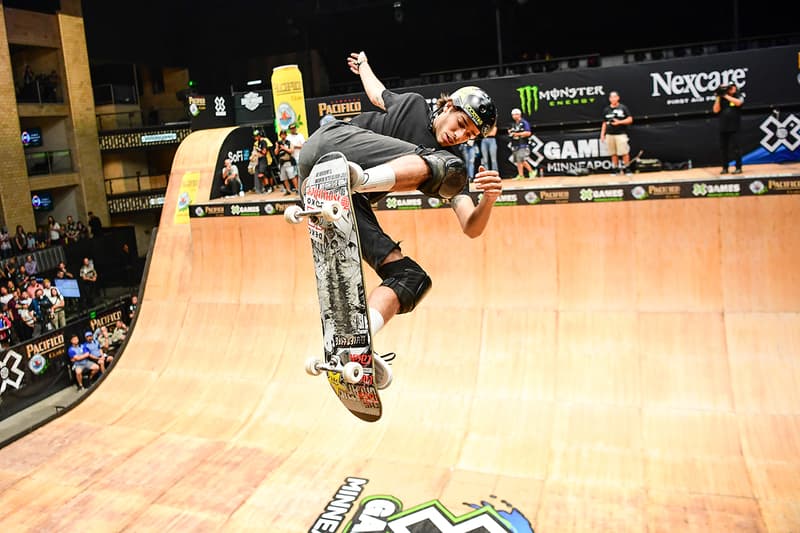 Tony Hawk had already logged 10 attempts to land a 900 when the clock expired in the X Games Vert Best Trick finals on June 27, 1999. But the event's TV director urged Hawk to keep going, and so the cameras were still rolling when he landed the trick on his 11th try. Hawk claimed the 900, and vert skateboarding officially surged into the mainstream.
Two months later, Activision released Tony Hawk's Pro Skater, and kids who had never even set foot on a skateboard were throwing around terms like Hardflip and Stalefish. One of today's best vert skaters, Elliot Sloan, credits Hawk's successful 900 with getting him into vert. "I grew up in New York City, and I used to skate street," the 31-year-old skater, says. "When I saw Tony Hawk do the 900 at X Games, that was the moment. Everyone pushing him, how epic it was after he made it… I was like, I wanna skate vert. That's it."
Modern skateboarding undoubtedly has its roots in street skating — the surfers who created the sport back in the 1950s initially dubbed it "sidewalk surfing," before it took its current form of making use of stairs, railings, and other urban features. There's no question, however, vert is what propelled skateboarding into the mainstream. When skaters started dropping into empty swimming pools during Southern California's 1976 drought, the sport's terrain went from flat to vertical, with the construction of legitimate quarterpipes and halfpipes soon popping up across the country. After Hawk landed the 900, vert reached a fever pitch. Standalone contests around the globe, from X Games to the Maloof Money Cup to Dew Tour, showcased a generation of vert skaters including Hawk, Bob Burnquist, Pierre-Luc Gagnon, Bucky Lasek, Sandro Dias and Andy MacDonald.
Fast forward to 2019, however, and vert skating has fallen off its perch. Street and park skating will debut in next year's Summer Olympics in Tokyo, which has ignited countries around the world to rapidly develop young skaters in each discipline to form their national teams. Street League Skateboarding has become a dominant international force, offering the largest prize purse in skateboarding at more than $1 million USD for the series; its World Championships are a sanctioned Olympic qualifier. Arguably the most popular skater today (or at the very least, the highest-paid), is Nyjah Huston, who skates street.
The interplay between street skating and skate culture has become undisputed. Today, street skaters largely define what we think of when we think of skateboarding. Huston is only the fourth pro ever to get a signature Nike Free Skate shoe. His sartorial taste was highlighted in a New York Times Style List of Five column. His 3.4 million followers on Instagram underline the fact that, right now, street is king.
And vert? Well, it's alive and well at X Games, where skaters like Sloan, Jimmy Wilkins, Clay Kreiner, Mitchie Brusco and Moto Shibata continue to advance the discipline. Brusco, who has the 1080 and now the 1260 in his bag on the mega ramp, threw down a 900 in the vert competition this year, good for a silver medal. But vert skateboarding won't be in the Olympics next year; in fact, other than at X Games, there aren't many contests left for vert skaters.
Following Tony Hawk's landmark 900, a new generation of vert skaters was on the rise— Sloan, Alex Perelson, Shaun White — when the brakes suddenly got pumped. X Games announced it would remove vert from its program in 2008 as competition moved to heavy park and street elements. A chorus of disapproval from Burnquist, Hawk and other pro skaters reversed the decision, but ESPN wasn't acting in a vacuum. Dew Tour hasn't featured vert since 2015. And X Games hasn't had a women's vert contest since 2011; in fact, the lack of infrastructure to develop female vert skaters is a likely reason it won't be at Tokyo 2020, as new Olympic disciplines must be open to both sexes.
"Our summers used to be like back-to-back contests for five months, but I'm done for the year now after X Games," explains Sloan.
"It's a bummer. It's something I've dedicated my whole life to," says Sloan. Vert skating is in a "weird spot," he adds. "Obviously, it's not going away, but as far as the growth of it and getting back to as many events as we had a few years ago, I don't know if that's in the cards anytime soon."
When the Southern California vert scene was at its height, there were multiple public ramps. Costa Mesa's Plan B had a ramp, as did Human and the Encinitas YMCA. These days, the ramp at the Mission Valley YMCA skate park stands alone as the sole public spot for vert skaters to train. "The problem is if you want to skate vert and you're out here, all these vert ramps are private," Sloan says. "The one at the YMCA in Encinitas is gone, which is really sad. I spent a good few years skating that one. There was just so much history there."
"Our summers used to be like back-to-back contests for five months, but I'm done for the year now after X Games"
Each skateboarding discipline is its own ecosystem. For it to remain healthy, it needs, at the top, high-level competitions, sponsor support, cash prizes. The stars who emerge in that environment attract kids who continue to feed the discipline, allowing it to thrive all the way down to the base level — the parks and ramps that serve as training grounds. Take out one essential element — like contests — and everything falls apart. The money dries up. The public ramps start closing. And the kids decide to go into a different discipline.
The reason for vert's decline in the mid-'90s was twofold; first, street skating began a rapid ascent in popularity, with public skate parks offering would-be skaters a free and easily accessible place to train. "There's a free public skate park on every corner now, so you gotta know this person or jump through all these hoops to get to a private vert ramp. That's what's shot vert skating in the foot," Sloan says.
Second, the industry's attitude toward vert skating deteriorated so much that public ramps began closing, and with fewer top pros in the discipline, contests chucked their vert competitions. If X Games hadn't reversed its decision to remove the men's vert contest from its schedule, vert these days could be almost totally underground.
Faced with a lack of public spots, Sloan decided to take matters into his own hands. Six years ago, he bought a house on two acres in Vista — PLG co-signed for him — and Rockstar helped him build a 100-foot-wide vert ramp, the same dimensions of the X Games ramp.
Like moths to a flame, up-and-comers — Brusco, Kreiner, Sam Beckett — have made Sloan's ramp an integral part of their training, making the journey most weekdays from their place nearby. The three live with Perelson, who owns a seven-bedroom house in Vista and, like Sloan, provides a hub for skaters looking to train in Southern California. Most of the area's vert skaters cycle through a rotation of four sites: Sloan's ramp, Tony Hawk's warehouse, Black Box, and Roger Mancha's ramp.
"I was just happy to be at the ramp with these guys, and now to live in a house with a lot of influential people and to be involved with vert skating, that's the coolest part," says Brusco.
Sloan and Perelson are doing their part to grow the scene, but vert can't thrive if every hopeful kid has to move to San Diego to train. To grow back to its glory days, the discipline needs public ramps, sponsors willing to sign skaters outside the Olympic circuit and competitions to showcase the sport's talent.
"Vert skating isn't going away, but I don't know if getting back to as many events as before is on the cards anytime soon."
Vert skaters have to take their wins where they can get them. Vans' Steve Van Doren and Jeff Grosso recently debuted a new ramp, which will eventually live at the Vans Huntington Beach skate park. Vert Attack in Malmö, Sweden, showcases vert skaters (including women) from around the world.
X Games continues to embrace the discipline. Brusco got vert skating in the news this year when he became the first to successfully land a 1260 off the quarterpipe in big air. And this year's vert event, which moved to a jam session format, sat well with the skaters because it mimics the way they actually train. The new format "seemed to ignite the contest this year and drive some really nice skating," says X Games Vice President Tim Reed. "Overall," Reed says, "the results give us something to continue to build on for the years ahead."
Skateboarding is cyclical. Despite the immense popularity of pools and bowls in the 1980s, ramps soon took over. Now, park features reign supreme once again. But if kids still have moments like Hawk's 900 (and, now, Brusco's 1260) to spur them on, the interest will remain. Sponsors and contests just need to meet them halfway.