Zion Williamson Signs With Jordan Brand, 7 Years & $75M USD (UPDATE)
"Kingdom Come."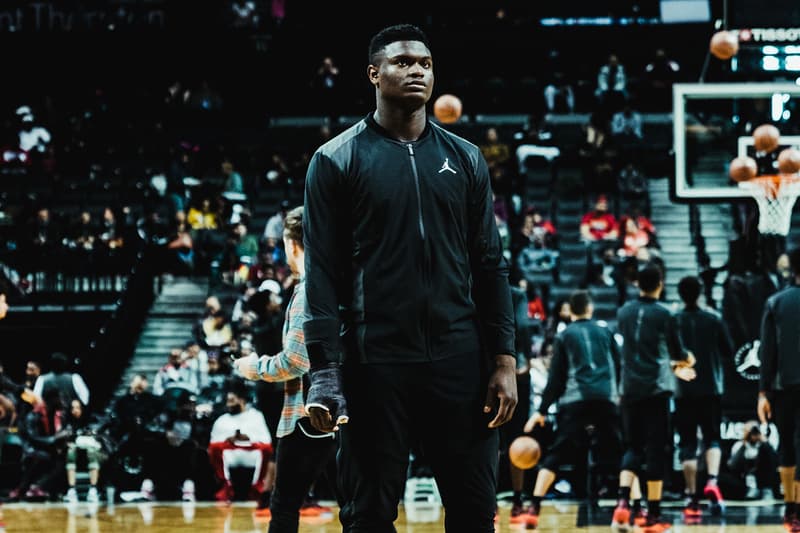 UPDATE: According to Forbes reporter Adam Zagoria, details surrounding the terms of Zion's deal have emerged from a source close to the partnership, and the No. 1 overall pick in the 2019 Draft is said to have signed a deal worth $75 million USD over 7 years. If correct, this deal is now the second largest shoe contract ever signed by a rookie athlete, as LeBron holds the top spot for signing a 7-year, $90 million USD deal in 2003.
No word on any of the minutia within the deal, such as a possible signature line or incentives, so be sure to check back for more as this story develops.
Zion's sneaker deal is 7 years, $75-million, one source says. https://t.co/bddwtHaHHm

— Adam Zagoria (@AdamZagoria) July 23, 2019
---
July 23, 2019: Moments ago, Zion Williamson took to Instagram to announce that he has signed to Jordan Brand as the sportswear label's newest, and brightest, ambassador.
One of the most anticipated sports and footwear stories of the summer, Zion's sneaker contract has been mulled over since he became a viral sensation dunking over fellow high-schoolers half his size just a few short years ago. Not since LeBron have we been so captivated by a young hooper, so it goes without question that we've all been pondering his ability to sell kicks and merchandise just as much as his ability to dominate the next generation of NBA basketball.
Nike has long been the frontrunner, not only for what it can offer in terms of dollars but also exposure and cultural relevance. Newly launched basketball divisions at PUMA and New Balance have also be in contention, mostly because they're looking for the face of their budding labels. Jordan Brand however didn't appear to be a likely landing spot for the young phenom, but they too are looking for someone to breathe new life into the brand, considering Kawhi's departure and the deteriorating lines attached Chris Paul, Blake Griffin and Carmelo Anthony.
In the official Nike News announcement, Zion and MJ spoke about their future together.
"I feel incredibly blessed to be a part of the Jordan Brand family," says Williamson. "Since I was a kid, I dreamed of making it to the league and having the type of impact on the game Michael Jordan had and continues to have today. He was one of those special athletes I looked up to, and I really can't express how happy and excited I am for this journey."
MJ added, "Zion's incredible determination, character and play are inspiring," says Jordan. "He's an essential part of the new talent that will help lead the brand into the future. He told us he would 'shock the world,' and asked us to believe him. We do."
It'll be fun to see how this partnership develops over time, but the most pressing question at the moment surrounds a Zion Williamson signature line — will he get one or will he sport the flagship 'numbered' line (Air Jordan 33) just as Kawhi did, and if a signature line is part of the plan, how soon before we see the 'Zion 1?'
Terms of the deal have yet to emerge, so be sure to bookmark this page and check back frequently for details.
In related news, it was announced last month that third-year player Jason Tatum and rookie Rui Hachimura signed with Jordan Brand.