DC Comics to Stop Producing New 'MAD Magazine' Issues After 67 Years
The satirical magazine will be leaving newstands entirely.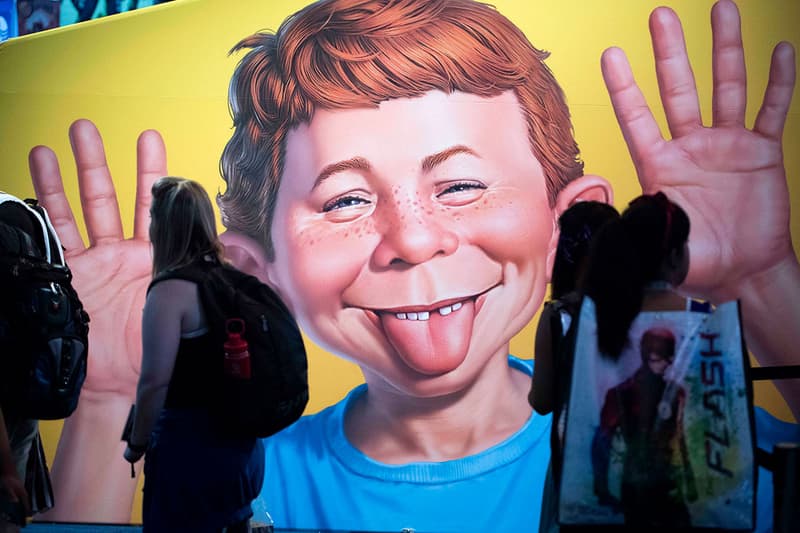 Since 1952, MAD Magazine has remained America's premiere satire publication, delivering timely gags and cartoons that inspired everyone from "Weird Al" Yankovic to The Simpsons. After a nearly seven-decade run, however, the magazine is finally set to take a bow, as DC Comics will partially pull the plug on new issues.
Later this year, the magazine will cease production on original content and instead will publish reprints from the past 550 issues, save for special editions scheduled for the end of each year. These forthcoming issues will no longer be sold through newsstands or supermarkets; the magazine will be made available as either a direct-to-consumer subscription or from comic book shops and each issue will sport new artwork. DC will continue to create MAD-related collections and books, however.
Despite protests on social media, MAD's August 2019 issue will be its final wholly original output.
In brighter DC news, Batman will soon receive a star on Hollywood's Walk of Fame.
MAD Magazine is closing. Like millions of others, MAD Magazine showed me what humor is for and thus gave me my life's direction. I used my allowance of $1.50 to buy each issue, which in 1987 cost $1.35 [(cheap!) it said next to the price].

— rob delaney (@robdelaney) July 5, 2019
An American institution has closed. And who wants to live in an institution? MAD magazine happened b/c its publisher faced a Congressional ban on its ultra-successful "horror" comics. And it was always gently subversive. https://t.co/EJ43pRGvls

— Harry Shearer (@theharryshearer) July 4, 2019
…and the world just became a little more boring. RIP Mad Magazine pic.twitter.com/OEWDrjKPVI

— Stevie Van Zandt (@StevieVanZandt) July 4, 2019
Mad magazine will cease publication after 67 years. The editors have stated, "We just can't come up with anything crazier than the shit Trump does every goddamn day."

— John Leguizamo (@JohnLeguizamo) July 4, 2019
Hey @DCcomics: please don't cancel @MADMagazine! Losing satire is the LAST thing we need right now. The future of the weirdos who will change the world depends on it! #SaveMADmagazine

— Neil Patrick Harris (@ActuallyNPH) July 5, 2019
Today won't end. Goodbye, MAD Magazine. As a youngster I was a huge fan of the 70's era, as a young adult I rediscovered the 50's comics, as an old nerd I somehow became a contributor (often working w/@colorkitten) for the last decade +. Getting the e-mail today was crushing.

— Evan Dorkin (@evandorkin) July 4, 2019
MAD magazine was easily one of my biggest influences as a kid. al jaffee, Tom bunk and sergio aragones were my hero's and MAD was a complete escape for me when times were rough growing up. The Meat Boy logo was a riff off of alfred e neuman for god sakes! RIP MAD. pic.twitter.com/8vcF4JJTZm

— Edmund McMillen (@edmundmcmillen) July 4, 2019
So sad that MAD magazine is shutting down. It was the gateway to subversive humor as a kid, copies bounced around the house between my sisters and me, was always packed to go on summer vacations. I tipped my hat to MAD by having Hogarth show it to the Giant in IRON GIANT.
Salute! pic.twitter.com/x95DoX82DC

— Brad Bird (@BradBirdA113) July 4, 2019
It seems the demise of @MADmagazine has been greatly exaggerated… It's not over yet! #MoreMadPlease #SaveMadMagazine https://t.co/TJnPYA4xTw

— Mark Hamill (@HamillHimself) July 5, 2019
I am also really bummed about the shuttering of #MADMagazine . It was a huge influence on my humor, and a constant, reliable companion for a lonely, traveling boy.

Thank you, Mad.

(And to a lesser extent, Alfred E. Neuman. You always creeped me out.)

DH pic.twitter.com/WPdkXMaciL

— David Hayter (@DavidBHayter) July 4, 2019