GOAT Sneaker App Officially Launches in China
With a localized version, as well as a WeChat Mini Program.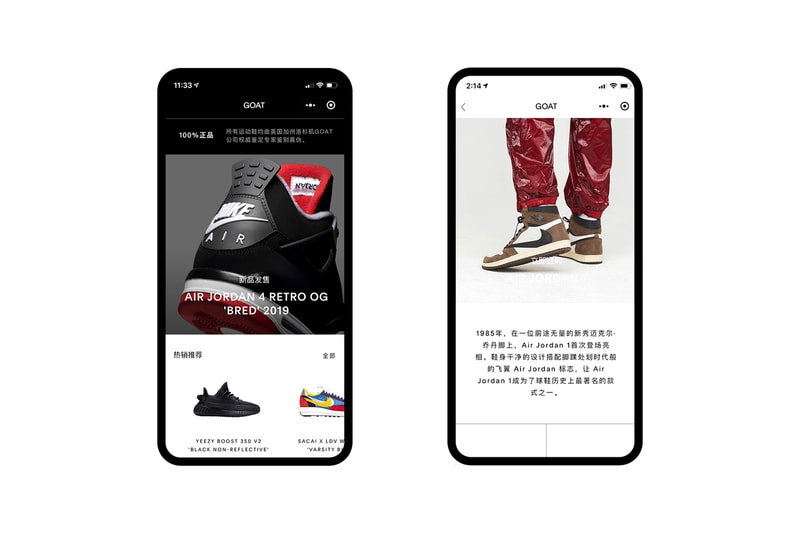 GOAT has officially launched its sneaker app in China, the company's number one international market, as announced by the brand today. Users in the region will have access to a localized version of the app, as well as a new WeChat Mini Program.
"We know China is a unique market and if we use the same strategy as the U.S., we'll likely fail," stated Eddy Lu, co-founder and CEO of GOAT Group. "We are building this product with a local team in order to provide the Chinese consumer with a better, more personalized experience," he said.
GOAT plans to kick things off in the area with a three-day event that it says will feature the "rarest and most exclusive" sneakers. To support its expansion in China and the Greater Asia Pacific, the company has opened a facility in Hong Kong, though the Shanghai-based team will lead the overall operations.
"The sneaker community has grown tremendously in China, especially with the rise of basketball and hip-hop culture. So it's no surprise the demand for sneakers has grown as well," Lu said. "We know that there is a huge need to ensure authentic sneakers in the global sneaker industry, and we believe China is the perfect market to begin our global expansion."
The move marks GOAT Group's first major expansion since Foot Locker invested $100 million USD into the brand back in February. At the time, Lu explained that the investment would help "expand the business as we continue to scale our operations both domestically and internationally."