Idris Elba Is Ready For One More Notch on His Belt
The actor/DJ/musician talks his new clothing endeavours and more.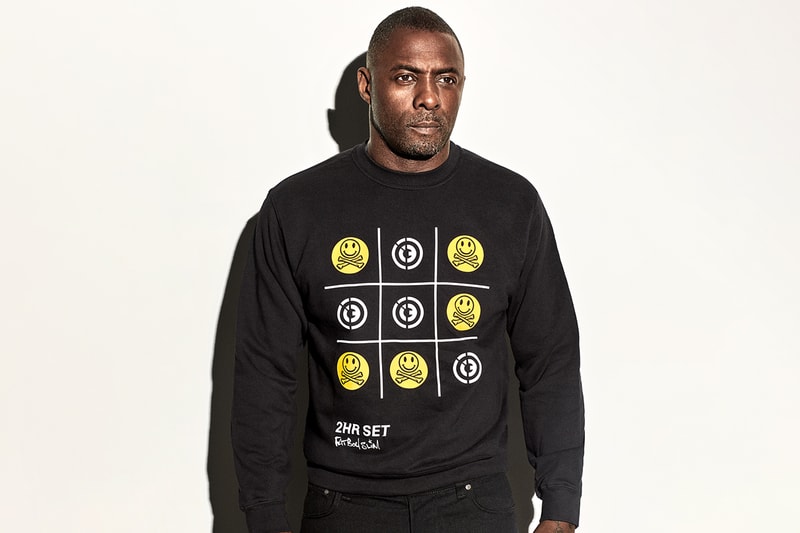 Idris Elba is one of the world's most recognizable faces. Having starred in everything from the Thor and Avengers films to The Wire to the upcoming Hobbs and Shaw, the actor is seemingly everywhere. But Elba has always made hobbies other than acting part of his public persona: whether it's taking part in a drag race challenge, taking part in a pro muay thai bout or DJ'ing, he's clearly not a man to be held back by labels.
When asked about why he'd decided to take up these disparate tasks, Elba was self-deprecating. "Mid-life crisis," he said. He goes on to expand that the ability to test himself was what really intrigued him about those activities. "When you're acting you often walk onto the set and they are like, 'Okay, in this scene you're fencing and you have to look like you're really good,' and then you have a crash course in fencing like 10 minutes to do that one shot," he says. 
These short lessons led Elba to want to find out how his skills would hold up against real competition. "I was definitely curious about [kickboxing]. 'Can I do that? Can I actually do that?' I can do it in films and make it look good, but can I actually go toe-to-toe?" Elba answered those internal questions about his ability definitively via a first-round knockout against Lionel Graves at Bethnal Green's famous York Hall venue. But while it may be easy to hone in on the machismo related to these acts, it's worth questioning why a successful actor would want to even put himself at risk of an embarrassing moment in the search for more. 
"I've been acting for a long time," Elba says. And with this comes limitations put upon him that the actor himself doesn't agree with. "You can get categorized. There's things I like to do creatively and own them and be comfortable with them: music, production, directing, writing. I think the creative lane for me maybe has a little acting, a little directing, all of these other components together." 
The desire to do something different explains Elba's move into directing, where he can combine his interests. "The good news with a film, for example, is that I can be director, actor, music supervisor and designer — even interior designer if I want." One of the other factors in taking on all these roles for Elba the opportunity for collaboration, something he says is important for him in choosing directors — be they experienced auteurs or newer names. 
"When you've been working on the set for a very long time you work with directors in various stages of their career," he says. "What happens is little fluctuations where you have more experience than the director." Elba's ideal process works as a circle of life, bringing the experiences he's learned from more seasoned directors and sharing it with those just starting out. "It breeds more creative choices and tastes," Elba says. "I think that's what's happening with creativity more and more with collaborative efforts especially in fashion."
The latter topic is what Elba has turned to with his latest project, 2 HR SET. The brand got its name from a reference to a DJ set time, but it means more to him than just that. "It's a made up philosophy on having two hours to do anything being a good amount of time — even just to read a book, read an article, write a report, go to the gym, have a meal," he says. "It started as an homage to the set times, but [the 2 HR SET idea] started breaking into other areas."
Looking up to brands such as Carhartt, 2 HR SET focuses on ease of wear, using sportswear as a point of entry. "We've started from a place of merch, where hoodies and T-shirts are easier to get your marketing your brand ideology out quicker to the masses." Elba is also keen to make a point that he's in this for the long haul. "There's always the risk for someone like myself, that has his hands in many pies, that fashion just feels like it's just an easy in — a brand extension." 
"This is not an opportunistic thing for me, I generally like what I'm creating. I generally feel like I can contribute."
It's very easy to be skeptical when a celebrity gets into clothing design, but Elba stresses that this is anything but a vanity project. "This is not an opportunistic thing for me, I generally like what I'm creating. I generally feel like I can contribute." His last foray into the world of clothing was with Superdry, something he is keen to stress is a world away from his latest venture. When we ask if there's anything he's learned from that collaboration, he says, "No. More than anything with Superdry, I got an inside track to a massive commercial engine of a fashion brand." But that the actor has no desire to repeat what the behemoth company has with 2 HR SET.  
With acting, DJ'ing and already firmly under his belt, the immediate reaction can be that fashion is a step too far. But with the in-built parameters around the brand, 2 HR SET looks like it'll be able to stand on its own feet and find a space in the crowded fashion market. And, if anyone can add fashion to their expanding roster of activities, it's Idris Elba.
2 HR SET is available to buy now from the brand's website.