Nike Launches Mysterious 1985 Lost Shipment Campaign
Please call 1.800.561.1985 with any info.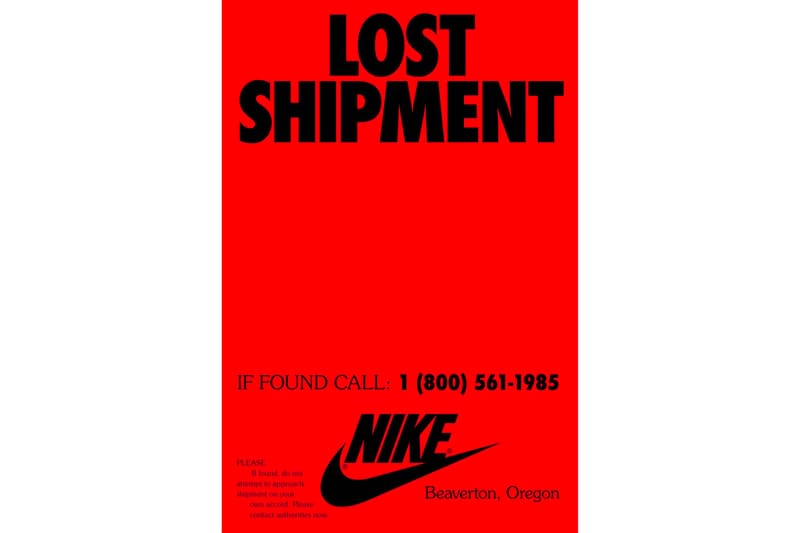 Over the weekend, mysterious Nike billboards began to pop up all over New York City and Los Angeles. The bright red notices note a "LOST SHIPMENT" and a hotline (1.800.561.1985) that reveals the date June 6, 1985. Taking a closer look, the bottom left corner features instructions to not approach the "shipment on your own accord" and to contact the "authorities" immediately. Once the number is called, a brief clip plays that reveals latitude and longitude coordinates and a date: 34°02'25.1"N, 118°16'00.8"W and June 12. When entered into Google Maps, the coordinates reveal a parking lot close to the intersection of W Pico Boulevard and S Flower Street nearby downtown Los Angeles.
Building on the enigmatic campaign, Nike is now running a surveillance video of what appears to be a heist that sees one of its shipment trucks driven off. The brief static-riddled clip is also marked with the June 6, 1985 date. No word yet on what the campaign is centered around, but expect a big retro release — perhaps in relation to a rumored Stranger Things collaboration.
Stay tuned for more details as they become available.
In case you missed it, the COMME des GARÇONS x Nike Shox TL recently received a global release date.
We acknowledge that several shipments from 1985 have gone missing. Please call 1.800.561.1985(??) with any info. pic.twitter.com/Lm5LYr5wio

— Nike.com (@nikestore) June 10, 2019