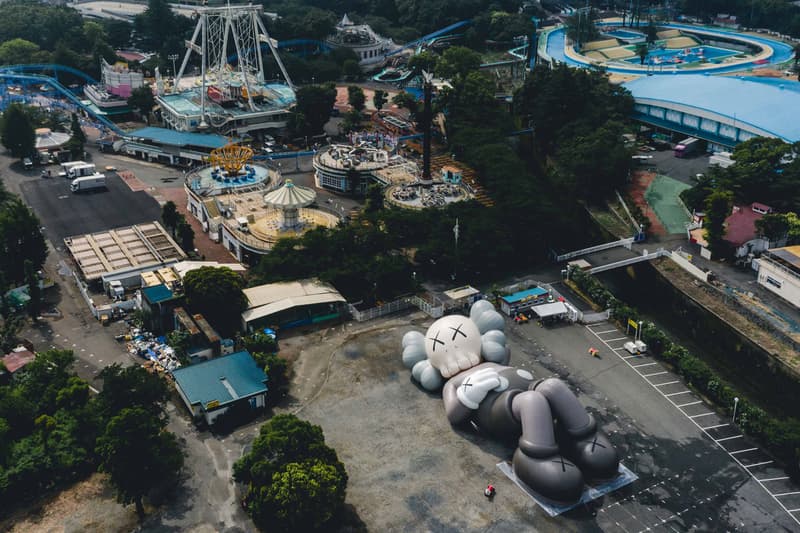 1 of 2
2 of 2
'KAWS:HOLIDAY' Pays Respects to Mount Fuji in Latest Outdoor Exhibition
The fourth stop for the traveling COMPANION.
---
Over the last few months, KAWS' HOLIDAY sculpture has paid a visit to a number of locations, like Pharrell's Something In The Water Festival and Hong Kong's Victoria Harbour. In time for the summer season, the giant figure will be making a stop by Mount Fuji.
In collaboration with AllRightsReserved and sponsored by Herschel Supply, this will mark the fourth stop for the traveling COMPANION. Measured 40-meters-long, the figure will be placed amidst the quaint backdrop of Mount Fuji, setting up at Fujinomiya's Fumotoppara Camping Ground in Shizuoka. The event comes with a special sketch from KAWS, depicting a blissful COMPANION relaxing along the vast landscape.
The special camping experience will host a variety of limited-edition collectibles, made with AllRightsReserved. Encompassing the series are 10 exclusive items: The 8-inch KAWS:HOLIDAY plush in the shape of Mount Fuji in three colorways, Kokeshi Dolls in sets of threes, 9.5" vinyl figures, ceramic plates that come in fours, gold & silver pins and Fire-King Mugs, each emblazoned with Mount Fuji artwork. Other pieces include cushions, T-Shirts and tote bags that come in navy, white and pink.
The items will be exclusively available for purchase at DING DONG Takuhaibin's online store starting July 18.
The KAWS:HOLIDAY JAPAN will be on display from July 18 to 24, where KAWS himself will arrive on opening day to kick off the 7-day camping exhibition.
Those who wish to attend the event will have to enter a raffle to secure a spot in the camping grounds. The raffle opens on 9 p.m. EST, June 27 and ends at 9 p.m. EST, June 28.
In other related news, VHILS has shed light on his love for Shanghai in a new short film.
Fumotoppara Camping Ground
156 Fumoto
Fujinomiya, Shizuoka 418-0109
Japan