The Beginners Guide to Buying Your First Patek Philippe
What many regard as the pinnacle of Swiss watchmaking.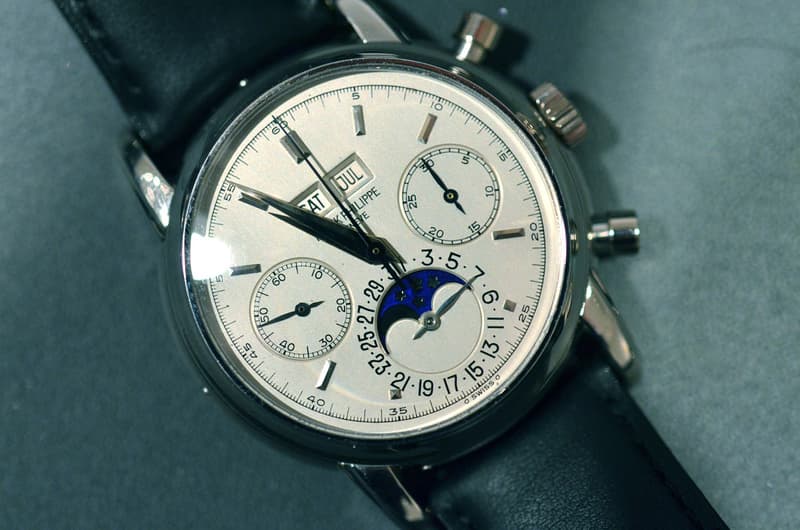 If you're thinking about buying your first Patek Philippe, we're glad you stopped here before you did. In the world of luxury watches there are countless brands that get thrown in our faces on a daily basis. From Omega to Breitling, Rolex and many more. Combined, these three brands spend an estimated $150 million dollars per year on advertising to ensure that it is known by all that they are the forefront of luxury. However, there is one brand that spends a small fraction of that amount and is still known to produce some of the world's highest quality watches. They produce approximately 50,000 watches a year — 35,000 of which are mechanical men's watches. It is thought of by many as the pinnacle of Swiss watchmaking. That brand is Patek Philippe. Since its inception in 1839, it has remained an independent and family-owned watch manufacturer. If you are one of the lucky few searching for your first Patek Philippe, here is some basic information you should know before going out and buying one.
Patek Philippe currently offers approximately 200 models. The best way to organize these watches is into several subcategories or "families." The majority of men's watches include the Calatrava, Nautilus, Aquanaut, Complicated, and Grand Complication families.
Patek Philippe Families
Under each of these families sit many different models. These models are often differentiated and referred to based on which complications they have. For example, a standard three hand (minute, hour, seconds hands) Nautilus with no complications is often referred to as just a Nautilus. A Nautilus that has an annual calendar is often referred to as an annual calendar Nautilus. To make things a bit more confusing, a majority of collectors and enthusiasts don't refer to the models by name at all, but rather by their designated reference/model number. A basic three-hand Nautilus with no complications has a reference number of 5711/1A.
An Annual Calendar Nautilus has a reference number 5726/1A. If you are just starting out, it is advised by us that you know the reference of the watch you are interested in before visiting your local authorized dealer. This ensures there is no confusion as to which watch you are requesting. Additionally, it is an indication to your authorized dealer that you have done your research.
When looking at different models, we see that most are made out of either rose gold (notated by the letter R), yellow gold (notated by the letter J), white gold (noted by the letter G), and stainless steel (notated by the letter A). Patek Philippe states to this day stainless steel is the most precious metal they produce. This is due to the fact that some of the most expensive auction pieces to have ever sold were stainless steel variants of a model normally fitted with a precious metal. Some of these include the model 1518 in steel that sold for over $11 million USD and a limited production 5004A in steel that sold for nearly $550,000 USD. Patek Philippe is also very selective over which models are offered in stainless steel.
There are three major avenues people use to buy Patek Philippe watches. There are Patek Philippe Salons, Authorized Dealers and the secondary market dealers. Patek Philippe owns and maintains three Salons throughout the world where you can purchase a watch. The next option to acquire your Patek Philippe is from a third party owned jewelry store or a stand-alone boutique that is authorized by Patek Philippe to sell its watches. The non-Patek Philippe affiliated option is the secondary market. The secondary market includes resellers and grey market dealers. These three points of sale will be discussed in greater depth in a future article.
A majority of first time Patek Philippe buyers will gravitate towards entry-level models priced $19,000-$30,000 USD. Within this price range buyers have several options to choose from; the Calatrava, Nautilus and Aquanaut families.
From these families, only models from the Calatrava family will be readily available at your local authorized dealer. These models include the Calatrava 5196 as well as the Calatrava 5227 and they are two stunning examples of dress watches that Patek Philippe has evolved and refined over decades. If you are planning to buy a Calatrava for your first Patek Philippe — you should have two goals. First and foremost is to secure a discount. The second is to let your authorized dealer know that you would like to purchase the Calatrava only if you can be added to the waitlist for a high demand piece such as a Nautilus 5711/1A, further accompanied by an email confirmation regarding the estimated time of arrival.
How to Buy
The models from the Nautilus and Aquanaut families will be very difficult to obtain from your authorized dealer. You will be judged and scrutinized to see if you are "worthy" of being considered for one so don't be surprised. Your authorized dealer may put you through a small process to prove to them you are a local client (they want local buyers only) and that you are not affiliated with the watch business. This can often be done by simply giving them a business card and telling them a little about yourself. Nearly every model from the two families resells on the secondary market for substantially above its current retail price due to limited supply and high demand. The Aquanaut model 5167A is the basic three-hand model on a rubber strap with no complications. It retails for $18,940 USD but resells for nearly $30,000 USD in today's market and has an average waitlist time of 3 years. The Nautilus 5711/1A retails for $29,800 but resells for nearly $65,000 and has a 5 years waitlist at most authorized dealers. Needless to say, as a result of these large potential profits both collectors and dealers are scrambling to acquire these models. With that said, we do have a few suggestions that may increase your chances of acquiring a Nautilus or Aquanaut.
1. Be honest and upfront with your sales agent. Let them know that you understand the high demand for the model but you intend to keep it for personal use.
2. Prove to them that you are not a watch dealer looking to flip the watch for an easy profit. Let them know your profession; it always helps to form a personal relationship.
3. Offer to let them hold the Certificate of Origin while it is under factory warranty. This gives them some reassurance you are not going to "turn and burn" the watch.
4. Let them know this will be the first transaction of many and you plan to be a loyal customer.
5. Last but certainly not least, tell your sales agent if he is adding you to the waitlist but doesn't have any reasonable time frame or expectation of delivery to please let you know so you can contact another authorized dealer who may not have as long of a wait.
An important cost to keep in mind as with any mechanical device is general maintenance, which includes a service of the movement every 5 years. You can expect this service to have a starting cost of $800 USD for a basic three-hand watch (hour, minute, seconds hands).
When choosing a watch this expensive to purchase there are a few reasons I personally would only go with Patek Philippe. First and foremost, the fit and finish of its watches is uncompromising and arguably the best in the world. Its movements are some of the most complicated and sought after including the heavily modified Valjoux movements. Patek has been making watches for over 175 years and will continue to be making watches for another 175 years. With this tremendous history many of the highest prices ever paid at auction were for Patek Philippe wrist and pocket watches fetching as much as $24 million USD. This history and high bar for quality sets Patek apart from the rest of the brands and makes it one of the safest brands to spend your money on without getting burned when going to resell it or trade it in down the line. The Stern Family (owners of Patek Philippe) have been fantastic guardians and stewards of the Brand and I believe in this family going into the future to uphold all that is Patek Philippe. Most importantly, the design of most of its watches and its innovations and complications never cease to amaze.
We hope this helps some of you first-time buyers get your sea legs in the world of Patek Philippe. Good luck and we are looking forward to bringing you more informative articles like this to keep you informed on all things Patek Philippe, Rolex and more.
David Farkas is the founder of Swiss Watch Time and graduated from the University of Arizona's Eller College of Business with a Bachelor's degree in Accounting. He has had a passion for watches from a very young age and has been an avid collector of Patek Philippe and Rolex for over ten years. He has used his education and zeal for watches to pursue a career in the field he loves. David is passionate about helping new buyers enter the world of fine Swiss watches as well as helping the most seasoned collector attain their grail watches. He is also an expert on Patek Philippe watches and has operated online under the screen name "Perpetualman88."