UPDATE: Conor McGregor Officially Settles Miami Phone-Smashing Lawsuit
The incident was caught on surveillance cameras.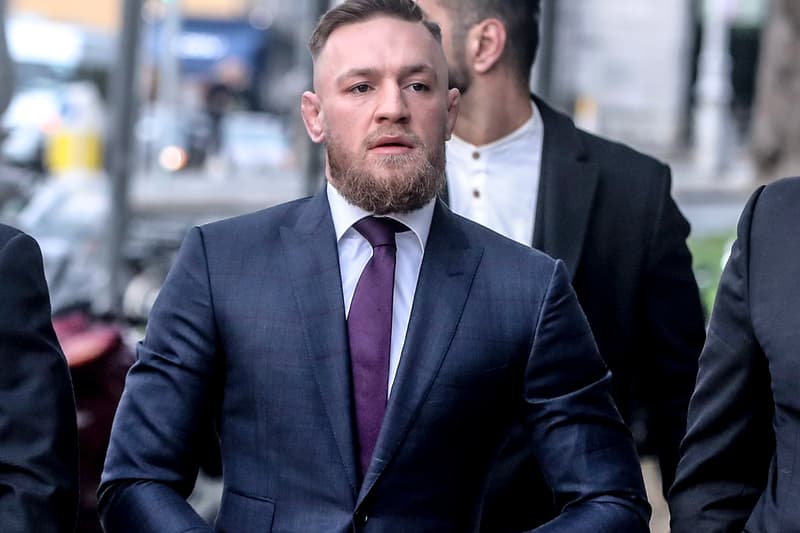 UPDATE (9 April 2019): According to sources, Ahmed Abdirzak has filed new documents dismissing his lawsuit against Conor McGregor with prejudice, hinting that the two have most likely reached a settle agreement.
The ex-UFC fighter is still facing criminal charges for the incident, however, and could face up to six years in prison if convicted. He's due back in front of the judge later this week.
ORIGINAL STORY (11 March 2019): UFC fighter Conor McGregor has been arrested and charged with strong-armed robbery and misdemeanor criminal mischief in Miami Beach on Monday, the Miami Herald reports. The incident took place outside the Fontainebleau Miami Beach Hotel and was captured on video by a surveillance camera in the area.
The report alleges that around 5 a.m., the UFC fighter was walking out of the hotel when a fan tried to take photos of him. Reacting, McGregor was said to have "slapped" the phone out of the fan's hand, and then proceeded to stomp on the device — valued at $1,000 USD — multiple times before picking it up and leaving with it. Detectives were notified and spent the day investigating the incident, which led to McGregor subsequently being taken into custody.
A statement from his defense lawyer Samuel Rabin acknowledges that McGregor "was involved in a minor altercation involving a cell phone that resulted in a call to law enforcement," and that "Mr. McGregor appreciates the response of law enforcement and pledges his full cooperation."
In other news on run-ins with the law, Elon Musk finds himself being sued by Tesla investors after tweeting about the car manufacturer's production plans.
According to online records, Conor McGregor has been arrested in Miami. Miami Herald reports McGregor is being accused of breaking a fan's phone. pic.twitter.com/JW1UzhniVy

— Brett Okamoto (@bokamotoESPN) 11 March 2019
UPDATED: MMA fighter Conor McGregor charged with strong-armed robbery and criminal mischief (both felonies) for allegedly smashing a fan's phone outside the Fountainebleau hotel https://t.co/QYIOKOEWsW pic.twitter.com/WQO0LVsD5c

— David Ovalle (@DavidOvalle305) 11 March 2019