How UGG Bought Its Way Back to Relevance
Is savvy marketing enough to gain streetwear's trust?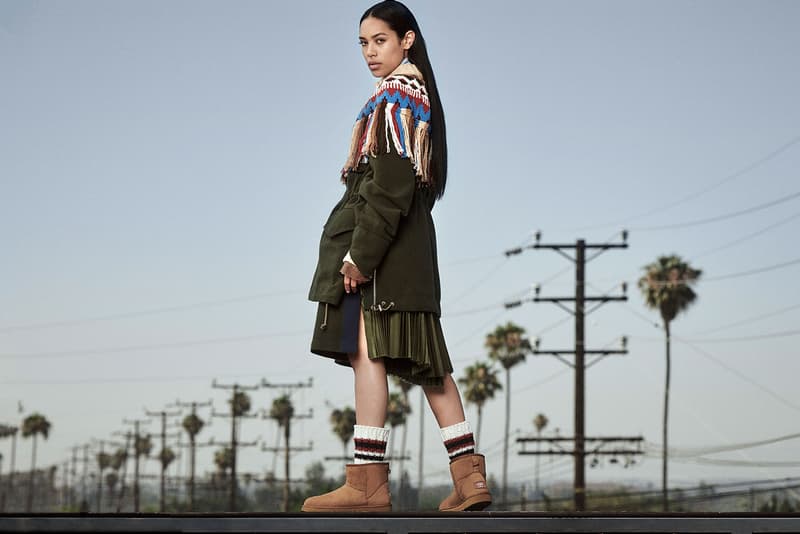 There are two primary ways to wear UGGs. There's the way Alessandra Ambrosio wore them last March: strolling to her car in the ankle-length boot, with a hoodie pulled over her face. And then there's the way fashion writer Yu Masui wore UGGs at London Men's Fashion Week this month: a thigh-high version of the shoe, paired with a Christopher Kane "Sex" T-shirt and a Doublet leopard-print coat. That is to say, an Instagram-friendly, perhaps ironic style that makes UGGs look more right at home next to a pair of YEEZYs during fashion week.
The latter is precisely how UGG would like to be seen in 2019: as at once an instantly recognizable classic and a provocative fashion statement. Like Masui's look suggests, UGG has decided it can not only be sexy, but also fit right in with coveted streetwear brands. No longer Oprah's Favorite Thing, the brand wants to be Heron Preston's "favorite thing." Can it be done? With the right combination of collaborations and endorsements, maybe — or at least, for now.
The Collaboration Trick
"We talk California lifestyle. We don't talk cold weather boot," Andrea O'Donnell, President of Fashion Lifestyle at Deckers, told HYPEBEAST of UGG's new modus operandi. When O'Donnell joined UGG's parent company Deckers in 2016, UGG's marketing was focused entirely on functionality. Owing to her experience in luxury, O'Donnell knew that UGG needed to connect with customers on an emotional rather than practical level. "We've become known as a cold weather sheepskin brand, and nobody feels that sexy in cold weather," she says. "How do we connect back to that story when it was first embraced in a very romantic and emotional way?"
Anyone who follows fashion will know the answer: a combination of getting UGG boots on the Paris runways, tapping streetwear brands to slap their labels on UGGs, ensuring influential figures are photographed wearing those styles and spending ad dollars on bold campaigns. "One of the reasons we were excited about the collaborations was it would enable us to get awareness for that kind of street consumer faster than we could ordinarily do," O'Donnell says.
"How do we connect back to that story when it was first embraced in a very romantic and emotional way?"
Evidence of that strategy first emerged in August 2017, when Jeremy Scott presented a limited-edition collection of UGGs in Paris. ("My assistant met someone from Ugg's p.r., in normal life, no work appointment, and they were, like, 'Oh God, Jeremy loves Uggs!' and the Ugg person was, like, 'Really?' And it all happened from there because I'm obsessed with wearing them," Scott told WWD of the collaboration process.) The styles failed to generate big Fashion Moments (unless you count a Hadid family Christmas snap over a year later).
"It's hard. They're suspicious, you have to be authentic. You kind of need to spend a lot of money," O'Donnell says of the streetwear consumer. But in time, UGG cracked the formula.
Come 2018, the brand had figured out how to spread the UGG gospel to Paris, Coachella, Tokyo, and your Instagram feed. A growing list of collaborators made its resurgence impossible to miss: On January 14, Heron Preston uploaded a photo of himself wearing a pair of chestnut UGGs to his Instagram. Just three days later, Glenn Martens debuted high-high UGG boots at Y/Project's Fall/Winter 2018 show for Men's Paris Fashion Week. Later that week, sacai presented its own take on UGG boots on the runway. In March, Martens sent stilettoed UGG boots down the runway for Y/Project's women's show.
On April 15, Preston revealed on Instagram that he was also collaborating with UGG. That same weekend, Rihanna wore the Y/Project stiletto UGG boot straight off the runway to Coachella. By the end of 2018, UGG had debuted a sacai campaign starring Aleali May, announced a BAPE collaboration and launched a women's collection with KITH. This year, the brand has already returned to Paris with new collaborations from Heron Preston and White Mountaineering and debuted its BAPE campaign starring Lil Wayne. But UGG's ambitions go further than being a trend — it wants to be a fashion classic.
Heritage Not Nostalgia
With low-rise jeans and Motorola RAZRs back in the conversation, it would seem easy for UGG to capitalize on early aughts nostalgia in its comeback. "A lot of people want us to play into exactly that," O'Donnell says. "Even in the collaborations. But I've said no to that a lot. I don't want us to go backward, I want us to go forward."
Instead, UGG is building a narrative around "heritage" and "classics." "[Ronnie Fieg] saw us as a heritage and craftsmanship style," O'Donnell says of the KITH collaboration. For the Y/Project and UGG Fall 2018 campaign, Martens placed the UGG styles in the context of Renaissance-inspired images. "He did like The Birth of Venus. So classics and classics," O'Donnell describes. UGG is a classic, the ad says, and like any true classic, it can be continuously reinterpreted for the modern era while remaining recognizable.
By focusing on "heritage" and "craftsmanship," UGG is mimicking the terminology more commonly associated with legacy labels like Dior and Balenciaga — even as those luxury brands are looking for new kinds of messages to attract young consumers. And UGG isn't the only brand eyeing such a strategy to shake off its passé 2000s phase.
"With this collection, I wanted to celebrate the heritage of our brand while still keeping an eye enthusiastically focused on our future," Juicy Couture creative director Jamie Mizrahi wrote of her new collection last year. In a behind-the-scenes fashion week video with HYPEBAE, Mizrahi went so far as to erase Juicy's early aughts notoriety: "With Spring for the Juicy collection, we're exploring other time periods. So late '70s and early '80s and not only honing in on the '90s, which everyone thinks of when they think of Juicy."
"It's an act of individual expression, and that's something to be proud of today."
UGG too is hoping to skip over the period when it was, in O'Donnell's words, "kind of famous, but probably not that fashionable." Only UGG's roots do actually go far beyond Mean Girls and Britney Spears' wedding — and the brand is not afraid to spend money to emphasize that fact. In October 2018, UGG celebrated its 40th anniversary with its 40:40:40 collection, and a splashy campaign featuring Heron Preston and Adwoa Aboah.
The anniversary campaign (which was advertised on HYPEBEAST) not only solidifies UGG's age and California roots, with poppies and oceans as backdrops, it also attempts to turn UGG's polemical status into a positive. "The classic is polarizing. You either love it or you hate it, and I wanted to start this conversation in connection with people who are provocative," O'Donnell says of casting Preston and Aboah. "It's an act of individual expression, and that's something to be proud of today." Aboah and Preston are so fashionable, they're making a statement in wearing the much-derided UGG, the ad says. And hopefully, you'll think you can do the same.
Can UGG Buy Cool?
UGG's streetwear arrival has ignited the awareness it craved, but also a dose of skepticism. "Someone has obviously unlocked the marketing dollars, and/or there are some new people on the team," brand strategist and former size? art director Paul Ruffles told HYPEBEAST. "All flippancy aside, it's a well-trodden path with little surprises so far, but let's see."
Ruffles is not alone in expressing hesitation. Instagram commenters asked if Preston's UGG post was a late April Fool's joke. Meme generator itsmaysmemes told HYPEBAE that UGG "would be better off remaining as a distant memory and stay well away from the runway" in an August 2018 interview. "Anyone can buy momentarily cool or credibility — if you have the right money," Ruffles says. "But you can't buy long-term cool or credibility, that has to be earned."
For some, UGG's alliance with designers and celebrities is enough. "I am particularly impressed by the Y/Project collaboration because I saw it first hand at the show, and then saw Rihanna wearing it," stylist and creative consultant Declan Chan told HYPEBEAST. "It has definitely changed my perception for the brand's image." Chan participated in a paid streetwear snap with UGG for the Paris men's shows this month. And if buzz is the ultimate goal, UGG's strategy has paid off on that front; according to Lyst's Q4 Index, UGG "has seen a 350% increase in searches over the last six months."
"Anyone can buy momentarily cool or credibility — if you have the right money."
But between influencer endorsements and hyped collaborations, UGG joins an already competitive sector. "As we've all seen, the market is oversaturated in general, let alone with collaboration," Olly Smith, Harvey Nichols footwear and menswear buyer, told HYPEBEAST. "It's one of my main gripes with a lot of brands these days, so quick to shove newness/collaboration/celebrity down consumers necks."
And rather than newness, Ruffles believes innovation is key to codifying UGG's credibility. "So far all of the collaborations have been mostly the ubiquitous tan brown color sheepskin (albeit in different sizes) with different logos applied (provocative!), but as we're talking innovation surely there must be other materials, other sole units, etc.," he says.
UGG has stirred up streetwear consumers with collaborations, but now it's ready to remove the training wheels to create a sneaker of its own. "We've got some good sneakers coming out in Autumn/Winter 2019 in men's that are, I would say, UGG heritage sneakers," O'Donnell says. However, she is aware that chasing sneakerheads may have an expiration date. "It's not easy to sustain what we're doing, so we need to look for the next thing," she says. Come 2021, UGG plans to take aim at lifestyle and apparel.
Whether UGG can cement its credibility remains to be seen. There's nothing to say today's buyers copying Yu Masui's UGG look won't one day look at those styles in horror (if they don't already), not unlike those who lived through UGG's early aughts prime. "I still have haunting flashbacks from the first time around," Ruffles says. "Wearing matching tracksuits and UGG boots is definitely not #couplegoals for me." But by then, there'll be a whole new customer base to woo.