8 Drops You Don't Want to Miss This Week
Featuring Supreme, Moncler Genius, Awake NY, Off-White™, Palace and more.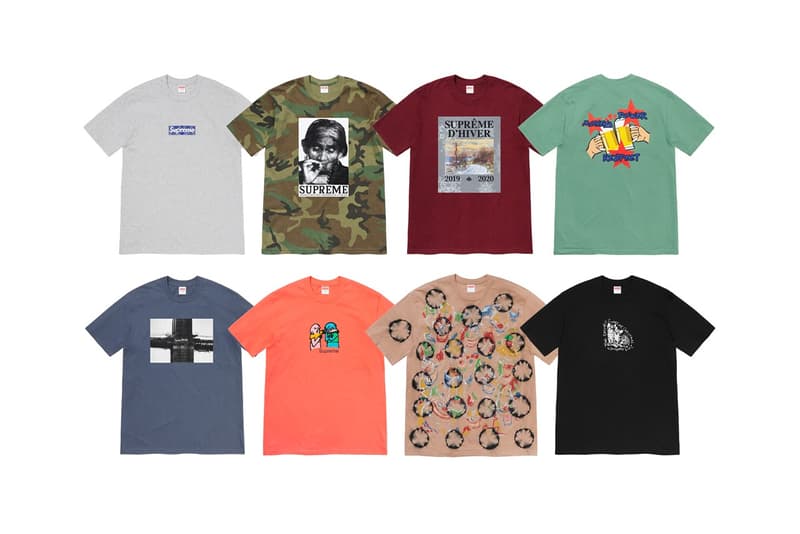 The latest installment of our product drops series is rich with headline-worthy drops, anchored by Supreme's Fall/Winter 2019 Week 17 release.
Once again taking a break from its collaborations, Supreme is readying the release of a batch of Winter 2019 T-shirts. Leading the series is a Christmas-themed design and a T-shirt version of the recently-released Bandana Box Logo hoodies, the rest of the offerings displays Supreme's ever-subversive nature and penchant for striking graphics.
Aside from Supreme's new selection of goods, Drop 4 of Palace's ULTIMO 2019 collection is rolling out, offering an impressive array of special rollouts and collaborations that make up a selection of must-have street staples.
Some more notable collabs this week include Musée du Louvre and Off-White™'s capsule collection marking the 500-year anniversary of Leonardo da Vinci's death and premium knitted wool basketball offerings from CLOT and Mitchell & Ness. Other collaborations come in the form of NYC-themed T-shirts from NOAH and Keith Haring, along with technical and performance suiting from Patta and Bonne Suits. Rounding up this week's product drops is the continuation of the Moncler Genius line with the 5 MONCLER CRAIG GREEN collection and the second drop of Awake NY's FW19 collection.
5 MONCLER CRAIG GREEN Collection
To match the colder weather, Moncler Genius has returned with its latest collection created by London-based designer Craig Green.
Continuing the silhouette focused seen the duo's last collaboration, the new range celebrates the distortion of volume and unique utilitarian design. Creating a dialogue between clothing, body and space, the 5 MONCLER CRAIG GREEN collection features items that can be folded, flattened and packed to create shapes that shrink and grow. Taking inspiration from military and utility garments down and outerwear utilize featherweight material and trousers feature protective qualities. Aside from technical details like fastening and straps, the range also features special zippers that can extract air and create pillow-like structures.
When: Now
Where: Moncler & HBX
Musée du Louvre x Off-White™ Capsule Collection
Keeping its connection with art, Off-White™ has teamed up with Musée du Louvre on a capsule collection marking the 500-year anniversary of Leonardo da Vinci's death.
Celebrating the life and works of the visionary artist, Off-White™ has crafted a range of T-shirts and hoodies marked by the artist's most famous paintings, including Virgin of the Rocks and The Virgin and Child with Saint Anne. Available in black and white color options, items also feature Off-White™'s signature arrow motif, logos and da Vinci's anatomical sketches of the male form.
When: Now
Where: Musée du Louvre, Off-White™ & Farfetch
Keith Haring x NOAH Holiday T-Shirts
Just in time for the holidays, NOAH has put together two festive NYC-themed T-shirts, each featuring artwork from the late Keith Haring.
The range features a short-sleeve and long-sleeve T-shirt emblazoned with white-outlined artwork depicting a group of Harings' famous figures dancing below the phrase "Merry Christmas New York City." The text is written in uneven block lettering, and the whole image is housed within a vertical rectangle. Additionally, proceeds will be donated to New York Cares, a 32-year-old volunteer organization that benefits those in need in the areas of Education, Immediate Needs and Public Spaces.
When: Now
Where: NOAH
CLOT x Mitchell & Ness Allen Iverson/Kevin Durant Jerseys
CLOT and Mitchell & Ness have come together once again on another set of premium knitted wool collection of jerseys, shorts and shooting shirts, honoring Allen Iverson and Kevin Durant.
Iverson's series features a heritage blue-and-red Philadelphia 76ers jersey and shorts, marked 1996-97 in honor of his rookie year. The on-court duo is also accompanied by a premium sweater knit shooting shirt with retro branding. The shirt also comes marked with a 1982-83 tag, nodding to the year Philly secured its last NBA Championship. While's Kevin Durant's set notes the player's formative days with the Seattle SuperSonics with a jersey and shorts. Both feature classic SuperSonics iconography and a retro white/green/yellow color scheme, tags also offer nods to 2007-08, Durant's rookie season.
When: Now
Where: Mitchell & Ness
Awake NY Fall/Winter 2019 Collection Second Drop
Continuing the release of its FW19 collection, Awake NY has returned with the second drop of its latest seasonal range comprise of hoodies, flannel shirts, T-shirts, and socks.
Leading the range is a hoodie centered around a double-applied "AWAKE" logo done in both embroidery and print over gray, black, or multicolor tie-dye bodies. Flannels arrive in red or green color options with large stencil-applied butterflies across the chest. The graffiti detailing is continued on the T-shirts marked with stenciled roses along with a marker tag graphic, accompanied by a T-shirt honoring Parisian hip-hop collective Mafia K'1 Fry's "POUR CEUX" music video.
When: December 18
Where: Awake NY
Patta x Bonne Suits Fall/Winter 2019 Capsule Collection
Amsterdam's Patta has teamed up with Bonne Suits once again to rework Bonne Suits' signature workwear-inspired "poor man's suit."
Adding performance and technical elements to the pieces, the capsule features a full suit in either black or "Surf The Web Blue." The jacket comes complete with four pockets, a Byron collar and Patta and Bonne Suits rubber labels, while the pants can be zipped off, allowing the wearer to turn them into shorts.
When: December 20
Where: Patta
Supreme Fall 2019 Collection Week 17
Back with Week 17 of its FW19 collection, the latest drop from Supreme features a batch of Winter 2019 T-shirts.
Lead by a Christmas-themed design and a T-shirt version of the recently-released Bandana Box Logo hoodies, the rest of the series displays Supreme's ever-subversive nature and penchant for striking graphics. Standouts include a photo print showcasing '80s New York graffiti duo Sane Smith, airbrushed-style clowns, "Money Power Respect" graphic centered around a duo of cartoon beers and an elderly woman taking a deep drag of a cigarette accompanied by the Spanish phrase: "águila que nos enseñaste a volar," which roughly translates to "eagle, you taught us to fly."
Other notable wearables found in the accompanying Drop 17 range include the Checkerboard Puffy Jacket, Thermal Zip Up Hooded Sweatshirt, Arc Logo Quilted Flannel Shirt, Stripe Rib Long Sleeve Knit Polo and Polartec Pants. Accessories this week comes in the form of the Facemask Polartec Camp Cap, Earflap New Era, Checkerboard Beanie, Contrast Stripe Beanie and Bandana Fleece Neck Gaiter. Supreme is expected to release a boldly-branded snow tube to match the snow-filled season.
When: December 19, Japan Release December 21
Where: Supreme Online & Retail Stores in NY, Brooklyn, San Francisco, London, France & Japan
Palace Skateboards ULTIMO 2019 Week 4
Continuing the release of its ULTIMO 2019 collection, Palace has now readied the fourth release of its fan-favorite range. Leading the Week 4 drop are warmer options like the DPM Urban Camo P-3B Parka, patchwork Patch Hoodie, utility-focused Zip It Crewnew Sweater
The British skatewear label has also readied the rain print GORE-TEX Palex Jacket and Pants in black, blue and green. Rounding up the release are headwear options like a Tri-Ferg marked Patch Beanie and metallic Pertex P 6-Panel Caps.
When: December 20, Japanese Release December 21
Where: Palace Online & Retail Stores in London, New York, Los Angeles & Japan