Banksy's Former Agent Releases New Book Revealing the Artist's Secrets
"We were lawless and did just what we wanted."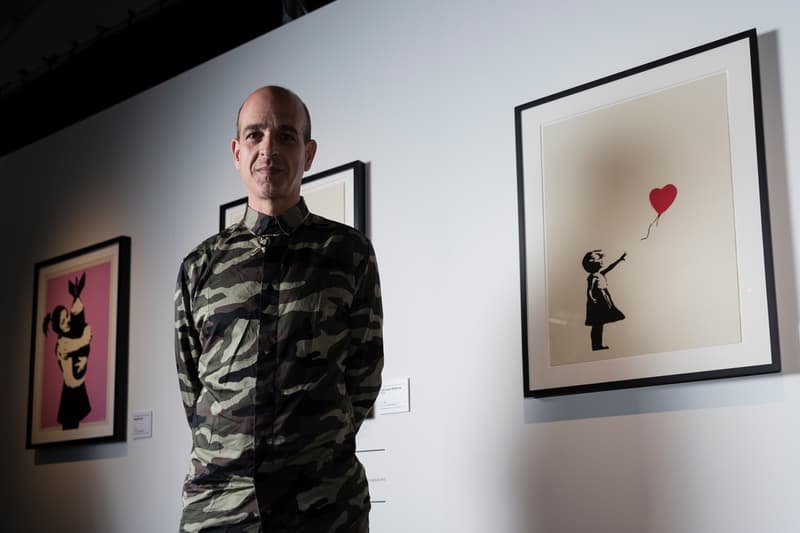 Banksy's former art dealer Steve Lazarides just released a book titled Banksy Captured, comprised of never-before-seen images spotlighting the elusive British artist executing some of his most iconic works. The 250-page publication chronicles the 11 years the duo spent together with Lazarides working as the notorious graffiti artist's agent, personal photographer, and all-around assistant.
"We were lawless and did just what we wanted. Matey Boy [Banksy] had a political agenda that you can see very clearly in everything he does, but I just had a fucking blast," Lazarides told The Guardian. "I was from Bristol like him and loved graffiti art – it was for the dispossessed, those of us who didn't go to galleries or have private educations. So it was a meeting of minds from day one."
Lazarides started his career as a photographer who had gigs around the United Kingdom shooting subcultures in the 1990s including the skate and street art communities. He met Banksy during one of his assignments for Sleaze Nation magazine, having acted as both the artist's photographer and lookout so they wouldn't get arrested.
In regards to why the pair never got arrested, Lazarides expressed to the publication that "The secret is hi-vis jackets and traffic cones. Nobody stops you if you have them." In another scenario, Lazarides gave the artist a fictitious letter that gave Banksy authorization from a film producer to paint a wall. "And I would be the film producer, armed with a burner phone. If I got a call, I was primed to say, 'Sorry mate, I meant him to do the other side of the street."
You can find more behind-the-scenes moments in Lazarides' book that is on sale now for £25 GBP (approx. $32 USD) on the official Banksy Captured website. The book on sale is the second edition with the first edition already sold out with copies currently listed for upwards of £600 GBP (approx. $785 USD) on eBay.
Additionally, Lazarides is also selling prints of his photos on the website with prices starting at £450 GBP (approx. $588 USD). "Affordable art, like we did back in the day. I want to use this as a model for how to sell artists' work. No third parties. Just me and the public. I can be an art world gangster again," he said in a statement.
Elsewhere in art, take a look inside NANZUKA's "2G" studio in Tokyo that is displaying collaborative works between Daniel Arsham and Hajime Sorayama.