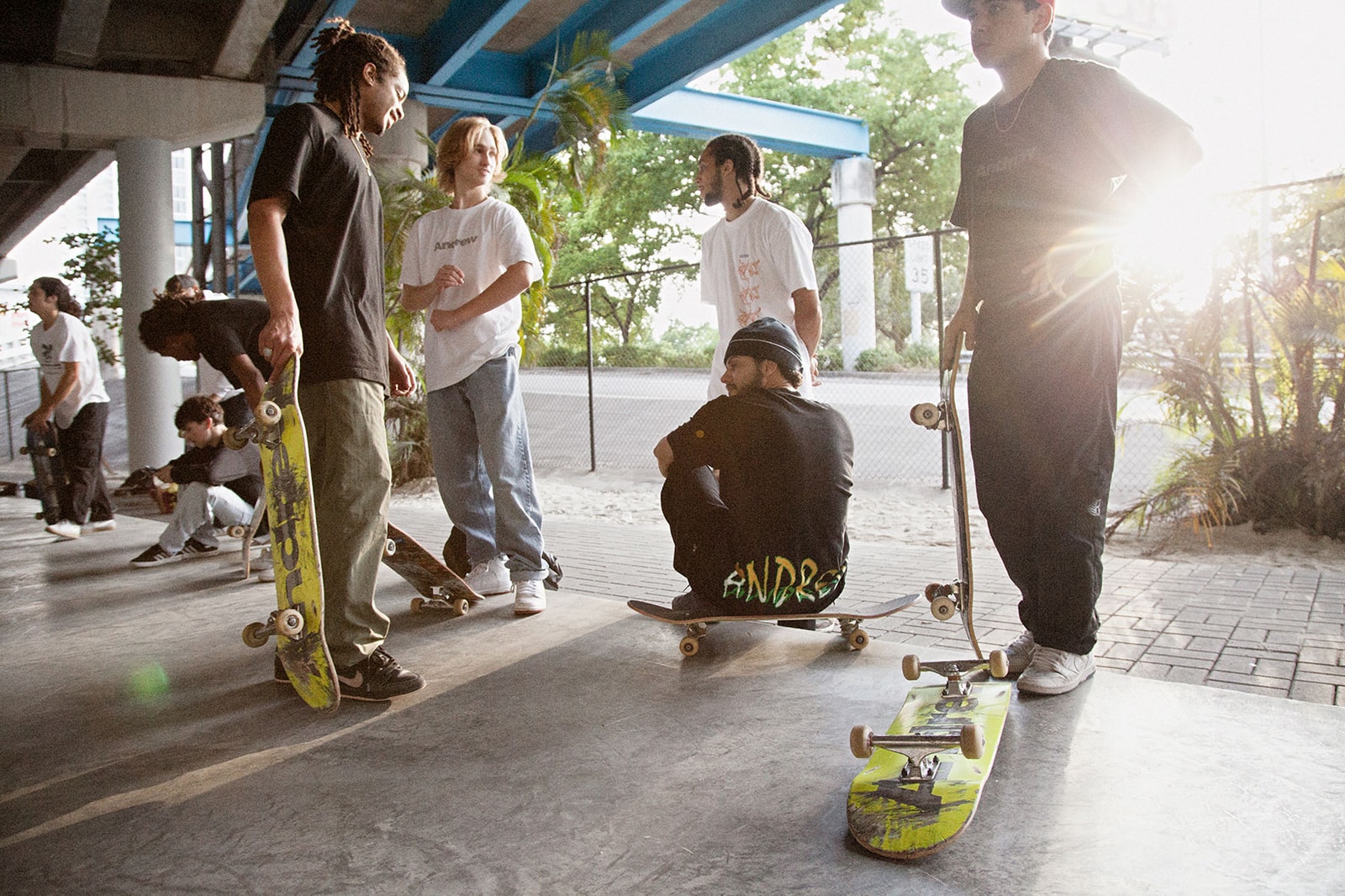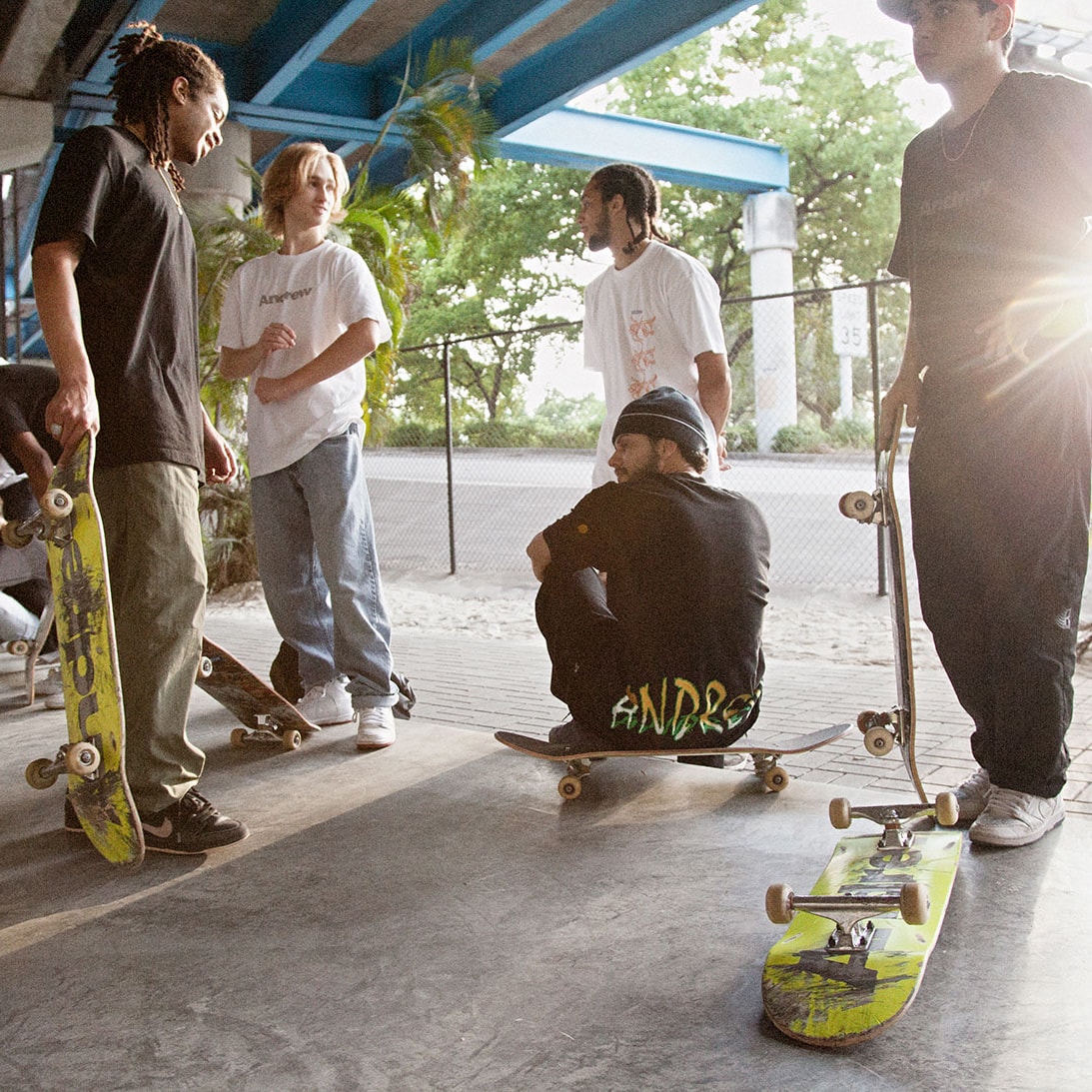 How This Shop Is Driving Miami's Skate Culture Forward
Andrew bridges the gap between Miami's skate community and the fashion world.
Miami's reputation precedes itself. Once known primarily for its party scene and year-round beach weather, the multicultural city is now beloved by fashion and art crowds. Thanks to annual events like Art Basel, today's Miami is home to an array of luxury shopping malls, designer boutiques-cum-art-spaces and independent shops visitors might only find via word of mouth. Quietly nestled in a commercial building in downtown Miami is the Andrew Downtown skateshop, a brightly-lit storefront decorated with a wall of skate decks and carefully-curated racks of clothing.
Andrew is far from just a local skate shop or clothing brand — it also oversees an in-house skate team, providing a platform to develop the skills of its riders, allowing them to travel and see the world as well as film and edit videos in the process. The store has steadily become a staple not just for South Florida skaters to congregate before or after skating at the newly-opened Lot 11 Skatepark, but also a point of reference for visitors coming to celebrate the city's burgeoning art, music and fashion scene.
Minimal in design (in the form of white walls, concrete floor) with pops of color (in the form of clothing and accessories), the store contains everything from T-shirts, hats and hoodies from skate brands like Quartersnacks, Fucking Awesome and Alltimers (with whom the shop has just released a limited-edition capsule) to a selection of clothing from the eponymous in-house line.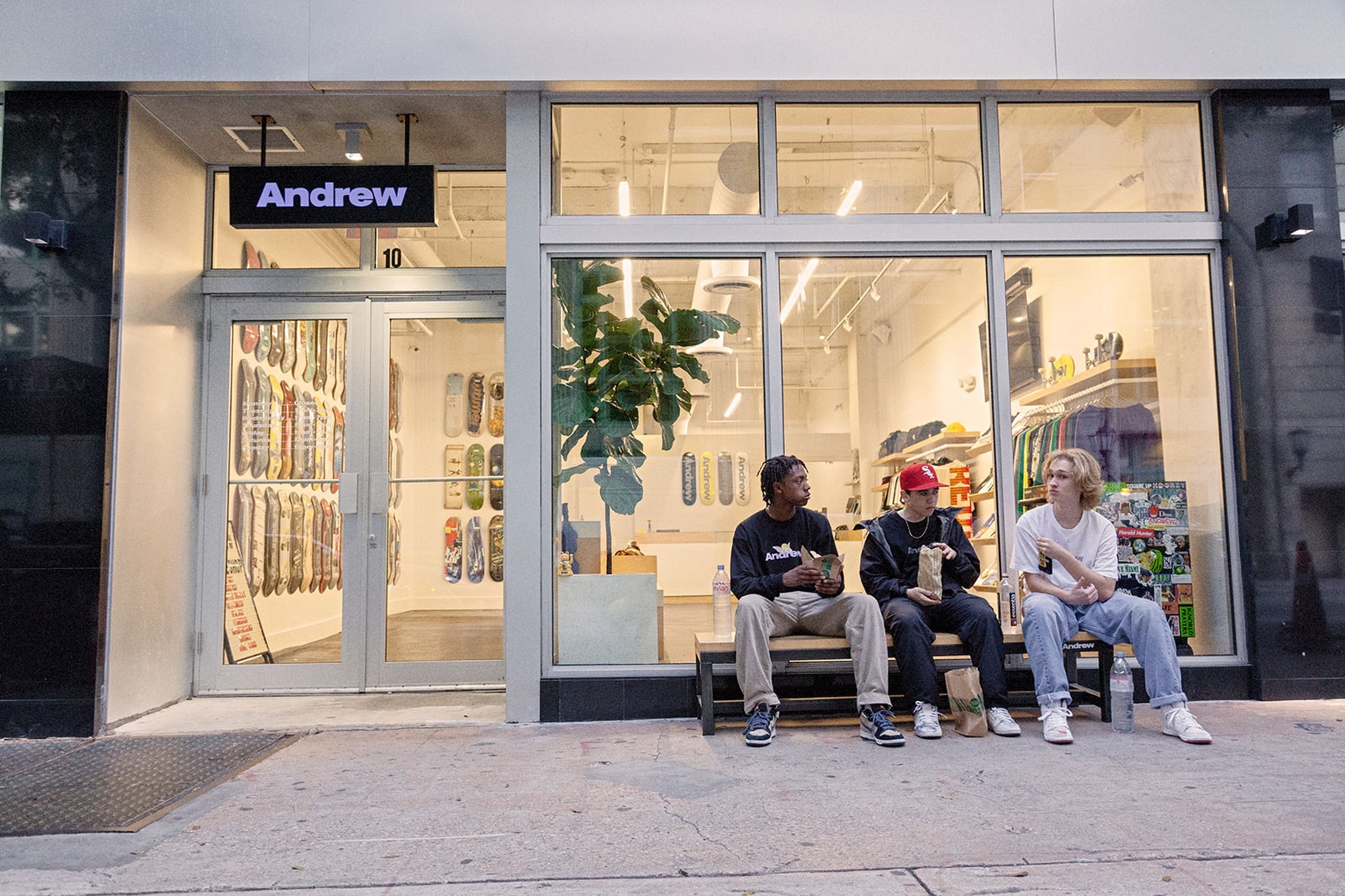 With friends like Virgil Abloh and Angelo Baque, the team behind Andrew are also trusted by the fashion elite for their insider knowledge and good taste. Other previous collaborations include capsules with Awake NY and FriendsWithYou, and in Art Basel 2019 the team welcomed a limited drop with iconic Miami-based Cuban restaurant Versailles. An ode to the great offering of Cuban food the historic restaurant provides, the collaboration features the restaurant's first-ever line of merch, including a cafecito cup, a tote bag, T-shirts, a baseball jersey and a skate deck.
We caught up with co-founders and longtime friends Adrian Douzmanian, Nick Katz and Pres Rodriguez to discuss how they're bringing Miami into the global skateboarding conversation and the joy of finding somewhere to hang out when all of your favorite bars have closed down.
How did you all meet? What roles do you each play in Andrew? 
Pres: We all grew up in Miami. I was co-managing a bar downtown and Adrian and his friends would come in. When the bar I ran shut down, there was a void and [nobody knew] where to go, what to do. [We thought] "I've been at the same place every Friday for the last two years," and that's when a friend of ours had a venue that wasn't being used for anything and we kind of worked it out and created this party called PeachFuzz to provide a place for this community to hang out again – and it worked.
Nick: I met Adrian at Grand Central, I had just moved downtown from the suburbs and he was one of the only friends in the area at the time who I didn't just skate with. Pres and Adrian were doing PeachFuzz [parties] together, so I kind of got pulled into Adrian's sphere of influence.
Now, I see a community tying into each other. We decided to not all live in New York or LA or Berlin, so we thought, let's do something.
Adrian: [The store consists of] me, Nick, Pres and James Kelly, our manager. He runs our shop on a day-to-day basis. Then we have Khari, who is head of all the young kids, a team manager.
How did your friendship evolve into a working relationship?
Adrian: Pres and I always worked together ever since [the PeachFuzz parties] and Nick and I would be skating around Miami thinking it would be cool to have a shop here, for us to do our own thing, our version of Miami that we could give to the world… so we started out making shirts before we opened a store.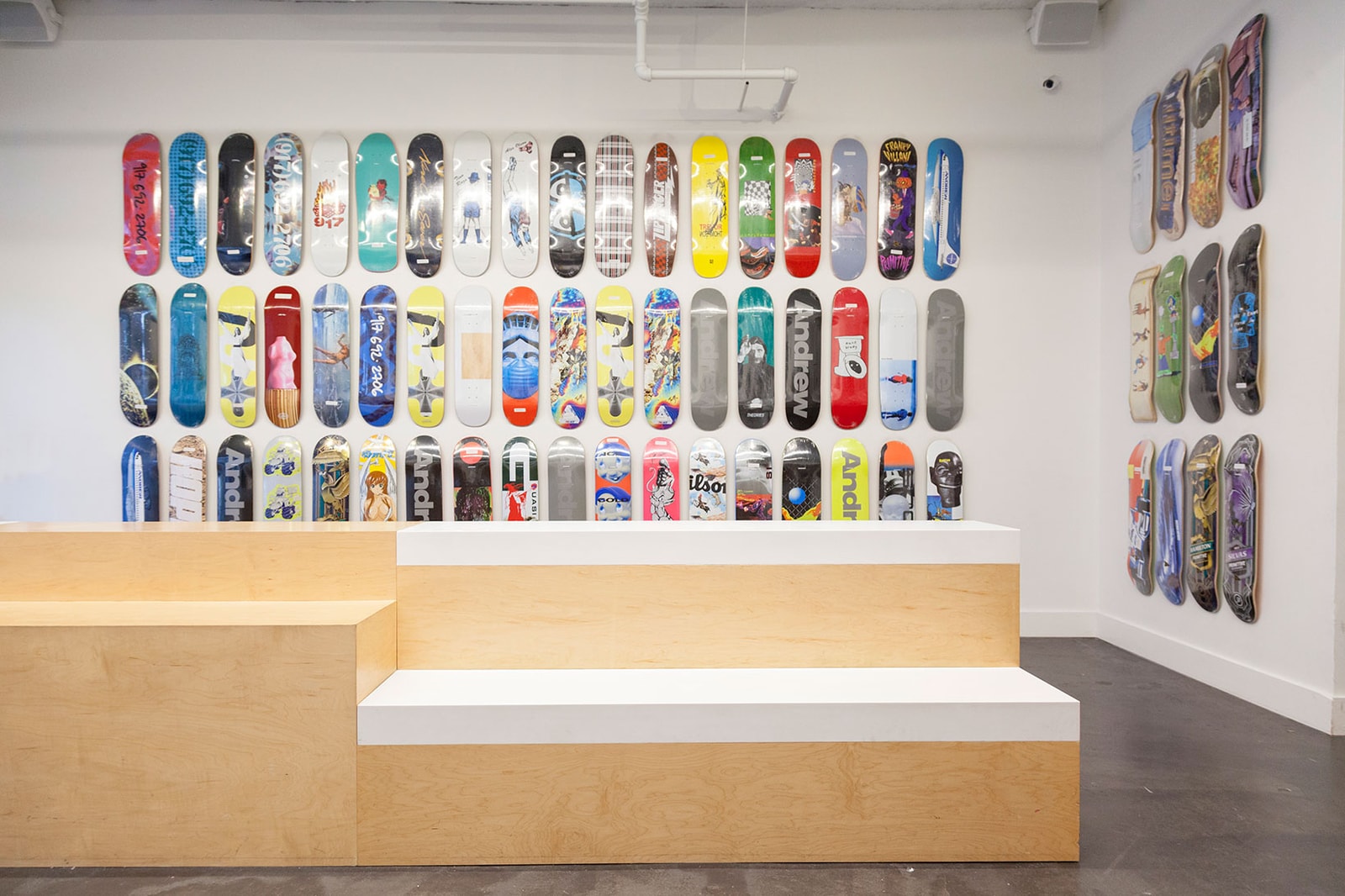 What made you settle on the name Andrew? 
Adrian: We wanted to have a Miami tie that would resonate with people, but also be international. We named it after [Hurricane] Andrew. I was two years old when I visited Miami and it was in my first few months here that Andrew hit. It hit harder down south where Nick grew up, his home was destroyed.
How have you noticed the neighborhood shift since you've had your shop? How has Miami changed in the last few years? 
Adrian: Pres and Nick found the space that we're in now, it's a main street around a bunch of assembly points. Since we opened Andrew, two more bars opened up, a zine shop opened up around the corner, there's a bunch of things to do now, and to me this is the best neighborhood in Miami now. Things are naturally cyclical – five years ago, from a cultural perspective, it really felt like the pits. Music that was coming out of here was tough, there weren't many possibilities. Now, I see a community tying into each other. We decided to not all live in New York or LA or Berlin, so we thought, let's do something. Even when you leave [Miami] you miss it – we identify with these unique Miami things we can't get anywhere else.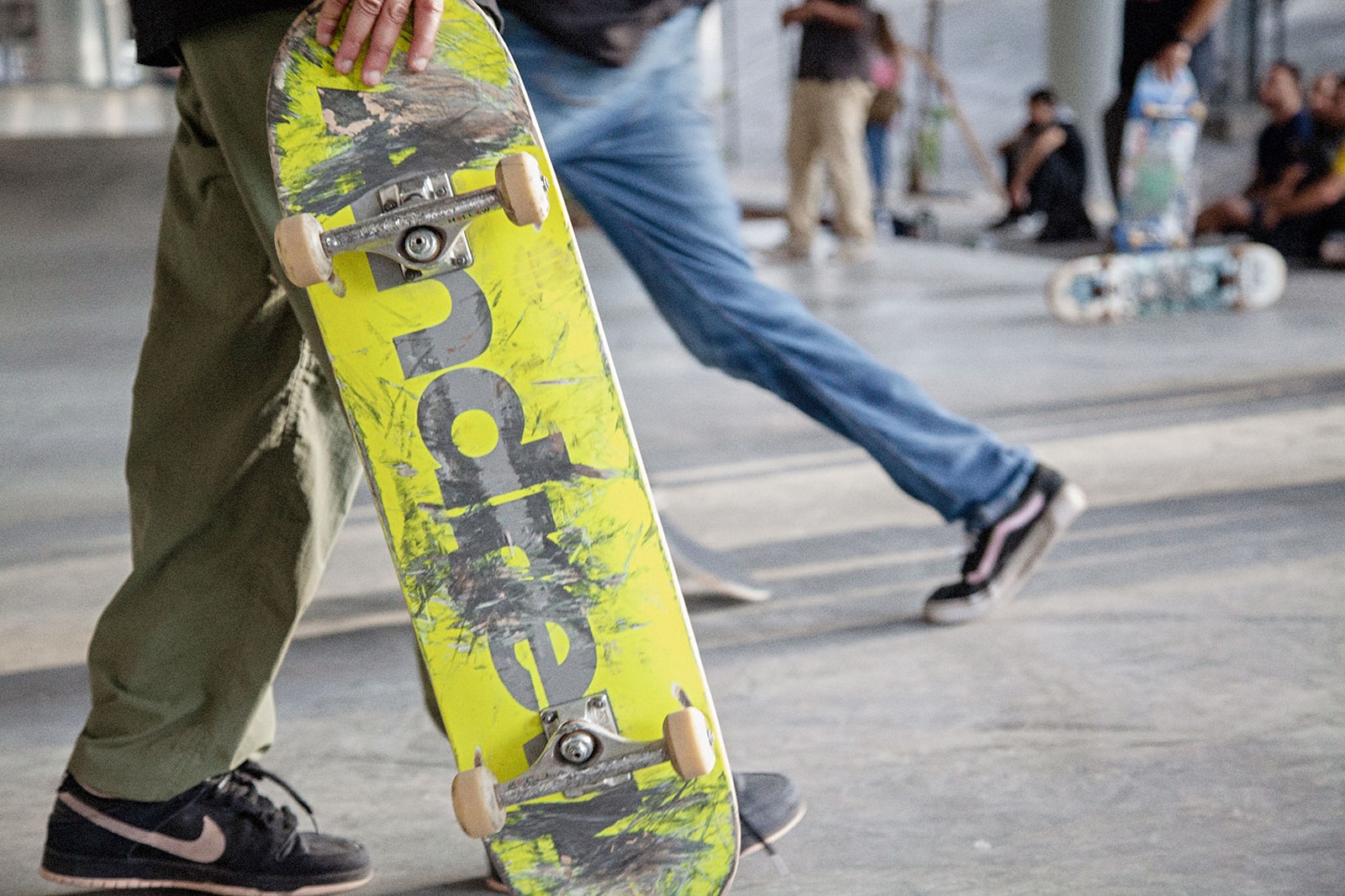 After years of campaigning, Nick has just helped opened Lot 11, Miami's first public skatepark which has been nearly a decade in the making. What does Andrew's involvement mean for the Miami skateboarding community? 
Nick: Downtown's an underserved area, and, you know, proximity to the park would be super beneficial to kids who don't have cars… you know how it is getting around Miami without a car, being 14. It's f*cking impossible. When the park got greenlit, it made sense for there to be a skate shop close to the park.
Pres: Adrian and I are very community focused. Like, all I ever want, all I've ever wanted in Miami is just kids to congregate and hang out because I know that that builds community and that builds culture and that's something that… Miami has it in waves but inevitably it's unsustainable because you know, the infrastructure's not there to keep creative people around and they end up finding success when they leave Miami right? But if we can create these spaces where people feel like they can stay or we can help be the catalyst for infrastructure to come then you know, that's amazing. Like every day that we're open, I'm impressed. Like, holy sh*t, we're still here.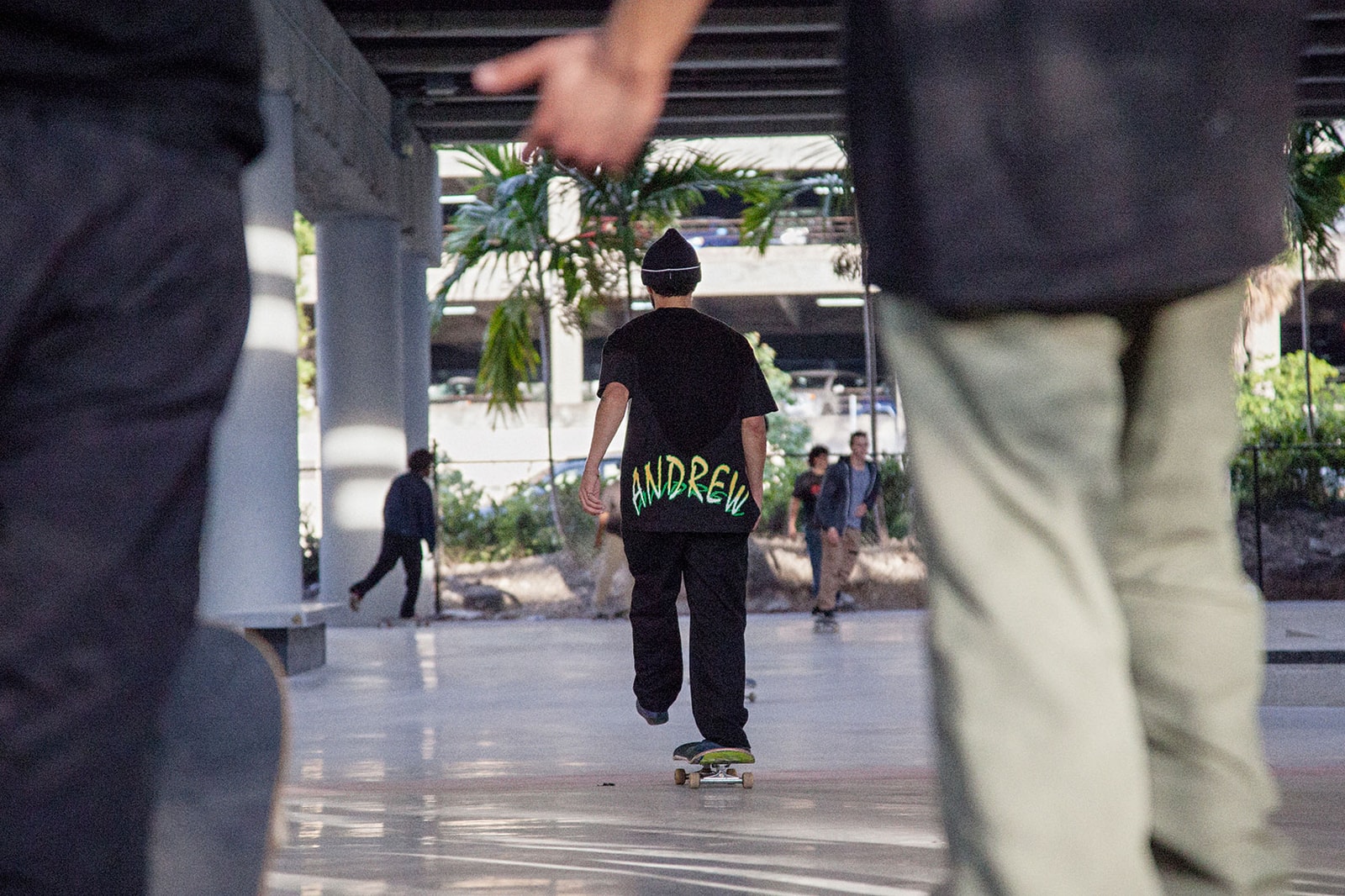 What has been the most rewarding experience since starting the brand? 
Nick: Owning a skate shop is every skater's dream… it's cool to represent Miami and provide a whole new view of Miami from a skateboarding perspective. It's been amazing to [watch these kids] leave the U.S. and bring them to Paris and come off the train and watch their minds explode. They're whip-smart and talented.
Adrian: [When we went to Paris for a skate trip] We took all the [Andrew] kids with us. It was amazing, we're recording a full-length video so took them to D.C., to New York, to Paris, we're going to try to hit somewhere else so we can put out a proper video. We got all of these kids out of Miami, who would never have gone to Paris in any other way… they were able to discover the city and skate, go to parties and get a different taste of life. That was special for us.
"If we can create these spaces where people feel like they can stay or we can help be the catalyst for infrastructure to come then you know, that's amazing."
Nick: Traveling to Paris with the Andrew skate team, bringing a bunch of these kids ages 15 to 26 who had never left the country to skate…
Pres: It was super fun to have 15 kids in an Airbnb in Paris. I was beyond surprised and pleased and proud honestly of like how well behaved everybody was, how like not dickhead-ish they were. It solidified the fact that we have a great group of kids. Like they're f*cking solid, their attitudes are in the right place. We're all moving forward with the goal in mind of like we are keeping each other in check, nobody can slack. It's almost like, yo like the city's on their back, you know what I mean? They want it so bad, to prove that they're worth something, you know. They're really working hard. They motivate me, they keep me going like damn I can't f*ck up because I don't want to let them down.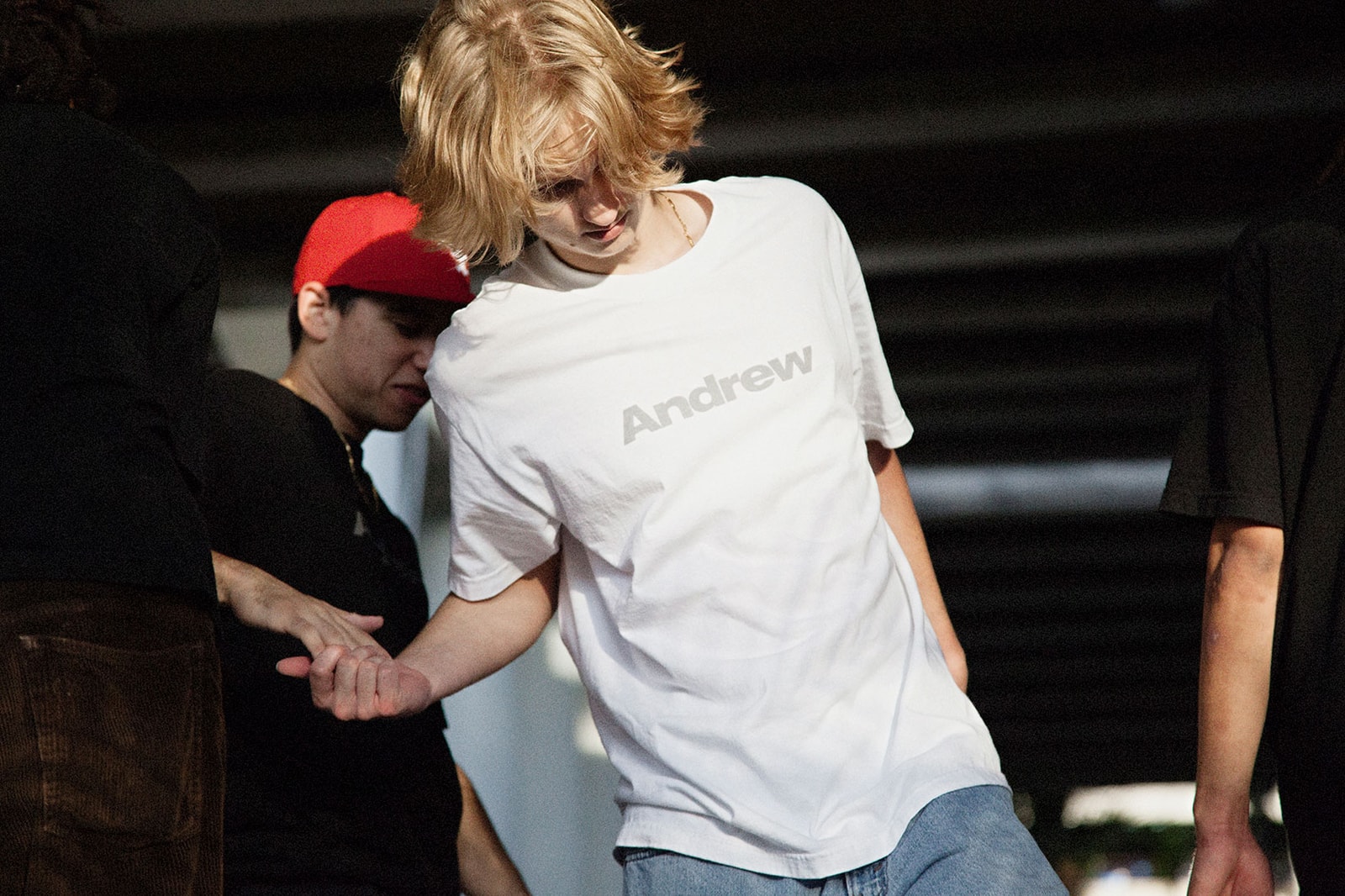 What are you guys working on now? What are you looking forward to? 
Adrian: We've just launched a collaboration with legendary Cuban restaurant Versailles over Art Basel and we've just launched a collaboration with AllTimers.
Nick: Traveling the world, skating as many different street spots as you can… enough leeway where you can create an interesting video project that can push the needle for us from a skateboarding perspective.