10 Pantone-Approved "Classic Blue" Pieces to Add to Your Life
Sneakers from Blondey McCoy, candles from Gucci and more in honor of 2020's Color of the Year.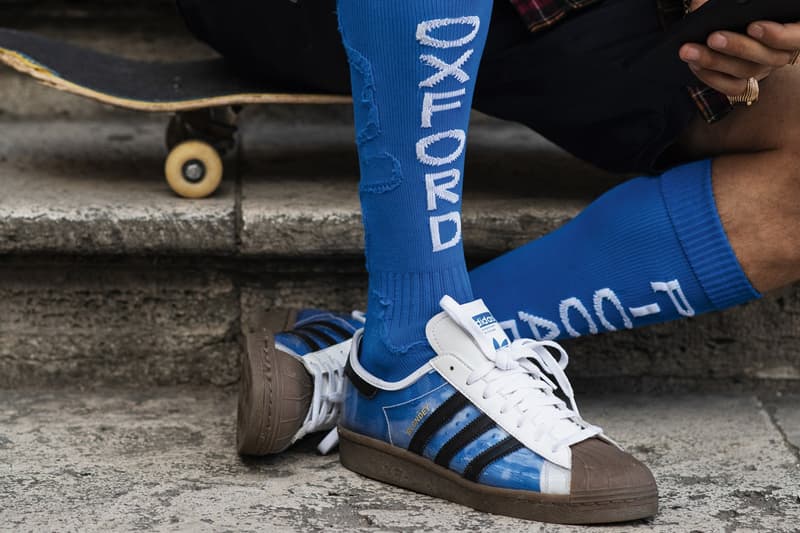 For 2020, Pantone has crowned "Classic Blue" as its color of the year. This hue will fill you with a sense of stability, dependency, and trust, according to Pantone anyway. Whether you believe in the shade's deeper or meanings or not, there's no doubt we'll be seeing it as a core color for 2020. As such, bringing "Classic Blue" into your fashion makes for a no-nonsense, no-brainer choice, while adding it to your home will continue to invite you into its world of peace and clarity. 
In honor of Pantone's Color of the Year (COTY), HYPEBEAST has compiled a list of 10 "Classic Blue" pieces ranging from Studio Arhoj's interior decorations to a surprising entry from Blondey McCoy. Keep on reading to find out how you can bring some clarity into your life. And be sure to keep your eyes peeled for even more "Classic Blue" pieces to roll out in the New Year.
Balenciaga Explorer Wallet
Balenciaga's Explorer Wallet is one of the most practical pieces to come from the house's Demna Gvaslia era. At first glance, the wallet is compact and puts all its focus on its hardwearing nature, but open up the accessory and inside you'll find a contrasting black lining giving you enough space for cash, cards and coins. Its utilitarian aesthetic — complete with chunky interior zips — is just as on-trend as its bold blue colorway, while a large Balenciaga badge will make sure to make a statement in itself.
Studio Arhoj Ghost "Crunchy Stone Blue"
HYPEBEAST favorite Studio Arhoj has plenty of Ghost sculptures to choose from, but the "Crunchy Stone Blue" iteration is right on the money in Pantone's book. More than just a decorative object, the Studio Arhoj Ghost is the perfect ring holder, gift, or even a way into collecting pieces in the art world. Start small and add this calm and confident Ghost to your nearest display.
Pantone Color of the Year 2020 "Classic Blue" Mug
Pantone's range of mugs can make for an envious cupboard display. Like all its mugs, this "Classic Blue" offering is made from fine china and features a block of color on its white base. Pantone adds the color's shade code beneath in its house type font, and packages it in a collectible box noting its COTY 2020 award. Pick up the "Classic Blue" mug to ensure peace and tranquility with every sip.
Gucci Fumus Star Eye Candle
Gucci shows how to do homeware right with its latest scented statement, the Fumus Star Eye candle. This standout accessory sports a bold color palette incorporating 2020's signature color alongside a fuschia pink lid, a black fist, and a central eye illustration. In true Gucci form, no detail has been scrimped on, as the orange leaf and beeswax-scented paraffin wax candle has been poured into a Richard Ginori porcelain case in the house's home of Italy. 
Modernica Case Study Furniture Side Shell Dowel Swivel
Bring some more color into your home with Modernica's classic fiberglass shell chair. Not only does it carry the COTY, but it also brings heaps of heritage thanks to its design that harks back to 1948. The Case Study Furniture Side Shell Dowel Swivel is supported by either a maple or walnut wood base that allows the shell to rotate a full 360-degrees — and if blue isn't your color, it comes in dozens of other shades. 
TEALEAVES x Pantone Color of the Year 2020
Naturally, you'll need something to drink out of your Pantone Color of the Year 2020 "Classic Blue" Mug, and TEALEAVES' collaborative blend of loose leaf tea is the perfect fit. This tea is as "Classic Blue" as you can get, delivering a taste of mixed berries that come together to offer a sweet, fruity perfume with citrus notes. Together, TEALEAVES' blend aims to "expand horizons" with every sip — a fitting achievement given its COTY inspiration. 
Nike Adapt Huarache "Racer Blue"
Nike stepped up its tech-game this year with the release of the Adapt Huarache, and one of the best colorways to release so far is this "Racer Blue" iteration. Contrary to popular belief, black and blue can work as the perfect sartorial couple — here, blue has been used to highlight the sneaker's technical nature, showcasing the components that connect the mobile app-adjustable laces around the shoe. 
Versace Swiss Chain Reaction Watch
Earlier this year, Versace's divisive Chain Reaction sneaker was reimagined as a watch. The sneaker's now-iconic chain-like sole unit has been implemented as the watch's core focus, taking the black and blue silicone strap and adding the unique chain pattern all around. Elsewhere you'll find a blue face complete with the house's Medusa head emblem — which also appears on the reverse — and a baroque-esque etched bezel. 
Off-White™ Arrows Intarsia Wool Blend Knit Scarf
Wrap up warm this winter in the Off-White™ Arrows Intarsia Wool Blend Knit Scarf. Not just a sartorial statement for its notorious Virgil Abloh-penned design and bold branding, this scarf comes in a "Classic Blue" hue that's complemented with black stripes and grey writing, making it the perfect accessory to wear as you step into 2020.
Blondey McCoy x adidas Originals Superstar '80
Blondey McCoy's adidas Originals Superstar '80 blends the Three Stripes' archived design with a contemporary, skateboard-indebted aesthetic. Its transparent panels allow the wearer to showcases one of three socks that come paired with the sneaker — with one of those being a pair of true-blue River Thames and Soho-inspired knee-highs. The result? A sneaker that becomes the easiest way to show off the all-important COTY 2020 alongside its white and black leather components that are offset by the hard-wearing gum sole unit.