These Are the Best Artworks Releasing This Week
YEENJOY STUDIO's 'English Bulldog' incense chamber in a Christmas edition, Banksy-inspired figures and more.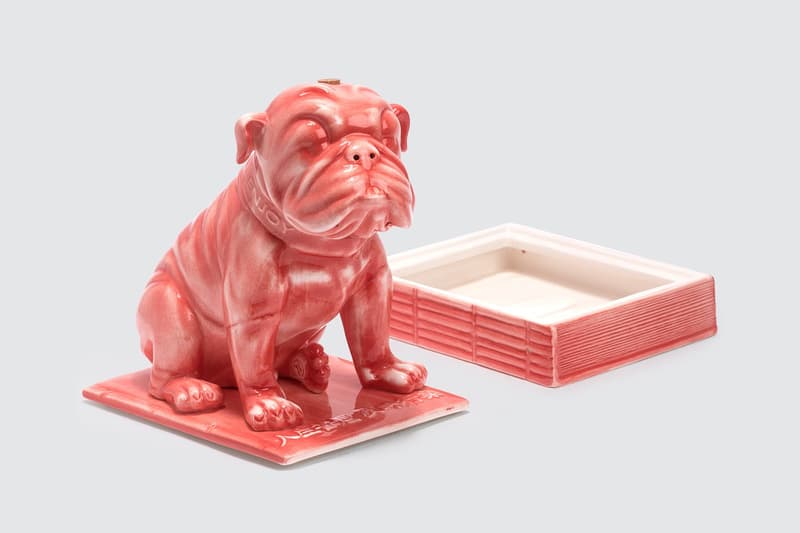 Every week we spotlight the best art releases weekly by notable artists, galleries, museums and contemporary art platforms across the globe. Listed items typically encompass limited edition artworks, prints, collectible figures, collaborative merchandise and more.
For this week's installment: YEENJOY STUDIO launches its classic English Bulldog incense chamber in a red Christmas edition, AllRightsReserved purveys Flat Eric plush editions with Mr.OIZO and Michael Dupouy, Medicom Toy joins forces with Brandalism to release Banksy-inspired collectibles, Sergio Farfán drops new Evil Twin sculptures at Vertical Gallery, and NOPATTERN pays homage to Michael Jordan with special edition prints.
View the full list below.
YEENJOY STUDIO English Bulldog Christmas Edition Incense Chamber in Red
Release Date: Available now on HBX.com
Release Price: $170 USD
The skilled ceramics craftsmen at YEENJOY STUDIO have produced a brand new edition of its popular English Bulldog incense chamber. To celebrate the holiday season, the art studio adorns the statuette in a bold red makeup. Standing 24 centimeters tall, the collectible features multiple smoke holes alongside a hollow storage unit at the base.
Flat Eric Plush Editions By Michael Dupouy, Mr.OIZO & AllRightsReserved
Release Date: Available on the Flat Eric store
Release Price: €159 EUR (approx. $177 USD)
AllRightsReserved teamed up with famed electronic musician Mr.OIZO and  ALL GONE author Michael Dupouy to produce a plush figure of the fuzzy Flat Eric mascot and his son Flat Eric Junior. Both versions arrive complete with magnetic appendages on their hands and feet for different display poses. The set also arrives inside a bespoke collector box specially designed by the Hong Kong-based creative studio. Only 2,500 pieces have been made that are each signed and numbered. 
Banksy-Inspired Editions by Brandalism & Medicom Toy
Release Date: Available on December 21 on Medicom Toy's website
Release Price: Prices range between $453-$503 USD
Ahead of the holidays, Medicom Toy and Brandalism will be releasing three new figures inspired by Banksy's iconic artworks. The duo reworks the notorious British artist's iconic Monkey Sign, BOMB HUGGER, and Flying Balloons Girl in unique miniature editions. All pieces are done up in monochromatic finishes for sleek and polished appearances.
Evil Twin Sculptures by Sergio Farfán
Release Date: Available on Vertical Gallery's website
Release Price: $825 USD
Chicago-based artist Sergio Farfán launched five of his signature Evil Twin sculptures at Vertical Gallery. These cartoon-like figures emphasize the good and bad in every individual. Key pieces from the series include sculptural editions wearing red and white Converse sneakers, aptly named Red Chucks and White Chucks, and a paint-splattered figure titled Pollock. All editions feature multiple colors and stand 30 centimeters tall.
Special Edition Michael Jordan Prints by NOPATTERN
Release Date: Available on the NOPATTERN webstore
Release Price: $150 USD
Chuck Anderson, aka NOPATTERN, has opened his official e-store and is celebrating the launch with a run of limited-edition Michael Jordan prints. The three figurative pieces capture MJ in motion, portraying the legendary athlete doing a dunk, layup and more. These prints are available until December 23 — arriving in sizes 16×20" and 20×30" and printed on heavy-weight paper. They will never be produced again and a portion of each sale will be donated to ACLU.