Sergio Farfán Releases Multi-Color 'Evil Twin' Sculpture Collection
Referencing the good and bad in every individual.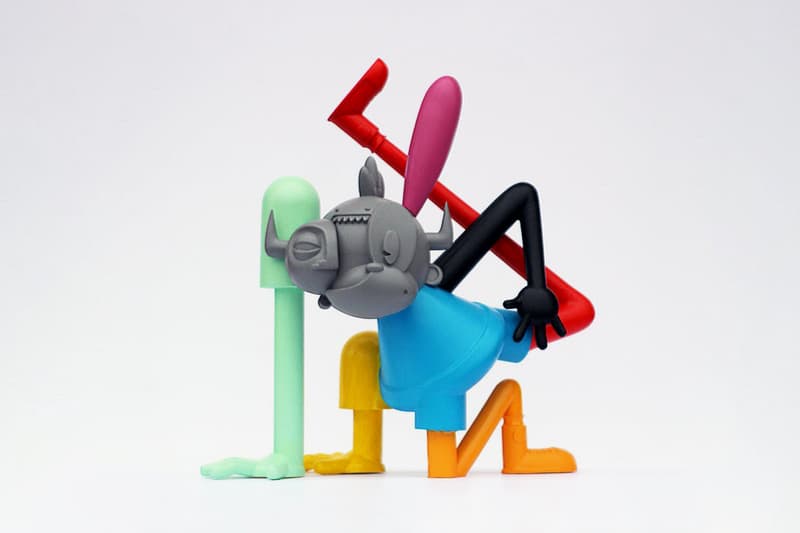 Last week, Chicago-based artist Sergio Farfán launched five unique Evil Twin sculptures at Vertical Gallery. Farfán blends the experiences from his hometown in Peru with his current life in Chicago to create works that focus on people's struggles, dreams and emotions. Growing up, he sought refuge in art and drew his favorite characters he saw on TV as a way to forget what was going on in the world around him. From mixed media paintings and drawings to hand-painted sculptural editions, his cartoon-like figures emphasize the good and bad in every individual.
For his latest collection, each Evil Twin is comprised of disconnected limbs in contrasting colors. Their faces are made up of various elements and expressions, further highlighting the artist's belief in duality. Balancing a playful style with more serious undertones, Farfán said, "The common factor the characters share is that they reflect the masks we put on to hide our true feelings. Anyone can put on a façade and [look] happy on the outside, but struggle with anxiety and depression on the inside."
Highlights of the "Evil Twin" collection include sculptural editions wearing red and white Converse sneakers, aptly named Red Chucks and White Chucks, and a paint-splattered figure titled Pollock. Standing at 30 centimeters tall, the disjointed sculptures boast multiple arms and legs in a mismatching fashion in order to reflect the varied stories and experiences that make up every individual.
Retailing for $825 USD each, the entire "Evil Twin" collection is available to purchase now on Vertical Gallery's website.

For more collectibles, Daniel Arsham and Disney joined APPortfolio for two exclusive Mickey Mouse figures.