8 Drops You Don't Want to Miss This Week
Featuring Supreme, KITH, S.R. STUDIO. LA. CA., UNDERCOVER and more.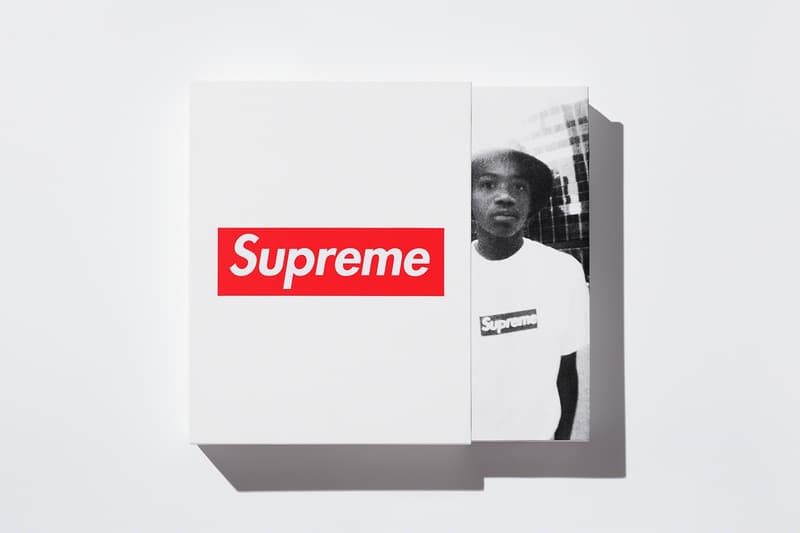 With another week up, we now have a new installment of our product drops series, this time marked by Supreme's Fall/Winter 2019 Week 13 release.
Keeping the collaborations coming, Supreme is back with its Volume 2 monograph in collaboration with Phaidon Publishings. The 351-page hardcover book serves as a survey of the visual history of the New York-based skate brand from 2010-2018. Altogether, the book spotlights products, collaborations, and game-changing events the brand has been a part of in the last decade.
Aside from Supreme's FW19 Week 13 Drop, this week we have an impressive array of special rollouts and collaborations that make up a selection of must-have street staples.
Some notable collabs this week include KITH and Disney's graphic-infused capsule, Billionaire Boys Club's celebration of its London, New York and Toyko footprints with NEIGHBORHOOD and an 80's themed team up from WIND AND SEA and HYSTERIC GLAMOUR. Special rollouts come from UNDERCOVER's new NOISE LAB retail experience at the renewed Shibuya PARCO and Sterling Ruby's Fourth Collection for his S.R. STUDIO. LA. CA. label. Rounding up the releases of the week is UNITED ARROWS & SONS' sartorial leaning FW19 collection and Alltimers' Holiday 2019 capsule.
Disney x KITH Fall/Winter 2019 Collection
Continuing to roll out the collaborations it unveiled at the FW19 presentation, KITH is now preparing to release its latest graphic-infused capsule with Disney. After being teased the last few weeks, the anticipated special range comprised of apparel, accessories and lifestyle items emblazoned with Mickey Mouse imagery is now available.
Standouts include season outerwear options like puffer jackets and vests, along with warm and cozy tops like cardigans and knit sweaters. Aside from highlights of red, blue, and yellow accompanied by shots of heather grey, white and black are several styles crafted in blue washed denim. Rounding up the apparel end are streetwear staples like hoodies and T-shirts marked with Walt Disney's famed character. Elsewhere, the collection features printed beanies, corduroy bucket hats, scarves, glasses and stuffed toys.
When: Now
Where: KITH
UNITED ARROWS & SONS Fall/Winter 2019 Collection
Delivering its FW19 collection, UNITED ARROWS & SONS has prepared a series of clean-cut layers spotlit by bespoke construction.
Drawing from old British and American staples, the range of contemporary menswear is perfectly expressed in pieces like a lime-colored blazer, checkered trench coat, asymmetrical button-up, pleated trousers, down jackets, cardigans and various sweats. Sartorial classics like the charcoal grey double-breasted trench coat and diamond-check zip-up cardigan also reveal the precise tailoring and muted color palette chosen for the season.
When: Now
Where: UNITED ARROWS & SONS
Alltimers Holiday 2019 Collection
Alltimers returns with its Holiday 2019 collection, revealed in a lookbook starring riders Etienne Gagne, Ben Blundell and Stafhon Boca. Looking towards the colder months ahead, the range is led by outerwear, layering options and accessories.
Graphics undoubtedly play a big part with hoodies sporting psychedelic logos, along with crewneck sweaters and T-shirts coming boldly branded. A notable offering is the Farley Nylon Puffer Jacket coming in two colorways, featuring a removable hood, contrasting lining and a snap front. Finishing up the concise range are rainforest frog skate decks, newly designed beanies, black and blue snapbacks with embroidered floral designs and a porcelain soap or lotion dispenser.
When: Now
Where: Alltimers
S.R. STUDIO. LA. CA. Fourth Collection
Building on his lauded releases for his label S.R. STUDIO. LA. CA., multidisciplinary artist turned fashion designer Sterling Ruby is now presenting his fourth collection to round up the year.
Focusing on the brand's SOTO division, the release is dominated by garments developed and handworked by the Sterling Ruby Studio. Throughout the fourth collection, S.R. STUDIO. LA. CA. showcases patterns, colors and shapes both bright and bold. Made in the United States items like ponchos, barn coat, overall and pullover hoodies, have been exposed to multiple treatments of dyeing, washing, and rinsing that bleaches and weathers the fabrics for a unique finish. made-in-US quality, and its exclusive hand-made nature. The range also features T-shirts, hoodies and jeans sporting graphics taken from Ruby's fine art pieces such as flags, tools, artifacts, cleaning supplies, and sculptures.
When: Now
Where: S.R. STUDIO. LA. CA. & SSENSE
Supreme Fall 2019 Collection Week 13
Back with Week 13 of its FW19 collection, the latest drop from Supreme is marked by the release of the Volume 2 monograph in collaboration with Phaidon Publishings.
The 351-page hardcover book serves as a survey of the visual history of the New York-based skate brand from 2010-2018. Altogether, the book spotlights products, collaborations, and game-changing events the brand has been a part of. Lead by a poem from Harmony Korine and an essay by Carlo McCormick, the monograph features notable collaborative works from Nobuyoshi Araki, David Sims, Kate Moss, and Dash Snow. The hardcover book comes complete with a red box logo slipcase, poster and box logo sticker.
Notable wearables found in the Drop 13 range include the Pinstripe Panel Sports Parka, Ganesh Faux Fur Jacket, Disturbed Zip Up Hooded Sweatshirt and Stripe Velour Longsleeve Polo. Supreme has also prepared a GORE-TEX Rain Hat, Faux Fur Camp Cap, New Era "S" Logo Beanie and NY Patch Beanie. This week's boldly branded accessories come in the form of Plated Dumbbells and restocks of the Stanley 20 oz. Vacuum Insulated Bottle, NITECORE Tini Keychain Light and Tsubota Pearl Hard Edge Lighter
When: November 21, Japan Release November 23
Where: Supreme Online & Retail Stores in NY, Brooklyn, San Francisco, London, France & Japan
UNDERCOVER NOISE LAB Fall/Winter 2019 Collection
To celebrate the opening of the UNDERCOVER NOISE LAB at the renewed Shibuya PARCO, Jun Takahashi's storied label has put together a graphic-heavy collection centered around the name of its latest retail experience.
Comprised of coach jackets, hoodies, sweaters and T-shirts in black and white colorways, the assortment of streetwear is emblazoned with graphics that fall in line with the label's distinct graphic sensibility. Additionally, all items come marked with understated "UNDERCOVER NOISE LAB" branding.
When: Nov 22
Where: Shibuya PARCO UNDERCOVER NOISE LAB
NEIGHBORHOOD x Billionaire Boys Club London Collection
Adding to its ongoing series of collaborations, Billionaire Boys Club has tapped NEIGHBORHOOD to celebrate its London, New York and Toyko footprints with a branding-heavy capsule collection.
Leading the special range is a London-exclusive varsity jacket defined by a heavily-brushed melton body and leather sleeves and another general release varsity jacket. Embroidery and collegiate style patches combine the location details and bold motifs associated with BBC and NEIGHBORHOOD. The hoodies and T-shirts are adorned with a rear graphic sporting a colorful 8-bit dual-branded logo, skeleton spaceman, a retro grid motif, and further nods to the global stores.
When: Nov 22
Where: Billionaire Boys Club EU
HYSTERIC GLAMOUR x WIND AND SEA 2019 Capsule Collection
WIND AND SEA has now teamed up with HYSTERIC GLAMOUR for a concise capsule centered around casual styles inspired by the '80s. The particular collaboration features a series of garments varsity jackets, hoodies, T-shirts, sweatpants and accessories.
A standout is the Stadium Jacket constructed of a delicate wool textile with contrasting leather sleeves emblazoned with co-branding patches and striped hem and cuffs. The rest of the range continues the bold co-branding design elements built around the collision of the two Japanese brands.
When: Nov 23
Where: WIND AND SEA & HYSTERIC GLAMOUR