New York Comic-Con 2019: Here Are Five Key Learnings From This Year's Event
'Street Fighter V' 2020 Olympics tournament, 'Marvel's Avengers,' 'Final Fantasy VII Remake' and more.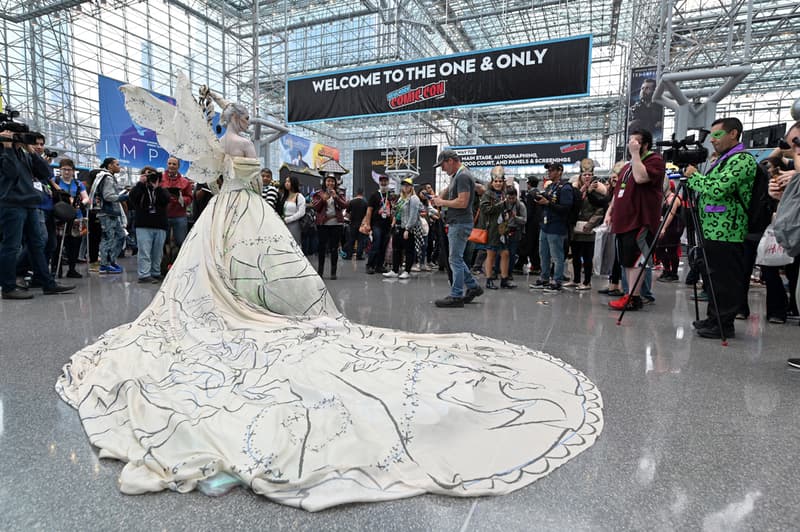 1 of 2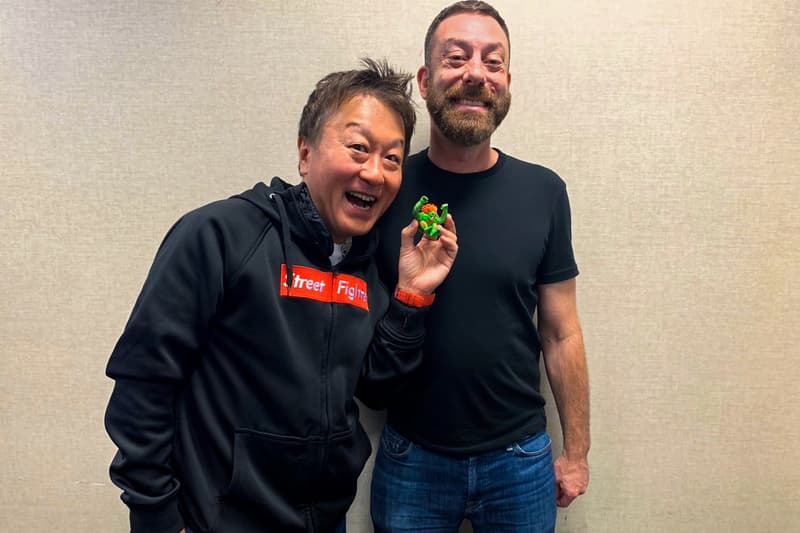 2 of 2
It is New York Comic-Con season once again at the Jacob Javits Center, and this year has a bevy of gaming, entertainment, and art-related content to showcase.
HYPEBEAST was able to visit several locations, where we went to talk with actor Jon Bernthal, play Square Enix's upcoming Avengers game as the newly announced Ms. Marvel, take a peak at the upcoming Final Fantasy VII Remake, and talk with Street Fighter V producer Yoshinori Ono about the game joining the Intel World Open Tournament next year.
Check out all our coverage of NYCC 2019 below.
Jon Bernthal: 'Ghost Recon Breakpoint', 'Ford vs Ferrari', and Hip Hop
Actor Jon Bernthal was able to speak with HYPEBEAST before his appearances at NYCC to talk about his new role as antagonist Cole D. Walker in Tom Clancy's Ghost Recon Breakpoint. In our full interview, the actor talks about motion capture and how acting in games differs from acting in a big budget Hollywood films.
Bernthal also touches on Sports films as it relates to his upcoming movie Ford v Ferrari starring Christian Bale and Matt Damon, where he plays Lee Iacocca, who was instrumental in producing the Ford Mustang and later reviving the Chrysler Corporation. Finally, Bernthal talks about his love for hip hop and how big a role it plays in his personal life.
"The ones that pop into mind are definitely Biggie, I'm a huge Kendrick Lamar fan now, and definitely Nas," professes the actor. "I was also huge into NWA, EPMD, Lil' Kim and Gang Starr. I love hip-hop and I'm trying to educate my kids on the difference between what I think is special and good hip-hop and the whack sh*t that's out there."
Check out our interview with Jon Bernthal and play Tom Clancy's Ghost Recon Breakpoint today.
'Final Fantasy VII' Hands-On Impressions
The Tokyo Game Show build of the Final Fantasy VII Remake was present at this year's event, howevert this meant things like the newly announced Classic Mode weren't present in our play through. However, we still got ample time with the game's Scorpion Sentinel boss battle.
The title's new action-oriented gameplay feels right at home with the original's revamped ATB mechanic. It's another thing to see the mechanics play out in a gameplay trailer and make a judgement on whether it'll work in a Final Fantasy VII remake, and another to play it and feel how much these combined elements play off one another. Although Square is known for defining the turn-based system of RPGs, it has also found a way to introduce more than compelling Action-RPG in Kingdom Hearts and a number of other contemporary Final Fantasy titles.
The button mashing action allows characters to deliver basic attacks. It's fast and kinetic, while dodging and blocking attacks is responsive as well. The system in which ATB allow characters to function outside those basic attacks add a layer of strategy and a way to slow down the fast-paced nature of the action.
We didn't have much time, but we had enough to play the demo twice, and the gameplay just begs to be mastered. It would appear once the handles are understood that players will be able to function effortlessly between the two combat systems to pull off frenetic combos in no time. Combining both is a winning formula that hopefully can be elevated in its Classic Mode, which will allow characters to attack and leave players to focus on ATB commands alone.
These beloved characters interacting with each other during the quiet moments of travel only adds to the charm of the original game and its depiction of these now iconic figures. And given a lot of classic moments from the original appears as if they're going to be included in this remake, we feel so much more assured that this game will live up to fan expectations.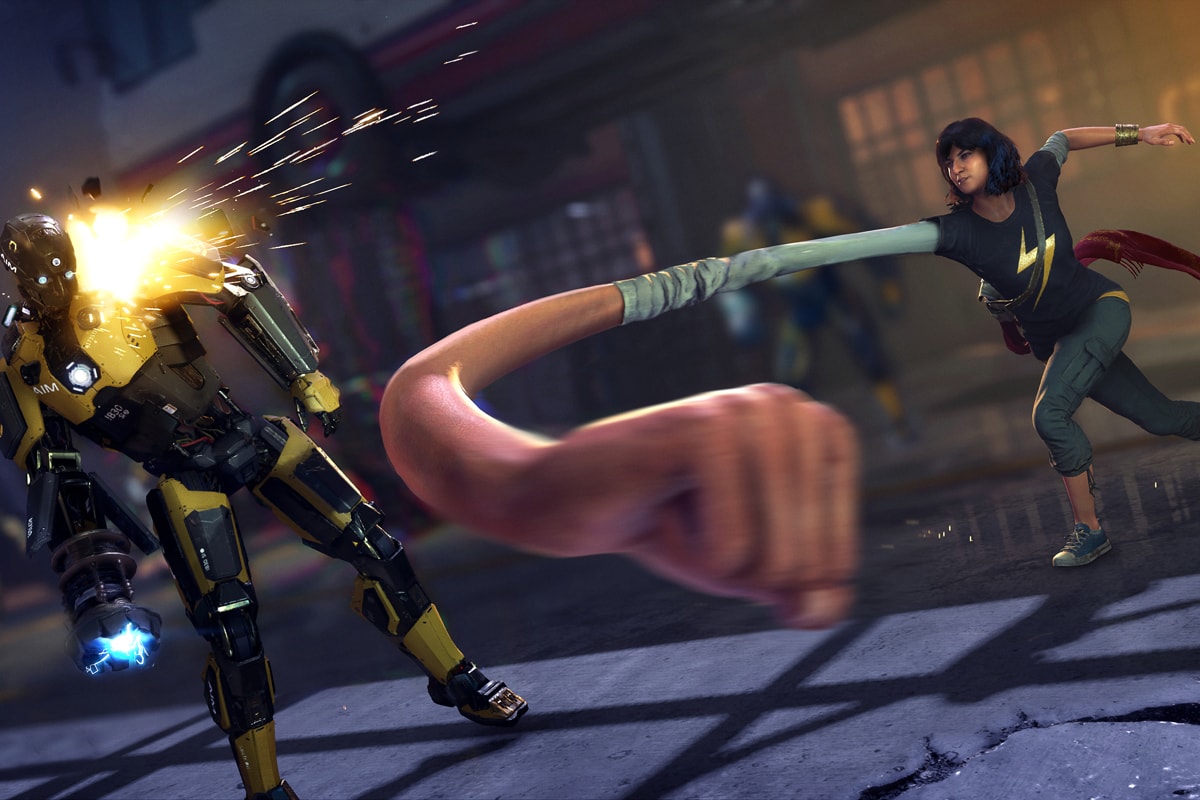 'Marvel's Avengers' First Play Breakdown
Skepticism has been shared for Square Enix's upcoming Marvel's Avengers after its announcement. However, when it was announced Enix would be creating a game based on a Marvel IP in 2017, many fans clamored waiting for news. And after a long wait, footage was finally shown of the title, and the character models looked nothing similar to their on-screen counterparts; their facial features were off and lacked the "Avengers look" audiences had grown accustomed to from their movie and comic counterparts. The gameplay also looked fairly bland and a bit like something more suited for the previous console generation.
Each character feels true to their abilities in terms of gameplay, and as such, everyone plays uniquely. Captain America feels like a street fighter, and his mechanics reflect that — one of his special abilities is even called Brooklyn Brawler. Hulk feels just as expected: heavy, overbearing, and yet nimble when traversing. He can leap tall bounds and wall bounce to get around the stage. His mechanics are reminiscent of The Incredible Hulk Ultimate Destruction for GameCube, once acclaimed for its movement and gameplay.
Besides Hulk, Black Widow's mechanics were also fun for us to experience, as her combination of quick strikes and crosshair-style gunplay mechanics made her satisfying to use in her boss fight against Taskmaster. Iron Man on the other hand felt a little stale. Although he can switch his ammunition on the fly, it feels like his projectile-based abilities should be capable of much more in-game because of his character.
In a conference hosted after the gameplay, Enix representatives explained how characters can learn new skills, wear new cosmetics, and level up attributes with earned resources, which can be earned in side missions in co-op play. This means the gameplay capabilities have room to grow for each character, meaning this may only be the tip of the iceberg for the characters' ease of playability and limitations.
Lastly, they also announced to us that Khamala Khan — known as Ms. Marvel — would be the main protagonist of the game, something they've kept quiet about up until now. She will be instrumental in bringing the Avengers roster back together following the events of A-Day and the subsequent sacrifice of Captain America. She will also be instrumental in taking down AIM, a technological organization that's risen to protect the globe following the government mandated separation of the Avengers.
Her ability to polymorph her body to huge proportions makes for great combat. Her mix-up of attacks remind us of playing One Piece Pirate Warriors 3 as the main protagonist Luffy, whose stretching characteristics are very similar to Khan "Embiggen" abilities, and their mix-up attacks feel equally as satisfying to perform. Enix reps say they plan on adding as many characters as there is demand, but we also know they are not talking about a slew of other hidden playable characters that'll be part of the Avengers roster.
All the surprises really turned us on our previous feelings about Marvel's Avengers. What was before skepticism, is now enthusiasm and anticipation to see what this game will be like once it finally arrives May 15, 2020.
'Street Fighter V' for Tokyo 2020
In the lead up to next year's Tokyo Olympic Games, Intel will be hosting the Intel World Open, featuring Capcom's Street Fighter V. The tournament will showcase some of the best Street Fighter V players in the world competing for a total prize pool of $250,000 USD. 3-v-3 Qualifying Tournaments are set to begin February of next year till July when the Olympics begin.
At NYCC 2019, Ono and the Intel team announced the United States as one of the 12 national teams that will be competing in the tournament. Each country will be pre-selected based on Capcom's Player Base and last year's Pro Tour results. Afterwards, those countries will conduct multiple Online Qualifying Tournaments, with the top four winners (alongside one reserved player) from each country forming teams of 12 to go against eight online Regional qualifiers in a live tournament Katowice, Portland before facing Japan's finest at the Intel World Open.
We sat with Street Fighter executive producer Yoshinori Ono, his translator, and Intel's Director of Business Development for Games and Esports Mark Subotnick to further discuss the logistics of the Qualifiers, Street Fighter V's involvement with the Intel World Open and being part of such a huge event.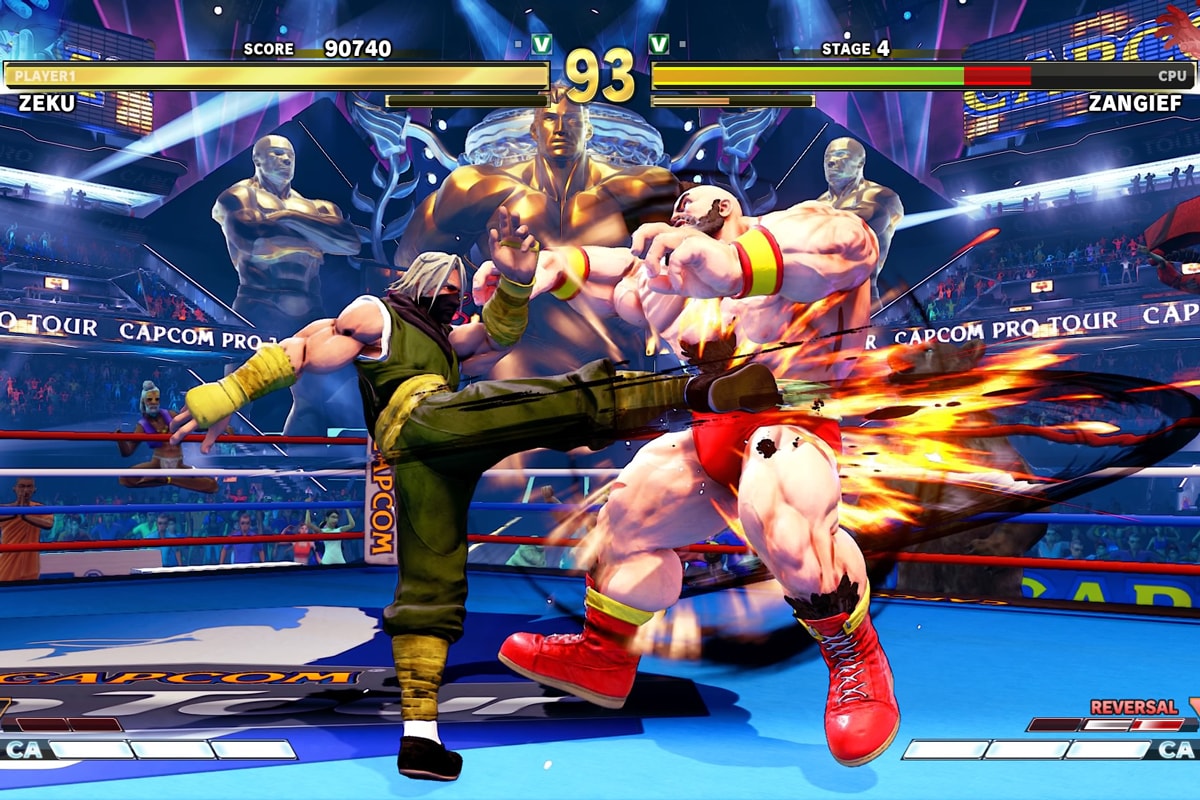 Mr. Ono, you've been apart of the franchise for a long time, what is your personal story? How does it feel to have Street Fighter rise from the dimly lit arcade rooms to being involved in the biggest stage of them all with the Olympics?
Ono: Well, the owner of Capcom took me to the side when it was announced we got this opportunity and said: "Oh, this is the first time I'm glad that we hired you!" When I first heard that, I was shocked because I know in the 20+ years I've been here I brought a lot to this company! But I didn't say that, I just said "I feel very honored that you feel this way."
From my, Capcom, and even Street Fighter's perspective though, we are very honored to partner with Intel and be part of the Intel World Open because over 30 years we've had the privilege of having our brand being widely recognized. But we can't stop there, we also have to make sure the new generation understands and is familiar with Street Fighter too. Another goal is to make competitive gaming more know and treated as a sport, for example, esports isn't widely known in Japan. But through this huge platform, we want to change that mindset worldwide.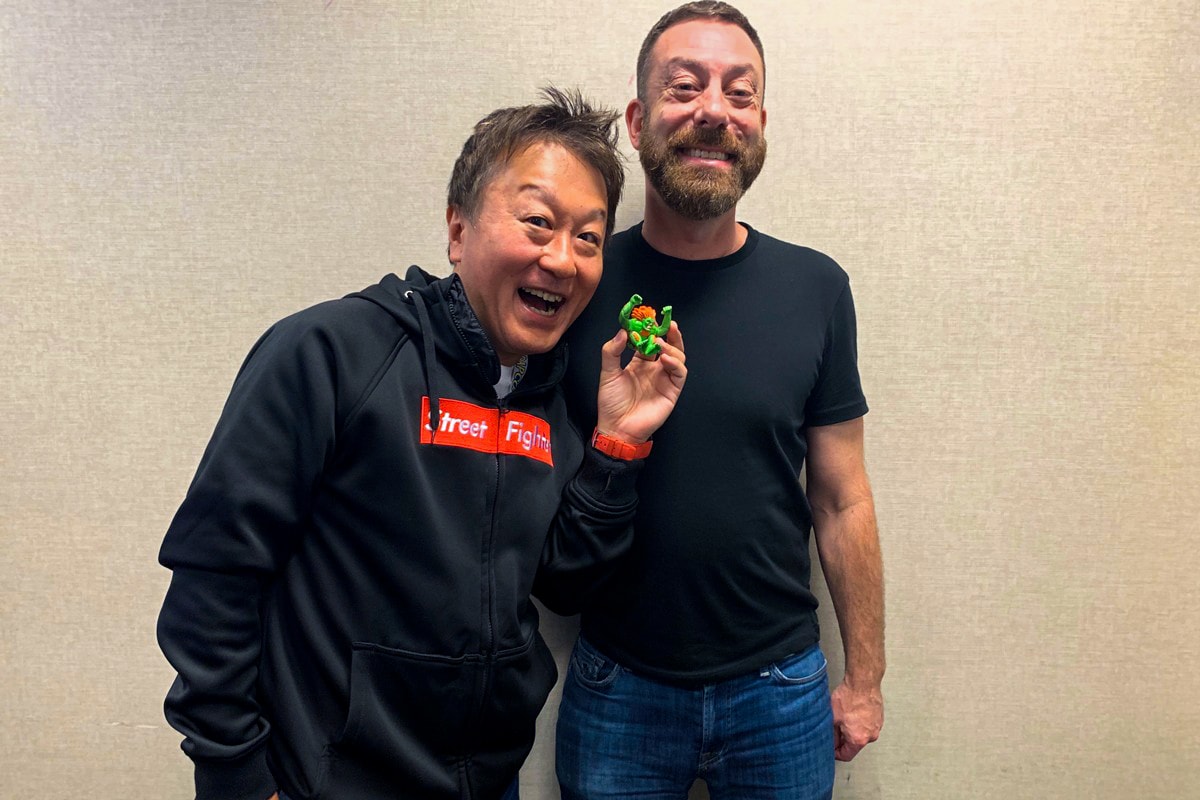 Although it's only an Olympic-sponsored event, do you think this live tournament will further uplift esports events into becoming mainstream?
Ono: Teaming with Intel and the Olympics is such a huge deal. What this means for the brand is having an opportunity to have this 30-year franchise bring together all generations to watch and compete in the tournament. It's a phenomenon that father and son can compete and end up in the finals together, and we embrace giving players a chance to enter into a tournament like this so easily.
Mark Subotnick: Just to add to that, we think what will make this event special are the human stories that will be told. Traditional sports are like that. If you care about the athlete's journey, Like the Williams sisters or Tiger Woods, it'll make more people generally uninterested in the sports care more because of the person. We think that's what will help uplift esports into the mainstream in general.
We were going to ask if there any regular tournament players you're expecting to see, but I imagine it's the wildcard element of Online Qualifiers that you're excited for.
Ono: We know for a fact there's going to be a hidden gem hiding somewhere in this online tournament. Last year at Tokyo Game Show we had a Capcom World Tour Premier event where an online player named TrashBox [arrived] who never comes out of his house to compete, but is the top player online. His friend convinced him to come out for TGS, but since he rarely leaves his house, he came to the event in flip flops. He actually became Top 8 in the tournament and had to come up on stage. Capcom considered whether we should offer him some shoes! (laughs)
Qualifiers for the United States will run from March 21 to May 16. Additional teams and details will be announced at Brazil Game Show. Follow @CapcomFighters on Twitter for all the details as they emerge.
Toymaker and 'FU-Stamps' Creator Rios Palante
Rios Palante is a Bronx-based toy designer who is reflecting his community through the anime-inspired Bodega Blade, Demonio, and the rest of his FU-Stamps (pronounced like "food stamps") characters.
Dega (Bodega Blade) is the tactful leader of the FU-Crew, a gang of rambunctious teens obsessed with martial arts while fighting to keep punks off their block. There is an entire lore involved with the FU-Crew that is set to be expanded in an upcoming comic book, but Palante says its a spin on the Teenage Mutant Ninja format, but with heroes that are indicative of the demographics of his neighborhood.
Palante currently sells detailed resin figures of characters like Bodega Blade and Demonio on his online store, as well at NYCC this year at booth #780. The Bodega Blade Man's Best Friend Combo Packs are limited and sell for $140 USD per set. Palante will also be there to greet fans.
All leftover items from the Tenacious Toys booth, exclusive or otherwise, will become available online on the Tenacious Toys NYCC 2019 page on October 5 or 6.