The End of Mark Parker's Reign Sparks a New Tech-Focused Era for Nike
Former eBay CEO John Donahoe will take his place.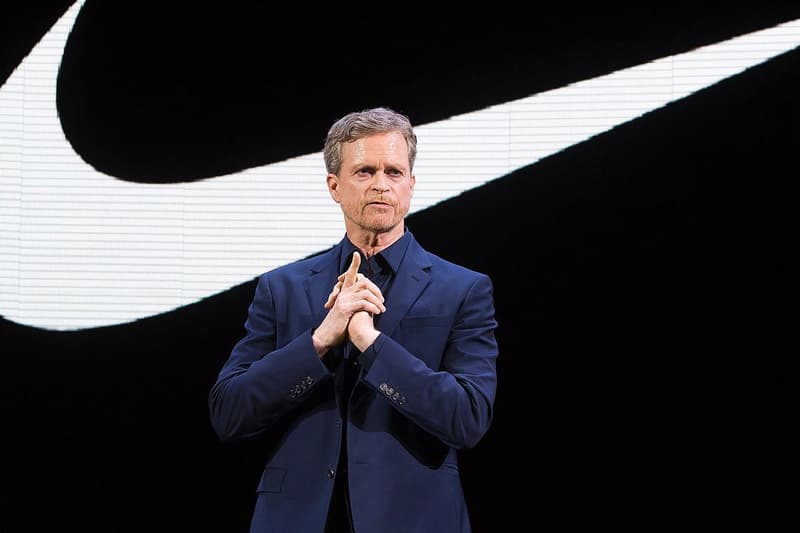 Mark Parker's decision to step down from his role as Nike's CEO after 13 years came as a shock to investors and onlookers alike earlier this week. Come January 2020, Parker will leave his post as CEO and transition into a more specific Executive Chairman position, with a focus on brand and product development. The announcement left many, including investors, wondering why Parker stepped down and what lies ahead for the company's leadership. According to WWD, Nike shares dropped 3.4 percent to $92.32 USD following the surprise statement, likely due to initial investor uncertainty.
Nike is already forging ahead in a slightly new direction with experienced tech executive John Donahoe slated to assume Parker's position as CEO next year. Currently CEO and President of ServiceNow, Donahoe previously served as Chairman of PayPal Holdings, Inc., President and CEO of eBay, Inc., as well as CEO and Worldwide Managing Director of Bain & Co. He has also served on Nike's Board since 2014, so he's no stranger to the sportswear brand. Nike has yet to disclose the official reason for his appointment as CEO, but given the veteran's illustrious industry experience and tech-focused background in the digital retail space, many analysts are predicting Nike is readying itself for a digital product overhaul.
That said, Parker already laid significant groundwork for his successor, specifically with regards to innovation in the tech and retail spheres. There is no disputing that time after time under Parker's reign, Nike was able to push product, retail and marketing to uncharted levels. Most recently, the company opened two House of Innovation stores in New York and Shanghai, which both feature customization outposts and state-of-the-art tech features like digital pick-up lockers. Additionally, Parker pushed for Nike's controversial "Dream Crazy" advertising campaign featuring Colin Kaepernick, which immediately increased the company's share values by $6 billion USD and eventually won an Emmy for its powerful message and savvy timing. The company has even developed a running sneaker so powerful, it's being examined by the International Association of Athletics Federations for its impressive performance-enhancing capabilities.
As a result of these efforts and continuously growing brand loyalty, Nike surpassed the $1 billion USD profit mark earlier this year, and showed a revenue of $10.7 billion USD and $1.4 billion USD in income in its first quarter 2020 results.
Despite Parker's overwhelming business success however, his reign hasn't been all home runs, slam dunks and new self-lacing technology. Throughout his career at Nike, Parker found himself intertwined with multiple company scandals that have undoubtedly tarnished his reputation among Nike employees, investors and informed customers alike. After reports of toxic workplace behavior surfaced in 2018, key players on Nike's leadership team left the company for undisclosed reasons, including former President Trevor Edwards and former VP of diversity and inclusion Antoine Andrews. Most recently, Nike has been under fire for its ties with former champion runner Alberto Salazar's Oregon Project, which was just shut down by Nike last week after the U.S. Anti-Doping Agency banned Salazar for "multiple anti-doping rule violations." Reports state Parker was aware of Salazar's work the entire time.
Aside from taking over the position of a semi-controversial CEO, Donahoe will be entering Nike's leadership ring at a pivotal time, as the company faces enhanced pressure from competitors adidas, PUMA and Li-Ning. Just earlier this month, Chinese sportswear brand Li-Ning surpassed both Nike and adidas to become the top performing sportswear brand on the stock market, following a 200 percent stock surge.
"[Donahoe]'s expertise in digital commerce, technology, global strategy and leadership combined with his strong relationship with the brand, make him ideally suited to accelerate our digital transformation and to build on the positive impact of our Consumer Direct Offense."
With the addition of House of Innovation and push of online platforms like its SNKRS App, Nike clearly understands digital retail will be key in distinguishing itself from its competitors. In fact, Nike was recently recognized as the top performing fashion brand when it comes to omnichannel retail efforts in a report by point-of-sale retail management company and system, NewStore.
Donahoe's expertise from his time developing digital retail services eBay and PayPal can be tapped to further Nike's digital direct to consumer efforts, including its SNKRS App, in-store pickup services, online presence and more. As Cowen analyst John Kernan recently told WWD, "Mr. Donahoe's skill set and rich experience will directly address Nike's digital transformation and help the company to become more responsive to digital trends. Nike is in the process of amplifying their digital capabilities and speed and Mr. Donahoe will accelerate that trajectory."
Parker confirmed in a recent statement that Nike is ready for a new era of digital consideration led by Donahoe, stating that Donahoe's "expertise in digital commerce, technology, global strategy and leadership combined with his strong relationship with the brand, make him ideally suited to accelerate our digital transformation and to build on the positive impact of our Consumer Direct Offense."
Parker's success has set the stage for Donahoe and also opens the doors for even more exploration within digital retail. Given Donahoe's already close relationship with Nike, analysts seem confident he will be able to take the reins from Parker and pick up where he left off. Matthew Boss, an analyst at J.P. Morgan told WWD, that "management sees the opportunity to 'accelerate rather than overhaul' Nike's current strategic plan in particular given J. Donahoe's engaged/active role in shaping Nike's current strategy."
Once the change is effective beginning January 13, 2020, Parker will continue to lead Nike's Board of Directors and plans to work closely with Donahoe and the company's senior management team with a focus on physical product development – an area he has an extensive background in. Running parallel to Parker's continued efforts within the product space, it seems as though Donahoe will work on a more developed digital brand strategy, pushing digital retail initiatives to the forefront of Nike's business model. One thing for sure is come 2020, everyone will be watching Donahoe's first steps with a watchful eye.