Check Out the Full Credits for Kanye West's New Album 'Jesus Is King'
A star-studded list of collaborators.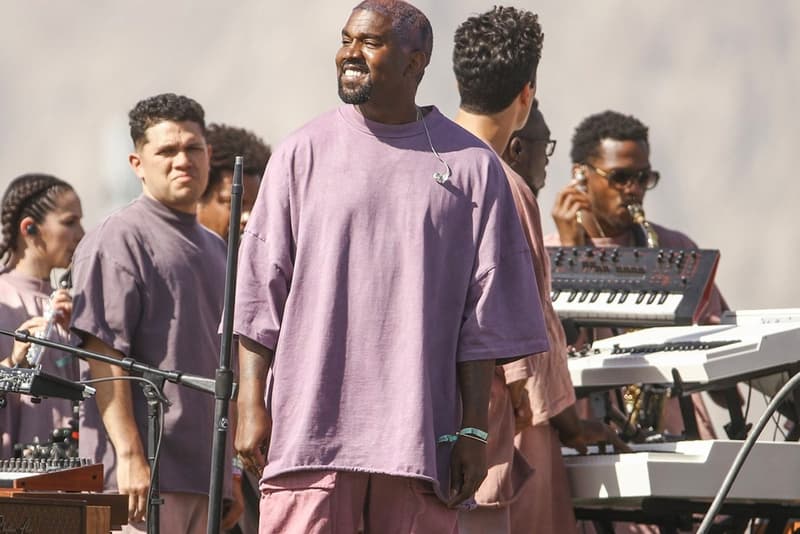 Kanye West's latest studio album Jesus Is King has arrived and is available for streaming. Billed as Ye's take interpretation of a "gospel album," Jesus Is King delivers 11 new tracks to fans, including collaborations with Pusha T, Mike Dean, No Malice, Ronny J, Ty Dolla $ign, Kenny G and more. Kanye's latest LP serves as the follow-up to last year's ye album and his previous collaborative project with Kid Cudi, Kids See Ghosts. As revealed during a newly-released interview with Zane Lowe, Jesus Is King will be followed by a similar effort on Christmas Day, the "Sunday Service" album Jesus Is Born.
You can take a look at the writing, production and composition credits for Kanye West's new album Jesus Is King below.
Kanye West – Jesus Is King (Credits)
1. "Every Hour"

Producer: Kanye West, Budgie, Federico Vindver
Lyrics and composition: Kanye West, Budgie, Federico Vindver

2. "Selah"

Producer: Kanye West, benny blanco, BoogzDaBeast, E*vax, Federico Vindver, Francis Starlite
Lyrics and composition: Kanye West, CYDEL CHARLES YOUNG, Dexter Raymond Mills Jr., Federico Vindver, Gene Thornton, Jahmal Gwin, Jeffrey LaValley, Rennard East, Terrence Thornton, evan mast

3. "Follow God"

Producer: BoogzDaBeast, Kanye West, Xcelence
Lyrics and composition: Aaron Butts, Bryant Bell, Calvin Eubanks, Curtis Eubanks, Jahmal Gwin, Kanye West

4. "Closed on Sunday"

Producer: Angel Lopez, Brian 'AllDay,' Federico Vindver, Kanye West, Timbaland
Lyrics and composition: Angel Lopez, Brian Miller, Chango Farías Gómez, Federico Vindver, Gene Thornton, Kanye West, Rennard East, Terrence Thornton, Timothy Mosley, Victory Elyse Boyd

5. "On God"

Producer: BoogzDaBeast, Federico Vindver, Kanye West, Michael Cerda, Pi'erre Bourne
Lyrics and composition: CYDEL CHARLES YOUNG, Federico Vindver, Jahmal Gwin, Jordan Timothy Jenks, Kanye West, Michael Cerda

6. "Everything We Need"

Producer: BoogzDaBeast, FNZ, Federico Vindver, Kanye West, Mike Dean, Ronny J
Lyrics and composition: Anthony Clemons, Bradford Lewis, Cydel Charles Young, Federico Vindver, Isaac DeBoni, Jahmal Gwin, Kanye West, Michael Mule, Mike Dean, Ronald Spence Jr., Tyrone William Griffin Jr.

7. "Water"

Producer: Angel Lopez, BoogzDaBeast, Federico Vindver, Kanye West, Timbaland
Lyrics and composition: Anthony Clemons, Sunday Service Choir, Alexander Nelson Klein, Angel Lopez, Bruce Haack, Federico Vindver, Jahmal Gwin, Kanye West, Timothy Mosley, Victory Elyse Boyd

8. "God Is"

Producer: Angel Lopez, Federico Vindver, Kanye West, Labrinth, Warryn Campbell
Lyrics and composition: Labrinth, Angel Lopez, Federico Vindver, Kanye West, Robert Fryson, Timothy Lee McKenzie, Victory Elyse Boyd, Warryn Campbell

9. "Hands On"

Producer: Angel Lopez, Federico Vindver, Kanye West, Timbaland
Lyrics and composition: Fred Hammond, Aaron Butts, Angel Lopez, Federico Vindver, Kanye West, Timothy Mosley

10. "Use This Gospel"

Producer: Angel Lopez, BoogzDaBeast, DrtWrk, Federico Vindver, Kanye West, Pi'erre Bourne, Timbaland
Lyrics and composition: Angel Lopez, Derek Watkins, Federico Vindver, Gene Thornton, Jahmal Gwin, Jordan Timothy Jenks, Kanye West, Kenneth Bruce Gorelick, Rennard East, Terrence Thorton, Timothy Mosley, Kenny G

11. "Jesus Is Lord"

Producer: Kanye West, Angel Lopez, Brian 'AllDay,' Federico Vindver, Timbaland
Lyrics and composition: Kanye West, Angel Lopez, Brian Miller, Claude Leveillee, Federico Vindver, Timothy Mosley