Colin Kaepernick Is the Face of Nike's "Just Do It" Campaign
An extremely powerful move by the Beaverton, Oregon brand.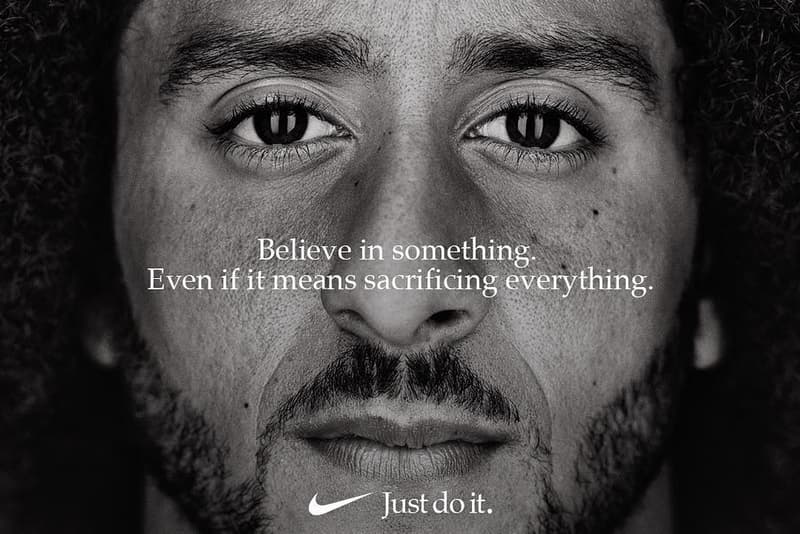 Nike has decidedly placed athlete Colin Kaepernick on the face of its "Just Do It" campaign as revealed today, in a controversial move.
Colin Kaepernick, former quarterback for the San Francisco 49ers, first came under the spotlight for choosing to sit during the national anthem in 2016, and then later kneeling against racial injustice and police brutality. Nike's poster, which prominently states "Believe in something, even if it means sacrificing everything." is a powerful statement that the Beaverton, Oregon company is placing, correlating to the Trump administration's view on kneeling players of the NBA and NFL. The move eventually led to Kaepernick being indirectly forced out of the league.
The act sparked controversy between the players and the Trump administration, with the president going as far as stating "Wouldn't you love to see one of these NFL owners, when somebody disrespects our flag, to say, 'Get that son of a b—- off the field right now, out — he's fired!'" Nike has not used Kaepernick for its campaigns for two years until now.
"We believe Colin is one of the most inspirational athletes of this generation, who has leveraged the power of sport to help move the world forward," said Nike's vice president of brand for North America Gino Fisanotti to ESPN.
Senior reporter Charles Robinson also shed some insight into the deal between Nike and Kaepernick via Twitter, saying "- It's wide endorsement. He's going to have his own branded line. Shoes, shirts, jerseys, etc. There will be Kaepernick apparel."
View the campaign below.