Nike Closes South African Stores Following Discovery of Racist Video
The sneaker giant has refused to comment.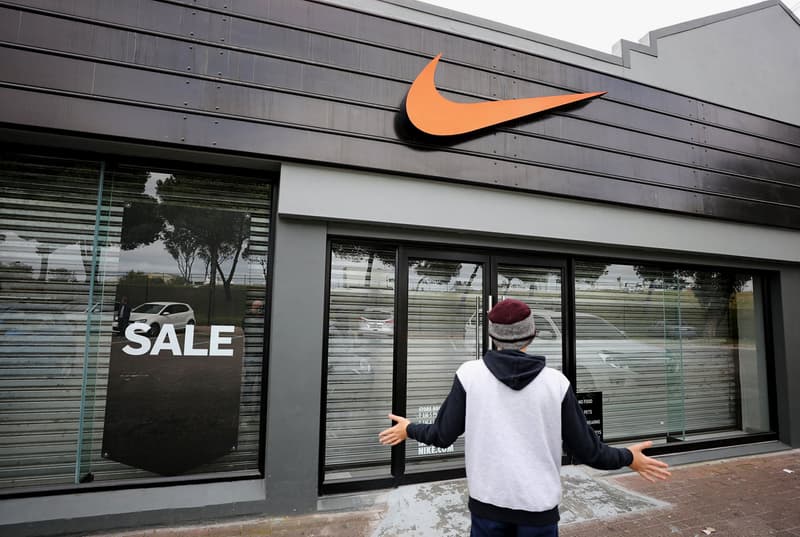 Nike closed several South African stores this week following the circulation of a video in which a man reportedly linked to the company used a racial slur. South African media initially brought the clip to light, reporting that the man seen in it, later identified as Adam Catzavelos, was married to a Nike merchandising director.
In the video, Catzavelos, a white man with a South African accent, can be seen wearing a straw hat and reflective shades on a beach assumed to be somewhere near Cape Town. He walks the camera around the beach, stating "Blue skies, beautiful day, amazing sea and not one k*ffir in sight." Known as the "K-Word" in the region, the phrase is a deeply offensive, apartheid-era slur used to refer to a black person comparable to the "N-Word" in the West. Following the incident, Catzavelos has been publicly shunned on social media.
The Economic Freedom Fighters, which led protests against H&M in January following the insensitive "Coolest Monkey in the Jungle" hoodie, announced plans to file a criminal complaint against Catzavelos. When asked to comment, Nike issued a statement reaffirming its "long-standing commitment to diversity, inclusion and respect," emphasizing that Catzavelos was not a company employee. Currently South African media has confirmed the closure of several Nike stores, including two at a mall in Johannesburg's Sandton district.
Watch the offending clip on The Independent.
Nike most recently faced controversy in London, where officials took umbrage with the sportswear giant's Matthew Williams-designed balaclava.
Nedbank and 702 strongly condemn all forms of racism. Adam Catzavelos is not a Nedbank employee. He took part in a Business Accelerator Programme in 2014. He, along with 360 other entrepreneurs, was profiled on the programme hosted on 702 and sponsored by Nedbank over 6-years.

— Nedbank (@Nedbank) August 21, 2018
We are aware of the #AdamCatzavelos video. The Baron Group have a zero-tolerance policy on racism and will be serving our steaks without basting while we find another supplier.

Regards,
The Baron Group pic.twitter.com/i43RoQWMXF

— The Baron Fourways (@Baron4ways) August 22, 2018
The racist video which shows a man allegedly identified as Adam Catzavelos using the K word is absolutely unacceptable & has no place in our society. We must all work together to isolate racists & report these incidences to law enforcement agencies so they can be held accountable

— Min. Nathi Mthethwa (@NathiMthethwaSA) August 21, 2018