The LeBron James "King of LA" Mural Is Gone
Wiped by the artist himself.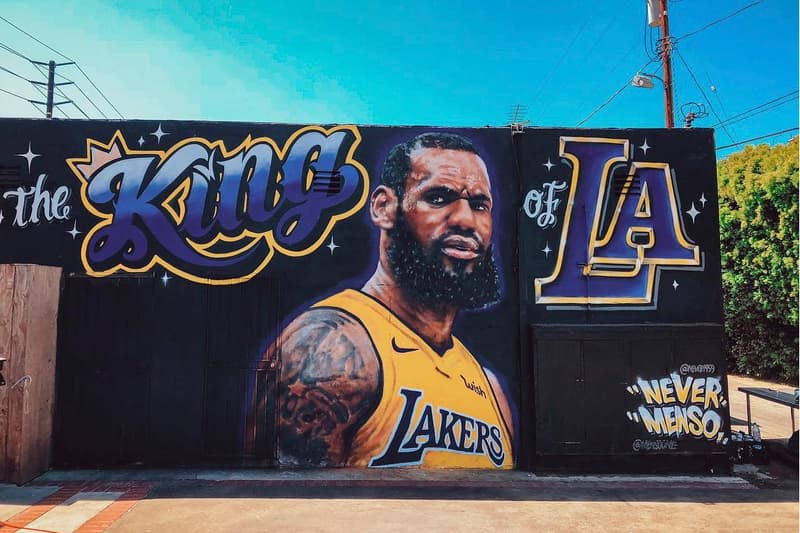 After initial reports that LeBron James' "King of LA" mural was vandalized and then restored again, it has now come to light that the artwork has now been removed altogether.
Situated in Venice, California, the controversial portrait, created by muralist Jonas Never and graffiti artist Fernando Valdez, commemorating James' move to the Lakers has now been completely wiped and replaced with patches of white paint. The mural was originally vandalized with insults like, "We don't want you," "No King," and "LeFraud," as well as a with a reference to his NBA Finals record of 3-6 after the social media account @BenOsaze offered $300 USD to anyone who was willing to deface it.
The mural was soon back in action after Never painted over the vandalism and tried to modify his message by removing the "of" from "the King of LA." However earlier this week, someone once again defaced it by splattering yellow paint all over it. After multiple cases of vandalizm, Never decided to cover up the mural. Take a look at the tweets below.
In case you've missed it, LeBron James covers latest issue of Sports Illustrated with other Laker greats.
— LWOS LA Lakers (@LWOSLALakers) July 8, 2018
….and it's gone. Yikes. pic.twitter.com/d1SR9rYwOx

— /r/NBA (@NBA_Reddit) July 11, 2018
Lebron James' mural in Venice has been vandalized for a second time – so the artist painted white over the whole thing. Story at 5:15pm @nbcla #lakers #graffiti #art #streetart pic.twitter.com/zDnX1aAxle

— Angie Crouch (@AngieNBCLA) July 11, 2018
The artist who painted the LeBron Mural in LA (@never1959) painted over it because it kept being vandalized. Smh LA ??‍♂️ pic.twitter.com/6lva7480wG

— NBA Lowdown (@NBALowdown) July 11, 2018