A LeBron James "King of LA" Mural Was Vandalized
After a $300 USD offer.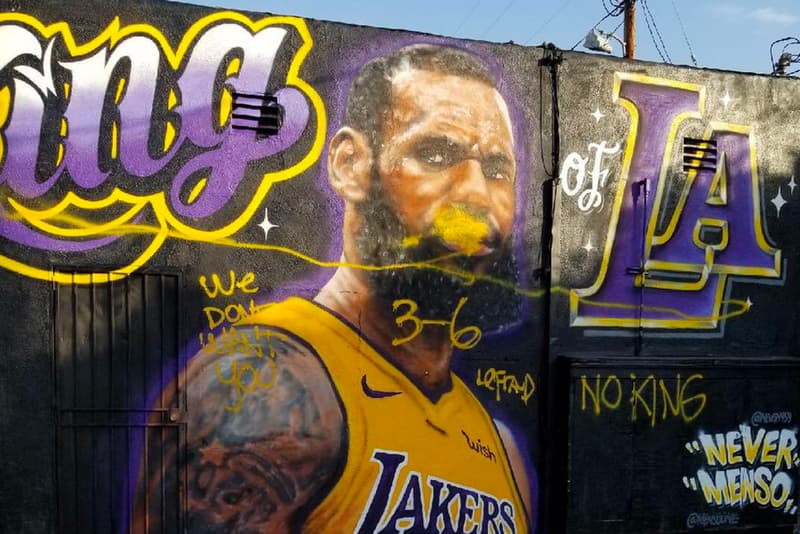 Though many basketball fans are excited to watch LeBron James play for the Los Angeles Lakers during the upcoming NBA season, it appears not everyone in the city is looking forward to it.
According to recent reports, James' "King of LA" mural was vandalized over the weekend in Venice after the social media account @BenOsaze offered $300 USD to anyone who was willing to deface it; the tweet has since been deleted. As Basketball Within Borders shared on Instagram, "A LeBron-hating Laker fanatic put out a contract to get this mural of #LeBronJames vandalized today in California. Dude need to get extra security around town. The hate is real." The mural was vandalized with insults like, "We don't want you," "No King," and "LeFraud," as well as a with a reference to his NBA Finals record of 3-6.
However, the mural was quickly restored with the word "of" removed. James will be joining the Los Angeles Lakers with a four-year deal.
Earlier this month, Lakers legend Kobe Bryant welcomed LeBron James to the family.
— LWOS LA Lakers (@LWOSLALakers) July 8, 2018
Well that didn't last long smh pic.twitter.com/Jjq0rrEM43

— LWOS LA Lakers (@LWOSLALakers) July 8, 2018