8 Drops You Don't Want to Miss This Week
Featuring Midnight Rave, Off-White™, Heron Preston and Supreme.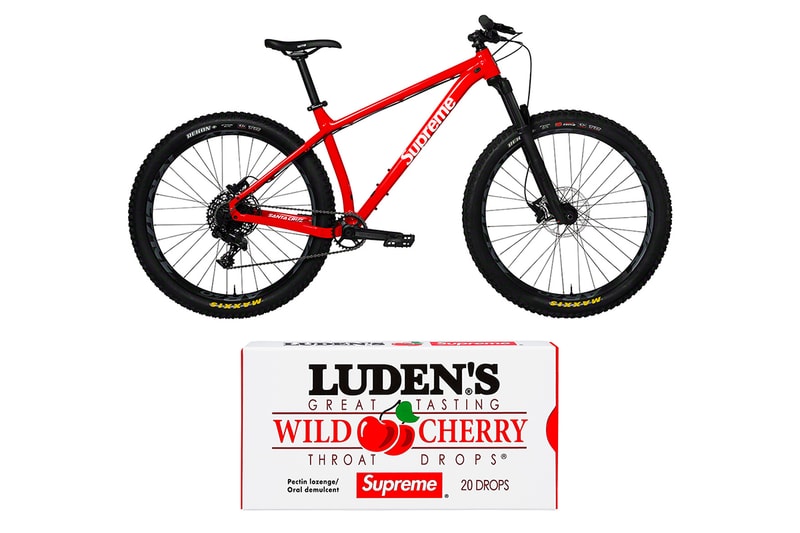 Marking this week's list of notable weekly product drops, Supreme is set to deliver its week 18 releases lead by season appropriate jackets and sweaters. Palace, on the other hand, is continuing the launch of its Ultimo 2018 collection with the fourth set of the expansive range.
Some standout collaborations this week come from Off-White™ and Brussel's based retailer SMETS, along with a workwear collaboration from Heron Preston and Carhartt WIP. Other team-ups include a monumental accessory collaboration from MAPLE and BEAMS, in addition to some cold-weather ready outerwear from The North Face and Extra Butter. Another collaboration to pay attention to is the return of Midnight Rave, the joint venture from A$AP Rocky's AWGE and Shane Gonzales Midnight Studios. Rounding things up is a Fall/Winter 2018 drop from emerging Canadian label BUTLER.SVC.
Key items this week include Palace's reflective Tri-Ferg P-2B Short Parka, Heron Preston's take on Carhartt's double knee pants and the engraved rings from MAPLE. Finally, from Supreme, we have the GORE-TEX 700-fill down parka and GORE-TEX taped seam trooper, in addition to the must-have Supreme Santa Cruz Chameleon 27.5" bike.
Supreme FW18 Collection Drop 17
As Christmas nears, this week, Supreme put together a release filled with holiday and weather appropriate wears and accessories. According to rumors, we may see the release of a hoodie, T-shirt and skate deck emblazed with Marvin Gaye's iconic What's Going On album cover, Cat in the Hat T-shirt and a Bombay Sapphire logo T-shirt.
But some confirmed items that will definitely gather some more attention include the GORE-TEX 700-fill down parka, thermal zip-up sweatshirt and GORE-TEX taped seam trooper hats. This week we have a couple boldly branded lifestyle items, lead by the Santa Cruz Chameleon 27.5" bike, Luden's throat drops and a rumored Christmas ornament.
When: December 13
Where: Supreme Online & Retail Stores in NY, Brooklyn, London, France & Japan
SMETS x Off-White™ "Surrealist" Capsule
Building on its growing series of exclusives, retailer SMETS recently tapped Virgil Abloh's Off-White™ label for a "Surrealist" capsule collection.
Paying homage to Belgian artist René Magritte and his involvement in the surrealist movement, the release is comprised of a hoodie, T-shirt, socks and Industrial Belt. Each item is decorated with details taken directly from Magritte's work and the word "Surrealist" complete with quotation marks.
When: December 14
Where: SMETS
BEAMS x MAPLE Jewelry Capsule
MAPLE recently teamed up with BEAMS on a concise jewelry capsule that honors the progression of both imprints.
The special range is comprised of two bangles and two ring bands. The sterling silver bangles come engraved with the phrases "So many changes in life, those were different times" and "BEAMS * 1976" to mark the year the Japanese fashion purveyor was founded. "Born Traveller" and "Mountain Smoke" is applied on the rings to mark the collaboration as a monumental moment for the Vancouver-based jewelry brand.
When: December 14
Where: BEAMS
BUTLER.SVC FW18 Drop
Coming back for FW18, BUTLER.SVC has readied a selection of cozy pieces for the cold-weather season.
Leading the drop is a set of hoodies and crewnecks with Bulter's "Classic" logo done with chenille embroidery. Other key pieces include the overdyed work pants and work jacket; both featuring BUTLER's custom silkscreened graphics. Accessories come in the form of boxing gloves and an extra-large blanket.
When: December 14
Where: BUTLER.SVC
Palace Ultimo 2018 Drop 4
With another week we have another expansive release from Palace. The British skatewear brand is back with Drop Four of its highly anticipated Ultimo 2018 collection.
The latest drop is comprised of jackets, hoodies, sweaters, T-shirts, rugby polos, beanies and a lone keychain that express Palace's penchant for reappropriating the mundane. Standing out in this week's drop is the warm P-2B Short Parka, puzzling Octo Hoodie and glacier print Pwoppa Sweat Rugby Polo.
When: December 14
Where: Palace & Retail Stores in NY, London & Japan
Midnight Rave Los Angeles Pop-Up Release
After a brief hiatus, A$AP Rocky and AWGE have reunited with Midnight Studios for another Midnight Rave pop-up.
Taking place in Los Angeles, the unique experience will feature a range of  '90s rave-inspired wares. Dominated by neon tones, the selection of exclusives is made up of camo hoodies, bright graphic T-shirts, polo shirts and baggy cargo pants. Finishing up the capsule are neon-hued sunglasses in collaboration with RetroSuperFuture, branded watches and Stance-produced socks.
When: December 15
Where: MIDNIGHT RAVE Los Angeles Pop-Up
Extra Butter x The North Face "Night Crawlers" Capsule
Rounding up the year with another collaboration, The North Face recently linked up with Extra Butter on capsule inspired by nights in New York City.
Centered around a dark color palette, touches of white decorate and mirror the glimmer of the Big Apple's skyline. The special range is comprised of a Nuptse jacket, Stetler jacket, Denali fleece anorak, Denali fleece pant, Roos II sling pack, knit cuff beanie and Shedrain umbrella.
When: December 15
Where: Extra Butter
Carhartt WIP x Heron Preston FW18 Capsule
Heron Preston is preparing to re-release the FW18 collaboration with Carhartt WIP.
Anchored around his signature "СТИЛЬ" logo, Heron looks to use this collaboration to shine a light on how Carhartt's functional clothing has become a staple in streetwear. Notable items like the Chore Coat, Payton Vest and Double Knee Pants are subjected to wash and paint processes to accentuate the tough construction of the pieces; additional decorations come in the form of orange trim that's synonymous with the Heron Preston brand.
When: December 15 and 17
Where: Tokyo Pop-Up and following release at NUBIAN, GR8, cherry, Revolution