Advent Calendar Day 12: 'Deadpool 2' / 'Castlevania' Vinyls
Two for the price of free.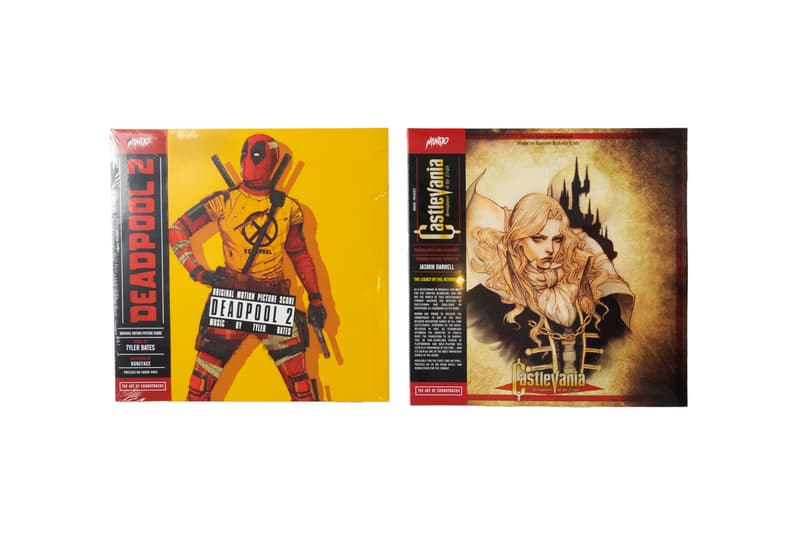 Mondo — the go-to company for movie lovers, TV fanatics and vinyl collectors in need for high-quality, limited-edition posters, vinyls, and prints featuring films and television shows — are releasing one-of-a-kind soundtrack vinyls for CASTLEVANIA: SYMPHONY OF THE NIGHT, DEADPOOL 2 and ADVENTURE TIME.
CASTLEVANIA: SYMPHONY OF THE NIGHT is a double LP that features 41 tracks from the original Playstation 2 game, which includes seven bonus tracks from the Sega Saturn version of the game. All the records are remastered for vinyl and feature all-new original artwork by Jasmin Darnell.
DEADPOOL 2 will have the entire soundtrack from the 2018 film, featuring the scoring of Tyler Bates, with artwork done by Bone-face, and pressed on 180 Gram Red with Black stripe Vinyl.
To celebrate the series finale of Cartoon Network's hit show, ADVENTURE TIME, the full-length soundtrack to the final episode titled "Come Along With Me," is pressed on 180 Gram Finn Blue/Jake Yellow Split colored vinyl featuring artwork done by Candice House and JJ Harrison.
One lucky winner will receive all three vinyls as part of this year's Advent Calendar 2018 installment by following HYPEBEAST Music's Instagram handle, @HYPEBEASTMUSIC, in conjunction with Mondo.
---
To enter, simply follow the steps below
The winners of the Advent Calendar will be announced on December 27.
Open to US Participants only. All prizes won by minors will be awarded to their parents or legal guardians on their behalf.
The maximum number of entries allowed for each daily prize of the Advent Calendar is one (1) per person. You can enter for each daily prize throughout the 25 days. We are not responsible for lost, late, incomplete, invalid, unintelligible, illegible, misdirected or postage-due entries, which will be disqualified.
All participants agree to abide by our website's terms and condition and these General Contest Rules. By participating in the draw, all participants shall be deemed to have accepted and agreed to comply with the revised terms and conditions of the draw. HYPEBEAST reserves the right to suspend, modify, terminate or amend the terms of this draw without further notice. In case of any dispute, HYPEBEAST reserves the rights of final decision.
Please allow a minimum of 8 weeks for prize delivery.
General contest rules/disclaimer can be found here.