Lyst Reveals the Hottest Brands and Sneakers for 2018 Q4
Were you surprised?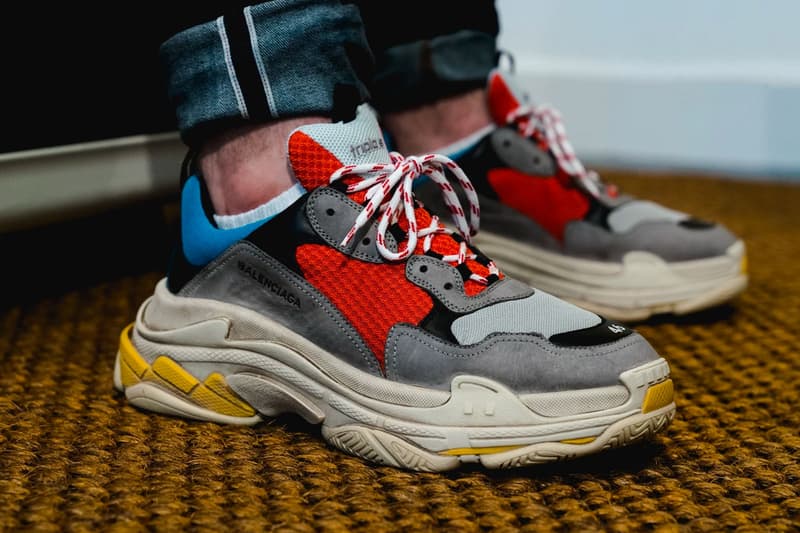 In a GQ exclusive, the shopping aggregate platform Lyst recently shared it's most searched brands and most popular sneaker for the last quarter of 2018.
Much like its findings in Q2, runway brands like Gucci, Off-White™, Balenciaga, and Givenchy make the top 10, but in a turn of the tide, we are now seeing a shift from luxury fashion to more street-centric brands. Names like Polo Ralph Lauren (largely due to its collab with Palace), Supreme, Stone Island, adidas, and Nike climb their ranks on the list. It is also interesting to point out that Gucci remained at the number one position, whereas Dolce & Gabbana (fifth place in Q2) is now nowhere to be found after it's recent blunder in China.
In the footwear department, the king of chunky sneakers, the Triple S, takes the number one spot, while sports silhouettes from Nike and adidas pad the list. Classic/traditional footwear shapes make a comeback as Reebok's Club C, Gucci's Ace, and Golden Goose's Superstar round off the top ten most popular sneakers — could this signal a shift from chunky dad shoes to the more minimal and traditional military trainer? The one sneaker on the list that caught us off guard was the Giuseppe Zanotti Kriss high-top.
Most Searched Brands (Male)
1. Gucci
2. Nike
3. Off-White™
4. Balenciaga
5. Polo Ralph Lauren
6. adidas
7. Supreme
8. Stone Island
9. Givenchy
10. Saint Laurent

Most Popular Sneaker (Searched, Sold, and Viewed – Combined)
1. Balenciaga Triple S
2. Nike Air Vapormax
3. Golden Goose Deluxe Brand Superstar
4. Yeezy Boost 350 V2
5. Balenciaga Speed
6. Nike Air Max 97
7. Gucci Ace
8. adidas NMD
9. Giuseppe Zanotti Kriss
10. Reebok Club C
For more fashion news, Nike's Air Force 1 Jester High mixes deconstructed elements with silver accents.