Does Dolce & Gabbana's Mishap in China Signal the Brand's Downfall?
Why this furore might have a long-lasting effect on the company.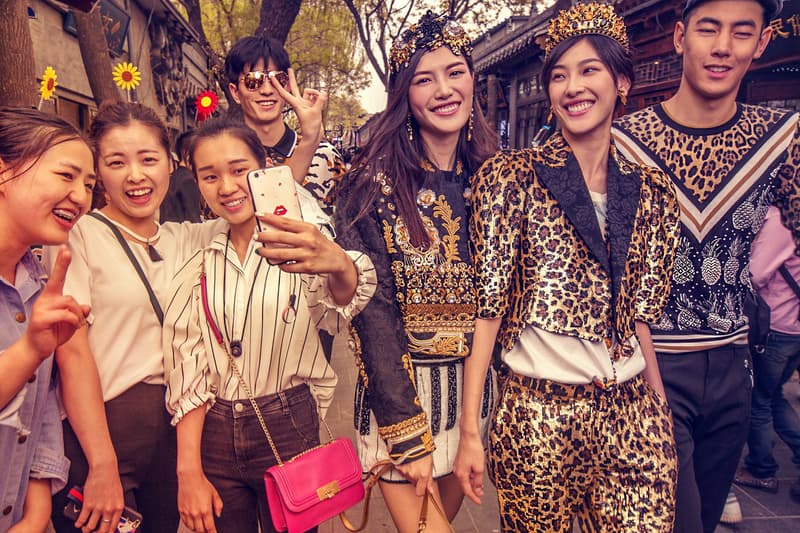 Dolce & Gabbana may be the fashion world's most volatile luxury brand. Though no house is entirely resistant to controversy, D&G seems to thrive on it. Several of the brand's gaffes over the years have made headlines, ranging from Stefano Gabbana's unprompted declaration that he wouldn't want "a Japanese designer to design for Dolce & Gabbana," to Domenico Dolce's bizarre description of children born to gay couples through fertility treatment as "synthetic." The most recent firestorm, however, may be the Dolce & Gabbana's most erroneous blunder to date.
On November 18, Dolce & Gabbana released a video campaign on several of its social media accounts promoting the brand's forthcoming runway presentation in Shanghai, dubbed "The Greatest Show." In the three different clips, an unnamed model attempts to eat several oversized portions of Italian food with chopsticks. The actress confusedly pokes at a cannoli and spaghetti as a male voiceover mocked her efforts with garish aplomb, using phrases like "Is it too huge for you?" The voiceover also mispronounces various Western words, including "Dolce & Gabbana."
A swift backlash erupted on Chinese social media, with users decrying the videos' narration, cultural insensitivity and the implications that Chinese people didn't understand how to eat Italian food. Most responses called for the brand's departure from China: "You not gonna delete these stuiped videos [sic]," one user warned. "Then say goodbye to the ¥ of China." A different user raged: "Wtf they called chopsticks 'your small stick-like utensils."
Another Instagram user went beyond the campaign's tone-deaf voiceover and insinuations, addressing the Chinese cultural symbols in the background and paper lanterns as cliché, outdated and tacky. "China also has history, vision and culture, but you don't see it, you see only Chinese money.," they said. Another post succinctly summed up the general mindset: "This is so stupid."
The videos were pulled from D&G's Weibo account within 24 hours of publication, though they currently remain up on Dolce & Gabbana's Instagram page. As Jing Daily noted, Weibo users had discussed the phrase "Boycott Dolce" over 18,000 times before the brand pulled the plug on the videos. Still, the brand's clumsy attempt to appeal to a foreign market could have possibly been swept beneath the glitz and glamour of the upcoming "Greatest Show" event, had it gone off without a hitch. As Vogue described it, the presentation was to showcase over 300 looks and 140 performers, with 1,400 audience members in rapt attention for the entire hour-long "love letter" to China.
Unfortunately, Stefano Gabbana refused to stay off of social media. After being tagged in an Instagram Story, Gabbana began a dialogue with Diet Prada follower Michael Atranova, yielding one of Gabbana's typically inflammatory back-and-forths. Atranova screencapped the conversation, which included choice quotes like "the country of [poop emoji] is China," and "China Ignorant Dirty Smelling Mafia," sending the imagery along to Diet Prada.
In the face of widespread calls for a boycott, Gabbana and the official Dolce & Gabbana Instagram pages eventually issued responses. Both offered what seemed like half-hearted apologies to any offended Chinese people, claiming that the inflammatory posts were a result of hackers. The statements fell on deaf ears, as Chinese influencers, models and fans alike had already disowned the brand. Major influencers Li Bingbing and Zhang Ziyi also publicly denounced their roles as brand ambassadors. Moreover, the China Bentley Modeling agency, which represented a number of models that were to walk in "The Greatest Show," announced that 24 models refused to participate. Other models took to social media to resign from the runway; thus, Dolce & Gabbana was forced to cancel its event within 24 hours of the Gabbana screen caps going live.
"All my team is nervous because we spent too much money on this," Dolce told Vogue journalists during fittings on November 19. "I don't care! I want to die poor … Money is much better used in life." A mere two days later, the show had been canceled and rumors began to fly on social media that the Dolce & Gabbana team's passports were being held by state police. In addition to this, it's now been reported that prominent Chinese stores are pulling the brand from its shelves, followed by the bigger bombshell that Yoox Net-A-Porter had pulled it from all its platforms worldwide. How could it all go so wrong, so quickly?
The house has bounced back from controversy before, and even profited from it — see 2017's #Boycott D&G T-shirts and its accompanying campaign, which showcased models joyfully engaging in faux protest, alongside Dolce and Gabbana themselves. Despite some raised eyebrows, this and other brushes with social justice have thus far gone relatively unpunished or without them offering any kind of apology. That being said, this recent showdown is Dolce & Gabbana's first major exposure to international controversy — even its recent campaign, which naïvely contrasted the brand's luxury goods and Dubai's low-income souks went over without incident.
A major player in the luxury market, China has proven to be quick to anger, though it can be placated with a sincere apology. Balenciaga recently saw similar scrutiny to D&G, when an Instagram video showed a pair of Chinese shoppers apparently getting tossed out of a store in Paris for no reason. Chinese social media exploded with frenzy, until Balenciaga publicly apologized to Chinese shoppers and promised to retrain employees to respect all consumers. The timely response cooled the controversy and critics have largely moved on.
Dolce & Gabbana had the opportunity to offer a proper apology to offended parties, but appears to have bungled the attempt. A purportedly apologetic Instagram post, uploaded following the half-baked hacking excuse, has only incited further fury. "What happened today was very unfortunate," the post reads. "We would like to extend gratitude to our friends and guests." Commenters were quick to point out the lack of an earnest apology, emphasizing that D&G has missed the point of the controversy. "When you did something that hurt ones feelings, you need to apologize," one Instagram user opined.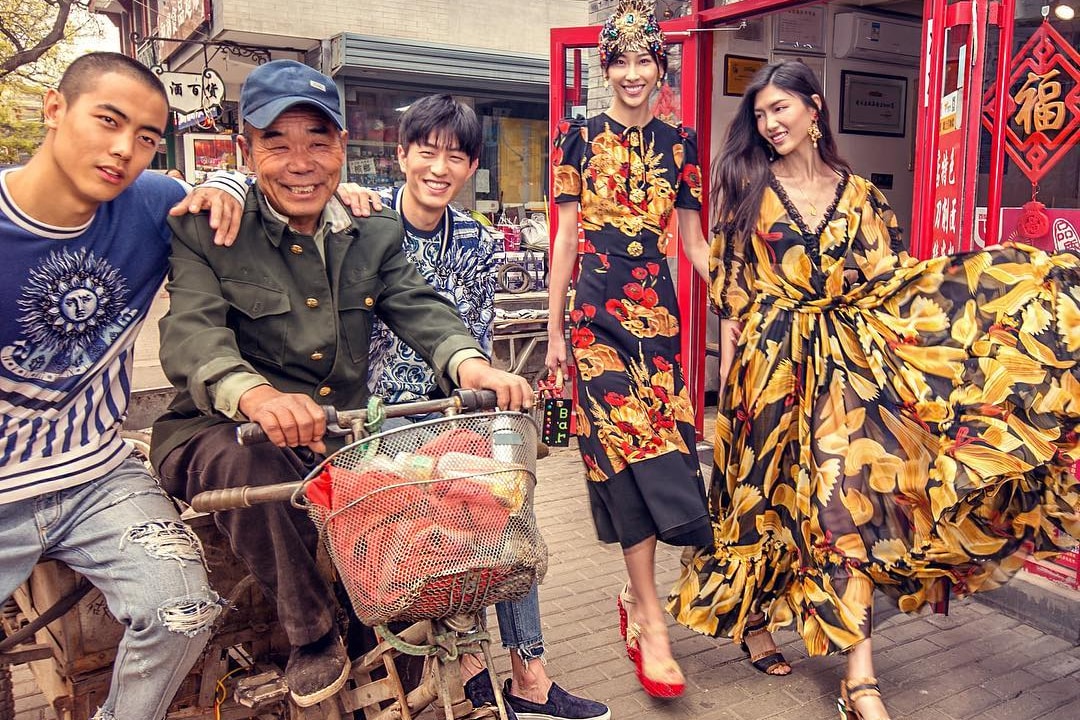 The complete aftermath has yet to sink in, but one has to wonder if Dolce & Gabbana will be able to recover as easily from this severe misstep as it has in the past. Offended Chinese social media posters have been leaving "DEAD & GONE" or "DOG & GARBAGE" replies ("dog" remains a particularly potent insult in Mandarin, as it refers to the animal's "low" status) on the brand's Instagram and other social media pages.
Compounded with the sudden distancing of Chinese celebrities and influencers, the backlash may leave a permanent mark on the brand's reputation in China. That particular market remains extremely important for competitive luxury labels, which tussle over the country's roughly 500 billion RMB (approximately $70 billion USD) spending budget. Though D&G remains popular elsewhere in the world, it's more important than ever to stay in China's good graces. Fumbling the apology and wasting a great deal of capital on the canceled event only deepens the blow.
Is Dolce & Gabbana finished? Unlikely, as sales rose by over 9% in 2017, garnering a net profit of approximately $94 million USD. Still, this incident tore a rift among Chinese consumers and the lingering soreness will likely leave long-term scars, as evidenced by stores pulling stock from shelves. Indeed, Yoox/Net-A-Porter has already dropped the brand from its services, and other retailers have followed, including influential Hong Kong-based retailer Lane Crawford. In the worst case scenario, Dolce & Gabbana may have permanently crippled its influence in China, where it currently operates nearly 20 standalone stores.
The company is no stranger to losing profit — it posted losses as recently as 2016 — but these events are indicative of major shifts in the fashion industry, demonstrating both the global market's intolerance for insensitivity and China's powerful influence. If nothing else, it seems that Dolce & Gabbana's penchant for turning controversy into dollar signs has run its course.
UPDATE: Watch Domenico Dolce and Stefano Gabbana's official apology video.