Gucci's Alessandro Michele on the Art of Copying
The Italian designer tells us about the value of knockoffs in fashion.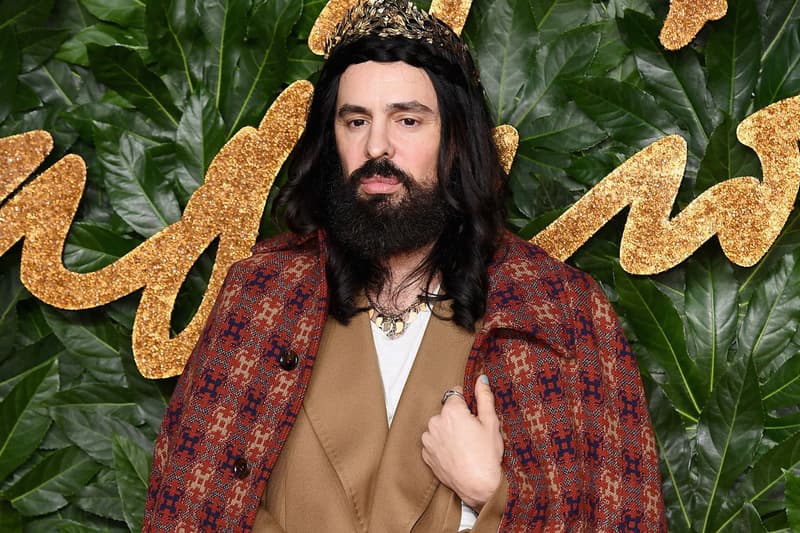 Gucci's Creative Director Alessandro Michele recently sat down with Interview Magazine to talk about how he revamped the Italian luxury brand since his takeover in 2015. One of Michele's signature elements is his treatment of knockoffs, debuting bootlegged-bootleg designs — i.e. his work with GucciGhost and Dapper Dan — that toe the line between originality and appropriation.
The interview touches on Michele's views on others copying his designs, the idea of camp, what constitutes a tasteful reference and the power of connection through art. See below for some excerpts and head over to Interview Magazine for the full spread.
NICK HARAMIS: What is it about the idea of a copy that interests you?

ALESSANDRO MICHELE: Art is about connection. No real artist wants to make a piece and close it in a box so that nobody gets to touch it. In the same way, fashion is about connection. It's no longer enough to make chic clothes and put them in a boutique. Fashion is supposed to be alive. It comes from the streets, from music, from the club. But to answer your question: This old lady called "fashion" was dying, so designers decided they needed to make the bag of the day. They'd take a piece of art and put it on a bag for no reason. It was just a trick to get people buying.

HARAMIS: Yet the overall thesis of this show seems to be that there is creative potential in plagiarism. What's the difference between an inventive reproduction and a counterfeit?

MICHELE: One creates a conversation and isn't really copying. It would be like saying Mozart copied his compositions because he used musical notes. If I need something to tell my story, I can't be shy. I don't care how it comes across, because everything is my truth. I don't replicate something in my work because I need the replica. I do it because I need the note. Mickey Mouse is a note. Dapper Dan is another note. But a copy for copy's sake, just to sell a pair of shoes, is really sad. They've lost the chance to do something personal, and instead they've just made a product.

HARAMIS: How do you feel when people copy you?

MICHELE: I don't care. And not like, "Oh, I don't care—I hate them." On the other hand, when I look at the people who try to copy me just to create confusion about what's real and what's fake, I think it's a shame because, in a way, it's like they're destroying my work. If you try to make the same thing without a soul, it will be trashy and ugly. I'm always trying in a very delicate way to put together things that are dirty with things that are completely clean, things from the bourgeois and things that belong to the ghetto, things that are completely broken with things that are well done. I love when people on Instagram try to find the seed of what I'm doing—even if they're not always right, they're often close.
Join Our Discussions on Discord
The HYPEBEAST Discord Server is a community where conversations on cultural topics can be taken further.