Image From 'Black Mirror: Bandersnatch' Choose-Your-Own-Adventure Film Surfaces
"Be Right Back."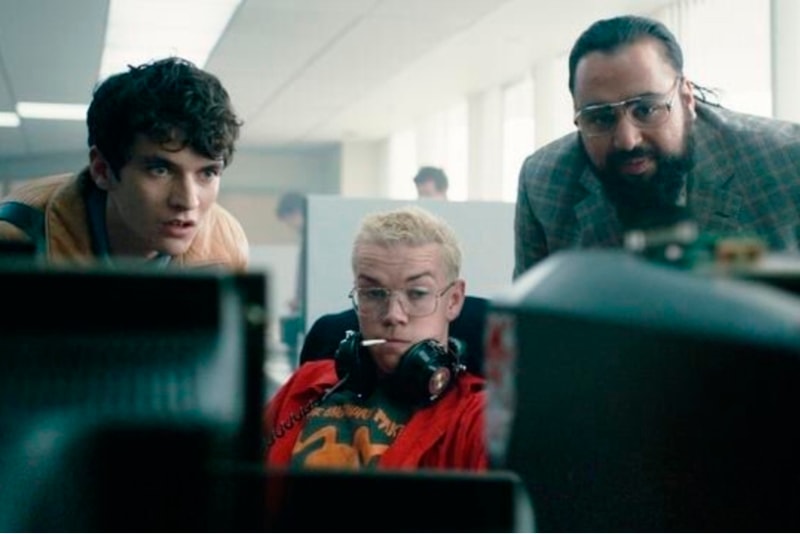 UPDATE 25/12: The first image from Black Mirror: Bandersnatch has surfaced, confirming a few rumors on the forthcoming choose-your-own-adventure-film. In the photo shared, actors Fionn Whitehead (Dunkirk), Will Poulter and Asim Chaudhry, who plays "Chabuddy G" on BBC comedy People Just Do Nothing, can be seen looking into a few computer monitors.
The image is quite similar to a video game ad from 1984 for Bandersnatch the game, which never saw the light of day. Black Mirror: Bandersnatch is also set in 1984. Take a look at the first photo from Black Mirror: Bandersnatch and the original story below.
Poster for 'Bandersnatch' the game, a project which never saw the light of day — the game was developed in 1984, the same year 'Bandersnatch' the Black Mirror episode takes place (which we know as a set photo shows Bob Marley's 'Legend' at #1 on the charts inside a record store) pic.twitter.com/SlzbERQHuR

— Kezia Abigail (@xiurongg) November 26, 2018
---
UPDATE: It now looks as though Netflix's upcoming Black Mirror film Bandersnatch will be a choose-your-own-adventure.
A description of the film surfaced on a Korean Media board, which was then translated by a Redditor. "A young programmer makes a fantasy novel into a game. Soon, reality and virtual world are mixed and start to create confusion," it reads. Other details include it will be directed by David Slade, who helmed last season's "Metalhead" episode, and will star Dunkirk's Fionn Whitehead.
The most interesting unveiling is Bandersnatch's runtime is 312 minutes, which is approximately five hours long. Of course too long to be a film on its own, the only other explanation would be the the total runtime of all possible storylines in the rumored choose-your-own adventure feature.
Bandersnatch is set to release on Netflix December 28, while fans may need to wait until 2019 for season 5 of the hit series. Check out the original story below.
---
Earlier this month a now deleted tweet from an official Netflix account revealed Charlie Brooker's hit show Black Mirror would be returning for its fifth season on December 28. The leak also suggested the first episode of the highly-anticipated new season would be titled, "Bandersnatch."
However, a new breakthrough suggests that "Bandersnatch" will most likely be a Black Mirror movie as opposed to an episode. Spotted by a Netflix user, the keen-eyed fan noticed the title card for "Bandersnatch," revealing it to be a film and not an episode from the fifth season as earlier believed. Coming in at 90 mins, this will mark Black Mirror's longest piece yet.
A few pics from the "Bandersnatch" set have also started appearing on social media, showcasing a time-warped London. Look for Black Mirror: Bandersnatch to land on Netflix December 28.
Entertainer Miley Cyrus also confirmed her Black Mirror season 5 appearance during a recent interview on Howard Stern's Sirius X show.
Netflix are filming Black Mirror in Croydon! They're building 1980s replicas of WH Smith, Wimpy, Pizza Hut and FADS. Who wants some Opal Fruits? pic.twitter.com/uo1Pjlbw2u

— Chuck Thomas (@chuckthomasuk) April 24, 2018