Kyrie Irving Requests Trade From Cleveland Cavaliers
Is LeBron to blame?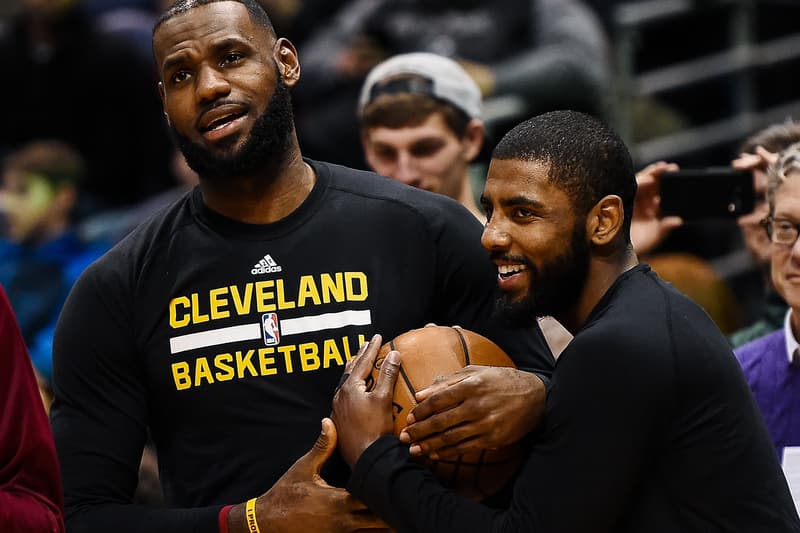 Rumors of Kryie Irving seeking a trade from the Cleveland Cavaliers have hit the internet today.
The NBA offseason just keeps getting better and better. In the midst of trades, offseason signings and all things Lonzo Ball, Kyrie Irving is next to take the grand stage of NBA Breaking News. According to ESPN Senior Writer Brian Windhorst, Kyrie Irving has requested to be traded from the Cleveland Cavaliers, and is currently open to a handful of teams, including the New York Knicks, Minnesota Timberwolves, San Antonio Spurs and Miami Heat.
News of Uncle Drew hitting the trade block follows Irving's curious quote in an interview with Sports Illustrated where he stated the Cavs are currently in a "peculiar situation" this offseason. The trade request was said to be made last week with Cavs Owner Dan Gilbert, which comes just a few short weeks after the departure of the Cavs now-former general manager, David Griffin.
The main reason for Irving's request lies in his desire for a larger role on a competitive team, as he seemingly no longer wants to play the little brother role in the shadow of LeBron James. According to ESPN's sources, LeBron James has been given word of the news and was "displeased and disappointed" in Irving's request.
ESPN breaks down Kyrie's contract and his options below.
How to handle Irving's situation is clearly complex for the Cavs, as James can be a free agent next summer. Irving has three years and $60 million left on his contract, but he can opt out of the final year before the 2019-20 season.

By asking for a trade, Irving would be willingly giving up the chance to qualify and sign a "supermax" contract with the Cavs in 2019. This provision, installed in the just-started collective bargaining agreement, was meant to deter star players from leaving their teams as they came up on their third contract. This is when numerous stars want to move, as has played out with Kevin Durant, Gordon Hayward and Paul George.

Irving's contract contains a 15 percent trade bonus that would pay him an additional $2.9 million in both the 2017-18 and 2018-19 seasons.
So, what do you think? Will Kyrie leave Cleveland, and is it the right move?