The Nike Air Max 97 "Metallic Gold" May Be the Swoosh's Most Photogenic Shoe to Date
A gold standard in sneaker photography.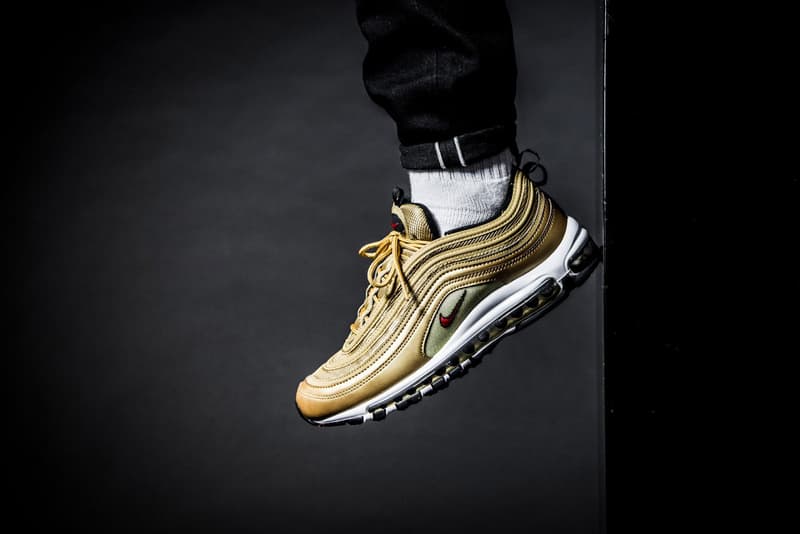 The Nike Air Max 97 has made a significant comeback with the resurgence of its "Silver Bullet" edition a few months back. After a few restocks of the aforementioned iteration, the Swoosh moved on to raise the bar with a "Metallic Gold" edition. Nike's latest drop of the Air Max 97 presents a sense of nostalgia for those who were fans of the model during its first introduction while giving the newer generation a silhouette to admire.
In honor of the colorway's recent launch, we've gather some of its best shots on Instagram. Take a look below and let us know which one is your favorite.
@glausangeles
A brand new pick up always beats any type of view.
@marcelokicks
Before there was a Jason Markk, you'd rely on your own cleaning skills and if you were too lazy, you'd rely on others.
@mpytson
What's the longest amount of time you've ever stared at your newest cop?
@titoloshop
That first wear is the most graceful you'll ever walk.
@eduardo.fitch
Your biggest competition is yourself.
@rezetstore
We all have that perfect fit before we even through them on foot. What do you plan to wear with your Air Max 97 "Metallic Gold?"
@shoezgallery
Shine through. They say the eyes are the windows to the soul. What do you see through the Air Max 97's Air Max unit?
@juanma_jmse
That toe tap provides the perfect angle, just enough of the upper and outsole to show off.
@comingsoonshop
Gold meets gold. What accessory do you plan on using to complement the Air Max 97 "Metallic Gold?"
@arab_lincoln
The phrase "You have too many sneakers" doesn't exist in the mind of a true sneaker enthusiast.