Can Lonzo Ball and the Big Baller Brand Transform the Signature Sneaker Market as We Know It?
With Nike, adidas and UA refusing LaVar's terms, Big Baller Brand has assumed full existential tailspin before it could even take off.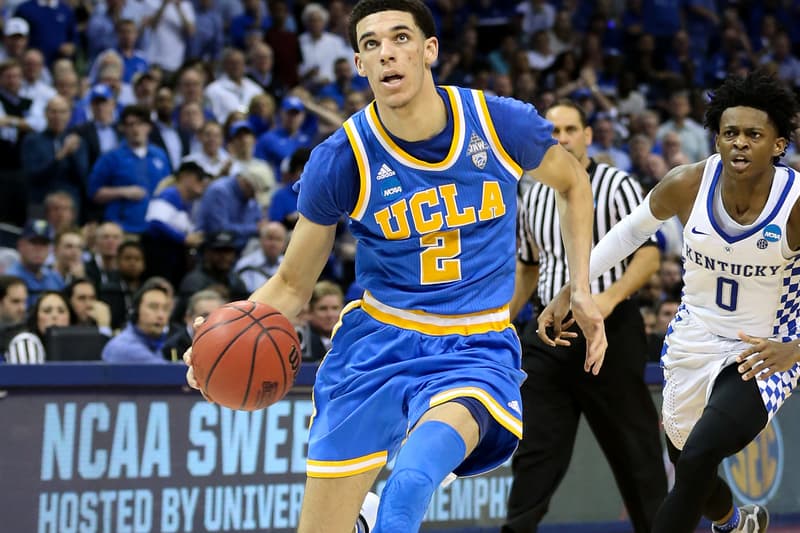 "I got 3 B's right here," said father of three, LaVar Ball, pointing at the garish gold logo on his chest. "It's gonna cost them one." While on the interview circuit this past month, LaVar Ball's moment arrived to finally name his price: three sons, one signature line, $1 billion USD. Any marketing inquiries on the immensely skilled Ball brothers from Chino Hills — Lonzo (19), LiAngelo (18), LaMelo (15) — would not only have to meet that dollar figure, but be creatively interpreted through the lens of the Big Baller Brand. After weeks of hyperbolic and eventually tired comps to NBA legends, a report by ESPN's Darren Rovell Friday morning stated that in an incredibly ironic sense of solidarity, the powers that be (Nike, adidas, Under Armour) have all responded "no" to Lonzo, his brothers, and the billion dollar price tag. With less than two months left before the draft and an unprecedented signature line for his family resting on knife's edge, LaVar Ball must choose between brand-building and getting his oldest son paid.
There have been a grand total of two (excluding the Jumpman) billion-dollar athlete contracts, with Nike handing out both "lifetime partnerships" in 2016 to LeBron James and Cristiano Ronaldo, respectively. Despite their disparate sports, their identical ages, social followings and proven track record in pushing signature footwear mean LeBron has more in common with Ronaldo than he does with Lonzo. These staggering figures on Nike's emphasis of proven professional production somehow emboldened old man Ball to double down on his price tag and Big Baller Brand, asking for "co-branding, a true partner."
"I got 3 B's right here," said father of three, LaVar Ball, pointing at the garish gold logo on his chest. "It's gonna cost them one."
The unfortunate reality is that as of May 4, the only company set up to finesse such a contract, balked at the mouth attached to the sticker price. In a recent interview, George Raveling, Nike's Global Basketball Marketing Director, forsook his years of PR training to call LaVar Ball "the worst thing to happen to basketball in the last 100 years." Never one to take the high road, LaVar would return fire on Instagram claiming, "Big Baller Brand [is] about to be your competition."
Unfortunately, a survey of the Big Baller Brand's website reveals a closer resemblance to the braggadocios personality of LaVar than the silky smooth, pass-first game of Lonzo. Its mission statement has been graciously abbreviated here: "…to provide a clothing line that is a reflection of what every Big Baller in the world expresses what they wear." The collection itself is a shell of an athletic brand, with strange pricing structures in place to better complement the ensemble of tired tropes already repped by the hundreds of other washed sports "lifestyle" brands treading water today.
Our current basketball branding landscape has not been kind to those who've dared to forgo the design and advertising prowess of the Swoosh. While the Big Baller Brand and the sequential succession of the three brothers Ball are unprecedented, being first does not guarantee success (see: Derrick Rose, the NBA's youngest MVP and adidas's millstone, or Steph Curry's declining Under Armour sales). If LaVar refuses to cede creative control of Lonzo, as evidence by his response to Raveling's barb, "…if nothing like this happened in 100 years? Guess what – we in a new lane, baby," he needs to realize that any lane carved outside of Nike's explicit consent is littered by fringe players and erratic sales for superstar signatures.
While the exploits of Starbury, Shaq and even the more recent international additions of Li-Ning (D-Wade) and Anta (Klay Thompson) offer new avenues towards creative partnerships, they are not the vaunted company that can buoy Big Baller Brand into a realistic $1 billion USD valuation. Both Chinese mega brands have been unable to make anything louder than a novelty impression on the American market, despite boasting signatures of a Hall of Fame guard and an elite two-way player on the best team in the league. The only thing more disrespectful than a bonafide NBA star without a signature shoe, is a bonafide NBA star holding a signature no one seems to care about.
At the heart of this insistence to co-opt Big Baller Brand with an apparel titan is LaVar's desperation to not become another tragic American sports story—pushed out of the lives of his sons by a faceless corporation—only allowed to enjoy their success from afar. He told Stephen A. as much on First Take: "You know what I should do? I should tag up and let everybody else make money off my son and when they finished, give him back to me." There's this need to not be squeezed out of the picture he's realized, which is why the man's been running around the country, pitching prototypes of a signature shoe he's been cooking up "ever since my boys were born."
To be fair, this edition of overbearing, entrepreneurial sports dad exists because the NBA's 19+ age rule, or the one-and-done rule, effectively curbed potential branding efforts of teens and their fathers. Instead, the rule benefited our most virtuous nonprofit institution, the NCAA, by fostering the extra-lucrative flash of one-and-done culture. Even after squaring a deal to send all of his boys to UCLA–accelerating their national title hopes and booster budgets–this shoe deal is the first time LaVar Ball could make his buck. But with LaVar's rising profile already costing the boys a chance at signing with the big three, Lonzo, LiAngelo and Lamelo must each decipher how deep-rooted and potentially harmful is their father's desire to live vicariously through them.
The only thing more disrespectful than a bonafide NBA star without a signature shoe, is a bonafide NBA star holding a signature no one seems to care about.
Without the help of Nike, the future for Big Baller Brand looks bleak at best. Yes, the introductions of Chinese market powers into the NBA, could merit a Li-Ning or Anta x Big Baller Brand signature, but nothing in Big Baller Brand's current design or LaVar Ball's leadership suggests that signing to a brand outside of the big three, would be anything more than the firing the starter's pistol towards irrelevance (ask Klay). The boys can play; the brand, on its own, cannot.
Yet, the frustrating thing about a first take, as annoying and indicative of our sensationalized culture as they are, is that if proven true, the first guy across the line is remembered as a genius. Yes, the Big Baller Brand logo is cause for concern, but if his stints at Chino Hills, Westwood and soon to be an NBA city near you, tell us anything, it's that LaVar Ball is the level of megalomaniac that lives to tell the world "I Told You So." If only his hoodies packed as much punch.