Nike, adidas and Under Armour Pass on Signing Lonzo Ball
"We're not going to sign with a company and then wait around for 5 or 6 years for a shoe like Paul George."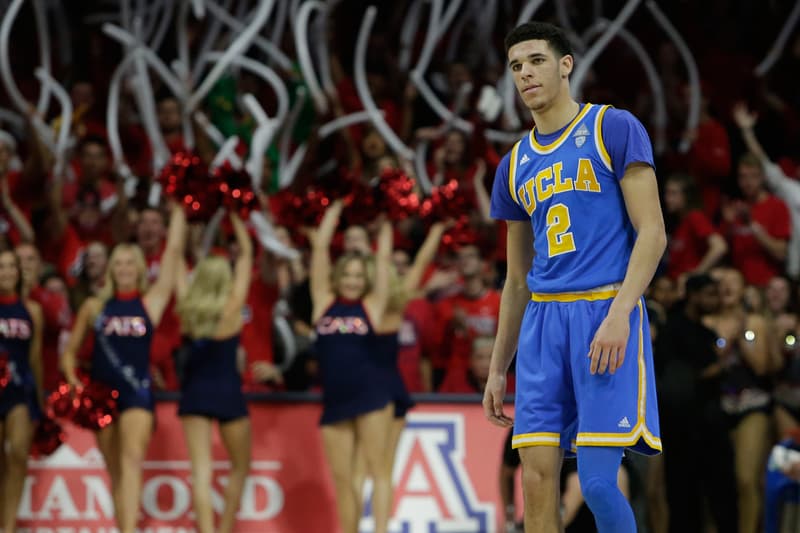 Nike, adidas and Under Amour — the big three sportswear brands — have all withdrawn their endorsement offers for NBA prospect Lonzo Ball, according to a new report from ESPN. Senior writer Darren Rovell states their reasoning behind this unprecedented 'no thank you' is because Lonzo's braggadocios father, LaVar, is demanding them to license his upstart Big Baller Brand rather than a traditional sneaker and apparel deal.
"We've said from the beginning, we aren't looking for an endorsement deal," LaVar told ESPN. "We're looking for co-branding, a true partner. But they're not ready for that because they're not used to that model. But hey, the taxi industry wasn't ready for Uber, either."
LaVar went as far as presenting a sneaker prototype that he has been "working on [...] ever since my boys were born" in his meetings with the big three, a model that could be worn by Lonzo when he steps onto the NBA hardwood for the first time next season. He is obviously confident that his son is good enough to have his own signature sneaker, and apparel line, right out of the draft. "We're not going to sign with a company and then wait around for five or six years for a shoe like Paul George had to wait for with Nike," Ball said.
"Just imagine how rich Tiger [Woods], Kobe [Bryant], Serena [Williams], [Michael] Jordan and LeBron [James] would have been if they dared to do their own thing," LaVar said. "No one owned their own brand before they turned pro. We do, and I have three sons, so it's that much more valuable."
With the aforementioned labels pulling out, father Ball told ESPN that he will pitch his Big Baller Brand to the lesser known, and lesser worn, Chinese brands, including Peak, Li-Ning and Anta. He also mentioned that he's not counting out the option of an entrepreneurial partner outside the business. "That includes Facebook," he said.
LaVar is admittedly prudent. He, like many of us, has seen sneaker companies take advantage of young athletes for decades now, with only a very select few earning their true worth, and later in their career at that. However, he can't be that naive to think the big three need Lonzo Ball on their roster. And for someone looking for a "true partner," he should understand that his sons have to earn their keep just like everyone else has, be it Jordan or Paul George.
There are a ton of questions currently swirling around this family, but we wonder: with brands like Peak, Li-Ning, and Anta now the frontrunners in the Lonzo Ball sweepstakes, does the former UCLA guard have what it takes to make them cool among young American hoopers? We also wonder what players like D-Wade, Klay Thompson and Dellavedova — all of whom are signed to one of the aforementioned brands – have to say about the Ball family's request.